What's included
Expert-reviewed policy in Google Doc format for easy editing

Customizable policy elements

Tailored components for remote and international workforces
An employee relocation policy comes in handy for businesses expanding to new locations and exploring new markets, as well as fully distributed companies with digital nomads on the team. The policy with clearly defined relocation assistance and guidelines will help the employee settle in their new home and be up and running in no time.
Deel has created a free employee relocation policy that enables you to adjust it to any state or country you hire from instead of producing a new policy every time.
This policy template will help you:
Create an employee relocation package to assist your employees while they're moving to a new residence
Build your remote work policy by adding the employee relocation process and guidelines for expense reimbursement
Encourage your employees to use the career development and growth opportunities even if they involve moving to another country
This template is part of our remote work policy collection, which aims to support growing teams with modern and approachable templates for the future of work.

Use this template for free
Download the Employee Relocation Policy template for free and customize it to fit your needs.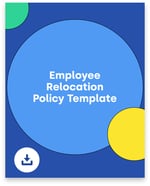 Employee relocation policy template overview
An employee relocation policy is a document that outlines a company's conditions for reimbursing expenses of moving to another location and other forms of relocation support for their full-time employees.
The policy includes:
General guidelines regarding employee eligibility for short-term and long-term relocation
Potential purposes for employee relocation, such as expats returning home, traveling for family emergencies, business expansion, growth and learning opportunities, and more
The procedure and guidelines for requesting relocation
Guidelines regarding the reimbursement of relocation expenses (travel expenses, moving company expenses, house hunting trips, searching for new work locations, such as co-working spaces, etc.)
Guidelines regarding other types of company support to relocating employees (home sale assistance, relocation allowance, temporary housing, etc.)
Guidelines regarding relocation paperwork, permits, and visas
Guidelines regarding employees moving with dependents (family members and pets)
Employee compensation adjustment guidelines
How to use this template
This template is a customizable document. You'll see placeholder text and prompts to guide your policy to reflect your local labor laws and your team's unique approach to remote work.
We suggest including this policy in your remote workers' onboarding process to ensure they review and understand all details.