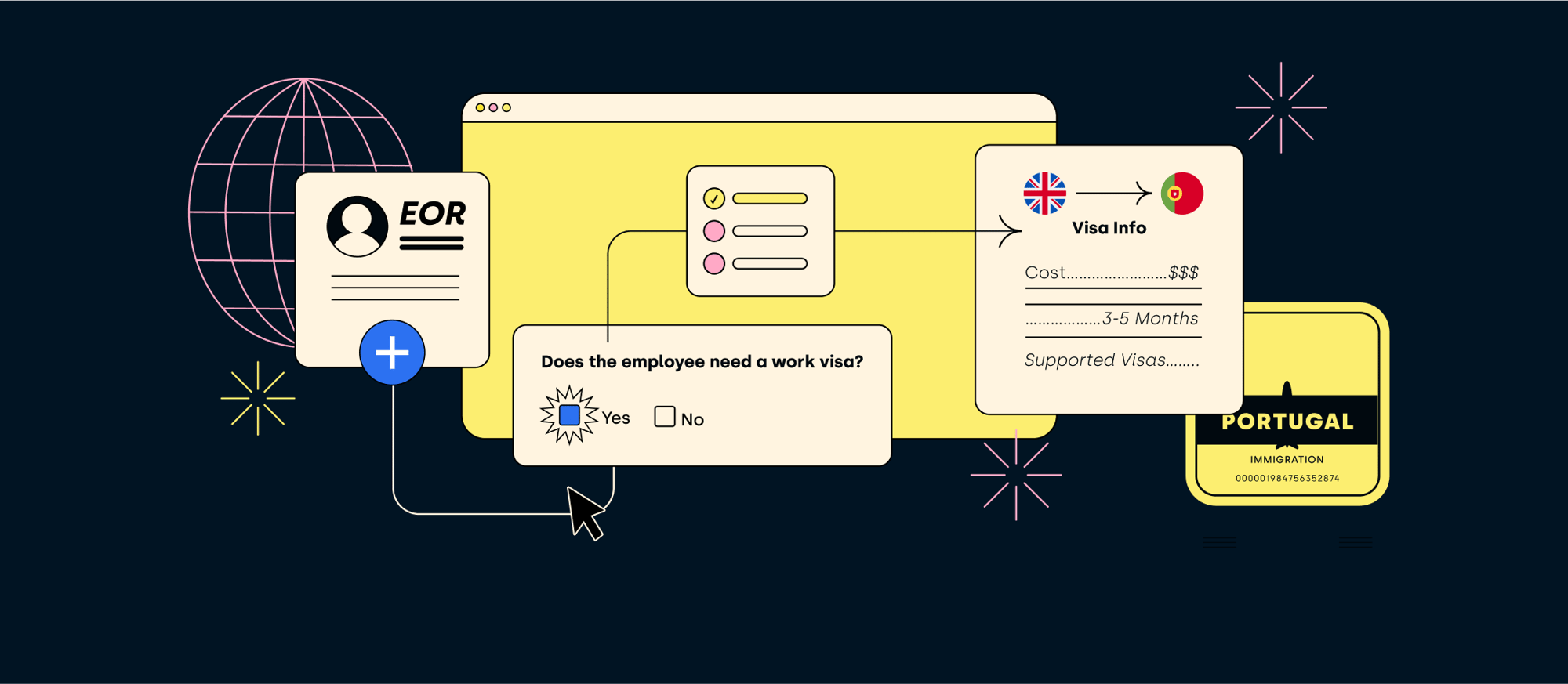 A Guide to EOR-Sponsored Visas for Enterprise Businesses
EOR-sponsored visas help enterprise businesses hire, relocate and retain top talent from all over the world. Discover how they work and the many benefits.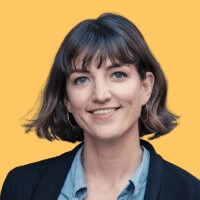 Written by Jemima Owen-Jones
August 16, 2023
Contents
Need help onboarding international talent?

Try Deel
Key takeaways
EOR-sponsored visas enable enterprises to hire or relocate employees in foreign countries without a local entity.
EOR sponsors provide a streamlined, hands-off visa procurement process and greater transparency and protection than sponsorship organizations or immigration and visa services.
EOR sponsors like Deel use a global platform with built-in global payroll, visa and immigration support, background checks, equipment and workplace memberships, equity, and contractor hiring to simplify international hiring.
In an era of shifting worker preferences, remote work, and increased globalization, the landscape of workforce mobility is evolving rapidly. Enterprises must adapt to these changes to remain competitive globally, attract top talent, and retain employees.
One of the largest adjustments enterprise organizations face is procuring visas for their global workforce. There are many reasons enterprise organizations might be faced with procuring work visas for their employees.
Here are a few of the most common reasons:
To hire the best talent, regardless of location. In today's globalized economy, the best talent is not always located in the same place as the company's headquarters. By procuring work visas, enterprise organizations can open up their hiring pool to top talent worldwide.
To expand into new markets. When an enterprise organization expands into a new market, it may choose to hire or relocate employees. They may need to procure work visas for those employees to do this.
To meet the needs of a remote workforce. Work-life balance and flexibility are expected among workers today, particularly within the remote work community. As a result, companies must prepare to support worker-requested moves with visa procurement.
What is visa sponsorship?
Visa sponsorship is a process in which a person or organization agrees to support or sponsor a foreign national's visa or work authorization application and provide the necessary documentation to the government. The sponsor takes on certain responsibilities and obligations to ensure that the sponsored individual complies with immigration laws and regulations.

Many countries require visa sponsorship before a foreign worker can live and work there. This is because visa sponsorship helps to protect workers from exploitation, keep track of foreign workers operating in the country, and collect fees that can be used to support government programs.

Here are some of the ways that visa sponsorship helps to protect workers:
It ensures workers are paid a fair wage and have access to safe working conditions.
It prevents workers from being exploited by unscrupulous employers.
It provides workers with a way to challenge unfair treatment or discrimination.


Visa sponsorship also helps to keep track of foreign workers in a country. This is important for several reasons, including:
It can help to prevent illegal immigration.
It can help to ensure that foreign workers are paying taxes.
It can help to track the impact of foreign workers on the economy.
Who can sponsor a work visa?
Sponsoring a work visa for a foreign employee typically involves an employer in the destination country willing to hire the foreign individual. Each country has its own rules and regulations regarding employment-based work visas and employer sponsorship. The specific criteria, documentation, and processes can vary significantly.

In many cases, having a presence in the destination country is a requirement or at least a strong factor when sponsoring an employment visa for a foreign employee. The presence can take various forms, such as an established business entity, a registered office, a branch, or an ongoing business operation. This requirement ensures that the employer genuinely operates within the country and has a legitimate need for the foreign employee's services.

Don't have a physical presence or legal entity in a target country? That's where EOR visa sponsorship comes in.
What is an EOR-sponsored visa?
An EOR-sponsored visa refers to a work visa that is sponsored by an employer of record (EOR) on behalf of a foreign worker. An EOR is a company or organization that serves as the legal employer for a workforce, managing aspects like payroll, benefits, HR administration, and compliance with employment laws and regulations. In the context of work visas, an EOR-sponsored visa involves the following:

Employer of record (EOR):

The EOR is a third-party entity that takes on the legal and administrative responsibilities of employing workers on behalf of client companies. This can be particularly useful for companies that want to expand their workforce to other countries without establishing a physical presence or legal entity in those countries.
Foreign worker: The foreign worker is an individual seeking to work in a country other than their own. They might be hired directly by a client company but are employed by the EOR from a legal and administrative standpoint.
Sponsorship: The EOR sponsors the work visa on behalf of the foreign worker, assuming the legal and regulatory obligations associated with hiring an international employee. This sponsorship ensures compliance with local labor laws, tax regulations, and other employment-related requirements.
Visa processing: The EOR facilitates the application and processing of the work visa for the foreign worker. This can involve submitting supporting documents, interacting with immigration authorities, and coordinating the visa approval process.
Work arrangement: Once the work visa is approved, the foreign worker can legally work for the client company in the destination country. The EOR continues to handle payroll, benefits, and other employment-related matters while ensuring compliance with local laws.
Typically [companies] don't have an entity in the country [where they want to hire], so that's why they usually leverage our entity…you need to have the right sponsorship infrastructure to sponsor a visa…you don't want to set up an entity because it's expensive. You need to be audited, you need to keep up with HR and compliance, there's quite a burden to it, and you need to report taxes on it at the end of the year (if you're a US company), so the ability to just being able to hire anyone anywhere without having to set up infrastructure is a game changer for our companies.
Alex Bouaziz, Co-founder and CEO, Deel

EOR visa sponsorship comes in handy for nonimmigrant visas, such as the US H-1B visa, and immigrant visas, such as the US green card.
Organizations looking to hire or relocate employees in the US permanently, for example, can use an EOR to sponsor green cards, which provide foreign nations with legal permanent resident status and, eventually, US citizenship.
EOR sponsorship can also be a convenient way for enterprise organizations to obtain employer-sponsored visas for foreign employees looking to relocate to the company's home country.
For example, say a US employer wants to relocate foreign talent to its American headquarters. With EOR sponsorship, hiring companies can avoid the administrative burden of visa procurement, freeing up time and resources to focus on strategic priorities.
Check out the different types of visas Deel can support here.
Wondering if non-US citizens can work for US companies and live abroad as digital nomads? Read this article to find out.
Discover how financial technology company, Zip Co, championed worker mobility with Deel.
Deel helps me get things done quicker, easier, and more cost-effectively. We can offer unparalleled worker mobility and flexibility, which our team values…
Emma Leipold, Senior Global Mobility and Total Rewards Partner, Zip Co
How does EOR visa sponsorship work with Deel?
With Deel, EOR visa sponsorship is built into the intuitive global HR platform. Companies using Deel can quickly initiate the visa sponsorship and procurement process while creating a work contract for a new hire, or they can check visa eligibility for an employee before creating a contract.

Here's a step-by-step process for requesting visa sponsorship with Deel for a new or existing employee.

1. From the immigration tab, select 'check visa eligibility.'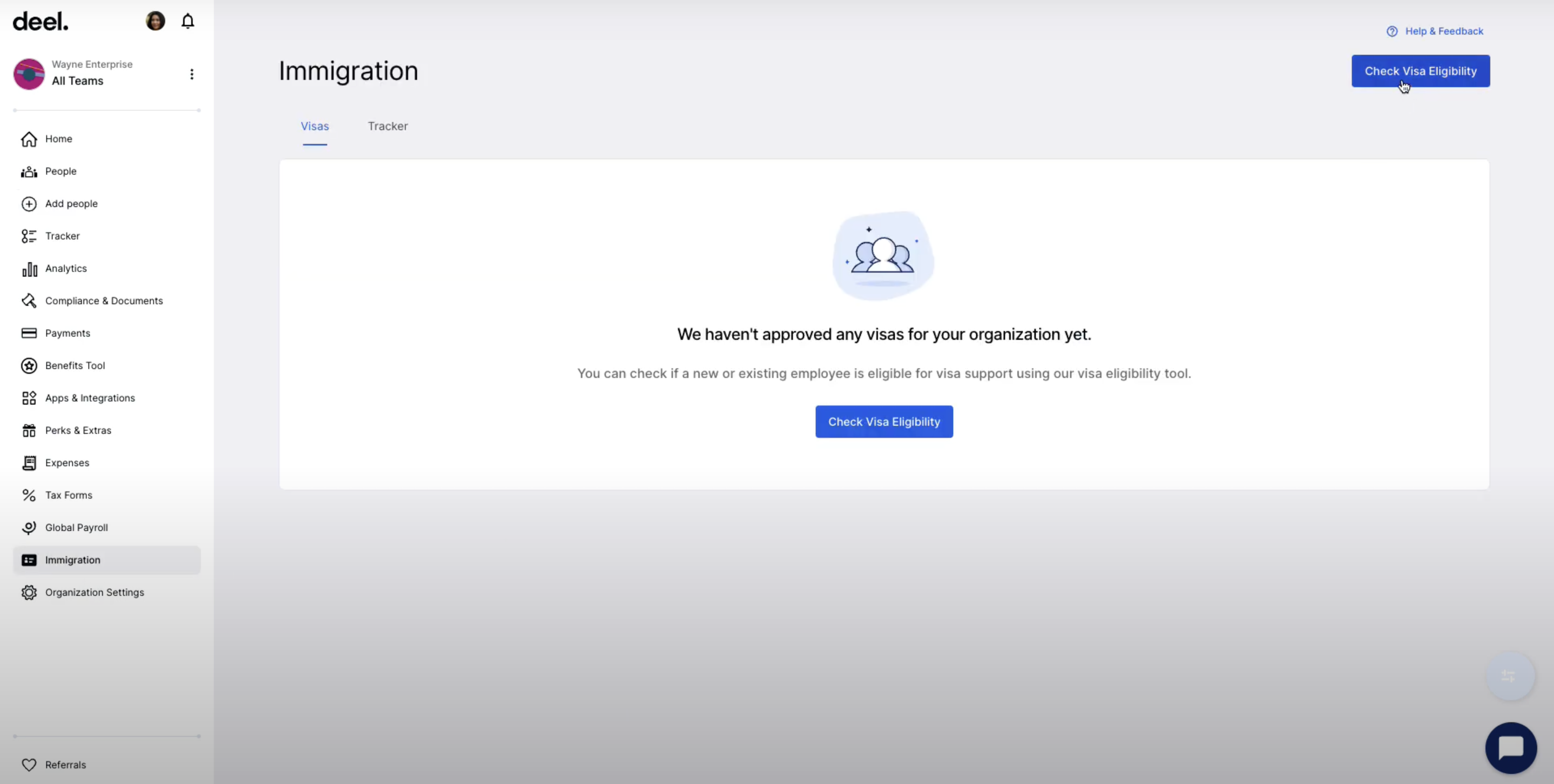 2. Choose the country from which you're going to be hiring the employee.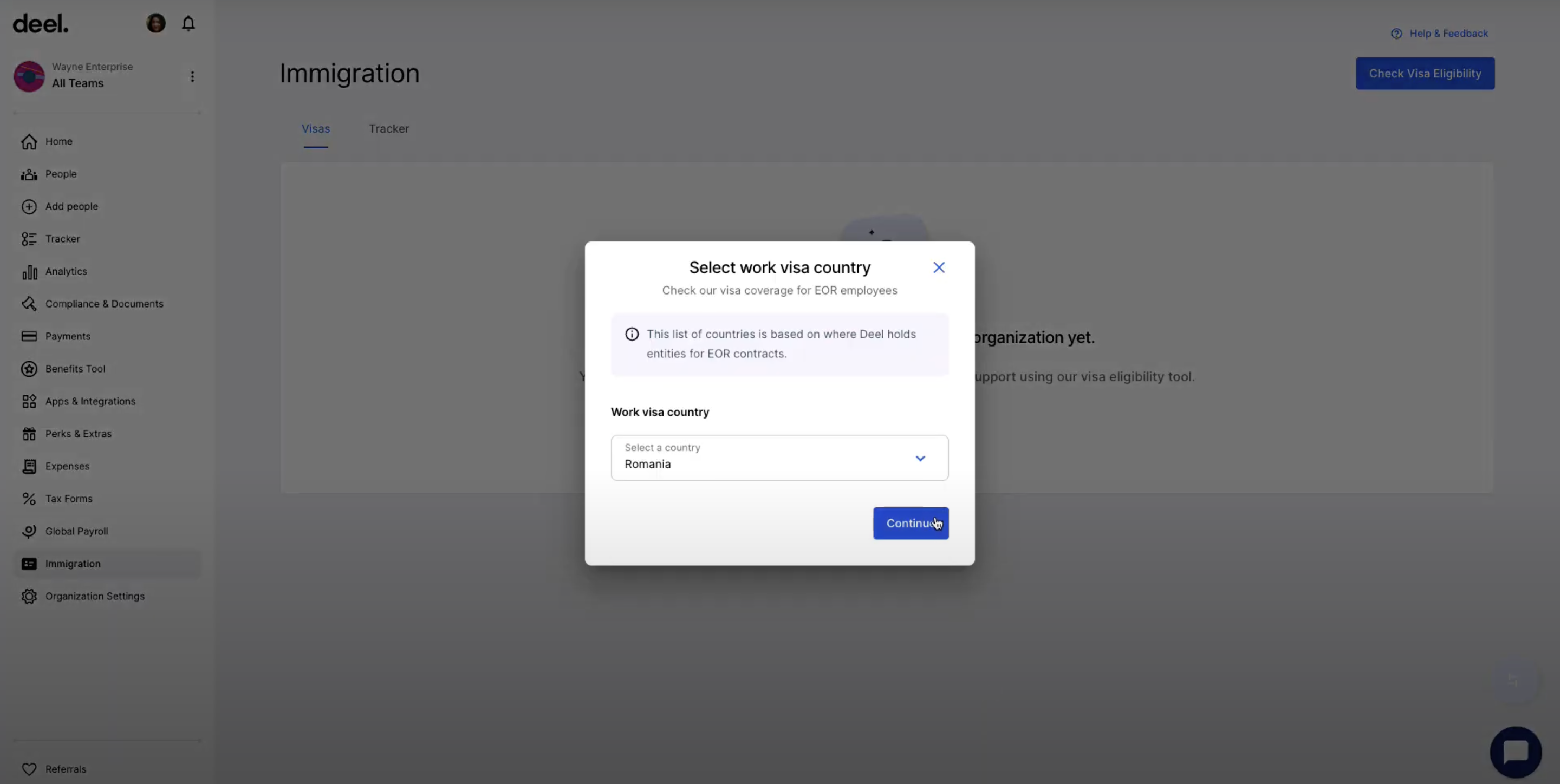 3. Choose whether you want to check new or existing employee eligibility.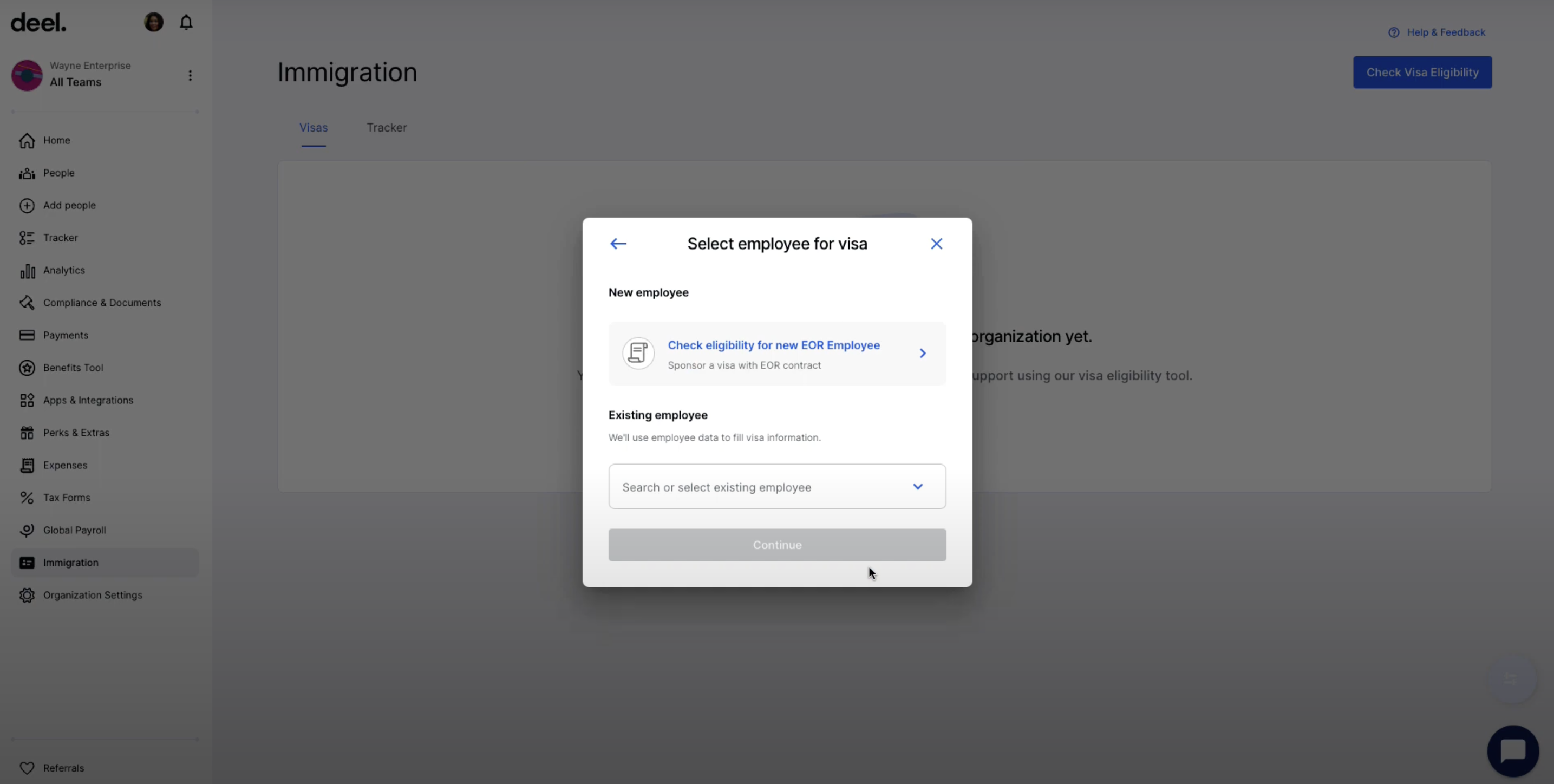 4. Enter employee details, including their current citizenship status and how many family members or dependents would need a visa.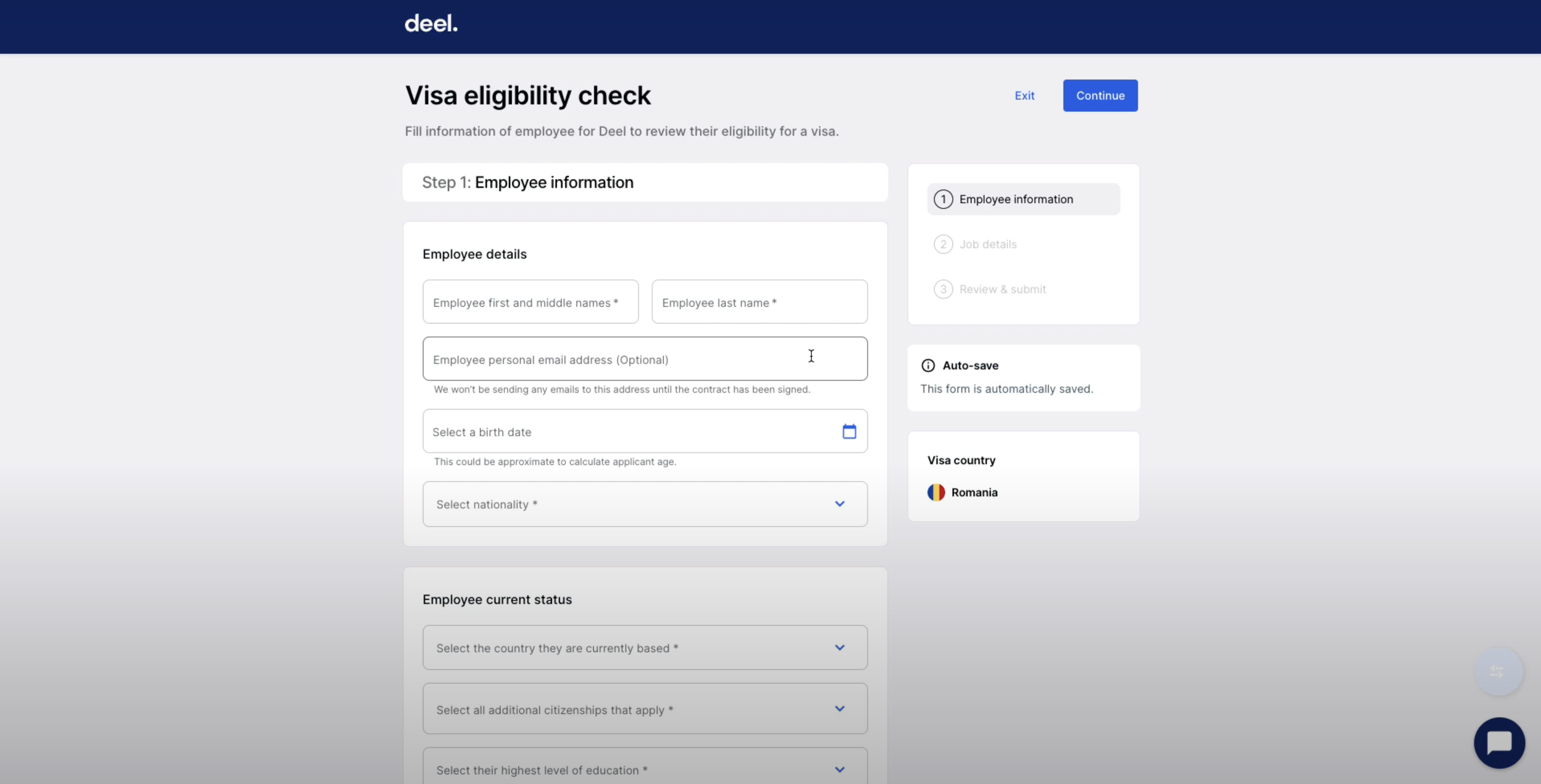 5. Review and submit the visa eligibility check.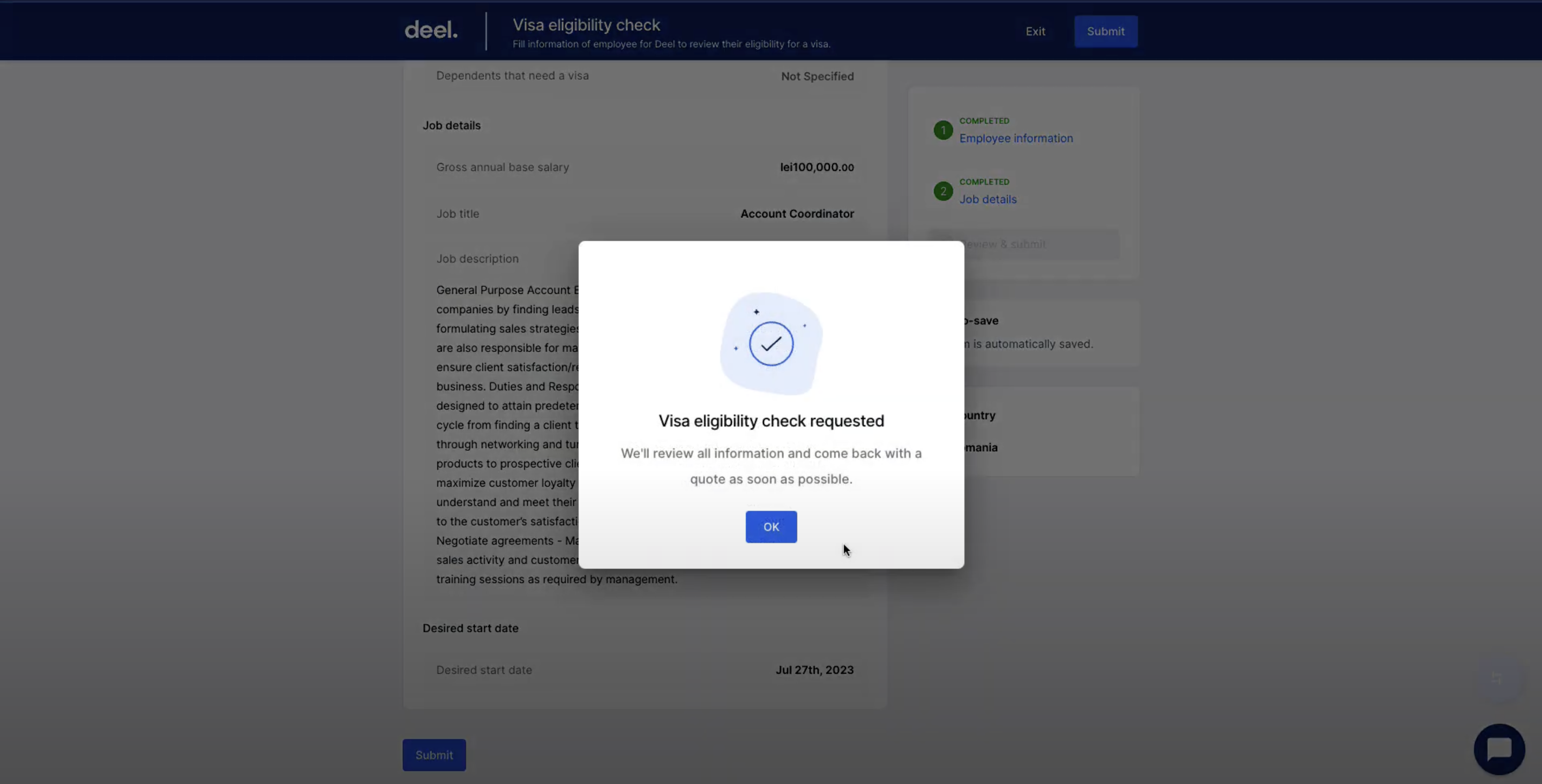 6. Review the cost breakdown and timeline for an eligible visa.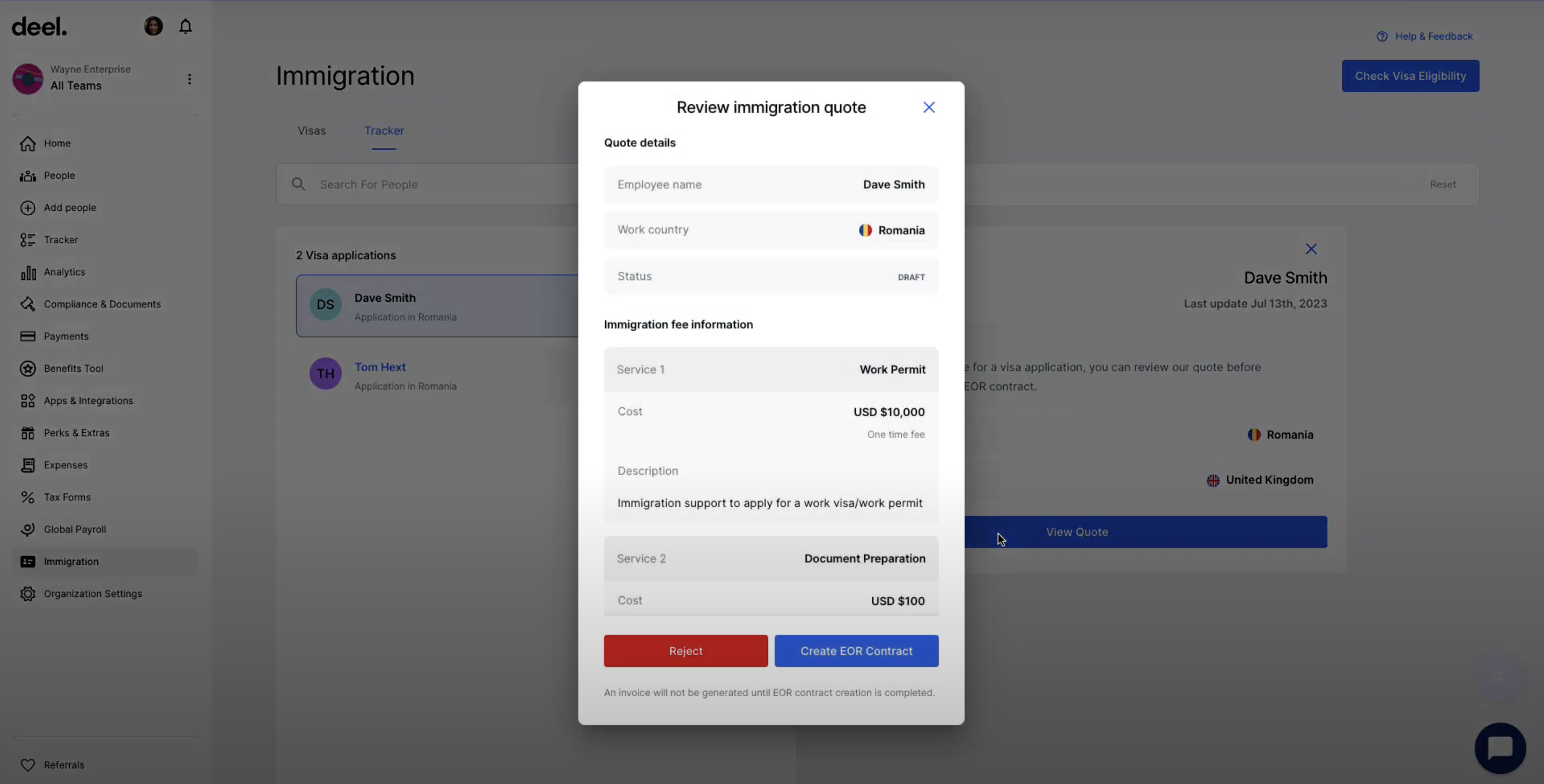 7. Create the EOR contract.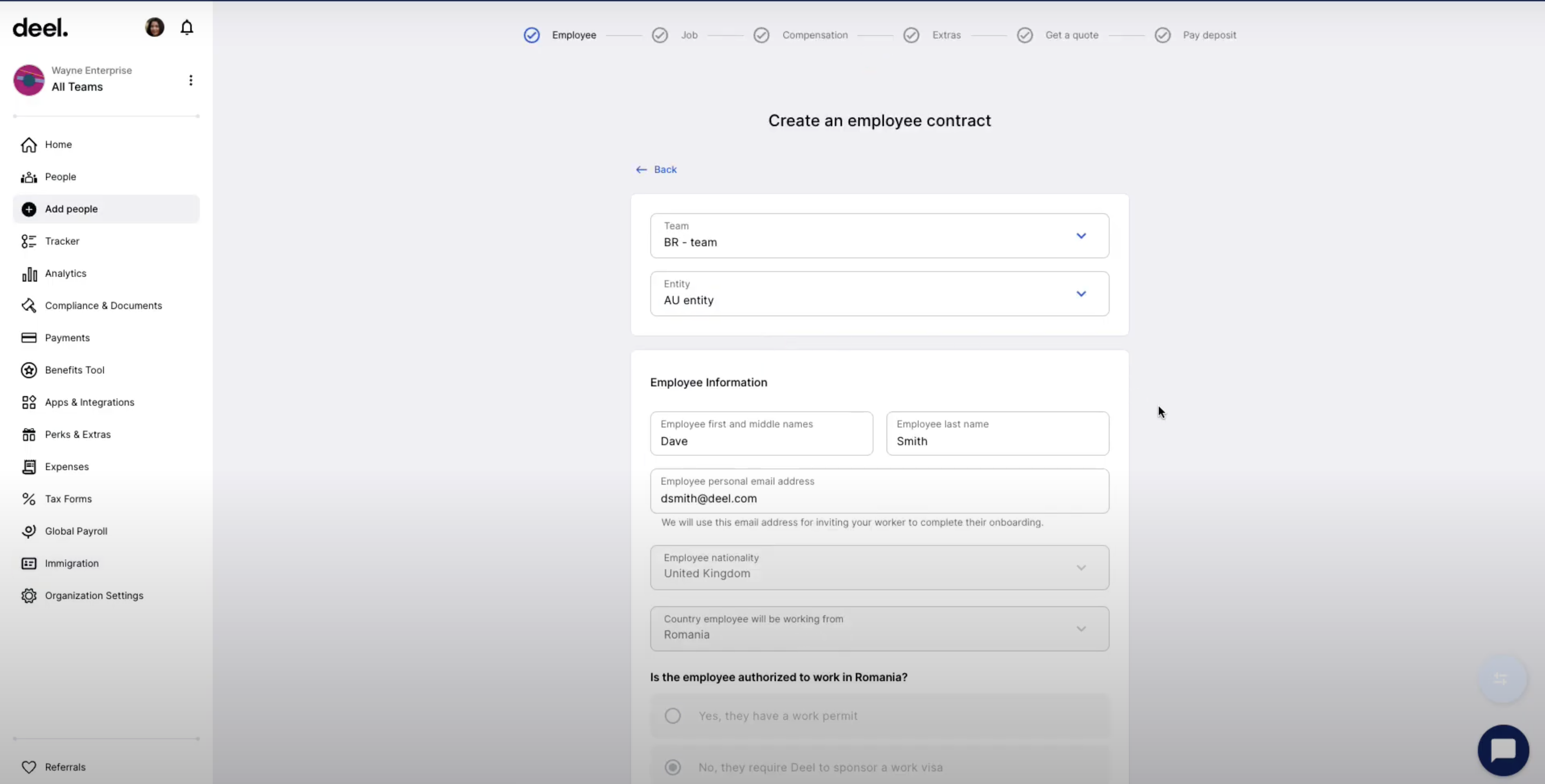 8. Choose any additional benefits and request a quote from the EOR team.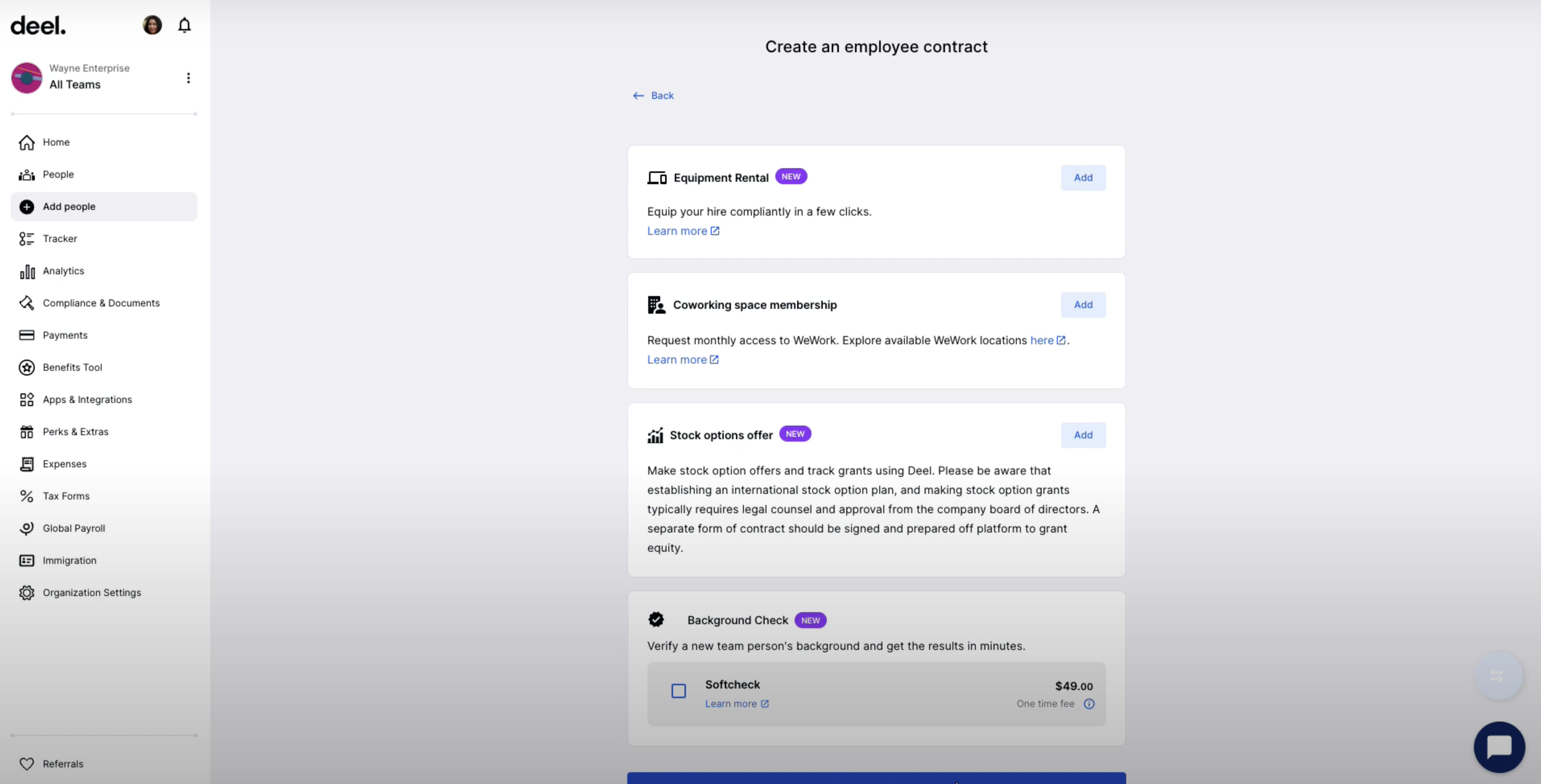 9. Review and sign the EOR contract.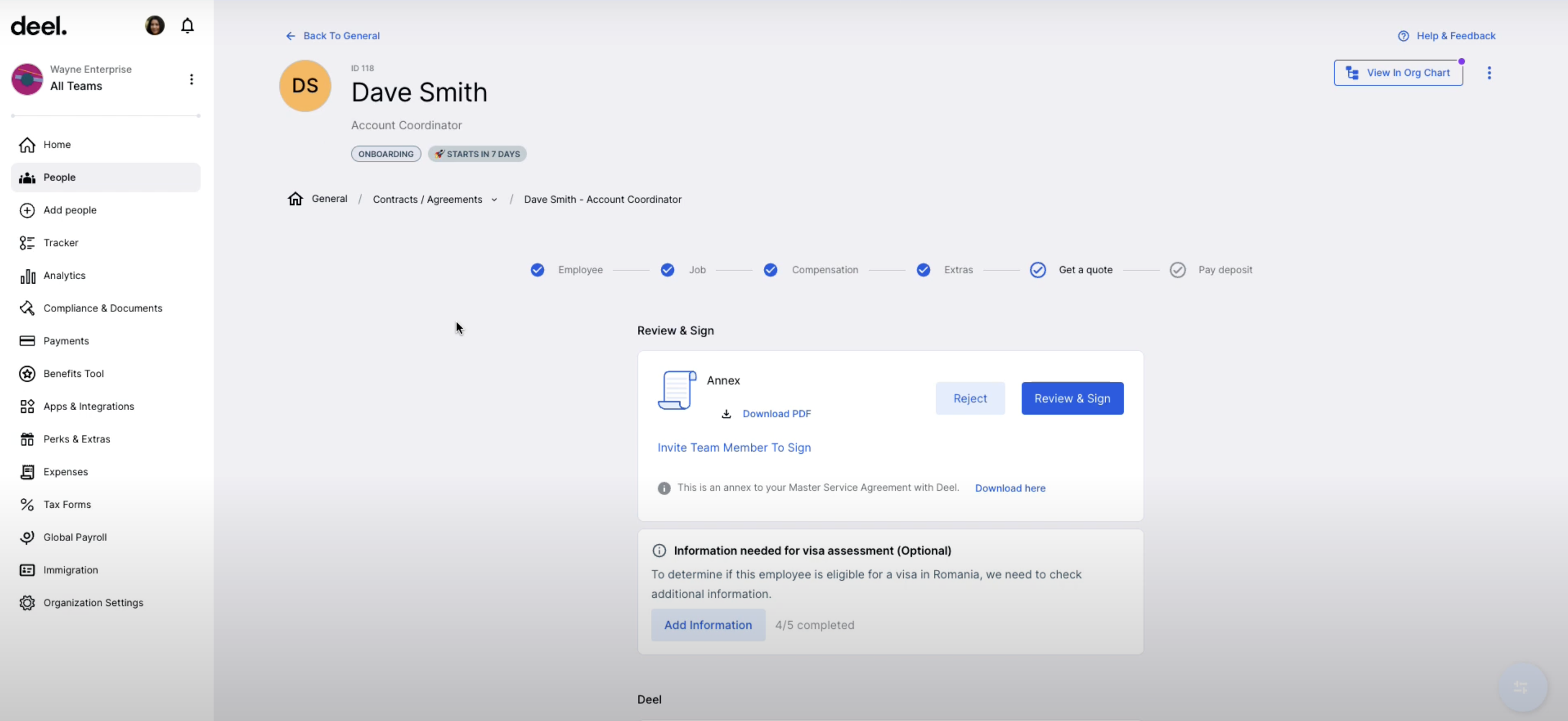 10. View the invoice for immigration services and make payment.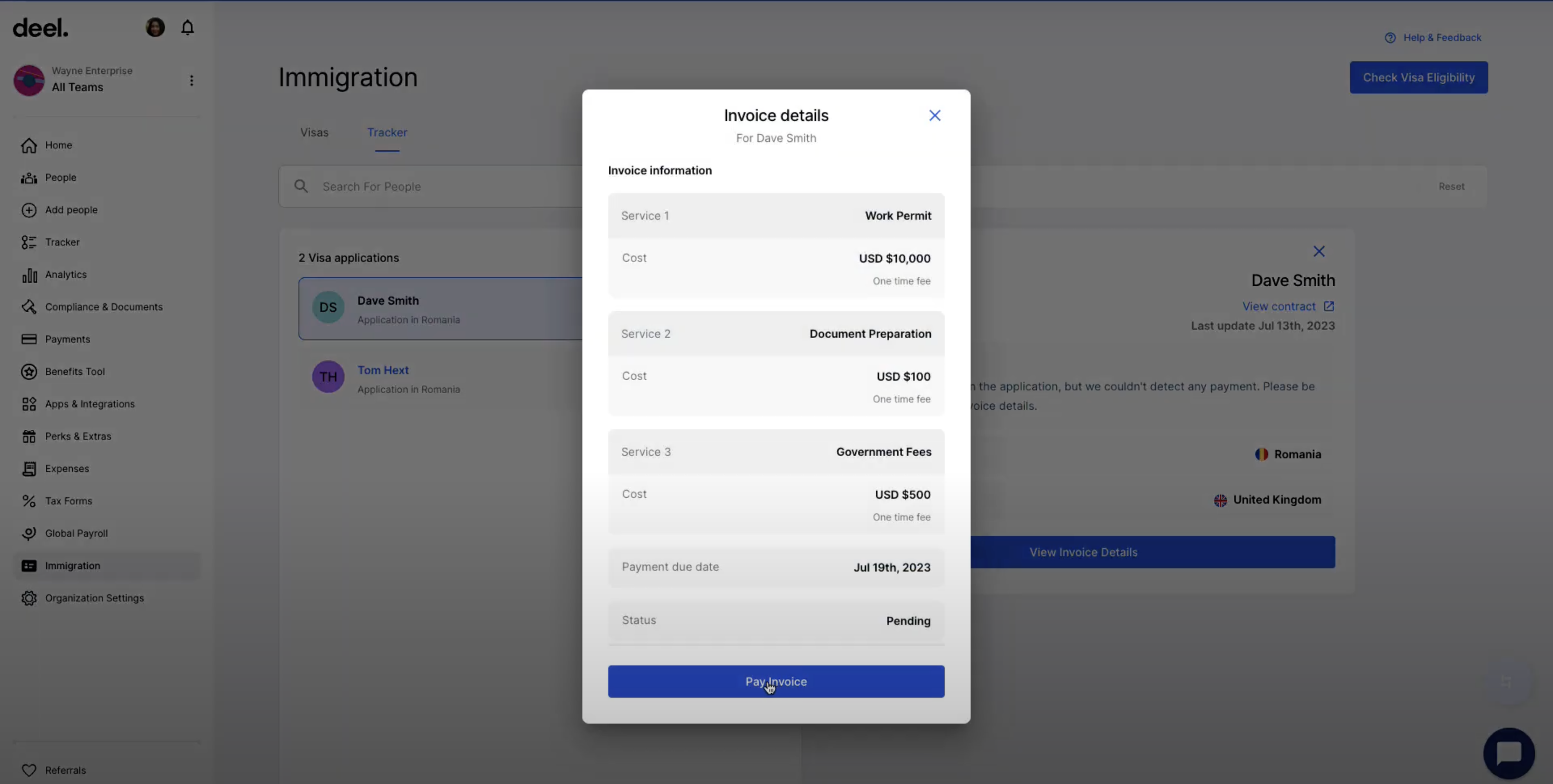 11. Deel will start the visa application process, which you can monitor from within the tracker.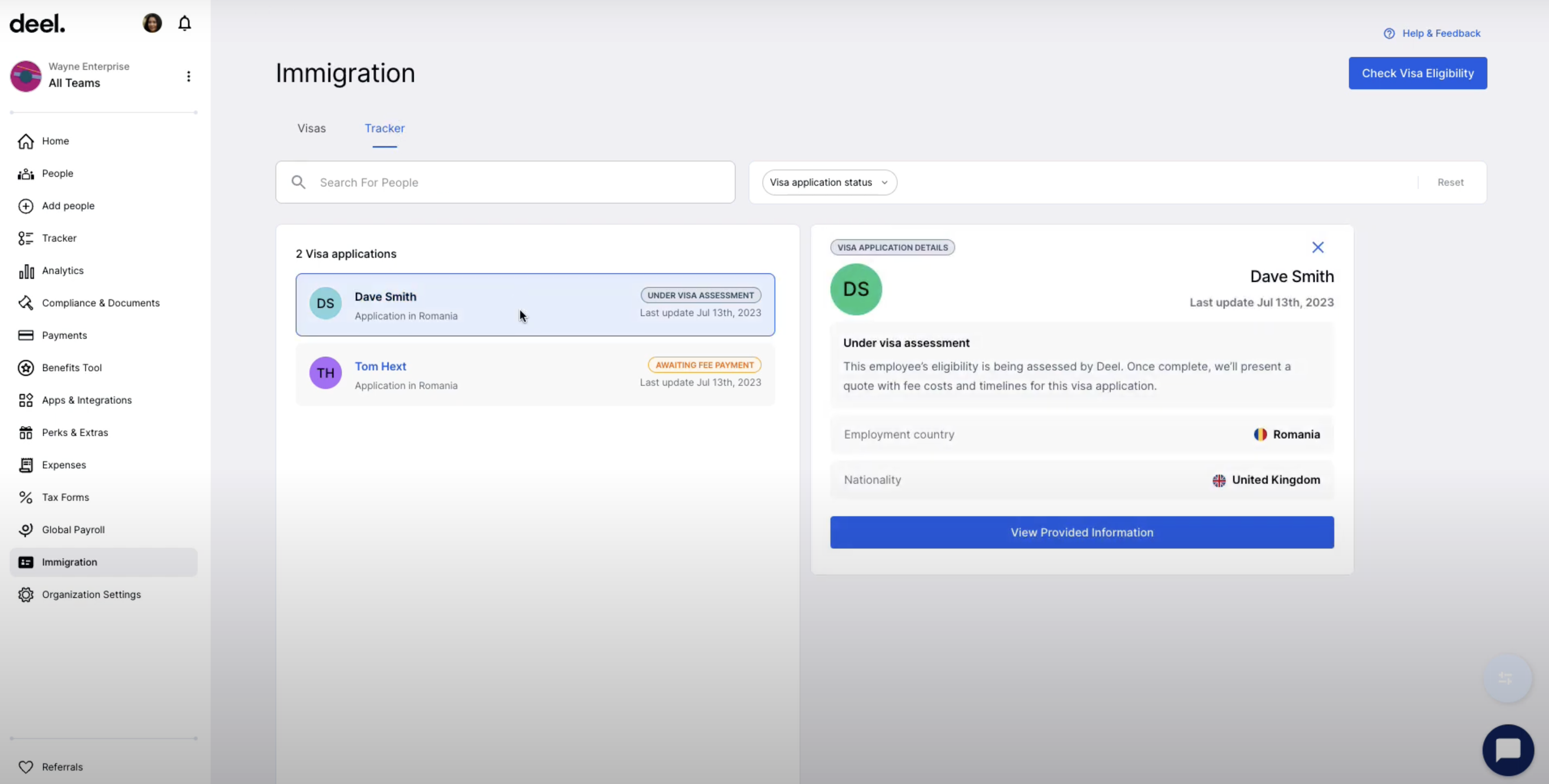 Watch the tutorial video below to see the process in action.
Discover how B2B SaaS company, Taktile, sponsored three visas thanks to Deel.
The best solution was to find an employer of record to help us bring all of that amazing talent to the company without opening an entity in those countries…
Valeria Rosati, HR Operations Lead, Taktile
Additional advantages of using an EOR sponsor
Beyond EOR sponsorship, certain EOR platforms offer a comprehensive suite of global services. An EOR sponsor like Deel, for example, provides the following:
Discover how payments technology company, Form3, grew its workforce by 20% in one year with Deel.
Deel enabled us to hire 100 people that we probably wouldn't have been able to hire otherwise…Deel gives us the peace of mind of knowing that in these visa situations, the employee will get the support they need.
Leanne Schofield, Head of People, Form3
Streamline international hiring with EOR visa sponsorship by Deel
In the realm of EOR visa sponsorship, Deel stands out as a superior partner. With its global platform, businesses gain access to an array of services that make it easy for enterprises to hire, onboard, and manage employees and contractors in multiple countries.
Embracing EOR-sponsored visas through platforms like Deel is no longer just a strategy but a necessity for global enterprises. By harnessing this innovative approach to international mobility, businesses can unlock the full potential of a diverse, global talent pool while gaining a competitive advantage in the modern business landscape.
Today, Deel is the largest EOR provider globally, with over 20,000 active employees under 95+ entities. Each of these 95+ entities is solely owned and managed by Deel. No outsourcing to 3rd party providers.
Learn more about Deel's visa and immigration services, or book 30 minutes with a product expert to get your questions answered.
Disclaimer: Be aware that this article is not a substitute for legal advice. Please always check official websites or seek legal advice before you take action.