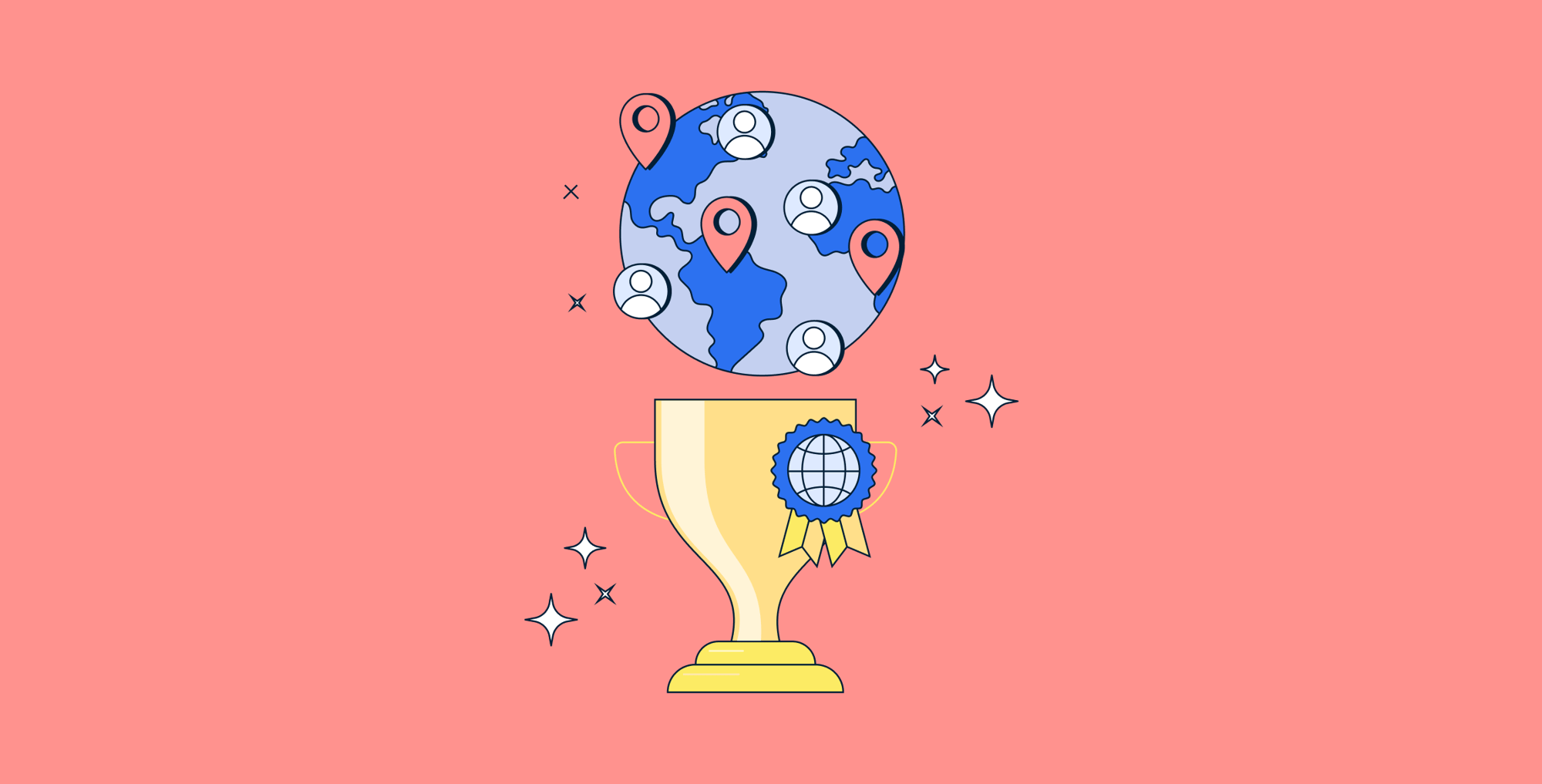 Win-Win Employee Relocations: How Enterprises Can Streamline Strategic Moves
Discover how accelerated visa applications, EOR visa sponsorship, and increased transparency and oversight can streamline employee relocations.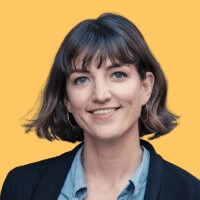 Written by Jemima Owen-Jones
August 30, 2023
Contents
Need help onboarding international talent?

Try Deel
Key takeaways
Employee relocations can benefit the business by accessing new talent pools, expanding into new markets, and improving employee satisfaction.
Accelerated visa applications enhance timely relocations and optimize operational efficiency, while visa tracking provides transparency and control, improving employee experience.
EOR visa sponsorship enables companies to compliantly relocate employees to countries without establishing a physical presence or legal entity in those countries.
In today's globalized economy, businesses are increasingly looking to relocate employees to different countries to access new markets, tap into wider talent pools, reduce costs, and improve talent acquisition and retention metrics.

For workers, long and short-term relocations provide an opportunity for career advancement, exposure to new cultural experiences and ways of life, and improvement of quality of life and work-life balance.

However, employee relocations can be complex, disruptive, and time-consuming, as businesses need to navigate immigration processes and ensure compliance with local laws. Lacking knowledge in dealing with intricate immigration procedures can hinder the global mobility of a workforce.

This article delves into how Deel's visa and immigration solution addresses these pain points, creating a win-win scenario for enterprises and employees.
Confirm feasibility with a visa eligibility checker
The uncertainty of not knowing if an employee can relocate to another country can be a significant obstacle. Immigration laws can be complex and vary from country to country, making it difficult for companies to understand the requirements for a particular visa. If a business and employee applies for the wrong visa, the application may be denied or delayed.

Deel's visa eligibility check feature helps enterprises quickly assess the feasibility of employee relocations to streamline the decision-making process, reduce uncertainty, and improve the employee experience. This feature considers factors such as the employee's nationality, the destination country's immigration laws, and the type of visa required.

Watch the tutorial video below to see the process in action.
Accelerate visa processing with a streamlined visa application process
The visa application processes can be lengthy and complex, which can delay relocations and cause frustration for employees and employers.

The time it takes to process a visa application can vary depending on the country and the visa type. Often, it can take several weeks or even months, which can be a major inconvenience for team members eager to start their new job in the new country. It can also be disruptive for businesses needing to fill critical roles quickly.

In some cases, lengthy visa application processes can lead businesses to abandon their plans to relocate employees altogether. This can be a major setback for businesses trying to expand into new markets or grow their operations.

Deel's accelerated visa application service helps businesses expedite the visa processing timeline. Our immigration experts can handle visa sponsorship, applications, and compliance in a fraction of the time, which can be especially valuable for businesses that need to relocate employees within a particular time frame.

Discover how financial technology company Revolut streamlined employee relocation to maintain its fast pace of growth.
Through Deel, we have hired more than 150 people so far and relocated more than ten employees to countries like the UAE and Switzerland [...] Deel has provided amazing support from sponsoring visas in various countries and all the requirements needed from a paperwork and documentation perspective, among other things that were challenging for us.
Luka Besling, HR Manager, Revolut
Watch the video below for the full story.
Ensure compliance and convenience with EOR visa sponsorship
To compliantly relocate an employee to a new country, many countries require employers to sponsor their worker's visa or work authorization application and provide the necessary documentation to the government.

Sponsoring a visa is often a time-consuming undertaking for any human resources department. Each country has rules and regulations regarding employment-based work visas and employer sponsorship. The specific criteria, documentation, and processes can vary significantly.

In many cases, having a presence in the destination country is a requirement or at least a strong factor when sponsoring an employment visa for a foreign employee. Businesses that cannot sponsor foreign nationals may lose out on opportunities to expand into new markets or grow their operations.

EOR visa sponsorship can benefit companies that want to expand their workforce to other countries without establishing a physical presence or legal entity in those countries.

An EOR-sponsored visa refers to a work visa that is sponsored by an employer of record (EOR) on behalf of a foreign worker. An EOR is a company or organization that serves as the legal employer for a workforce, managing aspects like payroll, benefits, HR administration, and compliance with employment laws and regulations.

Today, Deel is the largest EOR service provider globally, with over 20,000 active employees under our 100+ entities. Each of these 100+ entities is solely owned and managed by Deel—no outsourcing to 3rd party providers.

Unlike sponsorship organizations or immigration and visa services, EOR sponsors provide a streamlined, hands-off visa procurement process and greater transparency and protection. In addition, some EOR sponsors come with a comprehensive suite of global services, including the following:
Global payroll and tax filing
Background checks
Benefits administration
Equipment and flexible workspace memberships
Equity grants
Misclassification protection
Free HR plugins


Discover how payments technology company Form3 grew its workforce by 20% in one year with Deel.
Deel enabled us to hire 100 people that we probably wouldn't have been able to hire otherwise…Deel gives us the peace of mind of knowing that in these visa situations, the employee will get the support they need.
Leanne Schofield, Head of People, Form3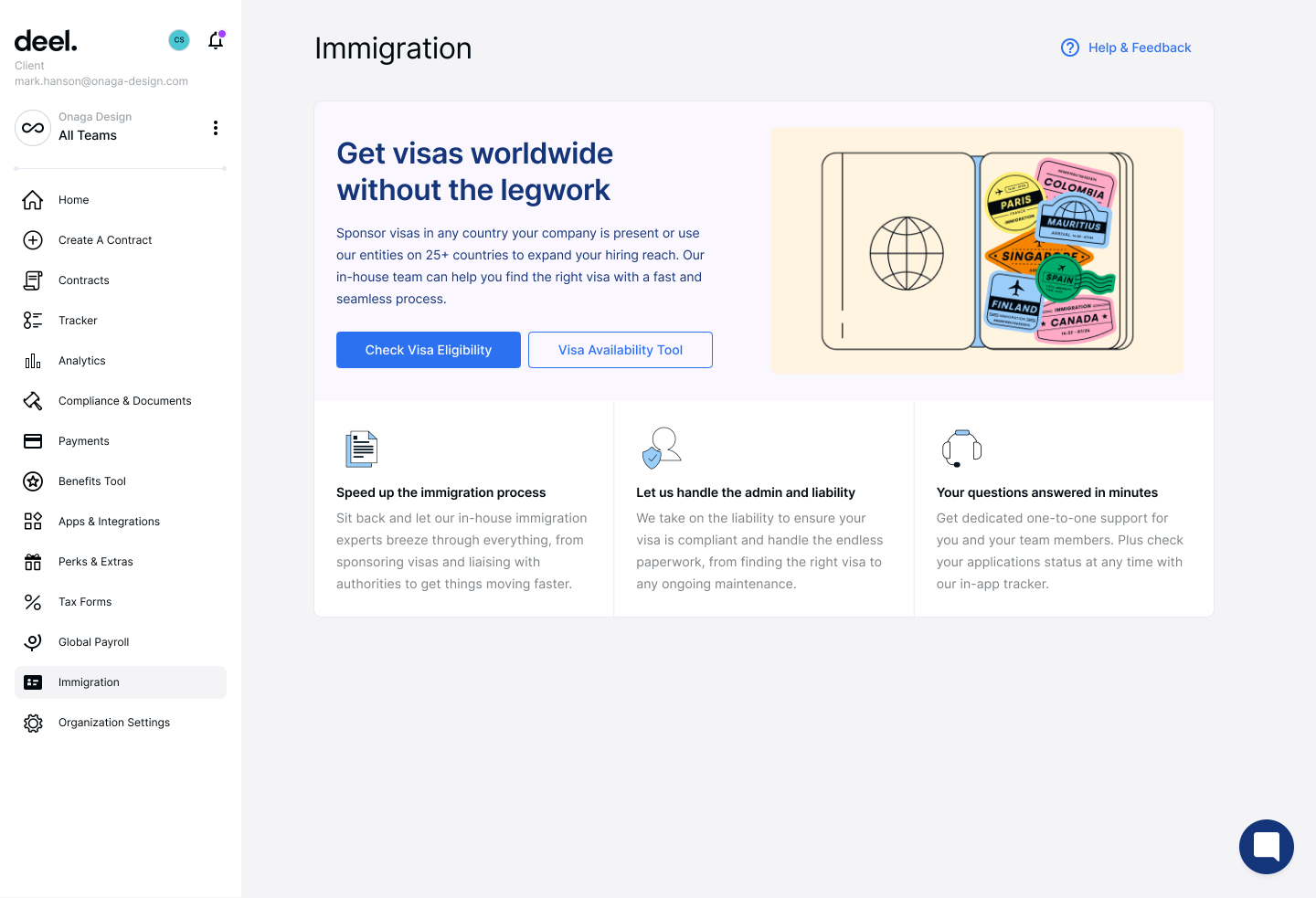 Provide transparency with visa tracking
Moving to a new location and finding a new home can be stressful for employees. However, one of the biggest contributors to this stress is the lack of visibility within the visa application process. Employees may not know what to expect when things will happen or who to contact with questions. This can lead to anxiety, frustration, and uncertainty.

Businesses must provide employees with as much visibility as possible to mitigate the anxiety they may feel during the relocation process. Transparent communication and visa tracking are essential for keeping employees informed and providing a clear roadmap to ensure a smooth and successful transition.

Deel's visa tracker feature provides real-time updates and progress tracking for visa applications. This helps employees stay informed about the status of their applications, reduces anxiety, and leads to greater employee satisfaction.

In-app visa and immigration support is also available if you have a case-specific question or a general inquiry.

Discover how automated decisioning platform Taktile supported three employees through visa obtainment and tracked the progress in the Deel in-app tracker.
We leave everything in Deel's hands ... but it is good to have transparency and a lot of visibility as to how the case is developing.
Valeria Rosati, HR Operations Lead, Taktile
Watch the tutorial video below to see the process in action.


Gain visibility with an immigration overview
HR professionals are often responsible for overseeing the organization's immigration activities, which can be a complex and time-consuming task.

Lacking a clear overview can make it difficult to make informed decisions about things like:
Which employees need visas
The type of visas required
When current visas expire
The costs associated with visa sponsorship and procurement

Deel's immigration overview tool provides a comprehensive view of a company's immigration activities. This includes information on the number of employees with visas, the types of visas they hold, and the costs associated with visa sponsorship and immigration. This information can help businesses make informed decisions about their mobility program strategy.

Discover how financial technology company Zip Co made compliance cost savings while attaining business needs for administrative efficiency using Deel.
Deel helps me get things done quicker, easier, and cost-effectively. We can offer unparalleled worker mobility and flexibility, which our team values.
Emma Leipold, Senior Global Mobility and Total Rewards Partner, Zip Co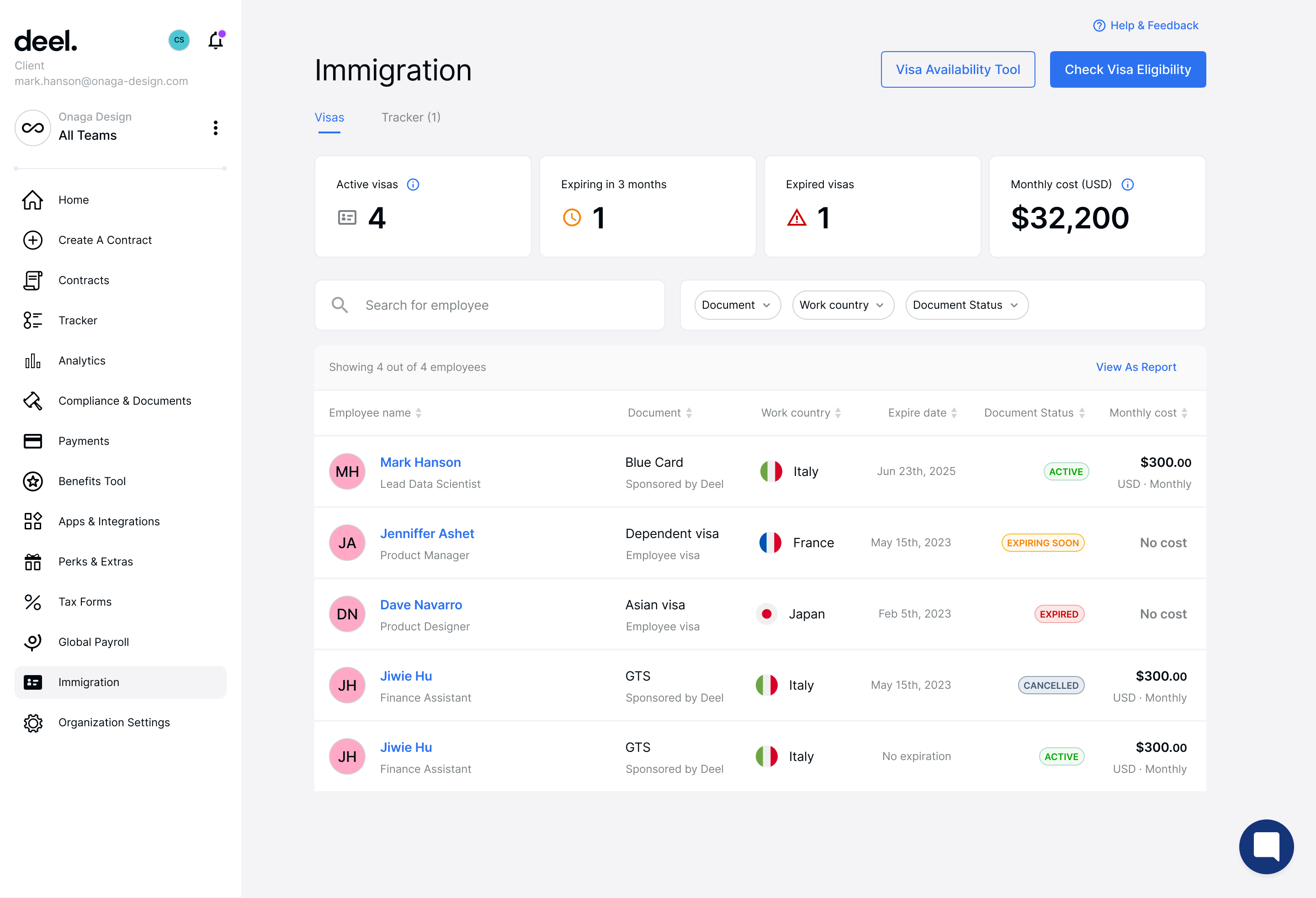 Streamline employee relocations with Deel
Implementing employee relocations is a strategic move for enterprise business leaders expanding into new markets, accessing new talent pools, and competing for talent. However, the rise of remote working and global mobility initiatives demands businesses to handle visa and immigration processes better.

Deel's visa and immigration solution helps businesses navigate complex immigration processes, accelerate visa applications, ensure compliance, and provide transparency. This solution can help companies to relocate employees more efficiently so they can compete on a global scale.

Learn more about Deel's visa and immigration services, or book 30 minutes with a product expert to get your questions answered.