8 Workplace Mobility Trends Reshaping Employee Experience
Workplace mobility is fundamental to providing workers with the ultimate employee experience. Here's how this function can improve your culture, retention, and growth.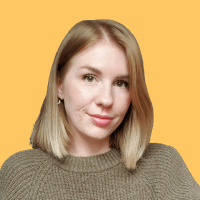 Written by Shannon Hodgen
May 23, 2023
Contents
Need help onboarding international talent?

Try Deel
Key takeaways
Workplace mobility supports employee retention by providing workers with the flexibility and growth they desire.
Globally mobile teams experience higher diversity, which leads to more innovative, creative, and inclusive leaders.
Employees who are happy with their company's location flexibility are twice as likely to recommend the company to a friend.
What does the employee experience of the future look like? Well, that will depend on where your employees choose to work—and with workplace mobility, they'll have plenty of options.

Workplace mobility is redefining the employee experience by building on the freedom that comes with remote work and taking it global. This function gives employees flexibility in their work—something nine out of ten employees want—and empowers them to truly work from wherever:
Wherever their company is expanding
Wherever their family and friends are
Wherever they do their best work
Wherever their wanderlust takes them

This article will give you a glimpse into the micro and macro transformations your team can undergo by embracing workplace mobility and help you determine if it's the right way to enhance your employee experience.


What is workplace mobility?
Workplace mobility is a function that enables employees to relocate and work from around the world. Organizations of all sizes use workplace mobility to expand into new markets, develop their workers' skills, and create a strong employee experience. The terms workplace mobility and global mobility are often used interchangeably.

You can increase workplace mobility within your organization by using visa mobility support services. At Deel, we handle the entire visa process in-house. We assess your employee's eligibility, employ them through our EOR solution, and start the visa application process for you, taking the burden off your human resources team.
What are the benefits of workplace mobility?
Embracing workforce mobility keeps employees engaged and invested, fosters inclusivity and diversity, and enables companies to tap into emerging talent hotspots.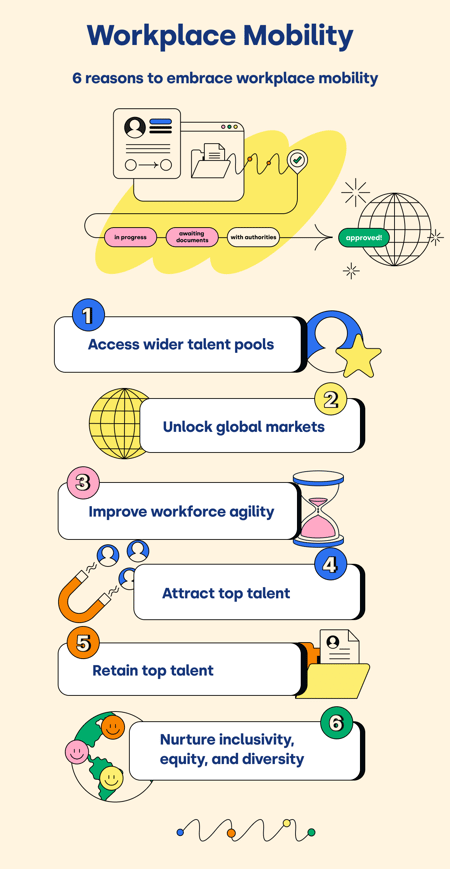 Let's explore these benefits in more detail below.
Employees stay engaged and invested
Including workplace mobility in your employee experience strategy can increase employee retention within your organization, giving employees what they want most: flexibility. 54% of employees say they're likely to quit if they aren't offered the flexibility they want.

Having the option to retain your engaged employees as they move abroad can also relieve stress for HR leaders and administrative teams. When companies can't offer workplace mobility to their employees, they have to complete the time-consuming and costly recruitment and training process, which can cost between $30,000 to $45,000 for an employee earning $60,000 per year.
The employee journey is more personalized
According to research by Deloitte, only 24% of companies feel they excel at aligning their employees' personal goals with the corporation's purpose. Workplace mobility can change that, though, as workers can personalize their employee journey and create their ideal work environment by choosing where they work.

Say an employee's home base is in Eastern Canada and they want to live somewhere warm during the cooler months of the year. At the same time, their employer is seeking international expansion and has identified Portugal as a new potential market.

The employer can accomplish what over 75% of companies can't and align their employee's personal goals with their corporate purpose by giving the employee a fixed-term international assignment in Portugal, or maybe even Turkey. The employee achieves their personal goal of relocating to a warmer climate, and the employer achieves their corporate goal of international expansion.
In a very connected world, especially in this post-pandemic world, there is no room anymore not to think globally or at least be directly influenced by global trends. This also means that talents are everywhere and embracing global mobility means embracing the potential of the world, the opportunity to work from different countries, hire employees everywhere, and not be limited to physical locations anymore.
Masha Sutherlin, Director of Global Corporate Legal and Mobility, Deel
Global hiring just got easier
Easily compare hiring data, access global market rates, and get employer cost breakdowns from 100+ countries with your Global Hiring Toolkit
Employees have more learning and development opportunities
In a 2019 Linkedin survey, 94% of respondents said they'd stay at a company for longer if it invested in their learning and development. As a stakeholder, you can align your workplace mobility programs with your talent strategy to expand learning and development opportunities abroad and create unlimited possibilities for growth throughout the employee lifecycle.

When employees are free to relocate, they can travel to new markets to share their knowledge with peers and learn new skills in return. But in companies that don't embrace global mobility, workers' movements are restricted, and the transfer of knowledge is drastically limited.

To discover how Deel saved Nium 12+ months of effort to expand into a dozen new geographies, check out this case study or watch the video below.
Employees can develop their cultural and social intelligence
Workplace mobility provides employees with the unique opportunity to become more adaptable, better communicators, and more culturally intelligent. These skills are necessary when relocating to a new country, especially if there's a language barrier or cultural differences. But employees rarely have the opportunity to develop them in traditional work environments.

By honing these skills abroad, your workers can experience higher rates of employee satisfaction and apply what they've learned to improve their team's workplace agility, business performance, and customer experiences.
When the conflict started in Europe, some of our team members in Ukraine had to relocate. Thanks to Deel, we were able to provide those team members with job security and flexibility, which helped reduce the amount of stress they were feeling at the time.
Carmen Fan, Head of Marketing, Floship
Employees are more likely to recommend their company to others
Word-of-mouth recommendations and employee referrals are powerful recruiting tools. When employees boast about their team's positive company culture and workplace experience on social media (like Glassdoor or Linkedin) or in person, others take notice.

Employees that are satisfied with their company's time and location flexibility are twice as likely to recommend it to a friend. Globally-mobile employees can recommend anyone from their network to apply for an open position—regardless of their location—which expands the company's talent pool.
Deel has made it SUPER simple for a small company based all over the world to hire and pay folks. The platform is extremely easy to navigate, really user-friendly and Deel support has gone above and beyond any requests we've had.
Ben Tossel, Founder, Makerpad
Employees get the work-life balance they want
Today's workforce prioritizes work-life balance over compensation when considering job offers. Workforce mobility allows employees to travel more often and enjoy their work environment on a deeper level, improving their work-life balance and well-being. Whether you offer workplace mobility en masse or on a case-by-case basis, you can use it as a competitive advantage to attract new employees and recruit new hires from overseas.

Companies should also offer global employee benefits and perks to attract global talent, differentiate your company from the competition, and elevate the employee's overall experience.
To discover how Revolut streamlined employee relocation with Deel, check out this case study, or watch the video below.
Employees can better respond to major life events
Significant life changes—such as a partner getting a job abroad or a family member back home falling ill—can cause an avalanche of stress for employees. They have to manage a potential relocation, request extended time off, or potentially find a new job. Workplace mobility allows employees to relocate as needed and minimizes their stress.
Employees become more confident, calm, and creative

Research from Columbia Business School has found that travel improves your sense of self, job performance, and stress levels. The opportunity to live and work abroad inspires personal and professional growth by exposing you to different cultures, which stimulates new ways of thinking, problem-solving, and communication. Remote employees, specifically, report greater creativity and innovative thinking as they face fewer distractions, work in more comfortable environments, and have more time alone.
Our efforts in mobility unite people across the world. By offering visas we are creating opportunities and advancement that wouldn't be possible. We bring people together for a better understanding of our different cultures and traditions.
Elia Torres, Global Mobility Operations Manager, Deel

More leaders promote diversity and inclusion
In our State of Global Hiring Report, we shared that the rate of global hiring is increasing across all regions. The uptick in global hiring and mobility has helped increase diversity in the workplace by bringing workers together from various backgrounds, countries, and cultures. By embracing workplace mobility and diversity, companies can see more inclusive business leaders who tend to experience higher productivity, innovation, and employee engagement on their teams.
Our vision is to make Mobility simple, transparent, and fun. We want our clients to be able to outsource the complexity to Deel and let Deel Immigration help them expand globally in a rapid and compliant way.
Masha Sutherlin, Director of Global Corporate Legal and Mobility, Deel
Boost workplace mobility with Deel
Workplace mobility can create great employee experiences for your team members and bring you closer to your ideal business outcomes. But before you start the international hiring process, you must ensure compliance with international employment laws.

With Deel, you can hire workers in 150+ countries and use our Deel-owned entities in 80+ countries for a seamless process. We handle everything for HR teams, from ensuring compliance with local laws and procuring the correct work visas and permits to managing global payroll and complex tax systems.

Explore our global hiring guide to discover how you can easily hire remote team members and give them a positive employee experience anywhere in the world.
Alternatively, book 30 minutes with a product expert to see Deel in action.