How Can I Expand My Business in the US: 3 Options for Startups
Startups have three options to scale in the US compliantly: Open a foreign entity, hire local employees through an EOR, or engage local contractors.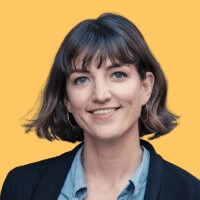 Written by Jemima Owen-Jones
June 6, 2023
Contents
Need help onboarding international talent?

Try Deel
Key takeaways
Opening a foreign entity is the most complex and costly way of expanding.
Hiring remote US-based employees through an EOR is the fastest and most convenient option that ensures international compliance.
Hiring independent contractors is the most affordable way to expand in the US, but take precautions to avoid misclassification.
Scaling in the US is an attractive prospect for many entrepreneurs, providing access to a larger target market, new customer base, and talent pool.

Historically, however, expanding in the US has been complex, expensive, and time-consuming for business owners. With over 50 US states, each with unique laws and regulations, it's unsurprising that about half of all new businesses fail within the first five years of operation, according to the Bureau of Labor Statistics.

Fortunately, the infrastructure is evolving. This article presents three options startups can explore to plunge into the US market, build a local presence, and gain a competitive advantage.
Option one: Establish a foreign entity in the US
Registering a foreign entity is the traditional route for business expansion in the USA. There are three main types of entities you can establish depending on your desired US business model:
A representative office:

This entity doesn't allow you to carry out core business functions overseas but is suitable for market research and doesn't call for as much regulatory oversight

A branch office:

With this entity type, the legal liability stays with the parent company, but you can hire employees to carry out revenue-generating functions in the US
A subsidiary:

This is considered a separate legal entity from the parent company and operates like a local company, assuming all legal and compliance liabilities

Opening a foreign subsidiary provides your startup with the most protection in terms of legal and compliance risks while maintaining a certain level of control over how the foreign company operates.

The disadvantage of this approach is that setup and running fees often exceed hundreds of thousands of dollars and require the diligence of legal teams to navigate a complex legal landscape. Processing times vary by state and can take several months to complete.

See also: A Guide to Setting up a Local Entity.
Deel gives us access to hiring people in a compliant way, anywhere. Those are people that we wouldn't have been able to hire without Deel, as we wouldn't be able to open an entity in every country where we wanted to hire someone. It also enables us to be close to our customers, they are all over the world, so we need to be there too.
Sanna Westman, Head of People, Planhat
Option two: Hire remote US employees through an EOR, or co-employ with a PEO
Today, startups can build a local presence in the US by hiring employees through an employer of record (EOR). An EOR already has legal entities in the US and countries worldwide, enabling startups to work with international employees without setting up an office in that location-an ideal option if you're hoping to test a new market.

To hire a US employee through an EOR like Deel, startups log on to their dashboard and create an EOR employee contract. Enter the worker's details and follow the contract workflow to populate the contract with US-specific terms and conditions vetted by local legal experts.

The global platform ensures your startup remains compliant with US laws and regulations throughout the employee's tenure at your company.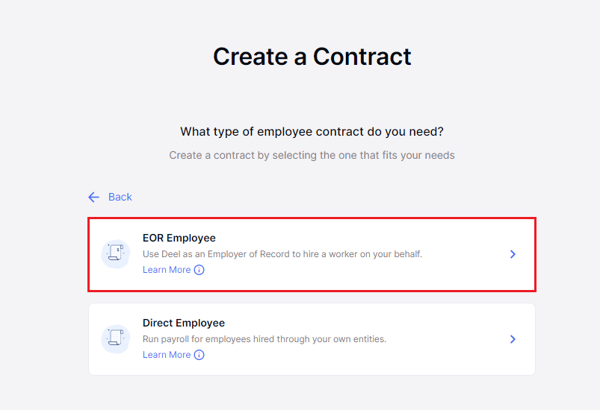 The platform will:
Collect compliance documentation and information such as social security numbers, W-4 (or W-9) forms, State tax withholding forms, and I-9 employment eligibility verification forms and store them in accordance with US data privacy and protection laws
Provide global market insights so you can offer a fair and competitive US salary, meet US minimum wage requirements, and establish overtime pay and maximum hours
Administer mandatory benefits such as federal unemployment, state unemployment, private healthcare, Medicare, workers' compensation insurance, social security, and pension schemes
Run global payroll in line with US payroll schedule and currency requirements
File US income taxes with the IRS
Calculate benefit contributions as a percentage of payroll and file them with the relevant government agencies (6.2% of employee wages for federal Social Security and 1.45% for Medicare.)
Provide visa and immigration support to help non-US citizens acquire the correct work authorization documents, such as visas and work permits
Request employees sign US data processing and protection agreements to preserve intellectual property
Onboard, offboard, and terminate in line with US labor laws
Today, Deel is the largest EOR provider globally, with 95+ entities. Each of these entities is solely owned and managed by Deel—no outsourcing to third-party providers.
If you already have an established workforce or prefer more control and oversight of your workforce, the
Professional Employer Organization (PEO) model is an alternative solution. This co-employment arrangement allows Deel to run administrative tasks such as payroll and benefits administration for your workers while you remain as the employer for practical purposes in the day-to-day management.
See also:
The Complete Guide to Hiring in the United States
.
We get to hire local talent in any country where we want to expand, long before we set up an entity there. Effectively, this gives us a head start. We use Deel as a testing ground to help us see with more certainty whether we should prioritise it in our expansion plans or not. The world is forever changing and Deel lets us stay ahead of the curve.
Luka Besling, HR Manager, Revolut
Option three: Hire US contractors and classify them using Deel Shield
Alternatively, startups can develop a local workforce presence in the US by
hiring independent contractors
. A great incentive for hiring contractors is that they're a more affordable option for startups since you do not need to cover taxes, benefits, equipment, or training. There are also fewer legal responsibilities regarding taxes, contract termination, and severance pay.
When hiring contractors, however, you must ensure the business relationship is distinct from an employee-employer relationship; otherwise, you risk a
misclassification
violation. The US Department of Labor takes misclassification very seriously and has auditors to identify and penalize independent contractor misclassification.
The best way to avoid misclassification is to create a US contractor agreement. These contracts outline the terms and conditions of a working relationship between a business and an independent contractor based in the US to avoid misclassification and protect the startup from legal and financial risk.
A global hiring platform is one of the most convenient and safest ways to create a compliant contractor agreement. The intuitive contract workflow guides you through each aspect of the contract, providing helpful insights and suggestions per US requirements.
In addition, every contract you create is vetted by local legal experts and updated quarterly so you remain compliant.
For most businesses, a global hiring platform's airtight contracts and advanced compliance features are all you need to start hiring contractors in the US. But for those looking to eliminate any possibility of misclassification and liability, you have the option to add an extra level of protection with
Deel Shield
.
Deel Shield is an add-on feature where we legally hire contractors on your behalf and assume total liability in case of misclassification claims in 150 countries.
Existing Deel customers can quickly upgrade existing contracts to be covered by Deel Shield via their Deel dashboard.
Deel Shield gave us peace of mind when hiring people as contractors in any part of the world. I don't have to worry anymore about compliance. It feels much safer.
Chloe Riesenberg, People Specialist, Project 44
Scale your startup in the US with Deel
With Deel, large and small businesses can expand in the US overnight.

Our EOR solution and global hiring platform enable you to easily hire, pay and manage employees and contractors in the United States (and 150+ countries worldwide) on a single platform. No more worrying about local laws, complex tax systems, or managing international payroll whenever you want to hire in a new location.

Deel supports your startup's entire ecosystem as your international business grows.

With Deel, you can:
Hire EOR employees around the world
Classify independent contractors
Onboard, manage, and pay direct workers, EOR employees, and independent contractors in over 150+ countries in a single platform
Grant equity to your international team
Provide flexible benefits and perks
Provision equipment and flexible workspace memberships worldwide
Provide visa and immigration support for relocating workers

Sound like an ideal solution for business growth? Learn more about compliance or book 30 minutes with a product expert to discover how we can take your startup to the next level.