4 Reasons Startups Shouldn't Ignore Hiring Compliance
Compliant hiring is a critical but often overlooked aspect of running a startup. Here we explain why your startup should prioritize compliance to avoid four costly mistakes.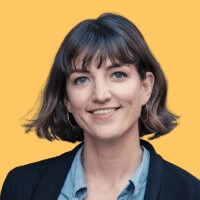 Written by Jemima Owen-Jones
May 30, 2023
Contents
Need help onboarding international talent?

Try Deel
Key takeaways
Compliant hiring entails many moving parts that can result in court cases, fines, loss of talent, and reputation damage if neglected.
The primary compliance risks that startups expose themselves to are permanent establishment, misclassification, undocumented workers, and breached labor laws.
Startups can master hiring compliance with Deel's all-in-one hiring platform that combines compliant contract generation with document collection, misclassification protection, and much more.
For many startups, particularly those considered high-growth, one day, you're a group of four grad school friends working from your kitchen table, and the next, you're a 2000+ person organization with pockets of remote workers distributed worldwide.
Sounds amazing, right?
Don't celebrate just yet.
Imagine that you incidentally overlooked your hiring methods during that wild expansion journey. Just as you're about to become EBITDA positive, the bubble bursts, and you're making headline news for a misclassification scandal, permanent establishment lawsuit, or undocumented worker violations.
Overnight, your successful startup suffers enormous financial penalties, reputation damage, and loss of talent, which you could have easily avoided had you practiced complaint hiring from the start.
This article presents four reasons startup founders shouldn't overlook hiring compliance and how you can get it sussed with the right support.
1. Permanent establishment risk
Directly hiring international workers without establishing a foreign subsidiary creates permanent establishment (PE) risk. PE risk occurs when a business has an ongoing and stable presence in a country or state outside its home base but does not pay the local taxes imposed by that jurisdiction.

Most jurisdictions characterize an ongoing and stable presence as the following:
Having employee activity in the host country that directly generates revenue
Command and control of the employees' activity by the parent company
A fixed place of business, address, bank account, or other physical presence


To overcome PE risk, startups have three options:
Establish a foreign entity
Hire independent contractors
Engage international workers through an employer of record (EOR)


Establishing a foreign entity is a long and expensive process, especially for small business owners who only want to test a market. A far more convenient option is to hire contractors or use an EOR solution like Deel. Deel has legal entities in countries worldwide and can compliantly hire employees on your behalf, saving you time and money.
When you engage an employee or contractor through Deel, we take care of the following: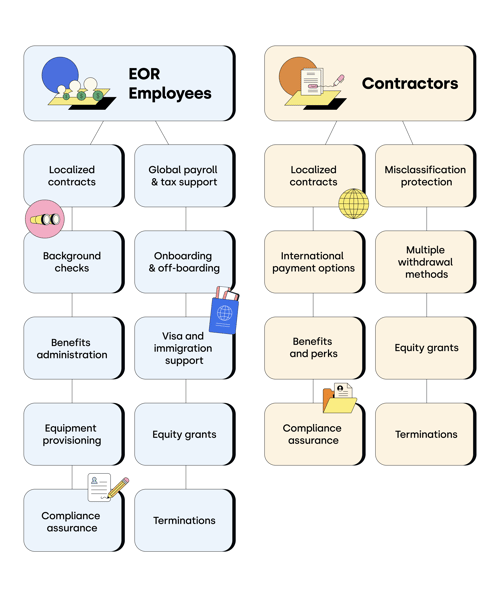 2. Misclassification risk
Startups that desire more short-term work arrangements and greater flexibility can hire contractors. However, when using contractor services, a typical compliance risk startups face is misclassification.

Misclassification is when companies classify workers as independent contractors but treat them like employees. Classifying workers is easy to get wrong since the terms and definitions determining worker classification differ from country to country.

For example, in the US, the company could be penalized for misclassification if the work agreement doesn't accurately define the relationship, use the correct terminology, or comply with local laws impacting contractors.

Startups can familiarize themselves with misclassification tests or have Deel classify and hire contractors in 150 countries on your behalf, eliminating the risk and liability of misclassification. We'll assess the correct classification of your worker and advise you on whether they should be a contractor or an employee. We'll then create localized compliant contracts and collect all necessary documentation.


Easily Hire in 150+ Countries
Hire anywhere without worrying about local laws, complex tax systems, or managing international payroll.



3. Undocumented workers
Early-stage companies usually get audits when asked to by their investors. When this time comes, your workforce must have the documentation to prove they are legally allowed to work in a particular country.

Suppose the employee's nationality and the country they're working from are different. In that case, you must collect and retain proof of work eligibility, such as a work permit to show that the employee can work in that country.

Similarly, your startup may have hired eligible workers but have failed to collect and retain the necessary compliance documentation. This oversight is also a reg flag for auditing bodies determining whether your startup's operating according to local standards.

Startups can do their research to identify the country-specific documents, request them from the employee via email and store them in a password-protected file. Alternatively, startups can use Deel to invite employees to upload the necessary compliance documents via their self-serve dashboard during onboarding.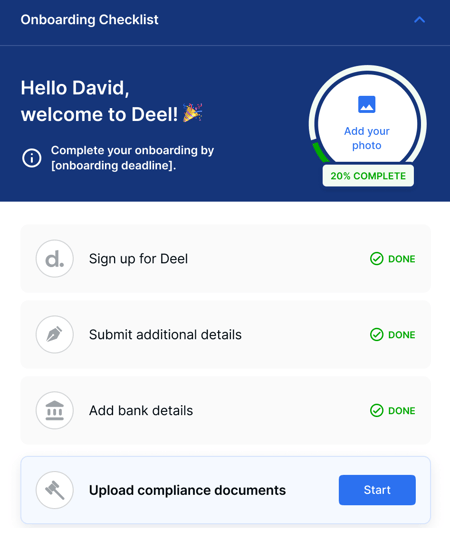 If the employee requires visa and immigration support, the platform will prompt you to request this here. Our team will get to work procuring the correct visa and running the necessary screenings in line with country requirements to streamline the hiring process.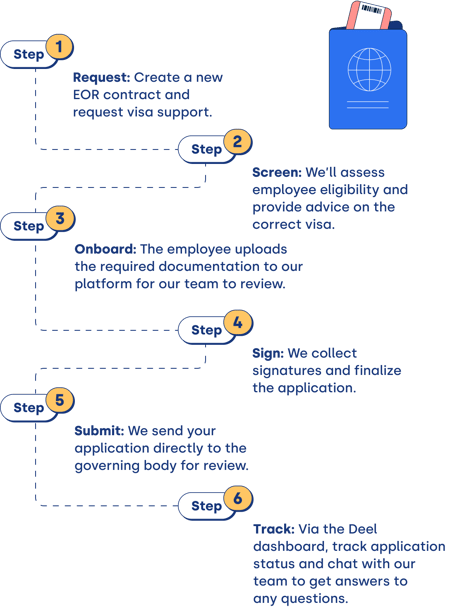 While hiring independent contractors requires less paperwork, many countries still need the client company to obtain the contractor's tax identification number, certifications, and specific tax forms for reporting non-employee compensation that is most likely subject to self-employment tax.

Again, startups can collect this documentation manually or use Deel to request and store the correct documentation on our cloud-based platform to the highest data security standards.

You'll also have the functionality to request the signing of the following agreements to protect employee's sensitive information and prevent them from sharing your startup's confidential information with competitors or starting a competing business: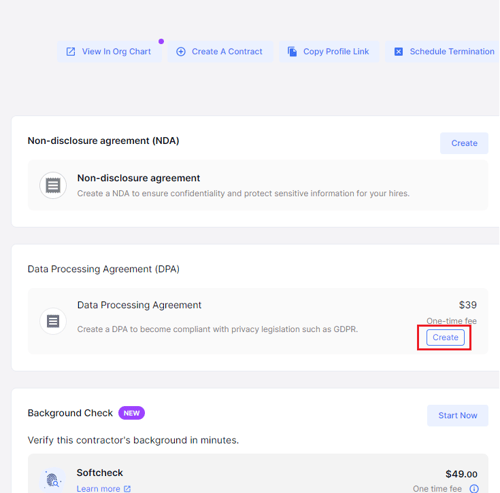 4. Breached labor laws
The final aspect of compliant hiring that new businesses trip up on is breaching one of the many labor laws governing an employer and employee relationship.

Labor laws differ between states, provinces, and territories and are implemented by local governments to protect fundamental employee rights, promote job security, and improve employment terms globally.

Labor laws govern the following:
Work hours
Rest breaks
Employment contracts
Benefit entitlements such as PTO, parental leave, and pensions
Payment methods
Payment periods
Payroll records
Check out our
Global Hiring Guide
for a high-level overview of each country's local laws related to pay, tax, paid leave, terminations, time off, and more.

Creating an employment contract helps to lay out the terms and conditions of employment and can be used as a guide to ensure that the company treats new employees in alignment with local employment laws.
Creating employment contracts from scratch can be time-consuming, particularly when hiring team members from multiple countries. Startups can do their own country-specific research to include all the necessary employment requirements or use a template.

The disadvantage of templates is that you must ensure you're using the latest versions and that they're constantly updated and vetted by local legal experts. They can be difficult to customize if you want to add non-standard benefits or clauses, and you'll need to download, send, and store a new contract every time you want to make an update which is a lot of work for your human resources team - if you have one!

Alternatively, startups can create localized employment contracts on the Deel platform using our contract workflow. The intuitive platform guides you through each aspect of the contract, providing helpful insights and suggestions per country requirements. In addition, every contract you create will be vetted by local legal experts and updated quarterly so you remain compliant.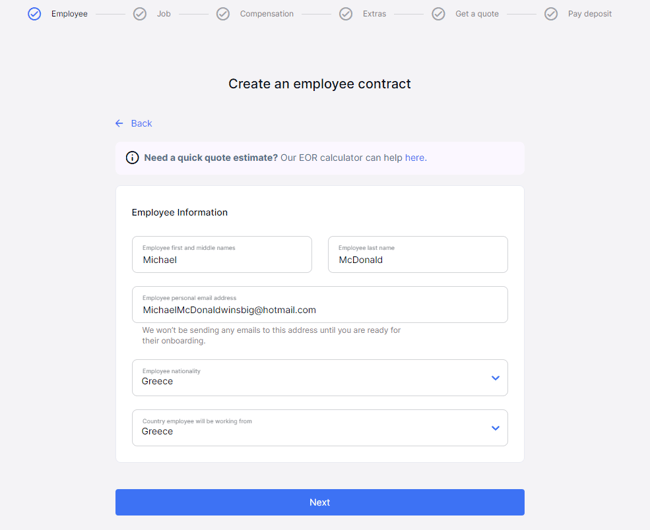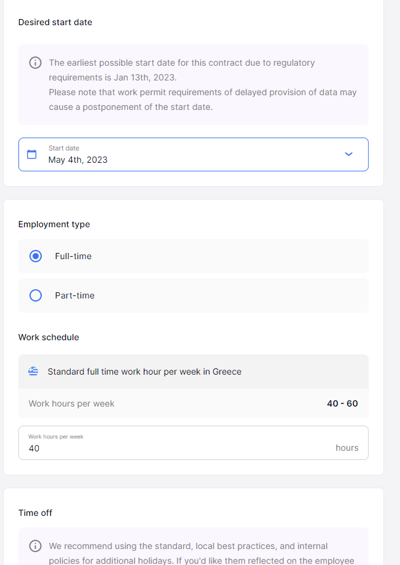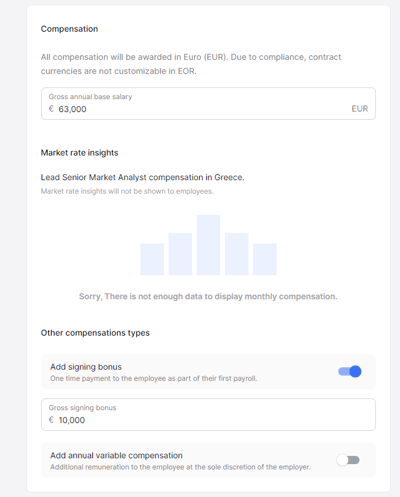 Master compliant hiring with Deel
Whether you're an early-stage startup dipping your toes into the labor market, or a large company making your 500th hire, compliance is a critical factor to the continued success of your business.

When you engage workers through Deel, compliance is pre-baked into our intuitive hiring platform, making it impossible to get it wrong. Using automation and the best legal teams in countries worldwide, entrepreneurs can rest assured knowing every new hire is legitimate, classified correctly, and has an up-to-date contract that complies with local employment laws, so you can focus on running your business.

Sound like an ideal solution? Learn more about Deel for startups, or book 30 minutes with a product expert to get your questions answered.