4 Steps to Simplify Visa Renewal for Enterprise Employees
Wondering how to retain your top foreign workers without the stress? Discover how to avoid the overwhelming visa renewal processes in four simple steps.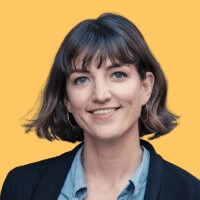 Written by Jemima Owen-Jones
September 12, 2023
Contents
Need help onboarding international talent?

Try Deel
Key takeaways
Arranging visa renewals is essential for holding onto your top talent from around the world.
Work visa renewals are often complicated, stressful, and time-consuming for HR teams and employees.
Deel can simplify visa renewals by identifying potential compliance issues, organizing documents, and sending you reminders as well as seamlessly integrating the immigration process with your HR operations.
Work is the top reason for moving abroad. A recent study found that 47% of migrants relocated to further their careers, accept a job offer, or help expand a business.

International companies can benefit from hiring these foreign workers for their diverse skills and expertise. However, managing visa renewals can be costly and time-consuming, not to mention stressful for HR and employees alike. There's also a risk of losing top talent should the visa application fail due to delays or eligibility issues.

Deel streamlines visa renewals to ensure compliance, reduce paperwork, and effortlessly manage deadlines. You can also integrate the process with operations like payroll and compliance. Let's explore how Deel's features support you during every step of the application.
The need for a seamless visa renewal process
Being able to hire foreign workers or relocate existing employees comes with many benefits. Many candidates seek location flexibility from their jobs and may choose to work with your company on that basis. If you're expanding globally and require employees to move, relocating can be a win-win strategy.

Some employee requests to work from a specific location may come out of necessity. Team members may need to be closer to family. Being able to support visas in different countries allows you to hold onto them.

Foreign workers often require visa renewals. That may be because they've stayed in the country for one or two years or their legal status has changed.

As team members' employment and way of life can depend on the visa, renewals have high stakes. HR decision-makers have to navigate the process carefully to ensure they retain top talent, ensure employee satisfaction, and don't incur high costs.
Step 1: Identify compliance challenges
Visa renewals aren't simply a matter of repeating the original visa application. Changing immigration laws and regulations in the employee's residence or home country can impact the process. Here are the key areas to be aware of:
Stricter eligibility criteria, such as skills and qualifications
Higher minimum salary threshold
Changes to visa categories
New limits on dependents
Longer processing times or shorter deadlines
Reforms in diplomatic arrangements concerning the free movement of labor

Even if the visa requirements haven't changed, chances are the employee's circumstances have. Getting married, developing health issues, or even taking a new job role could affect their eligibility.

To stay compliant, HR decision-makers have to keep updated with all the changes to this complex system and their workers' lives. Multinational teams will find this demands a lot of time and attention, which draws focus from core HR tasks.

Hiring an immigration lawyer is an option but comes with high costs on top of the usual filing fees.

A global HR solution can reduce the burden on HR by managing the renewal process and any associated compliance issues. For example, Deel's team of legal experts identifies any potential challenges and how to resolve them for you.

Thanks to Deel, Form3 held onto a key candidate whose work visa was expiring.
He was a really, really important hire for us. If we had lost him at that point in the process… Losing out on a candidate or offer stage because we can't support their visa or immigration needs feels really tough. So that was a really good one for us to get over the line because he's joined and is great.
Leanne Schofield, Head of People, Form3
If you're relocating employees abroad to expand your business, some HR providers support compliance by assuming all legal responsibility for them.

An employer of record (EOR) hires employees in foreign countries on your behalf, so you can avoid entity setup costs and streamline global mobility. Relocated workers can apply for an EOR-sponsored visa through the provider. The EOR acts as the sole employer and absorbs all the compliance risks while you retain control of workforce management.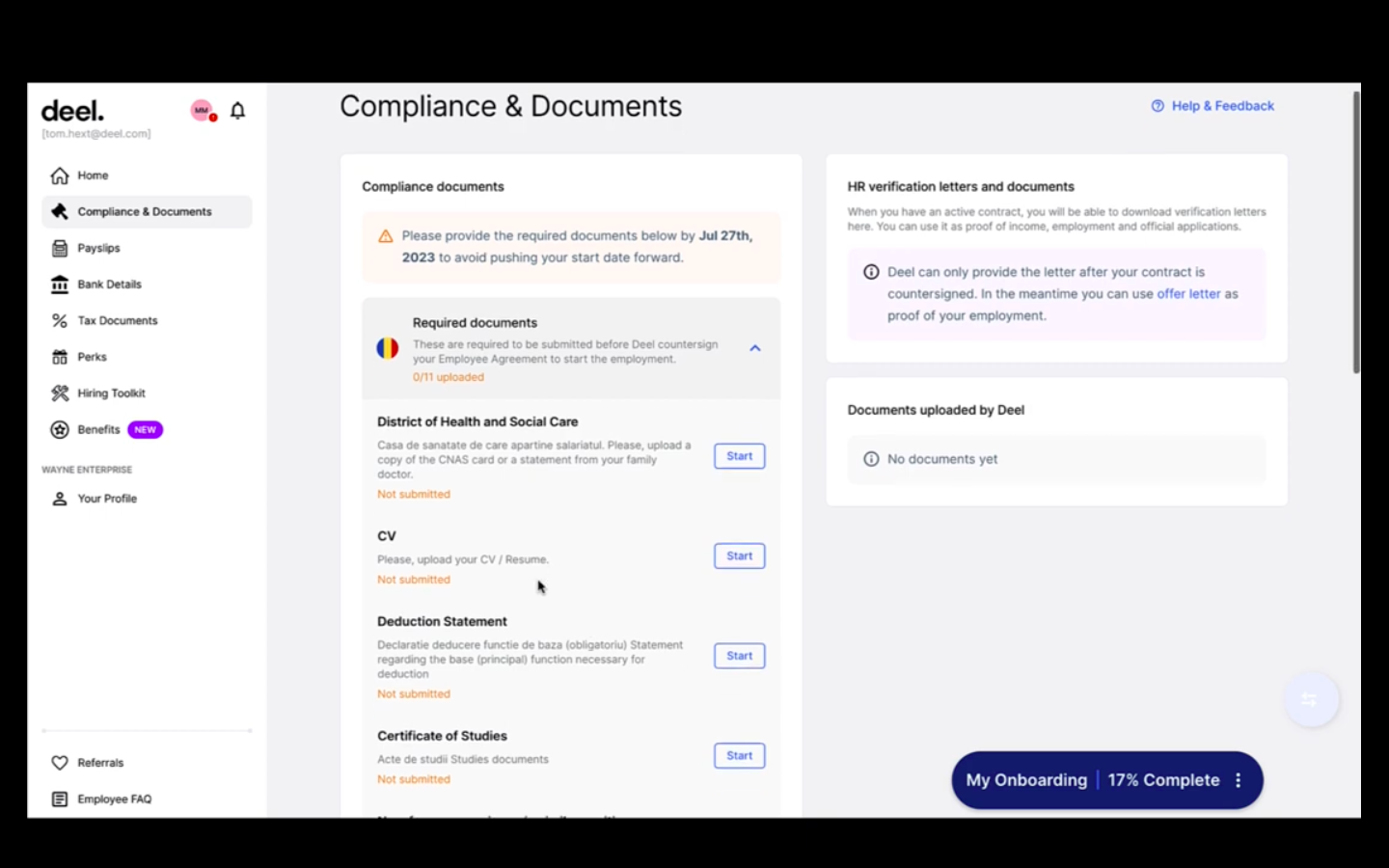 Step 2: Prepare documents for the visa application
With legal and regulatory challenges out of the way, HR can turn their attention to paperwork. However, managing the required documents for renewal applications can be just as complex as compliance.

For instance, the USA has around 50 types of visas, and a quarter of these are employment-based. The US Citizenship and Immigration Services (USCIS) has a two-page long checklist just for the H-1B visa, the typical nonimmigrant visa for professionals.

Document management also goes beyond collecting the right paperwork. You may have to arrange anything from authentication and signatures to translation and copies of IDs. As you go through the process, you also have to store copies of documents and return the originals to their rightful owners.

Delays due to incorrect, damaged, or missing forms create extra work for your team. Repeated issues can frustrate employees and cause them to lose trust in the company.

Use a global HR solution with a document self-service feature to simplify this step. The platform displays all the paperwork required for the visa renewal process on the dashboard. Employees can log in, see the supporting documents they need to submit, and upload them.

Managing documents via a platform is especially beneficial for distributed teams. If you and the employee live in different countries, you have to coordinate sending paperwork between three places. The platform centralizes all the document management tasks so nothing gets missed or lost in transit.

In some cases, HR services can help your employees secure permanent residency. Deel supports foreign nationals on their journey to becoming US citizens by handling the documentation for green cards.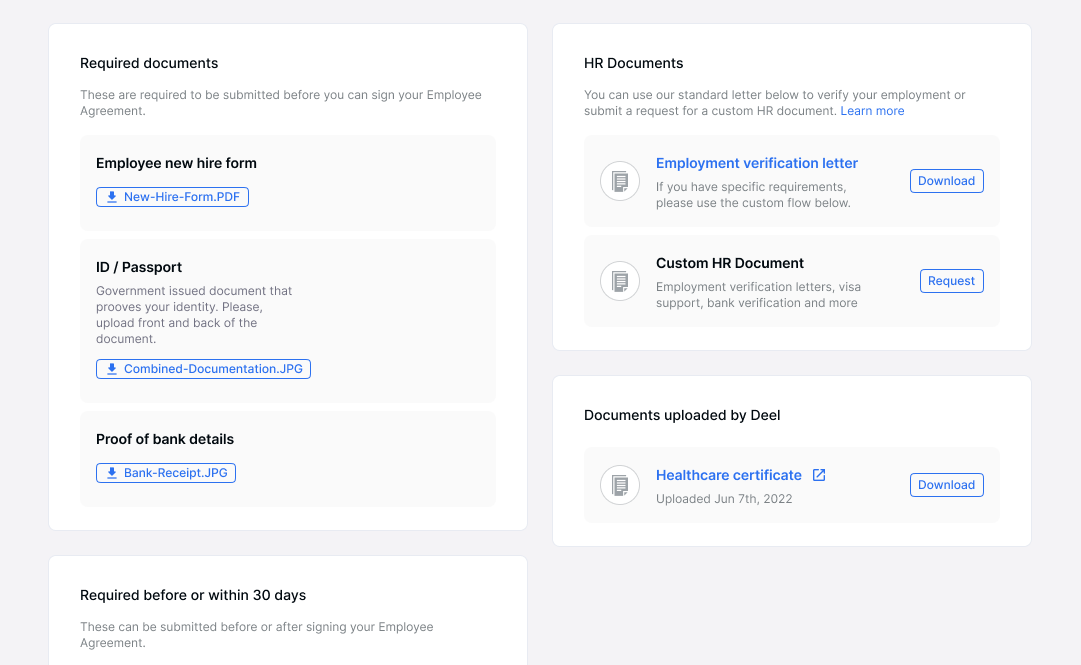 Step 3: Manage timelines and deadlines
When you've got multiple foreign nationals on your team across different countries, managing timelines is challenging. You have to consider:


Document expiration dates
Payment transfer times
Processing times
Waiting periods before the new issuance date
Visa interviews (typical for North American visas)
Trips to the embassy or department of state
Potential delays due to political unrest or global events

If the visa holder had family members join them since their original application, there may be extra steps. For example, some spouses must leave and re-enter the country to gain a US visa.

No doubt employees applied for their original visas at separate times. That means you may end up managing multiple visa application processes which are at different stages.

Given how much there is to remember, planning visa renewals can be a source of stress for HR teams. But they can't lose focus as missed deadlines can potentially lead to penalties or even the employee's loss of legal status.

Using a centralized platform like Deel eases the visa renewal process. You can view each employee's visa type, status, and expiration date on the dashboard. An HR solution can also send you automated reminders ahead of time to minimize the risk of important steps getting overlooked.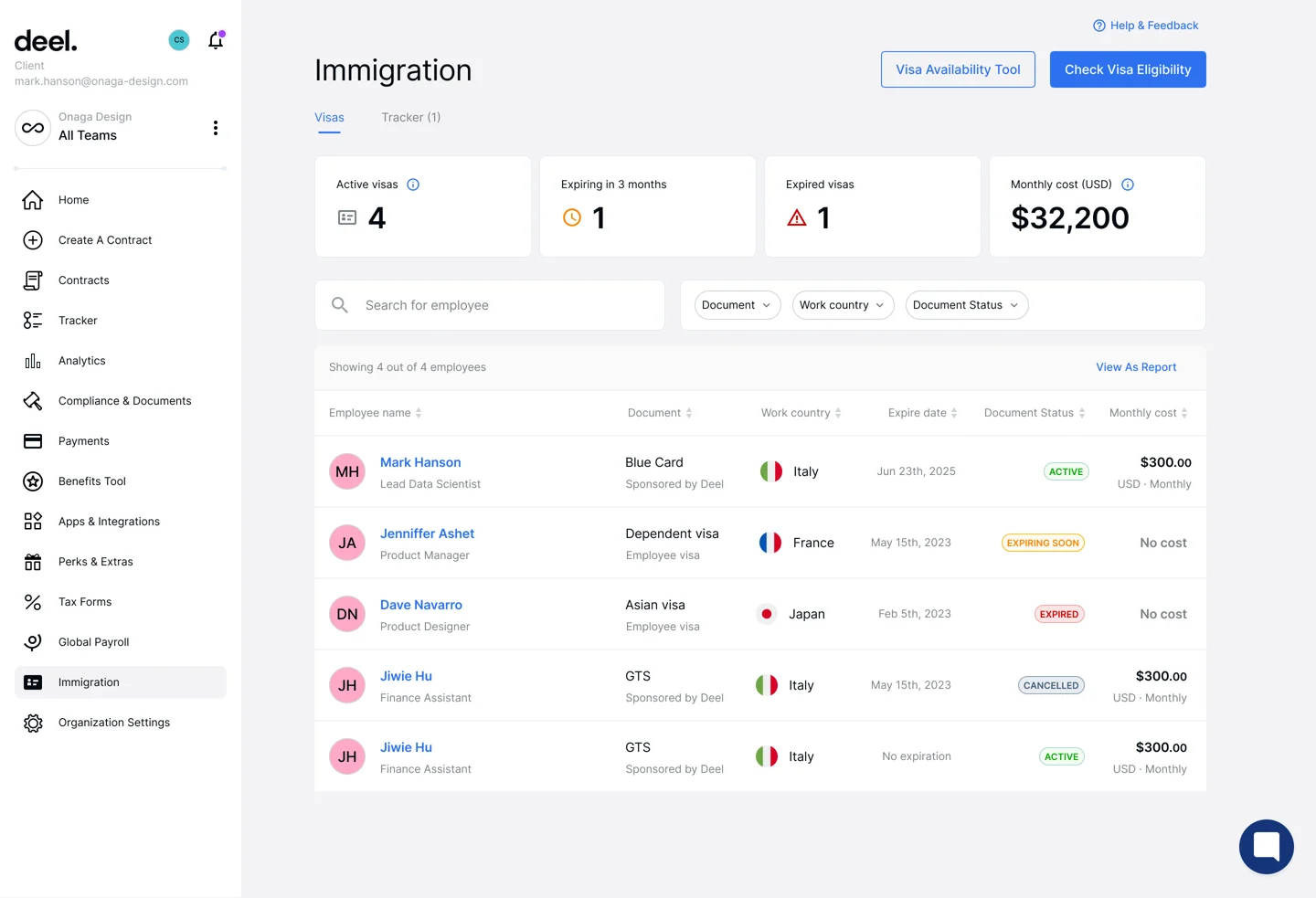 Step 4: Seamlessly integrate with HR processes
Visa renewals not only require extensive planning but can also affect HR processes such as payroll, contracts, and benefits administration.

If you renew a visa for a new hire, you have to ensure their position, salary, and benefits meet specific conditions. For instance, the Canadian government states a foreign worker's roles and responsibilities must match their occupation. HR has to double-check that any new tasks they require foreign workers in Canada to do still fall within that scope.

Renewals for existing employees don't necessarily require changes but often do. Governments frequently raise the minimum salary threshold for nonimmigrant workers. You may need to adjust an employee's contract, pay, and benefits to meet any new conditions.

Double-checking and cross-referencing all these extra documents can make routine HR tasks like payroll and benefits administration less efficient.

When it comes to payroll, incorrect filings or late tax payments may lead to penalties. However, navigating the regulations for different nationalities and visa types can be challenging. For example, you're not just responsible for paying withholding taxes for H-1B visa holders working for US companies—you also have to get the specific start date right.

That's why it's essential to have an HR solution like Deel that combines visa management with other critical operations. Seamless integration between features gives HR a greater overview of each employee and helps you stay efficient.

With Deel, we have an easy remote work solution powered by a user-friendly platform and a seamless process. This has been helpful in ensuring we didn't lose key staff and the deep corporate knowledge and skills that are hugely beneficial to our business.

Lysette Randall, HR Performance & Partnering, Quantium

While the exact features you have depend on the provider you choose, HR solutions typically sync:

Global payroll and tax filing
Onboarding
Benefits administration
Compliance
Document management

With tricky topics like taxes, you can also rely on your provider's in-house expertise instead of hiring local accountants or immigration attorneys. Deel gives you one-on-one support for general or specific inquiries in over 30 countries so you can handle issues with confidence.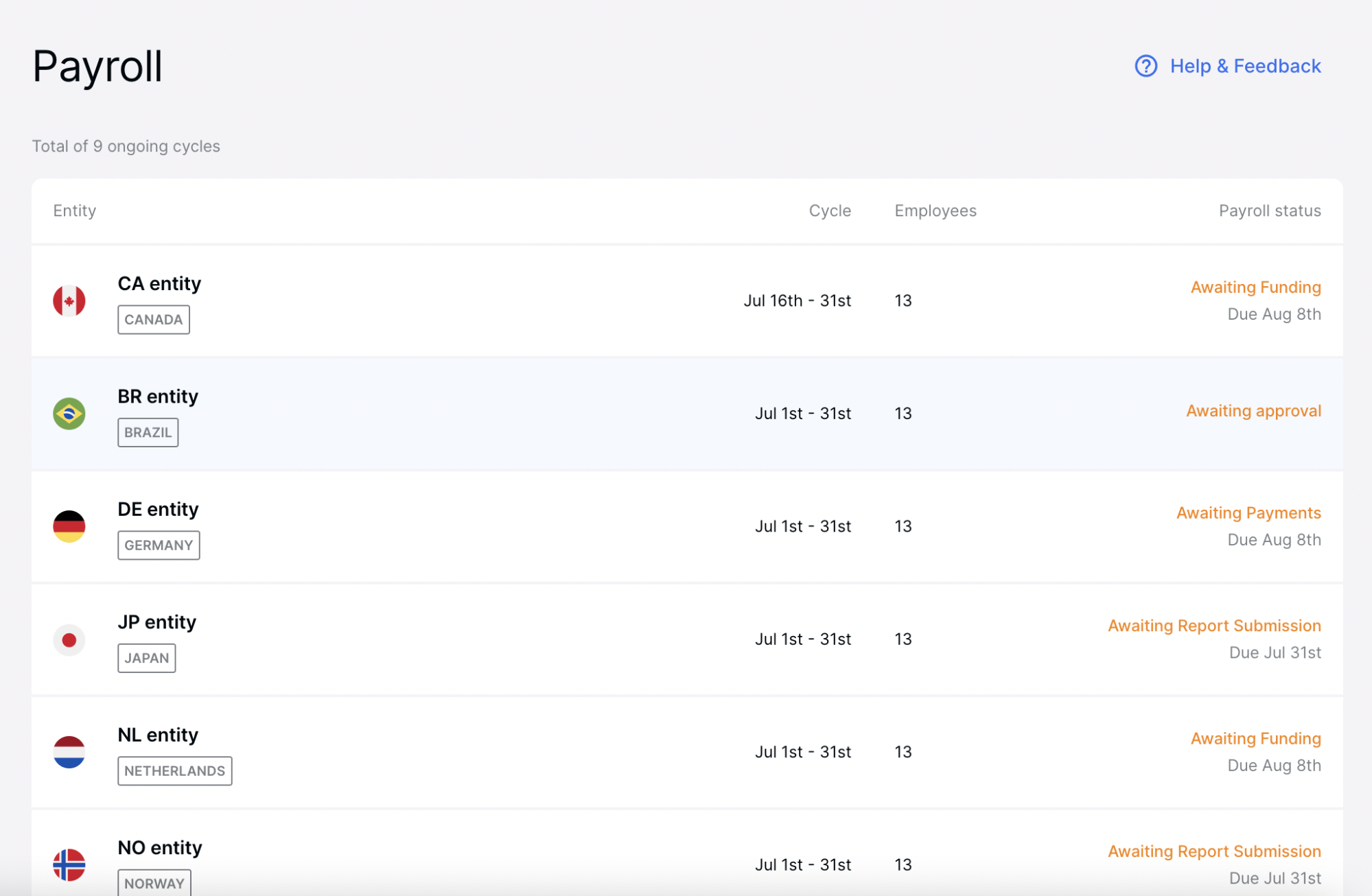 Simplify your visa renewal process with Deel
Having the flexibility to hire from anywhere means you can discover the right candidate for every position and retain them if their circumstances change. While visa renewals may seem complicated and stressful, you can overcome these challenges with Deel's support.
With Deel's immigration solution, you can outsource many tasks to reduce the administrative burden on your team. You can also streamline whatever you manage in-house via our dashboard, automated reminders, and integrated HR features.
Learn more about Deel's immigration solution, or book 30 minutes with a product expert to get your questions answered.
Next steps
🤔 Curious about EORs? Discover how Deel allows you to expand into 100+ countries while avoiding the costs of setting up an entity.

Learn more
🌍 Want to know the best places to look for talent? Download Deel's free State of Global Hiring report to read a breakdown of the top countries by industry.

Download the report
👍 Never let the risks hold you back! Deel HR features protect international teams from legal and compliance issues.

Learn more