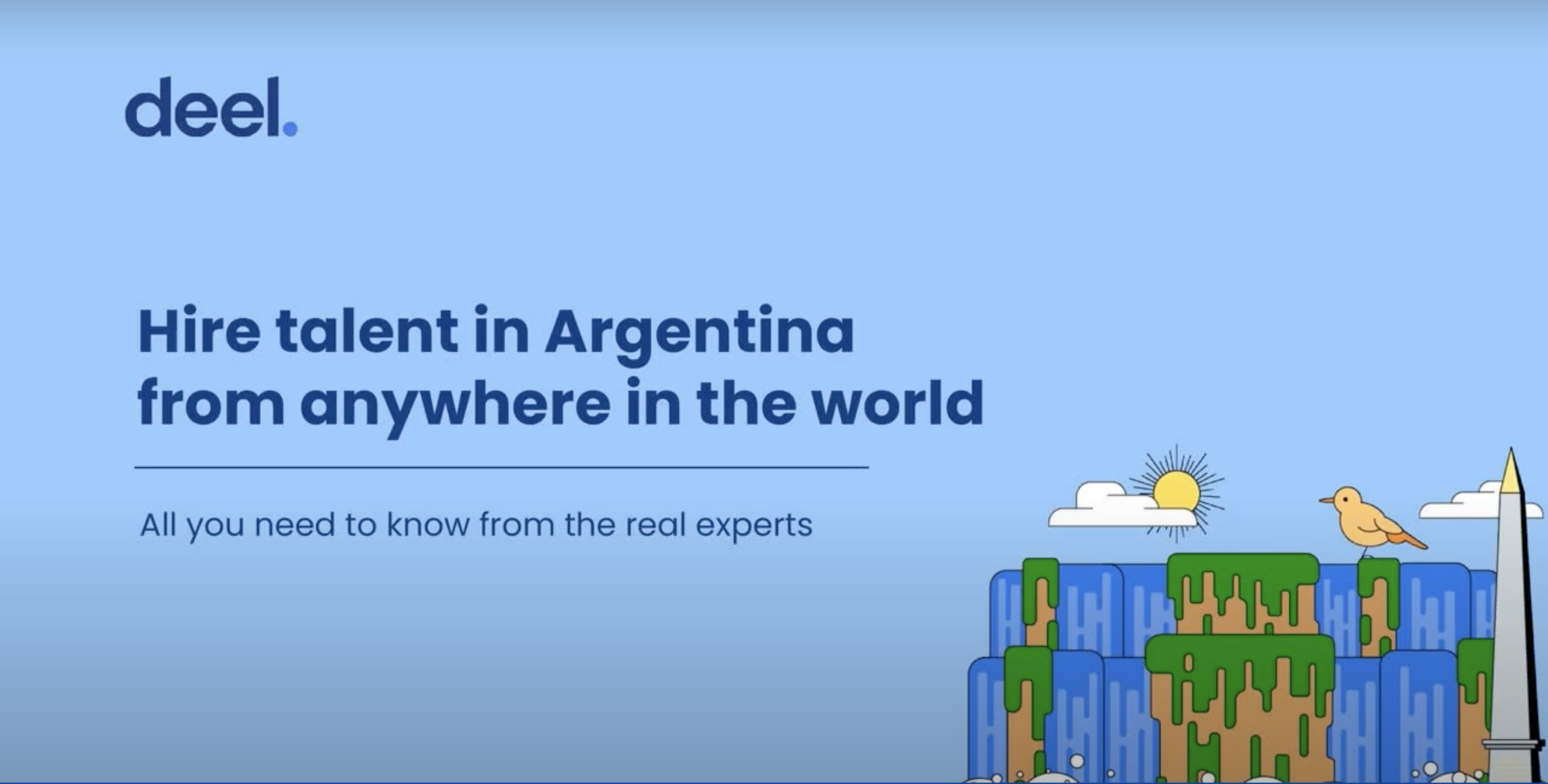 How to Hire Talent in Argentina From Anywhere: Webinar Recap
Interested in hiring talent in Argentina? Global payroll and compliance provider, Deel, hosted a webinar with four experts on the topic. Read the recap here.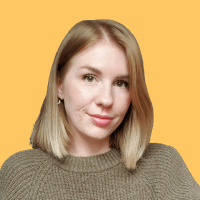 Written by Shannon Hodgen
May 2, 2022
Contents
Need help onboarding international talent?

Try Deel
Companies across the globe are ramping up their search for highly skilled remote team members. And time and time again, they find top talent in Argentina.

The team at Near can attest to the increase in Argentine hiring. US companies use Near's job board to find and hire talent in Latin America for remote roles, and over 50% of the candidates hired through the platform are in Argentina.

Argentina has a strong financial tech market and is an early adopter of new technologies. In 2021, the country had the fastest e-commerce growth globally. Argentina is also home to many cleantech, green tech, and agricultural tech companies.

Several US and global firms have set up shop in Argentina and have recruited Argentine talent for years. These companies include accounting firms like Deloitte, global banks like JP Morgan, and tech companies like Meta. Argentina has also produced a healthy number of unicorn tech startups, including Mercado Libre, Globant, and Ualá.

Watch the complete webinar below or continue reading our recap to learn more about how to hire talent in Argentina.
Expert speakers
Noemi Cohn, Public Accountant, Abelovich Polano, & Asociados Nexia
Franco Pereyra, Co-founder, Near
Guido Biagioni, Head of Outcomes, Henry
Natalia Jiménez, Head of South America, Deel
Thomas Dale, Director of Channel Partnerships, Deel
Country overview
Population: 45.38 million (2020)
Capital city: Buenos Aires
Currency: Argentine Peso (ARS)
GDP per Capita: 8,441.92 USD (2020)
Official language: Spanish
English proficiency: High – EF EPI Score 30 (out of 112 countries)
Payroll cycle: Monthly
Time zone: GMT -3
Why hire talent in Argentina?
Argentina is home to a large talent pool of highly educated and qualified job candidates. In the past, many Argentine workers would earn their MBA and leave for Europe or the US to get better jobs since career opportunities aren't abundant in Argentina.

Remote work provides Argentine talent with the opportunity for great jobs and salaries without leaving the country. In turn, companies can benefit from outsourcing work to remote Argentina-based workers.
1. Affordable salaries
Salaries in Argentina are affordable for employers compared to US or European salaries. The salaries most US or European companies offer are also competitive for Argentinians, creating a win-win scenario. Companies can reduce hiring costs by hiring Argentine workers, and the workers make more money than they would working for a local company.
Companies with relatively small budgets who can't afford to hire in the US can usually out-pay some of the largest companies in Argentina.
For example, an accountant building a small firm in the US would only be able to afford a fresh college graduate in the US for $60,000 a year. But they could hire a remote worker based in Argentina who has three to five years of experience and has worked at a Big Four accounting firm.
2. Workers prefer payments in more stable currencies
Argentine workers lose 4% of their income per month due to the rapid inflation rate (50% per year) of the Argentine Peso. By getting paid in a more stable currency, like US dollars, workers can preserve their salaries, which makes working for a remote company very attractive.

Crypto has been widely adopted by the Argentine people as well, making Argentina one of the top countries for crypto paycheck withdrawals. There are even some crypto towns where people use the currency to buy food, drinks, and more.

Learn more about paying global employees with crypto.
3. Workers have high English proficiency
Argentina has the highest English proficiency of all Latin American countries.

The team at Near found that English proficiency is a useful proxy for overall candidate quality in Argentina. When you find a candidate that's fluent in English, it proves they have the intelligence and discipline to master the language at a professional level. A lot of people will learn the language because they know it will improve their career prospects, so you know they're career-focused and ambitious.
4. Similar time zones to the US
Argentina follows the GST -3 time zone. The time difference between Argentina and the US is between one to four hours, which is usually easy for remote teams. A more drastic time difference may not work for companies that host a lot of meetings and global team bonding activities, but a one to four-hour time difference isn't detrimental.
5. A US-style work culture
Argentine work culture is similar to that of the US, especially in Argentina's larger cities. People are hard-working, want to advance their careers, and are highly disciplined, which makes for an easy onboarding process and seamless culture fit.
6. Workers are well-educated and financially savvy
Argentina has a strong education system including both private and public institutions. It's the highest-ranked Latin American country in the QS Higher Education System Strength Rankings and the number two destination in Latin America for international students.

Due to Argentina's past financial and economic crises, the people are very financially savvy. They stay on top of the stock and foreign exchange markets, know the advantages of being paid in dollars, and are up to speed on financial and monetary regulations.
How much does it cost to hire talent in Argentina?
Argentine salaries are typically 30–50% of US market-rate salaries, depending on the position, required experience, and industry.

The recent skyrocketing demand for Software Engineers in the US produced a shortage of tech talent, and companies started outsourcing the role to remote workers. In Argentina, software engineering became the most in-demand profession in the country. Other in-demand professions include:
Sales and Business Developers (Account Executives)
Marketing (SEO Specialists)
Finance and Accounting (Bookkeepers)
Customer Support/Success
Quality Assurance

Since there's a massive demand for Argentine talent across the globe, salaries are rising fast, especially for roles in marketing, sales, and product. Here's a look at the median monthly salaries for some of the most in-demand roles in Argentina (as of April 2022):
Mid Software Developer: $3,400 (USD) per month
Mid Account Executive: $3,000 (USD) per month

You can use Deel's Salary Insights tool to get a better idea of the cost of hiring in Argentina. Fill out a team member's role, title, and location, and we'll calculate the average market rate for compensation.
How to (legally) hire employees in Argentina
There are two ways you can legally hire employees in Argentina. You can either open a foreign subsidiary or use an EOR (employer of record).
Open a foreign subsidiary
If your company wants to hire employees in another country, you can open a foreign subsidiary (or entity) in that region. The parent company controls the subsidiary and uses it to hire and pay local full-time employees.

Opening a subsidiary is the more traditional approach to hiring foreign employees, but it's not the most cost-effective or time-efficient. The process is complex and lengthy—it can take months before you can legally hire through your new entity. You also must comply with local tax regulations and labor laws and avoid common global compliance mistakes like misclassification.
Use an EOR (employer of record)
An EOR, also called an international PEO, hires and pays foreign employees on your behalf, so you don't have to go through the long and complicated process of setting up a foreign subsidiary in their country. The EOR takes on the legal and financial responsibility of the employee and ensures compliance with local regulations.

EOR services include:
Onboarding and offboarding employees
Setting up and managing international payroll
Tax calculation and filing
Creation and distribution of locally compliant employment contracts
Human resources and administrative tasks
Global benefits administration

Not sure if an EOR is right for your company? Review the pros and cons of employer of record hiring to learn more about the process.
Global hiring just got easier
Deel is payroll and compliance built for the worldwide workforce. Start hiring today, wherever you want.



Employee labor laws in Argentina
In Argentina, employers need to comply with labor laws around employee classification, minimum wage, paid leave, and more.
Employee classification
There are three categories of employees in Argentina:


Full-time employees: Work up to 48 hours per week or 8 hours a day (up to 9 hours/day due to imbalanced workload)
Part-time employees: Are paid at least proportionally to time worked
Fixed-term contract employee: Seasonal work or up to one year maximum upfront written arrangement

Special regulations apply to night work, employees working fewer hours per day/night, and workers under 18 years old.
Minimum wage
Minimum wages in Argentina are a benchmark since the market usually validates higher salaries. Due to fluctuating inflation rates, the minimum changes frequently.

Unions set minimum wages for affiliated employees. However, nonunion employee compensation is an offer/demand decision. Union employees are usually non-professionals.

Minimum wages for professionals: Based on the agreed-upon salary

Minimum wages for administrative staff: Agreed upon by the union. As of March 2022, the minimum gross salary is $96,300, and the minimum net salary is $77,500
Bonuses
Bonuses are added to an employee's monthly salary. Bonuses are subject to the same withholding taxes, income tax, and contribution payments as salaries.
General taxation
| | | |
| --- | --- | --- |
| Contributions | Employee contributions (withholding) | Employer contributions |
| Social Security | 14% | 18% |
| Health Security | 3% | 6% |
| Risk Insurance (ART) - Variable | N/A | 4% |
| Life Insurance | N/A | No significant fixed amount |
| Labor Union (N/A for senior, supervisor, manager, director) | 2.5% | 3% |
| Income Tax | Progressive rate up to 35% (applicable for salaries +$225,937,01 as of March 2022) | N/A |
Expenses
Employers reimburse most expenses directly related to work. Expenses that are related to an employee's benefits and paid by the employers (such as schooling, housing, or reimbursement of non-related labor expenses) are considered part of employee compensation and subject to employer contribution.
Parental leave
Mothers are entitled to 90 days of paid parental leave. Fathers are entitled to two days of paid parental leave. Mothers can receive three to six months of additional leave without compensation.
Additional leave
Marriage: 10 days
Death of a close family member or relation: One to three days
University students: Entitled to up to two days per examination or 10 days in the whole year
Serious illness: Up to six months

Probation
The probation period in Argentina is three months long. If you choose to dismiss an employee after this period, you have to pay for severance.
Paid time off
In Argentina, the longer somebody has worked, the more vacation they receive. New employees receive two weeks of vacation automatically. Managerial positions usually have an initial three to four weeks of vacation regardless of the length of the employment relationship.
Up to five years of work: two weeks of vacation
Up to 10 years of work: three weeks of vacation
Up to 20 years of work: four weeks of vacation
More than 20 years of work: five weeks of vacation

Overtime
Overtime is paid at a 50% surcharge on weekdays after 6 p.m. and on Saturdays until 1 p.m. On Saturdays after 1 p.m., Sundays, and holidays, employers must pay overtime at a 100% surcharge.
Severance
Severance payments hinge on the employee's length of service. Employees who've been dismissed without just cause are entitled to a severance equivalent to one month's salary for every year of service with the company. Employees who've been dismissed with just cause aren't entitled to severance pay.
The 13th-month salary
In Argentina, employees are entitled to what's called a 13th-month salary, which is equivalent to an additional month's pay. The payment is split into two installments due June 30th and December 18th. Independent contractors typically charge a 50% surcharge during these months to receive their 13th-month salary.
Independent contractor labor laws in Argentina
In Argentina, contractors are defined as people working on their own without a legal entity umbrella. Contractors are not entitled to the same benefits or termination protections as employees.
Labor authorities may determine that a contractor should be classified as an employee and require the same legal protections, depending on the following factors:
Type of employment relationship
Length of relationship
Exclusivity
Timely and equal payments
13-month salary
Economic dependence

Argentine contractors file their own taxes, make their own social security contributions, and aren't obligated to receive employee benefits. VAT-registered contractors are subject to VAT (Value Added Tax) of 21%. Learn more about the policies regarding taxes and contributions for contractors in Argentina.

Documents required to contract an Argentine freelancer include their Income Tax registration and VAT registration (if they're registered) to prove their invoices are legally acceptable.
How do I hire employees and contractors through Deel?
Creating a compliant worker contract is easy with Deel. Once you've partnered with us, you'll gain access to the Deel online dashboard. From here, you take the following steps:
Click "create a contract"
Select the contract type (e.g., fixed-rate, pay as you go, milestone, full-time employee)
Add the independent contractor's details (name, residence, job title, seniority level, scope of work, and start date)
Define payment rate using Deel insights to gauge the appropriate pay for the contractor's level of experience in their country
Update the invoicing cycle to align the contractor's first payment with the rest of the company's invoicing
Add termination dates, notice period, and optional stock options
Attach any additional documents
Include special clauses (we recommend using Deel's contract as it includes locally approved and legally reviewed clauses regarding tax obligations and labor laws)
You can upgrade to Deel premium ($50 per month) if you want extra legal coverage in the case of a worker misclassification lawsuit. You will be covered up to $25000
Review and sign
Finally, invite the contractors to upload their compliance documentation and sign the contract (simply add the new prospect's email address, include a short message, and hit "send")
That's it! You now have an official reviewed and approved contract for hiring in Argentina. If you're hiring full-time employees, Deel can also send the offer letter to the candidate for you.
How do I pay employees and contractors through Deel?
Deel offers a flexible payment solution for both workers and employers.
Deel automatically generates an invoice
You can then select the account you want to fund from
Confirm the payment
Through Deel, you can customize your payment schedule (fixed, milestone, or pay-as-you-go). Businesses must make payments in their local currency, but recipients can withdraw their payments using several different methods.
Easily hire the best talent in Argentina with Deel
Building an international team can be time-consuming, especially when compliance is involved. There are different local labor laws, taxes, and mandatory employee benefits for each country to keep up with. Luckily, Deel keeps up with it all for you.
Deel lets you hire anyone, anywhere in the world, within minutes. Plus, you can rest assured legal experts vet your contracts to be completely compliant, so your new hires are set up to work correctly in no time.
Want to learn how it all works? Book a demo today to find out.