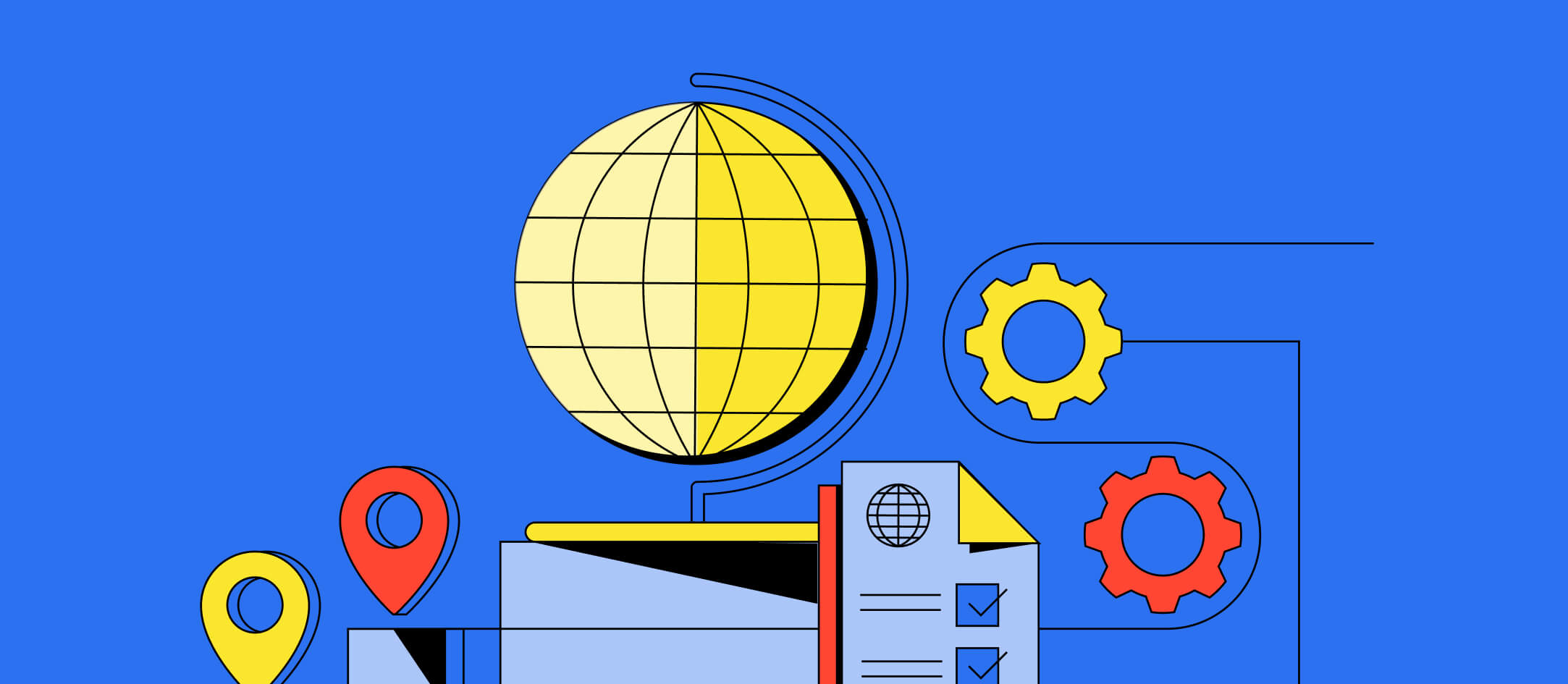 How to Hire a Customer Support Agent: The Ultimate Guide
Hiring the best customer service agent is important as it affects how customers view your company. Follow our ultimate guide for choosing the best customer support representative and get the best person for the job.
Written by Anja Simic
September 17, 2021
Contents
Need help onboarding international talent?

Try Deel
Customer service is crucial for any company. It not only reflects on your company's bottom line but also affects how your company is perceived by the public. Thus, it is extremely important for your company to do what it can to improve the customer experience it provides. This, in turn, means that hiring a good customer service representative is more important than ever before.
Decide what you need in a customer service representative
The first part of the process of hiring the perfect customer service rep begins with you and your company. You'll have to decide what you need from the person you want to hire. More importantly, you'll need to decide what your company needs from the position of customer service professional.
The easiest way to determine this is to ask yourself the following questions:
What will be the ultimate role of the customer service agent?
What specific duties will this role perform? What responsibilities will it have?
What skills will the candidates need to perform the job?
What skills are not necessary for the job but are a great plus?
What skills and traits will help the candidates go above and beyond when customer satisfaction is concerned?
How will your company measure success for this particular position?
Answering these questions will not only help you find the best candidate but will also help better prepare you for the interview. Consider that candidates might ask you some of these questions during the interview and your answers will help determine whether they'll like the position or not.
Duties and responsibilities a customer support agent will have
The customer support agent's job is to resolve customers' queries and complaints by proposing solutions and helping the customers with problems of technical nature when using the company's products and services. The customer support representative facilitates the relationship between companies and their clients by processing orders and assisting clients with issues, billing, cancellation, or any errors that customers might encounter when using the company's products or services.
Additionally, the agent's duties and responsibilities include (but aren't limited to):
Managing amounts of incoming calls
Responding to customer inquiries
Tracking customer functional requirements
Building a trust relationship for customer account loyalty and engaging customers
Handling customer complaints and providing appropriate solutions
Resolving product or service problems by clarifying the customer's complaint, determining the root of the problem, finding the best solution to solve the problem and leading the customers through it, following up to ensure resolution
Processing orders, forms, applications, and requests
Attracting new customers by answering questions about products and services, or by referring them to other products and/or services
Generating sales leads
Managing customers' accounts
Maintaining customer databases by updating account information
Recording account information to help set up new customer accounts
Keeping records of customer interactions and transactions
Looking to scale quickly?

What skills should a good customer support agent have?
Hiring the best possible person for the job means your company will have the best customer care and improved customer loyalty. In order for the candidate to be considered eligible, though, they should exhibit all of the necessary customer service skills and qualities. A good candidate should be:
Patience
Patience is the most important quality a customer support agent should have. No matter how well your company works and no matter how good your products are, the customer service team is bound to deal with unsatisfied clients. The patience of each agent will determine whether your customers remain satisfied and loyal.
Positive attitude
Positivity as a customer support skill is not the same as positive thinking or motivational speech. In order to provide great customer service, a candidate will need to know how to use positive vocabulary, as well as positive reinforcement of the customer.
What does this actually mean? It means avoiding using negative phrases such as "Unfortunately..." or "I'm afraid that", or basically anything that will put the customer on the defensive.
Instead, the perfect candidate should use phrases like "Thank you for bringing this to our attention", "I am not sure, but let me check...", or "I can give you an update by [time/date]".
Empathy
Empathy is another crucial skill customer support reps should have. For if your employee can't understand what your customers are going through your employee won't be able to help them overcome the challenges they're facing and help them achieve success.
Apart from this, when your customers find themselves facing a problem, it is crucial for the customer support team to understand how the customer feels and adapt their approach accordingly. This would be impossible without empathy.
Empathy towards the customers is one of the main reasons behind client retention and an increasing number of referrals. Thus, a good customer support agent should see the customers as people, not as work orders to be completed.
Clear communication skills
All customer service jobs require the employees to have good communication skills. Whether your company has a call center, help desk, or uses chats or email to talk with its customers, human communication is inevitable.
Additionally, your employees will represent your company, no matter the method of communication with the customers. You'll want to find an employee who can communicate the same ideas your company represents, in a manner suitable to your company's core values.
Finally, clarity is crucial for any customer support agent. When communicating via emails, chats, or over the phone, it's difficult to instantly transfer the exact meaning you want. This can lead to a lot of miscommunication and prolong the entire process of helping a customer resolve their query. This is why a good customer service rep should always go the extra mile to clarify anything they communicated to the customer, even if it seems redundant or obvious.
Ability to resolve conflict peacefully
Conflict management is necessary for all customer service roles in any company. Since some of the customers contacting your customer support channel will be on a time limit, they'll want to get answers to their queries as quickly as possible. Some of them might be angry, stressed out, or agitated by their predicament. This is why it's essential for a good customer support agent to know how to de-escalate the situation and focus the customers' attention on resolving the issue at hand. And this cannot be achieved if the agent cannot stay calm in a frustrating situation, or if they lose their cool quickly.
Ability to understand problems quickly
A good CSR should be able to quickly get to the core of the problem that the customer is facing and find a way to help them. In some cases, this might mean that the customer support agent should be tech-savvy, but in most cases, it just means that they should be quick-witted and responsive. A customer support agent should see through all the client's frustration right to the bone of the issue, and help the customer overcome it.
Ability to work on multiple channels
Finally, helping customers is rarely tied to a single medium. In order to be considered viable for the job, your candidates should be able to communicate with the customer via any of the channels your company uses for the job, be it chat, phone, social media, email, or whatever else you might be using.
How to find the best candidate for your company?
A customer service representative is an entry-level position in most companies, but this doesn't mean that the hiring process should be approached lightly. Remember that CSRs can have a substantial impact on customer loyalty, referral, and customer retention. Thus, you wouldn't want just anyone on the job.
However, while this is an important position, it doesn't require years of experience in the customer support niche (though it might be helpful). It just requires an empathic person that exhibits the qualities and skills talked about earlier in the article.
Finally, keep in mind that if you're hiring remote customer service agents, you should consider different factors than when hiring an in-office team. Hiring remote team members is always a bit tricky, and you should not approach it lightly.
Write a to-the-point job description that stands out
To attract top talent to your job posting, you'll need to add a certain flair to it. Consider your company's values when creating the job posting and try to transfer them to the posting itself, without being too obvious. Use humor if this is concordant with your company's policies.
Additionally, consider changing the job title to better reflect your company's approach to customer services, as well as hiring. A Customer Service Agent or Customer Service Representative can sound a bit impersonal, and, as we've said before, managing customers is anything but that.
In addition to all this, your job posting should contain:
Duties and responsibilities for the job opening
Type of employment (full-time, part-time, etc.)
What are the working hours/days?
Where will the job be conducted from?
What you'll provide
Company policies and how they can affect potential employees
Finally, you can mention your company's culture and how it will affect the job, as well as the potential salary.
Post on respectable job boards
To increase the likelihood of getting only viable candidates and reduce the number of random resumes that will lead you nowhere, you should post the job on respectable job boards, such as LinkedIn, CareerBuilder, etc. Posting your job opening on these boards will increase the chances of finding a candidate you'll be satisfied with.
Search for employees instead of waiting for them to come to you
Another way to make sure you're hiring the best possible person for the job is to proactively search for candidates before there's even a need for them.
This will increase the chances of hiring a better candidate that will suit your company much more
When people apply for the job, then you get a pool of employees non of which might be ideal for the position.
When you proactively search, you'll get more chances to find the right person and hire them.
Check the candidates' suitability and skills
Look at resumes - single out the resumes that draw your attention and that display the qualities and skills we mentioned before. Remember that while the years of experience are relevant, they shouldn't be the determining factor.
Read cover letters - these will allow you to get a good look into the candidates' priorities, what they consider important and what they don't.
Conduct a phone screening - If there isn't a phone number in the resume, write an email and ask the candidate for their contact information. Look for enthusiasm, an engaging personality, good manners, and appropriate answers to your questions. The final ingredient, that seals the deal, should be passion.
Give candidates a test - focus on open-ended questions that will let you see how the candidates think and how they approach problem-solving.
Conduct an interview
Don't just evaluate how the candidates answer your questions, but try to figure out what kind of person they are and how they will work together with a team you already have.
They should be excited about the position, well-mannered, and willing to provide specific, real-life examples from their experience.
Additionally, it's important for customer support agents to be calm and friendly, so you should use this opportunity to check these qualities in your candidates.
To better test their skills, you can make a mock customer call with the most common problems the customers are facing. Put the candidates in a tight spot by playing angry and frustrated clients, and see how they will react.
Put the potential employees in various situations that they might encounter on any given day on the job.
Finally, you can use some of the common interview questions such as:
If you had a disagreement with your team leader about a particular topic, how would you handle it?
Why do you want to work for our company?
What management approach do you best respond to?
What does your perfect workday look like?.
What, in your opinion, defines amazing customer service?
How would you handle a teammate who is constantly passive-aggressive?
What did you enjoy about your previous job? What didn't you enjoy?
Prepare for the interview yourself
You should be prepared for the interview, or if you're not conducting it, the hiring managers should be prepared for it. This doesn't only mean that you should know what kind of answers you're expecting to each question, but that you should also know the answers to the questions the candidates might ask you.
Finally, you should have a plan to hold onto candidates you know are perfect for the job.
Choose the best candidate
Once all the interviewing is concluded and you're ready to choose the candidate, remember to inform the ones that didn't make the cut. Make your rejection email as positive as possible and explain to the candidates that made it to the final round why they weren't chosen for the role. Feedback will be essential to these individuals and it will help them improve, so don't be stingy with it.
Look elsewhere
Sometimes, unfortunately, even inspired job postings do not produce the right candidate. If this is the case for you, you might want to consider broadening your search. In today's time, almost all jobs can be done remotely, anywhere in the world, and your employee search needn't be limited to your country. With the help of Deel, you can hire employees in 150 countries all over the world, compliantly and hassle-free.