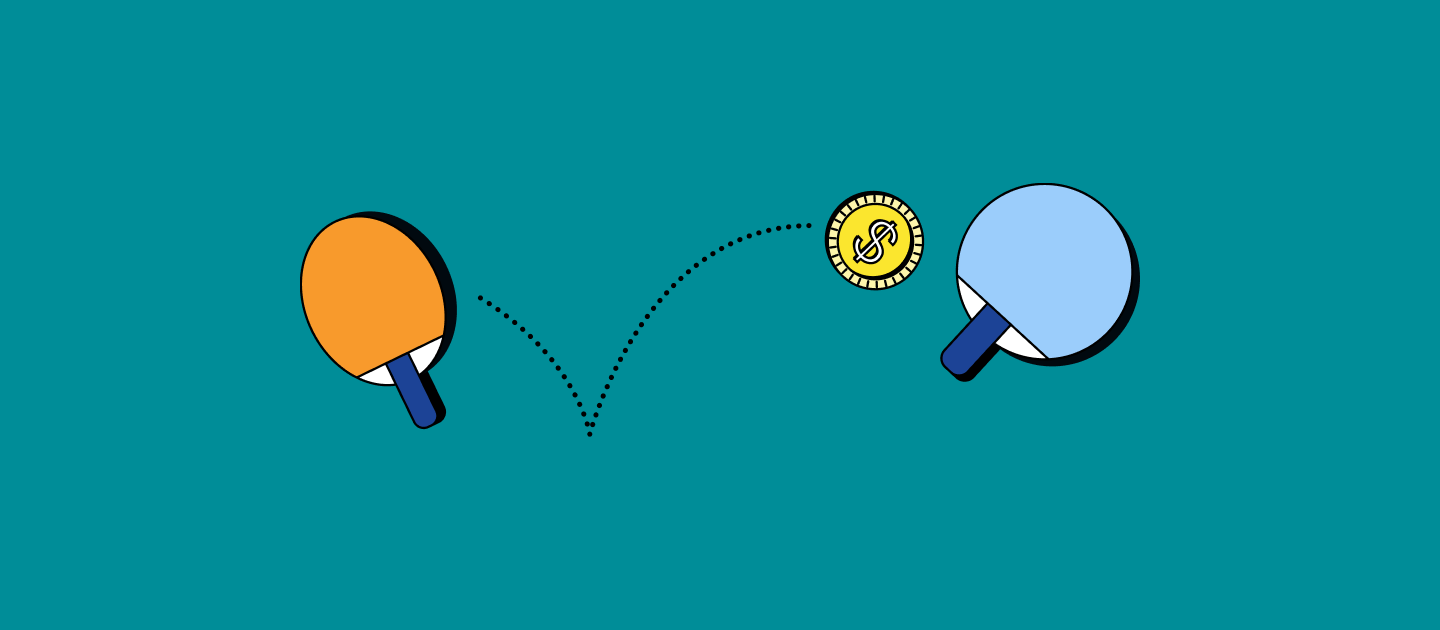 How to Pay Employees in a Startup Using Deel
Learn how to pay your startup team with Deel. Create compliant contracts, determine competitive salaries, and send mass payments to all workers in one click.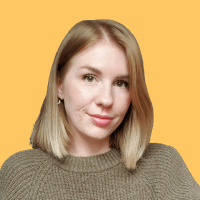 Written by Shannon Hodgen
May 29, 2023
Contents
Need help onboarding international talent?

Try Deel
Key takeaways
Startups can use Deel to simplify the process of hiring and paying their workforce, no matter their employment type or location.
Deel enables you to manage contractor payments, employee salaries, benefits, equity, and more, all in one platform.
The most common ways of paying yourself as a startup founder are through a salary, dividends, owner's draw, or reinvesting profits.
Building a talented team that drives your vision forward is a top priority for any startup founder. However, managing payments, compliance, and equity for employees and independent contractors can be complex and time-consuming, especially if your team is distributed globally.
As an all-in-one HR platform for global teams, Deel's comprehensive suite of tools and services simplifies payroll management for startups, ensuring compliance with local regulations and helping you attract and retain top talent.
Here's how Deel can help you streamline how you pay your startup team.
Create and manage compliance documentation
Navigating local labor laws, tax regulations, and employment contracts can be daunting. With Deel, you gain access to global compliance experts who stay updated with ever-changing employment laws, tax requirements, and payroll regulations.
This support can help companies avoid costly penalties and legal issues stemming from non-compliance that can hinder your startup's growth. In the US, repercussions of non-compliance include repayment of back wages, lawsuits, fines, and imprisonment.
On the Deel platform, you can:
Create, send, and sign contracts that are localized to the laws of your worker's country and undergo quarterly reviews
Automatically collect tax documents, permits, and required documentation for new hires
Keep a clean audit trail for contracts, payments, and compliance documentation


Make competitive compensation offers in different countries
Compensation comprises a worker's wages, monetary benefits, and non-monetary benefits. By presenting competitive compensation offers, you position your startup as an employer of choice, attracting skilled professionals who can contribute to your company's growth and success.
Compensation expectations vary by country, but with Deel's compensation tools, you can structure every employee's pay and benefits packages to align with market rates, minimum wage requirements, and industry standards.
Set your salaries
With Deel's Global Salary Insights Tool, you can access up-to-date market benchmarks to make fair and compelling compensation offers. Select the role, country, and seniority level to see the low, median, and high base salaries. You can filter your results by pay period (annual salary or monthly salary) and currency for more information.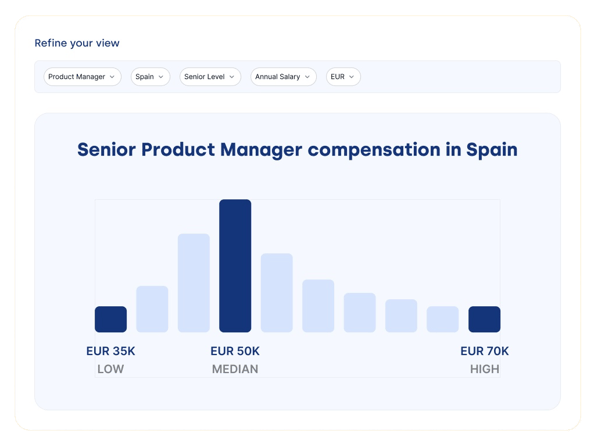 Determine the correct employee benefits packages
Deel's Benefits Tool assists startup founders in determining the appropriate statutory, common, and competitive benefits for their workers. The tool considers location, job role, and employee preferences to generate customized benefit recommendations. With this information at your fingertips, you can confidently design benefits packages with perks that attract and retain top talent while ensuring compliance with legal requirements.
How do you pay yourself as a startup founder?
Paying yourself as a founder involves considering various factors, such as your company's legal structure, financial stability, and personal financial needs. Here are a few common methods:
Salary: One way to pay yourself is by establishing a formal employment relationship with your startup. This involves setting a salary for yourself as an employee, just like any other team member.
Dividends: If your startup is structured as a corporation, you may choose to pay yourself through dividends, which are distributions of profits offered to shareholders, including the founder. This method allows you to receive payments based on the company's profitability.
Owner's draw: For startups organized as sole proprietorships, partnerships, or limited liability companies (LLCs), founders may opt for an owner's draw, where you can withdraw funds directly from the business's profits as needed for personal use.
Reinvesting profits: In the early stages of a startup, founders often reinvest profits back into the business rather than paying themselves a substantial salary. This approach allows for the growth and development of the company.
Combination of methods: Startup founders often adopt a combination of the above methods to pay themselves. For example, you might receive a modest salary for immediate personal needs while reinvesting a significant portion of profits back into the business.
Automate your compliance needs
Deel automatically collects and stores your compliance documents so you can focus on growing your business.



Offer stock options to startup employees and contractors
Since early-stage startups often have limited cash flow at their disposal, some CEOs offer workers a share of the company stock to make up for lackluster financial compensation or in addition to a competitive salary.
Whether you're offering stock options, restricted stock units (RSUs), or other equity plans, Deel can provide unmatched legal and tax support to simplify the process, ensuring transparency and compliance.
Learn more about enabling equity for your startup team:
Startup teams can issue equity and send offer letters on the Deel platform by using the Stock Options feature during contract creation. This feature is used alongside existing equity granting platforms to track grants you've made to new employees and independent contractors.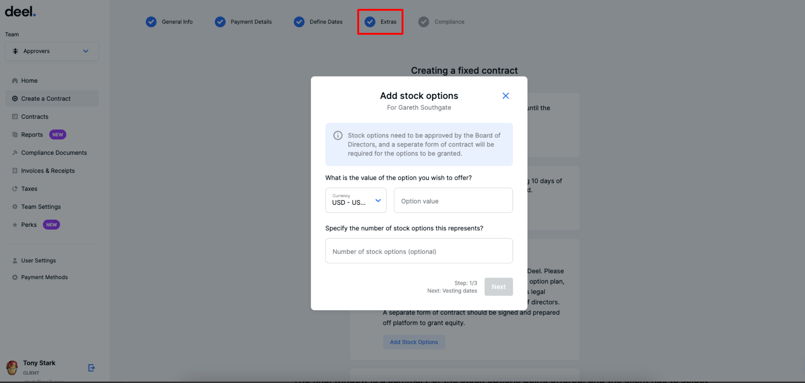 Automate invoices for contractors
Deel enables startup founders to automate most of the heavy lifting that comes with paying contractors, including:
Generating invoices
Customizing invoice schedules
Creating Fixed, Pay As You Go, and Milestone contracts
Adding adjustments for expense reimbursements or bonuses
Watch the video below to learn how to automate and manage payroll for contractors with Deel.
Pay your entire team on one platform
With Deel, you can pay independent contractors, EOR employees, and direct employees, all in one platform. Here's how:
1. Select who you want to pay: Select 'all teams' to mass-pay workers, exclude some teams or workers, or only pay specific workers.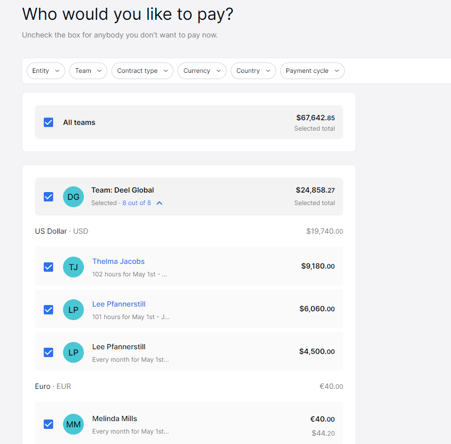 2. Select your payment method: Use your preferred payment method or easily add a new payment method. Some payment options require additional steps before you can transfer funds.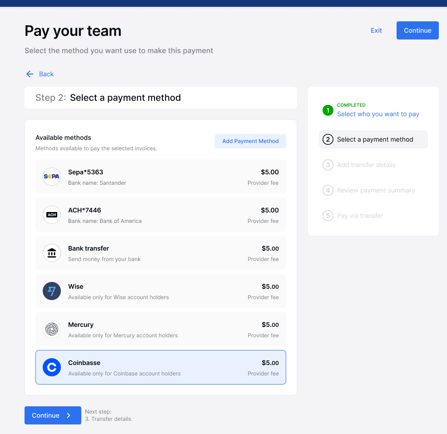 3. Payment summary:

Review your payment summary and automatically generate an invoice.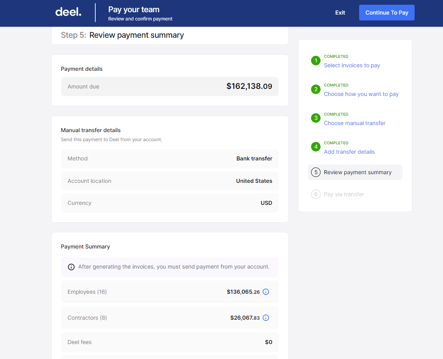 4. Send payment: Review, confirm, and send your payments.
Try Deel: The all-in-one HR platform that scales with you
Leveraging the right HR and payroll tools can significantly impact your startup's success. Deel's compliance expertise, compensation tools, and payment automation provide a comprehensive solution to manage payments for your startup team of employees and independent contractors.
As a founder, worrying about compliance and payments is the last thing you want to do. You just want to start working and get the best people you can very quickly…. [Deel] can run payroll, we can help you hire anyone anywhere as a contractor or as a full-time employee where we have our own entities in over 100 countries.
Alex Bouaziz, Co-founder and CEO, Deel
By partnering with Deel, you can ensure legal and tax compliance across different countries, avoid misclassification risks, attract top talent with competitive compensation and equity plans, and streamline payment processes.
Book a 30-minute demo with an expert to get a closer look at the Deel platform.