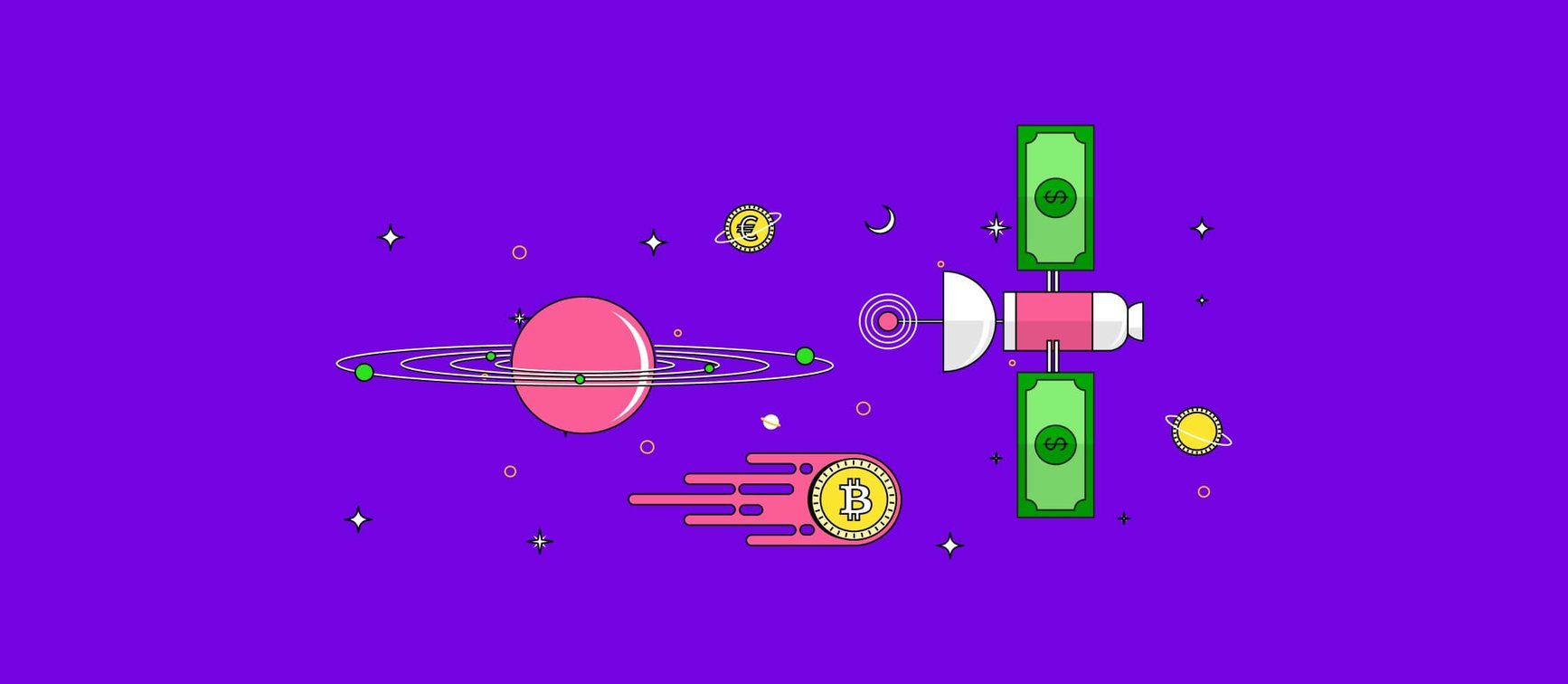 Centralized vs. Decentralized Payroll: Benefits & Challenges
What's the most accurate, cost-effective, and scalable way to run global payroll? Compare centralized vs. decentralized payroll to learn about your options.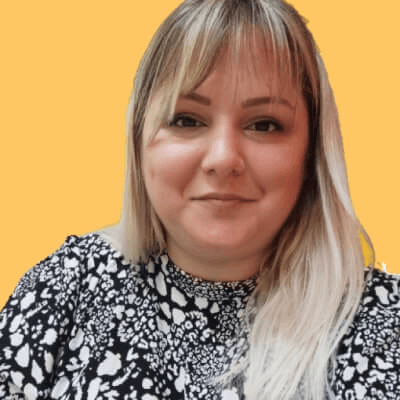 Written by Stefana Zaric
April 11, 2023
Contents
Need help onboarding international talent?

Try Deel
Key takeaways
Centralized payroll enables you to manage all payroll activities in one platform, using the same processes, regardless of where people work and get paid.
Under a decentralized model of payroll, companies open new entities or set up multiple payroll teams in all countries in which they operate.
Globally-scaling companies often choose centralized payroll for increased oversight, consolidated data, streamlined processes, and enhanced security.
As you introduce global workers into your organizational structure, the benefits of a simple, cost-effective, and accurate payroll solution become more apparent. But what does that payroll solution look like and how do you pay your team with it?
For most global companies, the choice comes down to centralized vs. decentralized payroll.
You can use several local payroll providers to suit the needs of workers in different locations, or one consolidated payroll management system for all workers, such as Deel.
Our global payroll solution is available around the world, and unlike competitors, we have a team of in-house experts that provide greater visibility into all things international hiring, a shorter response time to questions, and a more consistent experience.
This article walks you through the benefits and challenges of both payroll options to help you choose the right solution for your organization.
What is centralized payroll?
Centralized payroll is a type of payroll system that allows you to manage all payroll activities in one platform. Using this method, all payroll managers follow the same processes, regardless of where employees work and get paid.
Since managing all tasks and data in one system allows for better control over the entire payroll process, many multinational corporations prefer the centralized approach for their global payroll.
In these companies, there is usually one high-level payroll team in charge of decision-making for the entire organization. They align the payroll management processes with any local vendors the company might be working with.
Benefits of centralized payroll
Small and scaling companies alike need a well-documented, formalized payroll strategy, especially when hiring globally. This strategy will help eliminate potential payroll compliance risks and build a sustainable and scalable payroll model.
If you opt for a centralized system, here are the benefits you may experience:
Accessibility
Improved control
Streamlined processes
Secure data sharing
Accessibility
As a global organization, you likely have several payroll teams based in different countries using multiple currencies. When you use a single system to store and manage payroll, those team members can easily access the data when needed, no matter their location.
And when other teams (for example, human resources) need access to payroll data, they can find what they need in a single platform instead of browsing multiple platforms and databases.
When a CFO starts having ten or fifteen workers, payroll starts to be a real mess to manage. They work with local payroll managers, they get Excel files, they try to consolidate. But they have no real visibility… it starts to be really complicated. Deel can truly consolidate everyone—all of your contractors, employees, and entities in one place where we do the payroll for you.
Alex Bouaziz, Co-founder and CEO, Deel
Streamlined processes
If your payroll processes vary by entity or location, you might encounter obstacles when reporting on data or onboarding new payroll managers. Inconsistency in payroll processes may lead to errors, resulting in the HR department fixing mistakes manually.
Thanks to payroll software automation, self-service functions, and integrated systems that unite payroll and HR functions, the risk of human error is reduced. These automations and workflows become even more consolidated with a centralized payroll system.
How Deel helps Change.org save over 300 hours per month on payroll admin
Frustrated by their old payroll software's slow support and clunky UX, Change.org needed a smarter solution for their global hiring.
They switched to Deel to manage payroll in eight countries because of our seamless support and platform usability.
Since using Deel's Global Payroll, Change.org has saved more than 300 hours on admin each month.
With consistent processes across all subsidiaries and countries, it's easier to onboard new staff and to relocate employees where help is needed—that means better cost and labor efficiencies for your company.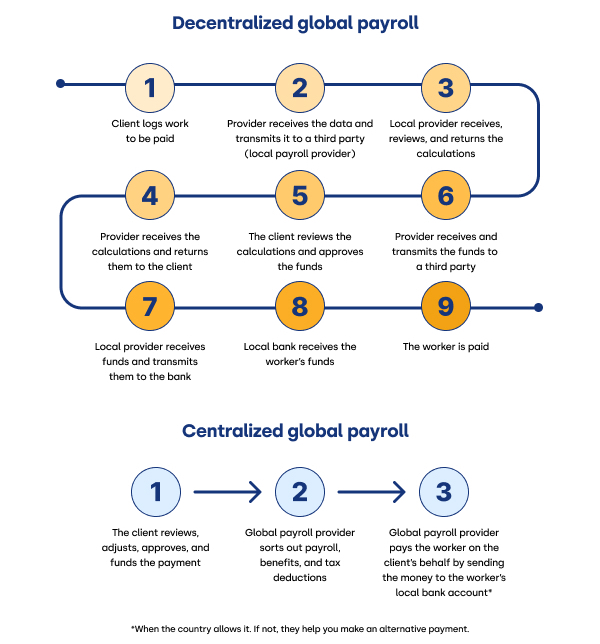 Secure data sharing
The bigger the company, the bigger the data security and privacy risks. If you process payroll in several locations, numerous people will have access to confidential data, increasing your database's vulnerability.
By running payroll through a single platform, fewer people will have access to payroll data. You can set up better payroll data security measures to protect this data from cyber attacks.
Improved control
Payroll data consolidation enables you to monitor all expenses (salaries, employee benefits, overhead costs) in one place, resulting in improved control over payroll, headcount, and more. In turn, senior managers and leaders can make informed decisions about the business and available resources.
With a clear picture of how your budget is spent across the whole organization (including business units in foreign countries), you can easily spot potential areas of improvement, make data-driven decisions about your budget, and ensure every expense is accounted for.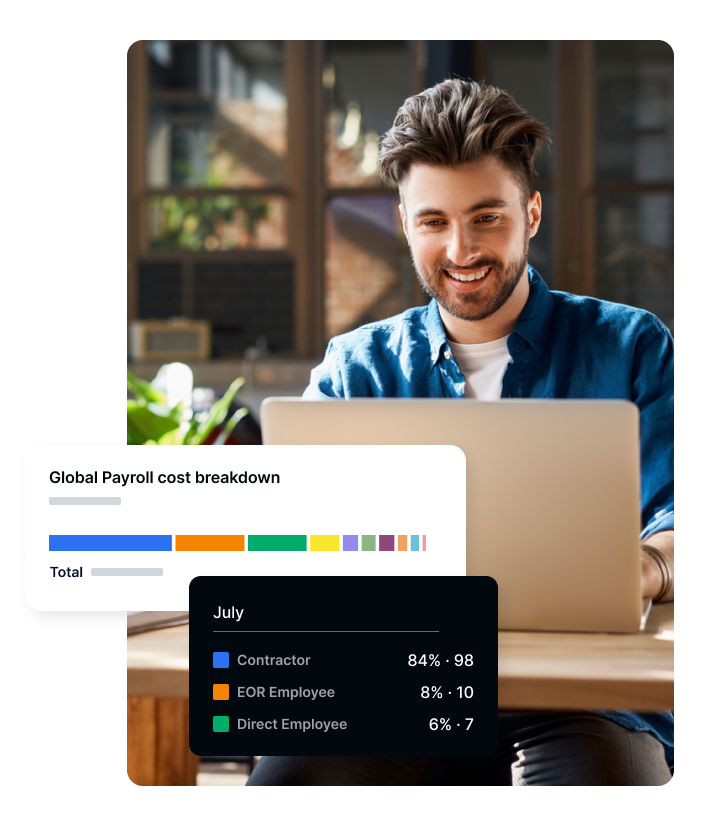 What is decentralized payroll?
Decentralized payroll is a payroll model in which companies open new entities or set up multiple payroll teams in all countries.
Early-stage companies often choose decentralization because of cost savings and availability, as outsourcing payroll management is typically faster than building an in-house payroll team.
Decentralized payroll vendors have their own methods of handling payroll operations, use different platforms, and depend on multiple decision-makers, often at a lower level than senior management. Relying on numerous decision-makers can make these teams feel disconnected and their information systems incompatible.
The benefits of decentralized payroll
The decentralized approach also comes with its share of benefits. Small businesses may operate successfully for years while relying on multiple payroll teams with their own autonomy and processes.
Here are the most notable advantages of a decentralized payroll system:
Affordability
Flexible and fast decision making
Local customer service


Pay your entire team in one click with mass payments
Click one button and pay your global team instantly. They can withdraw funds via bank transfers, crypto, PayPal, and more. Easy operations for you, easy options for your team.



Affordability
Decentralized payroll often means a company outsources payroll to local, in-country partners (ICPs). Instead of building an entire payroll department with global employees from different regions, you pay a monthly fee (sometimes on a pay-as-you-go basis) for running local payroll.
A lack of resources (time, money, and staff) often prevent small businesses and startups in early phases from building a proper centralized payroll system, which is why they choose decentralization.
A company may also need to set up a local entity when hiring and paying international employees. This time-consuming and expensive process is incompatible with a small business budget or fast-growing startups needing to onboard new hires quickly. Hiring through employers of record (EOR) is far more affordable as these organizations usually handle your complete payroll, compliance matters, contracts, and more.
Flexible and fast decision making
With a centralized payroll system, it takes time for the information to travel up and down the organization. However, if you give individual teams the power to make decisions based on their own processes and data, payroll managers can resolve local issues quickly.
Local customer service
Local payroll teams focused on their particular market might help bridge the communication gap between you and your global employees and improve customer relations. With more independence and flexibility, local payroll managers can adapt their processes to specific local needs and deliver the service in the necessary time zones and languages.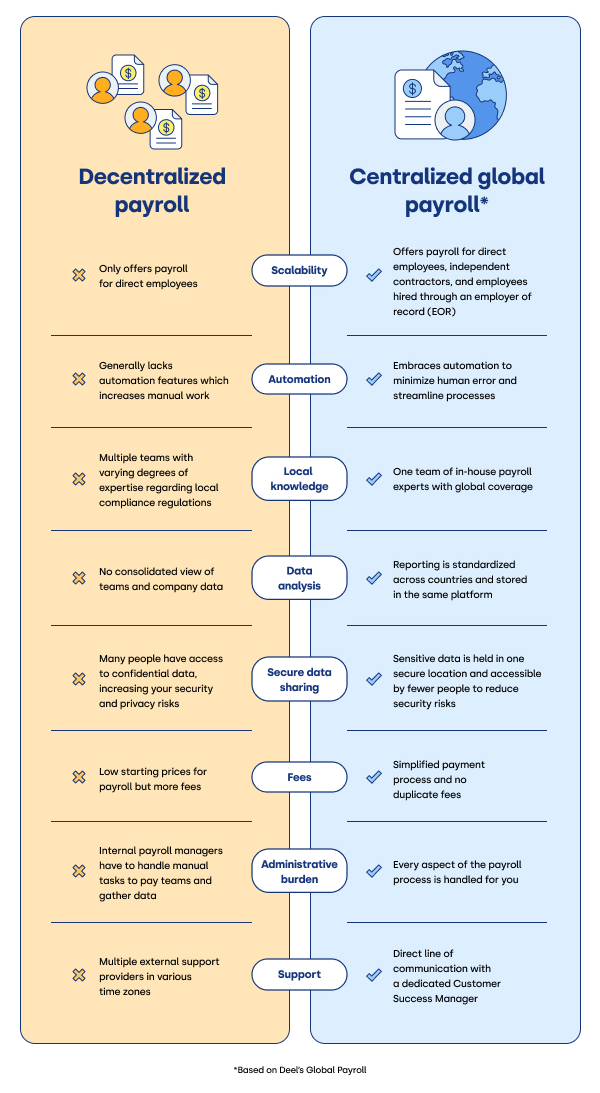 When should you consider centralized vs. decentralized payroll?
As your company grows, you might encounter the following constraints of using decentralized payroll systems:
Lack of control and central oversight over employee-level payroll activities and data, especially in a global environment where complex compliance matters are in question
Multiple teams across the organization aren't able to consolidate their real-time data due to inconsistent systems
Lack of communication among teams may result in payroll data duplication and waste of resources or storage space
Accumulation of costs caused by duplicated work and miscalculations
Potential fraud due to lack of control and visibility


A decentralized approach to payroll can be a suitable solution for some companies, especially those with a small workforce. However, as your business scales its operations and grows in terms of staff and markets, you need increased control and strict compliance.
When considering centralized payroll vendors, companies often use a Request For Proposal (RFP) matrix to prioritize and evaluate their business needs. You can download Deel's free RFP template to request customized, appealing packages for your needs.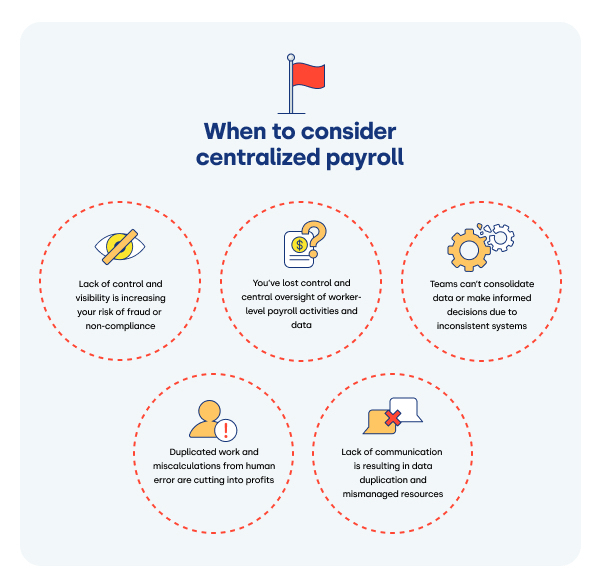 Pay your entire team in one platform with Deel
Deel's Global Payroll solution is an intuitive, easy-to-use platform you can use for all workers everywhere.
We're trusted by companies around the world, with a 4.8 rating on Trustpilot and reviews that highlight our highly responsive customer support, user-friendly platform, and more.
I can only imagine how annoying it would be to have to process the payments manually twice a month or have to remember the exact day that we have to pay each team. Thanks to Deel, I just need to go to the payments section, press the pay button, and that's it. It gives me the peace of mind that everyone is getting paid, on time, all over the world.
Daniel Aksioutine, COO, DivBrandsDeel
With Deel, you can:
Hire and pay full-time employees and independent contractors around the world, easily and compliantly
Standardize

international payroll operations

across your organization hassle-free
Handle contracts and benefits compliantly with local laws
Onboard new hires in seconds
Have complete control over data while keeping it safe with

advanced data security measures
Learn more about Deel's Global Payroll solution or request a demo to see how we can help your team scale globally.
Guide to Global Payroll Management

Without a payroll strategy, hiring globally can lead to costly mistakes. Our 36-page guide to global payroll helps you understand what to look for.
Get the resource