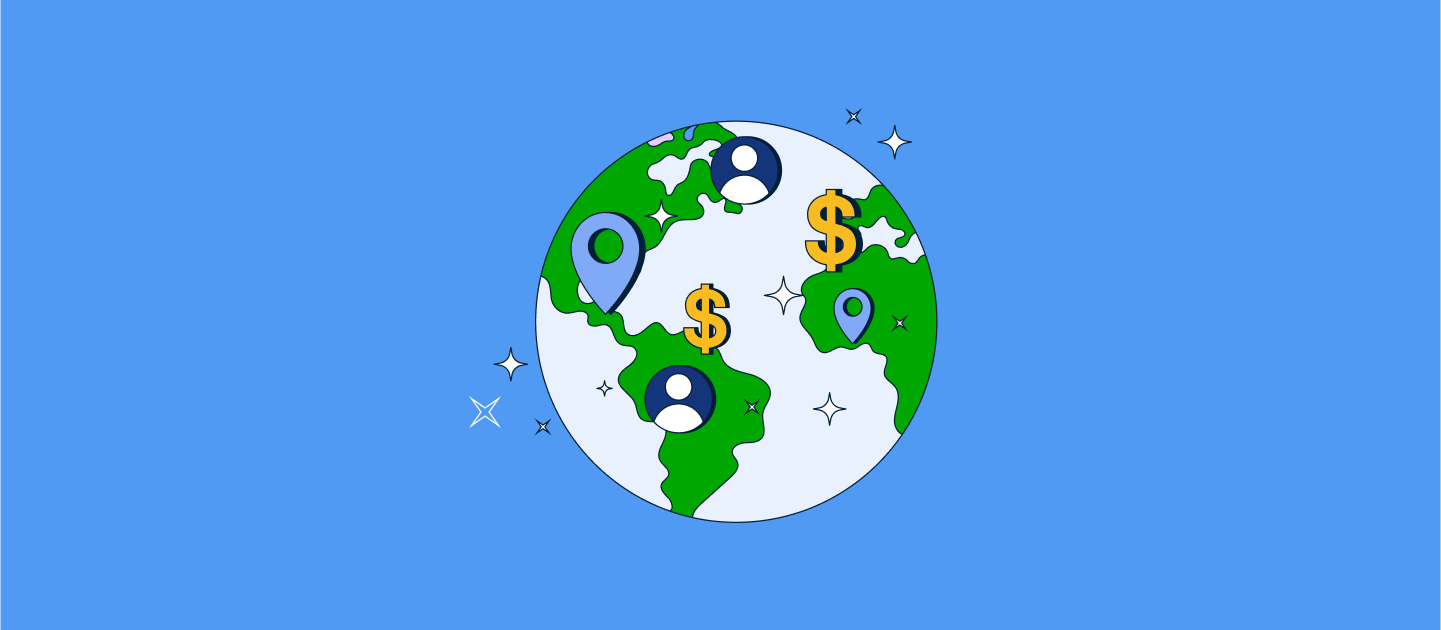 Where You Can Run Payroll for International Employees with Deel
With Deel, you can run payroll for international employees around the world—from Australia to Uruguay, and anywhere in between. Learn more about how our Global Payroll platform works.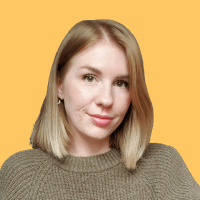 Written by Shannon Hodgen
August 18, 2023
Contents
Need help onboarding international talent?

Try Deel
Key takeaways
Deel's Global Payroll service enables you to pay employees across a wide range of countries, with more regions added on a regular basis.
With Deel, you can streamline employee onboarding, automate repetitive payroll tasks, and entrust our team of legal experts to ensure complete payroll compliance for your enterprise organization.
Deel's Global Payroll clients can make payments to employees' bank accounts in their local currencies, reducing currency conversion fees and increasing payment accuracy.
Today's enterprise organizations are more geographically diverse than ever before. Our research from Deel's State of Global Hiring Report shows that, in 2022, APAC companies hired globally at the fastest rate of all regions, while LATAM is the hottest region to hire from.
These global teams need a smooth payroll process to ensure all international workers are paid accurately and on time, no matter their location. Deel simplifies this task by centralizing hiring, payroll, and compliance for your global workforce in a single platform.
In this article, we walk you through how and where you can use Deel to process payroll for international employees.
Benefits of running international payroll with Deel
Streamlined onboarding for international employees
Deel's intuitive onboarding process delivers a hassle-free experience for global team members. From collecting necessary documentation to setting up payment preferences, Deel accelerates the onboarding journey, allowing employees to focus on their roles instead of paperwork.

The Onboarding plugin for Slack enables you to easily assign employee onboarding tasks based on location and department without them leaving the app. Pair it with the 1-on-1 plugin, and you get a user-friendly solution for scheduling meetings, drafting agendas, and tracking talking points, enhancing communication throughout your team.
Deel's Workflow Builder further enhances the onboarding process by automating essential payroll and compliance tasks tailored to the employee's location and contract type. The platform's Manager Overview feature provides real-time visibility into task completion, so nothing falls through the cracks, with the additional support of a dedicated client onboarding manager.
See also: How to Streamline Employee Onboarding and Offboarding with Deel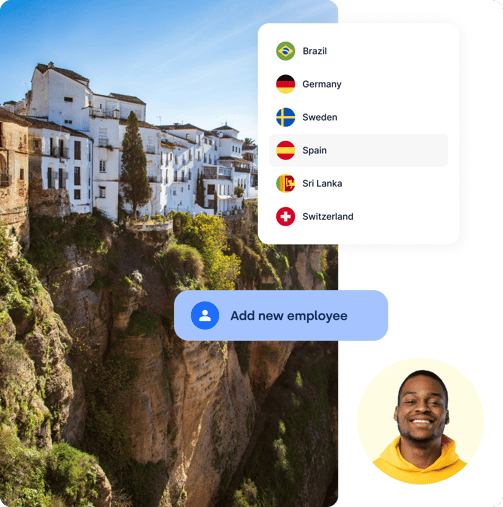 Automated payroll calculations and tax deductions
By eliminating the need for manual calculations and paperwork, Deel's automated payroll software transforms how enterprise businesses manage their workforce compensation.
Deel calculates employee wages, tax withholdings, and deductions, simplifying complex tax calculations that vary by country. This automation ensures compliance with tax regulations, avoiding costly mistakes that manual calculations may entail. Deel also simplifies tax filing, payroll record-keeping, and employee benefits management, with integrations for 20+ HR and bookkeeping tools so you can sync your entire tech stack.
Not only does Deel save time and reduce stress for HR departments by automating wage calculations, but it also lowers payroll management costs by reducing the need for in-house payroll managers. The payroll system accelerates payroll processing time, ensuring employees receive their payments on time even when they're absent, reduces the chance of human error, and enhances data security, providing encryption and compliance with data protection standards worldwide.
See also: How Deel's Automated Payroll Can Optimize Your Payroll Process
Compliance assurance with country-specific regulations
Keeping up with labor laws and regulations across different countries can be overwhelming. Deel is equipped with a deep understanding of international employment laws, handling payroll and employment compliance to prevent costly mistakes and legal complications:
Worker classification:

Ensuring full-time employees and independent contractors fit the correct classification criteria, eliminating the risk of

misclassification in foreign markets
Worker eligibility:

Confirming employees are legally eligible to work in their region
Tax withholding and reporting:

Withholding and reporting the correct taxes for employees, as per their local employment laws and payroll laws
Payments:

Ensuring workers are paid correctly and on time, following their local government payroll regulations
Wages and hours:

Ensuring employees are earning

minimum wage

and are meeting the mandated

work hour requirements
Wage withholding:

Withholding the correct amounts of wages from employees' pay for child support and garnishments
Depositing funds:

Depositing the necessary funds to the correct government agencies
Filing taxes:

Filing the correct tax forms to government agencies
See also: Payroll Compliance Checklist and Tax Law Guide for 2023
How Deel elevated Change.org's global payroll
Distributed across more than 25+ countries worldwide, Change.org used to use countless payroll vendors, processes, and platforms to run their global payroll. The operational complexity was enormous and time-consuming for their team.
On the hunt for a platform with better support and usability, Change.org found Deel. Since using Deel's Global Payroll, Change.org has saved more than 300 hours on admin each month.
"We wanted this elevated experience Deel provides and we don't think we can get that elsewhere. Our support specialist (at Deel) responds right away and that is such a pleasure." — Allie Shulman, Director of People Operations, Change.org

Change.org now uses additional Deel services as well, including our EOR to retain employees requiring visa sponsorship. This has enabled the company to keep valuable team members by providing them the freedom to live and work where they desire.
Integrated payments and currency conversions
With Deel, enterprise companies can make international payments to foreign employees' bank accounts in their local currencies, reducing currency conversion fees and ensuring accurate and timely salary disbursement. When it comes to exchange rates, Deel incorporates a Forward Rate into invoices to ensure there are no surprises when it comes to payments.
Deel supports 20+ currencies for contractor payments, and contractors have access to 180+ currencies for withdrawals. International contractors can receive their funds via Deel Card, Deel Instant Card Transfer, Coinbase, PayPal, Payoneer, Revolut, Local Bank Transfer, and International Bank Transfers/SWIFT.
Employer of record (EOR) clients just need to approve expenses and bonuses and let our in-house payroll team take care of local taxes, payroll taxes, withholdings, deductions, and benefits for you. On payday, employees receive a direct deposit in their local currency as well as a full payslip.
Clients can fund their Deel accounts in the following currencies: AUD, BGN, BRL, CAD, CHF, COP, CZK, DKK, EUR, GBP, HUF, JPY, MXN, MYR, NOK, NZD, PLN, RON, SEK, SGD, TRY, USD, USDC, ZAR
See also: How to Pay Different Types of Remote Workers in Multiple Countries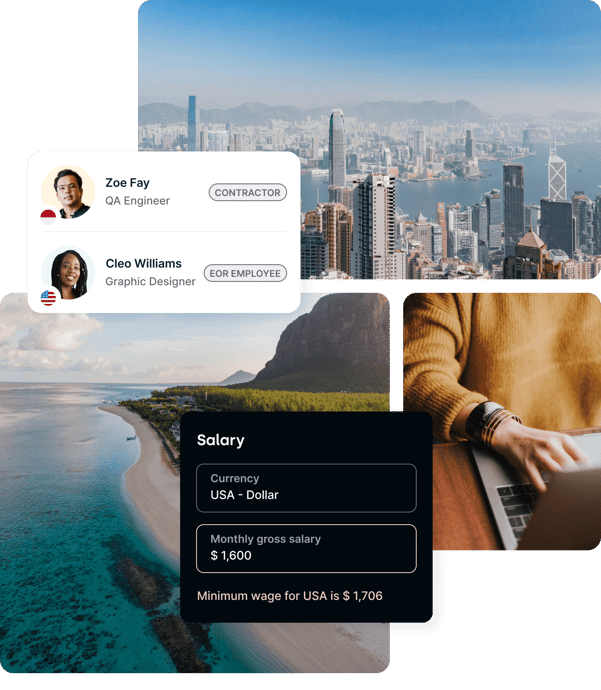 Real-time visibility into payroll data and reporting
Transparency is key to effective payroll management. Deel provides real-time visibility into payroll data and generates insightful reports, enabling you to make informed decisions and maintain a clear overview of your global team's compensation and payroll costs:
Gain insights into the global costs of your entire workforce with ease
Keep track of your headcount historically and globally
Access payroll reports to optimize your payroll management efficiency
Personalize dashboards to ensure reports are easily accessible to any audience.
Where can you run global payroll with Deel?
Deel's Global Payroll solution is currently available in the countries listed below. In some countries, Deel can provide global payroll services but cannot make global payroll payments on behalf of clients.
Australia
Belgium
Brazil
Bulgaria
Canada
Chile
Colombia
Denmark
Dominican Republic
Ecuador
Finland
France
Germany
Hong Kong
India
Israel
Kenya
Netherlands
New Zealand
Peru
Poland
Singapore
South Africa
South Korea
Switzerland
Uganda
United Kingdom
United States
Uruguay
Deel's services and coverage are constantly expanding. If you're interested in running Global Payroll with Deel but do not see your targeted foreign country listed above, please reach out to learn when it will be available.
Looking to hire and pay overseas employees?
With Deel's employer of record model, you can hire and pay workers in any country where Deel has a legal entity, which includes 100+ countries.

In countries where we don't own an entity yet, we work with experienced partners to ensure you can hire wherever needed. See where we have partners, local entities, and support in our global hiring guide.
Step-by-step guide to running multi-country payroll with Deel
After you approve the payroll package, there are two ways to pay international employees: Payment by Deel or payment by client.
First, let's walk through a payment by Deel:
1. Select an entity with awaiting funding status
There, you'll see the funding details, including the number of employees, the total amount, and the due date.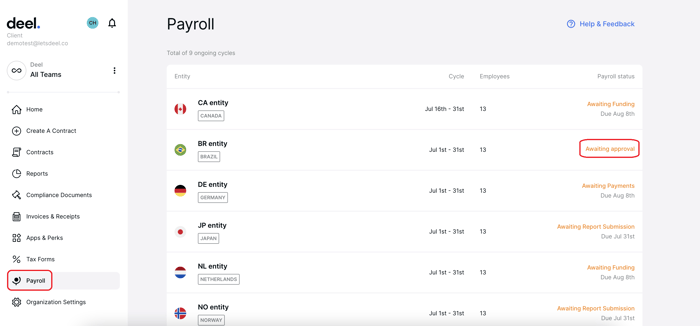 2. Once you're ready, click Pay Funding
You can click View Statement for more details, which shows the total amount and a breakdown by employee. You can download this statement for your records.



3. Then, select a payment method and follow the instructions for the payment flow.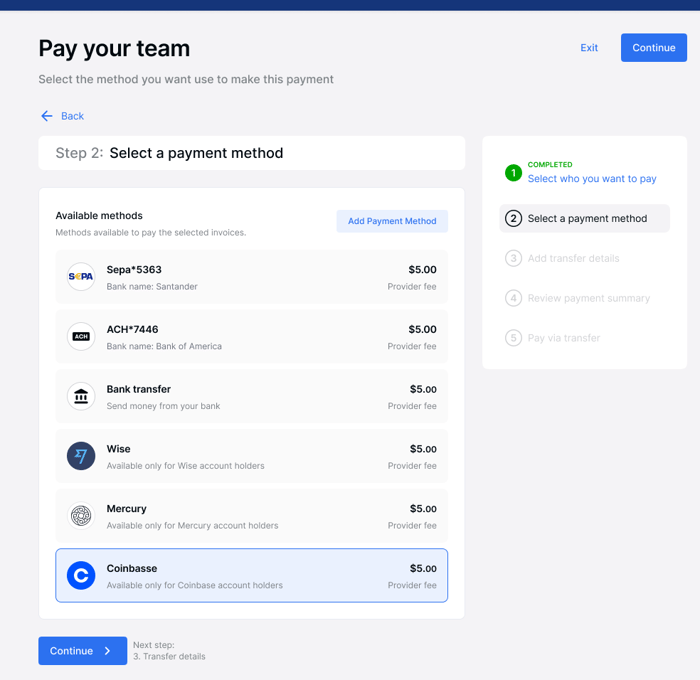 4. Next, review the payment summary and confirm payment.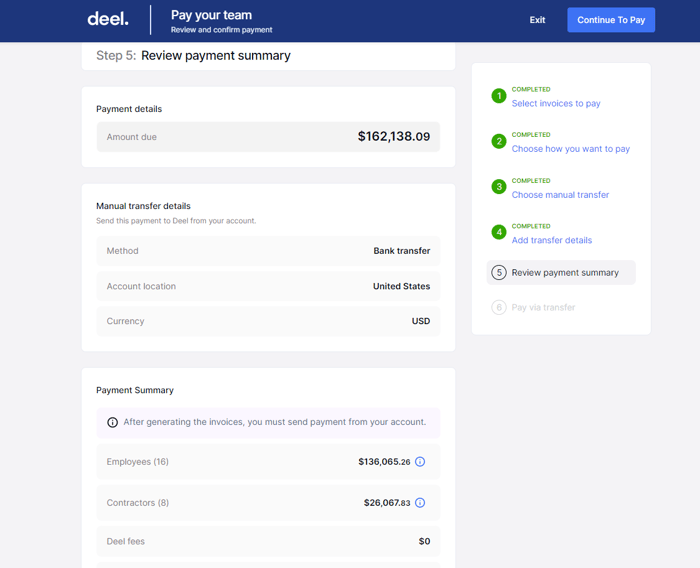 Now, let's walk through a payment by client:
If you're paying your employees directly with a local payment processor, we'll provide you with a CSV file and all necessary payment details.

1. Click an entity with awaiting payment status.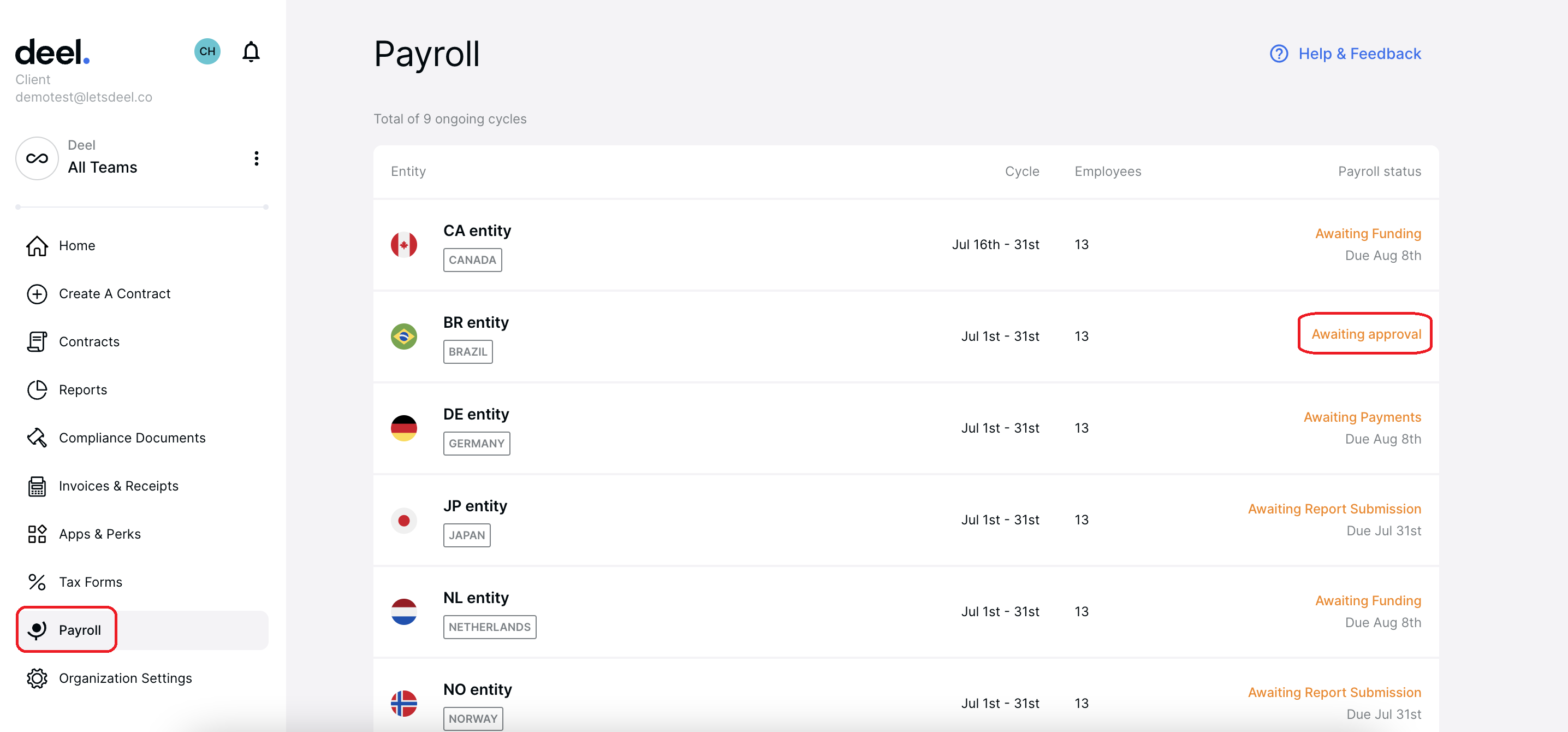 2. Select the Payment tab
Here, you can see the total amount and download the list of payments for more details on your employees. Now, click Mark as Paid.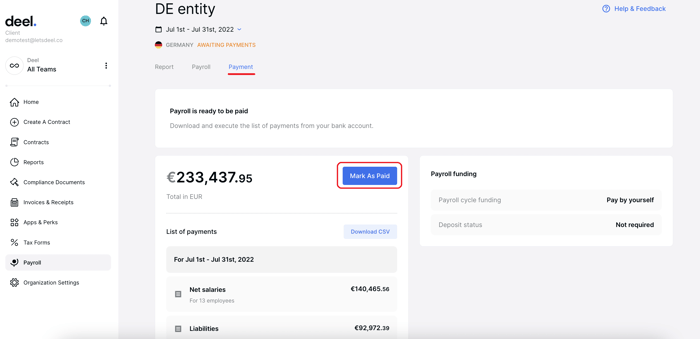 3. Complete the payment from your bank and check that the payment has finished processing. Then, click Yes, Mark as Done. Make sure you have made the payments before you proceed.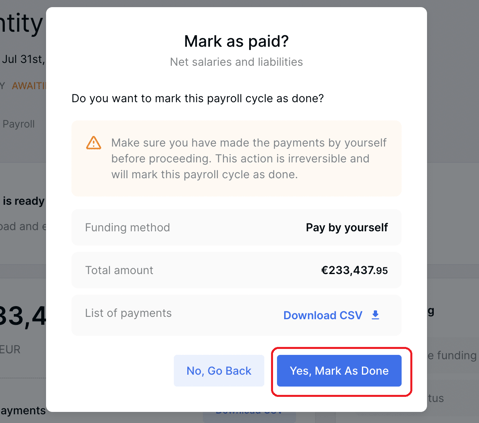 Once you mark the payroll cycle as complete, the action is irreversible. You can check on the status in the main area of the Global Payroll tab. The orange awaiting payment next to the entity name will change to Done.
As a company, if you want to hire someone in a country that you don't have infrastructure in, usually you struggle to do that. We're the first company that bridges the full HR aspect of running a company. All of your employees are in one database, combined with the fact that we can run payroll—we can help you hire anyone, anywhere.
Alex Bouaziz, Co-founder and CEO, Deel
Pay international employees stress-free with Deel
Deel continues to be one of the top-ranked global payroll service providers, with 4.6/5 rating on G2 and 4.8/5 rating on TrustPilot.


By choosing Deel as your full-service multinational payroll partner, you can save on in-house costs while benefiting from expert support.
Simplify the process of onboarding and hiring international employees in new countries
Automatically collect tax forms
Renew or terminate employment contracts
Make

mass payments

in seconds
Administer

employee benefits
Complete other human resources and payroll tasks for a global workforce
And more
Book a 30-minute product demo and Q&A session with an expert today to learn more.