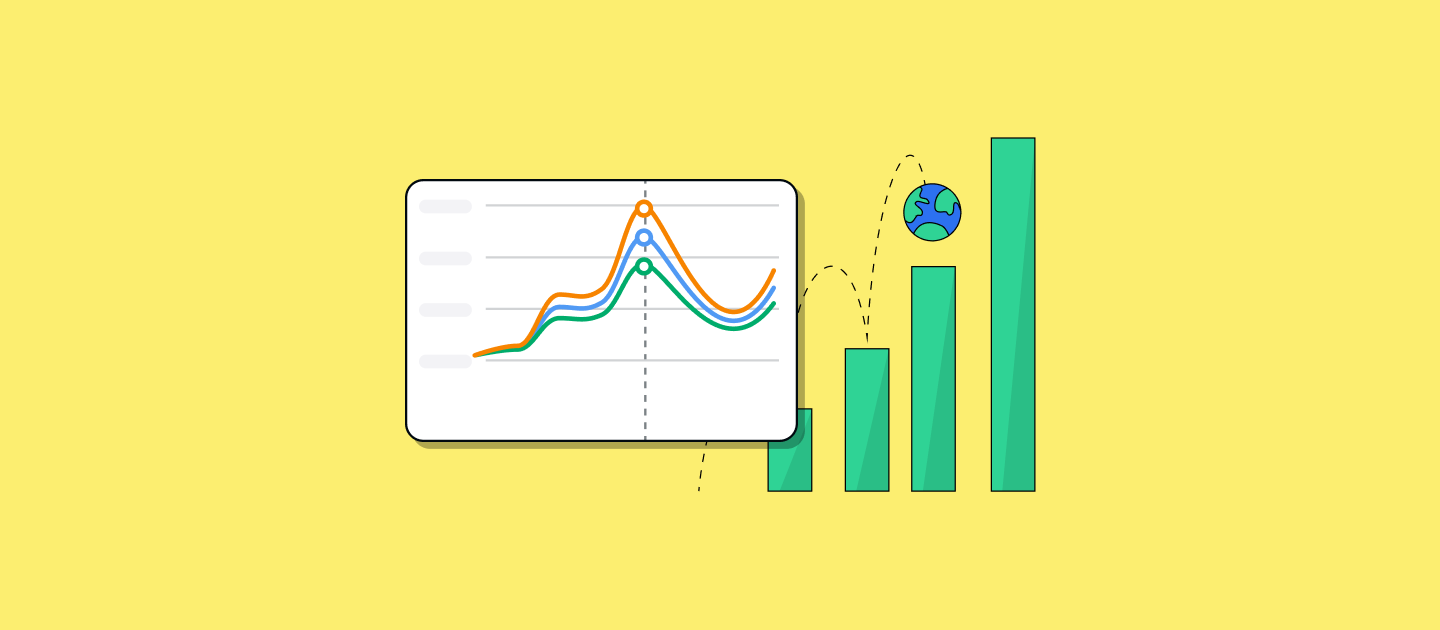 How Deel Simplifies Global Payroll Reporting for Enterprises
Want to make global payroll reporting easier for your international team? Learn how to centralize and simplify the process with Deel.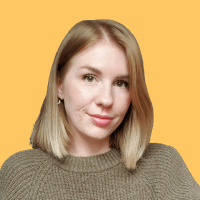 Written by Shannon Hodgen
September 2, 2023
Contents
Need help onboarding international talent?

Try Deel
Key takeaways
Managing payroll on a global scale comes with challenges, such as time-consuming reporting tasks and fragmented payroll systems. Organizations require streamlined solutions to address these complexities.
An essential requirement for efficient international payroll management is a centralized reporting system that offers simple, standardized processes.
With Deel as your payroll partner, you're supported by in-house payroll advisors, 24/7 in-app support, and a dedicated customer success manager.
Improving internal efficiency is a top priority for global companies, but many are struggling to achieve their goal. 40% are stifled by insufficient resources, and 37% are held back by their HR team's limited capacity and capabilities.
When it comes to payroll, internal teams are often restricted by time-consuming reporting tasks and inadequate payroll systems that don't support international workforce management. These teams need a simple, centralized global payroll reporting solution so they can:
Get complete transparency into how much they are paying in processing fees or global payroll management fees
Project future workforce requirements based on current capacity and metrics
Get a holistic view of national and international worker data

Deel's Global Payroll system enables you to run payroll in 100+ countries directly from one platform, streamlining international operations and eliminating the ongoing admin of local payroll compliance, taxes, employee benefits, and more. It also includes standard reports required by the applicable local regulations and labor laws, as well as custom reports to fit your unique business needs.
Keep reading to learn how easy managing international payroll reporting can be with Deel.
Thinking about how your current or future tech stack can support you and your endeavors with a global team is important. You will need a source of truth for your workforce data—consider who you employ or contract with, where they are located, their status of work, and how you manage them compliantly through their life cycle.
Casey Bailey, Head of People, Deel
Payroll reports
Under our Global Payroll services, Deel runs payroll for your team each month and generates a payroll report for you to review. Once you review and confirm the payroll report, we move forward with the payroll package and payments, which can be processed through Deel or directly through your local bank accounts. You will also receive payslips and a gross-to-net (G2N) report to review.

The payroll report will include the following employee information:
First and last name
Personal email
Work email
Nationality
Country of residence (and state, if applicable)
Job title and department
Seniority level
Annual gross salary (and currency)
Start date
Adjustments
Employee number
Status and employment type
Last day of work (if applicable)
How to submit a global payroll report
with Deel

1. Select an organization with Awaiting Report Submission status.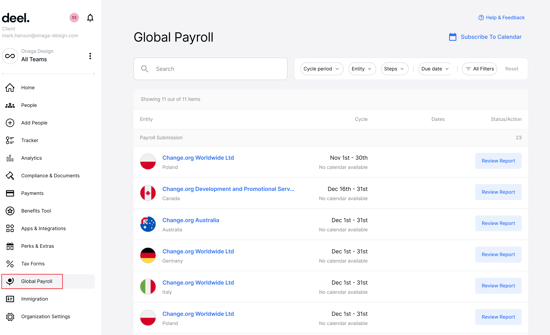 2. Click Review and Submit.


3. To make adjustments, such as adding bonuses or logging sick leave, click into an employee profile, make your adjustments, and then click Update.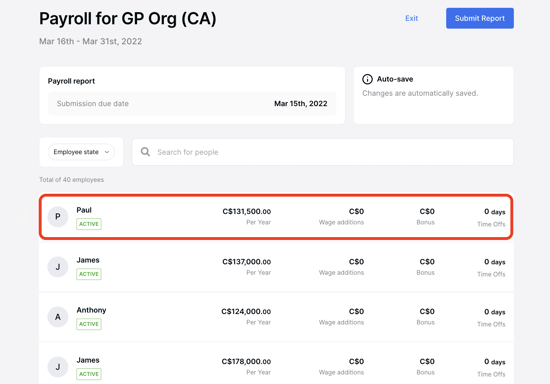 4. If you have multiple adjustments to make, you can click Bulk Edit. Follow the workflow to download, edit, and upload a CSV file containing the payroll report data.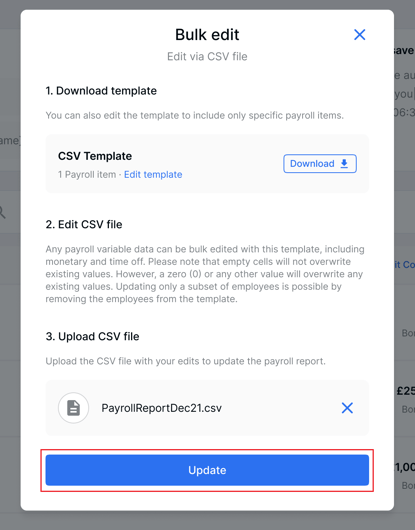 5. Ensure your payroll report is correct and then click Submit Report.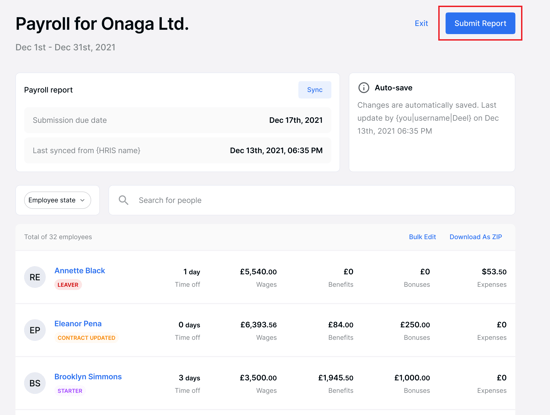 See also: How to Edit and Submit a Global Payroll Report
Payslips
If a client requests payslips, Deel will generate them to match the payroll register provided by us. To make things even more convenient, e-payslips will be created and made available for viewing in the Deel dashboard through the employee self-service function.
Gross-to-net reports (G2N)
Enterprise organizations often struggle to get a clear and consolidated view of their payroll costs due to receiving payroll inputs and reports in varying currencies from different jurisdictions.
With Deel's international payroll platform, you can generate G2N reports that aggregate all payroll data into one report, eliminating the need for manual work and ensuring you can easily access and understand your financials.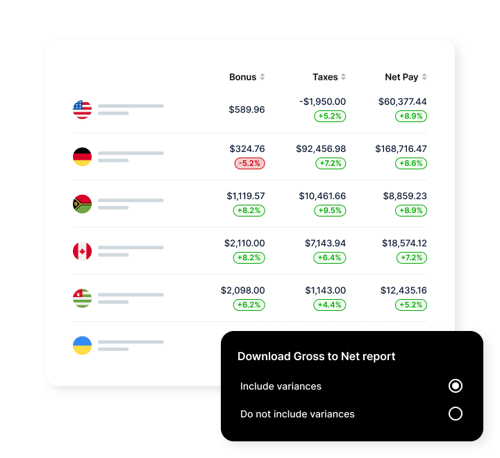 In the report, you can view real-time totals across countries, entities, and payroll cycles in a single currency. You can also drill down to specific entities at an employee level to get a precise breakdown of expenses. Our reports are standardized globally, making it easy for businesses to compare data across different countries and make strategic decisions.
Our monthly G2N reports come with built-in variance reports that identify differences in current and previous payroll cycles, so you can spot any anomalies and fix them quickly.
With Deel, you have all your international employees in one system, and you can easily hire people in a new country without finding a new payroller or even setting up a whole salary admin. In some countries, there are a lot of additional arrangements that come with an employment contract. Deel handles all of that.
Marieke Sneep, Head of People, Solar Monkey
Employee deductions and contributions report
With Deel's Global Payroll solution, you can generate post-processing reports, which are dedicated reports on specific pension contributions, social security contributions, and other subcategories.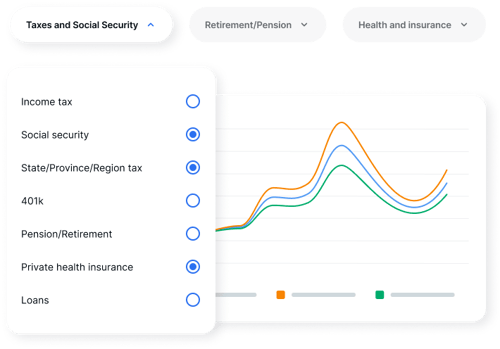 You can customize more than two dozen unique reporting columns in these reports, including:
Taxes and Social Security
Educational tax
Income tax
Local tax
Social security
Solidarity tax
State/province/region tax
Advanced study fund
Family leave insurance
Food vouchers
Parental insurance
Social unemployment


Retirement and Pension
401k
Roth 401k
Pension/retirement
Supplementary pension

Health and Insurance
Death insurance
Dental insurance
Disability insurance
Long-term care insurance
Occupational injury
Parental insurance
Private health insurance
Public health insurance
Short-term disability
Supplemental long-term care insurance
Supplemental health insurance
Vision insurance
Other
Advanced study fund
Loans
Student loan
Trade union
Management insurance
Skills development levy


You can further filter your report by:
Country
Local entity
Payroll cycle
Currency
Employee name

With Deel's Global Payroll, clients can set up recurring benefits and deduction items on a payroll report. Here's how:
Update payroll items by selecting the Organization Setting tab on the home page.
Select the desired entity.
Select Global Payroll>Edit Payroll report to make changes.
Select the Global Payroll tab and click Review and Submit.
Choose an employee and click Edit Recurring Items.
See also: Frequently asked questions about Global Payroll
End of year closing reports
Deel can generate Year Closing and Adjustments reports at an additional cost, as these are not mandatory. This report can include a year-to-date report, variance report, changes export report, and more.
Deel HR reports
With Deel HR, you can easily manage data for employer of record (EOR) employees, Global Payroll employees, and HRIS employees in one powerful, user-friendly dashboard.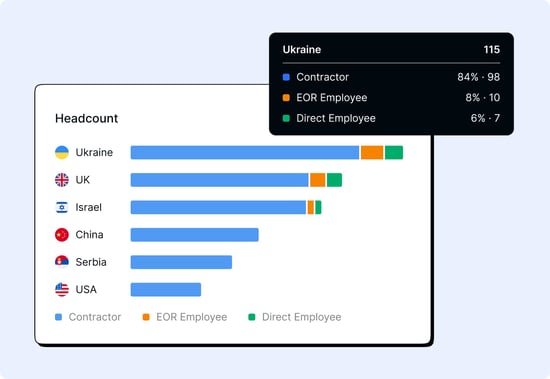 Deel HR includes a series of visual reports that help HR teams and stakeholders understand the health of their organization, such as employee data like attrition, organization growth, and team performance. These reports include:
Total headcount
Retention data
Costs
Time off


Other HRISs are typically very domestically fragmented—it's pretty hard to find an HRIS that will contain all of the data fields you require. Of course, using a Google Sheet is great if you're running a 50-person or 100-person company, but it isn't so good when you're running a 2,000-person company and you need change logs and histories.
Dan Westgarth, Chief Operating Officer, Deel
You can filter Deel HR reports by global employment type, team, and country to gain granular insights into your global workforce and multi-country payroll. To locate your reports, all you have to do is go to your Deel HR dashboard and select the Analytics tab. Deel's automation takes care of the rest.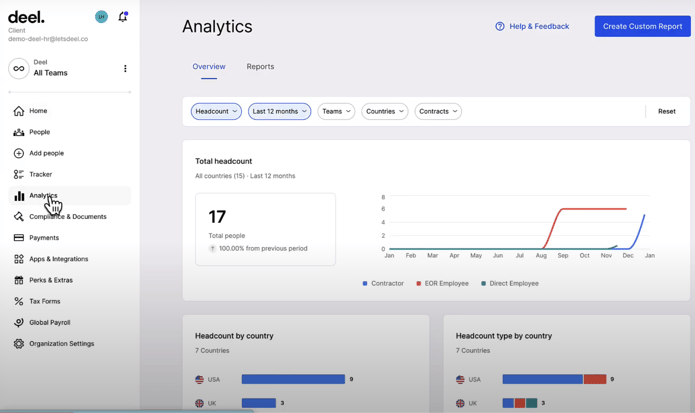 Deel HR offers a comprehensive analytical dashboard, empowering you to delve into reports on your entire workforce. You can access total employer costs across different hiring methods, as well as country-specific headcount data and the number of employees starting at and leaving the company. This data enables you to set benchmarking standards and easily track trends.
These reports are highly interactive, allowing you to use filters to pinpoint the most valuable information for your organization, be it a specific country, payroll processing cycle, or other criteria. You can also easily customize these reports to suit each team, download them in PDF or CSV, and share them.
Looking for flexible global payment methods?
Offering your team multiple payment options attracts a bigger talent pool. See how we solve global payroll for international teams.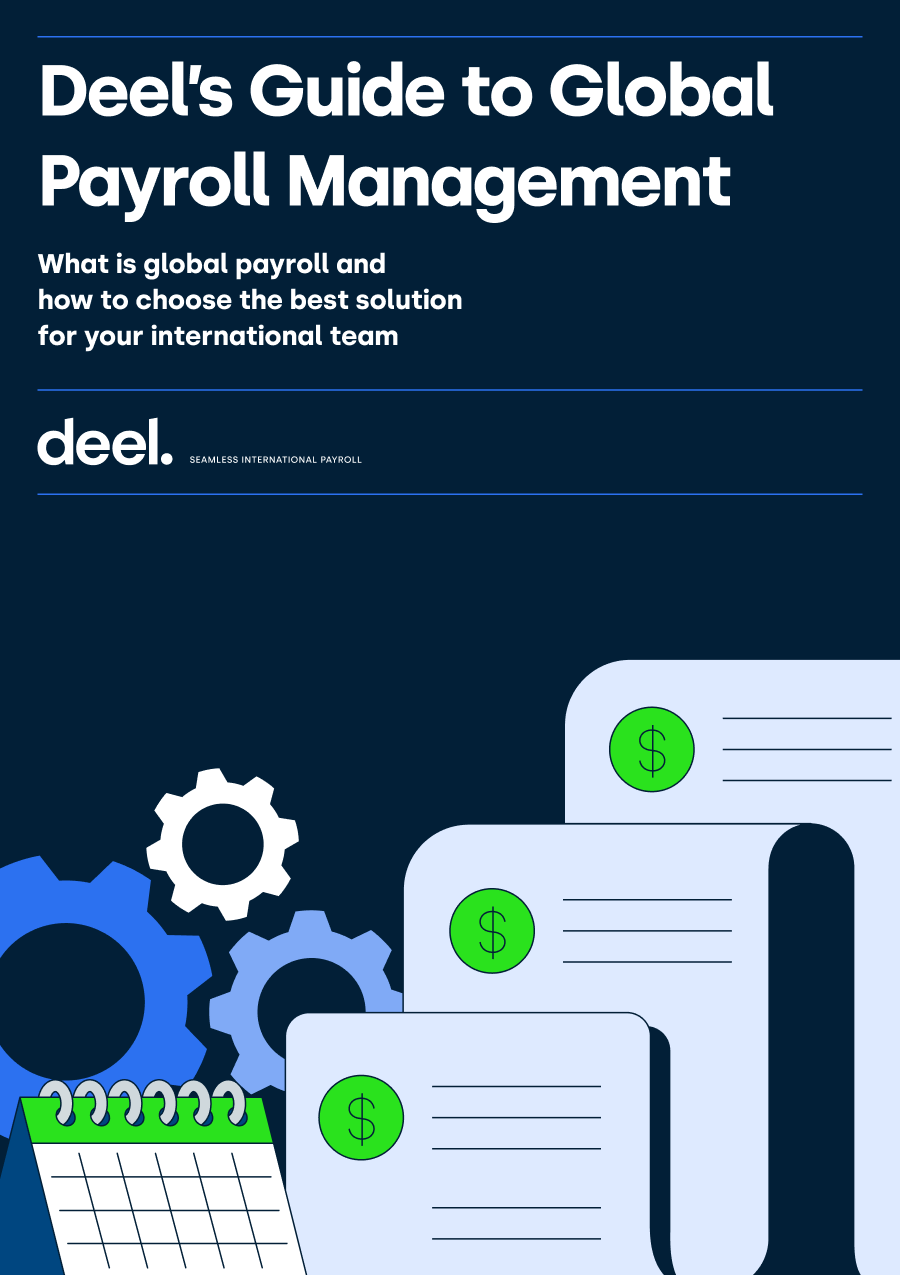 Get a closer look at Deel's Global Payroll platform
Deel's multinational payroll solution helps you scale during global expansion without hiring a finance specialist in every country. We take care of compliance and calculations—just let us know about common adjustments like a new hire, termination, promotion, or salary adjustment.
Unlike other payroll vendors, we have a team of in-house payroll advisors who are experts in local jurisdictions across 100 countries, and we are regularly adding new countries to our payroll operations. Our clients receive 24/7 in-app support, as well as a dedicated customer success manager to support you during the processes of onboarding and running payroll.
Book a 30-minute product demo to learn more about using Deel as your global payroll provider.