Data Protection and Privacy Across Borders: Enterprise Global HR Compliance
International data security and privacy laws are dynamic and complex. Discover how Deel can help you navigate them and maintain compliance for global teams.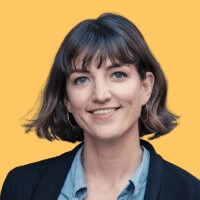 Written by Jemima Owen-Jones
September 4, 2023
Contents
Need help onboarding international talent?

Try Deel
Key takeaways
Complicated data privacy and security regulations present a challenge for international companies.
Staying compliant is essential to avoid penalties, protect your company's reputation, and maintain trust with employees and customers.
Deel's HR platform simplifies compliance for HR teams with our robust range of security and compliance features.
As businesses go remote and expand globally, staying compliant with data protection laws becomes more demanding. Human resources (HR) have to navigate a maze of ever-changing regulations and different legal interpretations while keeping operations running smoothly.
And the stakes are high. Companies that violate data protection laws can face millions of dollars in penalties.
Deel's global HR platform helps you escape the maze unscathed. Discover how our robust security and compliance features let you build efficient, scalable processes to safeguard company data.
Understanding multinational regulatory challenges
Fresh concerns about security prompt data protection authorities to constantly update and review their extensive guidelines. However, the responsibility falls to companies to stay updated with these complex rules.
Oversights like forgetting to inform employees of their rights or how you'll use their personal data can incur heavy fines. The General Data Protection Regulation (GDPR) charges businesses operating within the European Union up to 4% of their global turnover for infringements. Similarly, US state regulations like the California Consumer Privacy Act (CCPA) allow citizens to claim up to $750 for single data breaches.
Data protection becomes more complex the more countries are involved. For instance, North America and Europe have different laws regarding biometric data like fingerprints and facial scans.
With all the difficulties and high risks of managing international compliance, HR teams need a solution that offers clarity and simplification across borders.
Global HR platforms like Deel's automate HR operations like data collection, compliance document collection, and tax filing, so there's less chance of human error.

Compliance features like consent checkboxes and privacy notes ensure your processes meet the strictest data protection standards.

In addition, the platform has specialized compliance features for hiring and onboarding in 100 countries to overcome the complexities of international employment laws.

For example, the contract workflow enables you to create contracts according to local legal requirements, which our internal legal experts then review and update per applicable laws.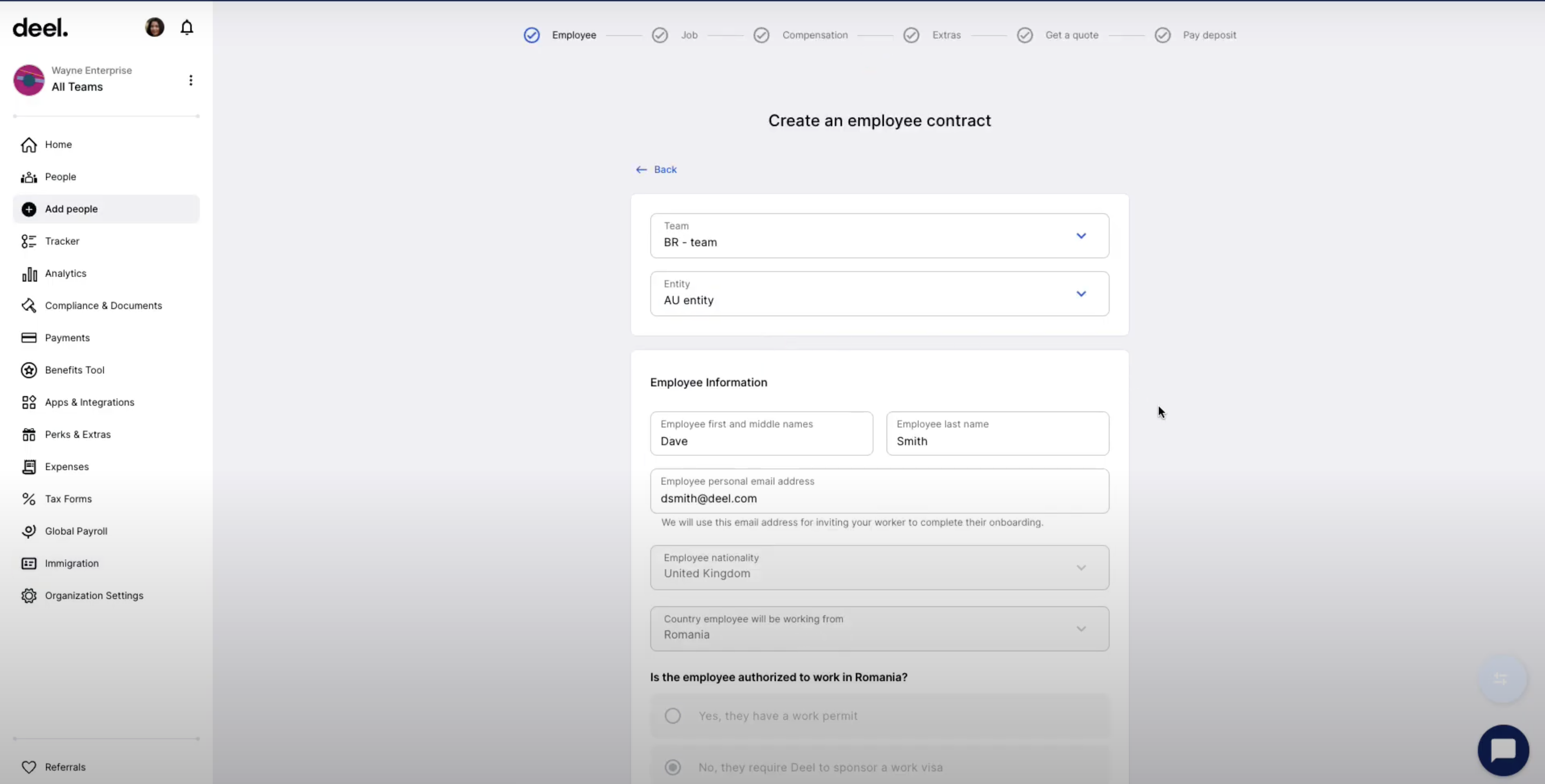 You can also perform safe and secure automatic background checks on job applicants in 200 countries, from the United Kingdom to Japan. Candidates can verify their identity through a mobile or desktop device, track the status of their background check, and access in-app support. The results are kept in accordance with stringent data privacy and security standards.




Discover how software company Mixtiles stays compliant globally with Deel.
Prior to using Deel, we were using a number of different, relatively inefficient tools. A lot of spreadsheets, we were using document signing software to sign our contracts…We were doing a lot of things by email...One of the great things about Deel is that it brings everything onto one platform...Some of the challenges that we have faced dealing with bringing on people from around the world is related to just making sure that we're compliant when it comes to the contracts...
Mixtiles, Sector, Country
Requesting and managing compliance agreements
HR must not only ensure their processes follow regulation but also enforce compliance throughout the company. If employees cause data breaches—whether accidental or malicious—your business may face penalties and criminal charges.
Enforcing compliance poses a greater challenge for distributed teams. Cultures have different expectations and attitudes toward cybersecurity and privacy. And with limited physical oversight, managers may struggle to monitor each report's data usage.
Deel's secure HR document management makes compliance easy. The platform's centralized storage gives you oversight of all your files for easy access and monitoring. You'll be able to:
Limit access to sensitive and confidential data
Set granular permissions for access
Manage data retention and deletion
See who's viewed, edited, and downloaded files
Encrypt files to prevent unauthorized users from reading them
Track documents and view their status
Perform automatic tax filing instead of relying on spreadsheets

Managing compliance agreements is especially challenging as HR teams need to balance thoroughness with efficiency. You need staff to sign paperwork like data processing agreements (DPAs) and Acceptable Use Policies (AUPs). However, bottlenecks can occur if you have to send documents back and forth across different time zones.
That's why Deel enables teams to manage paperwork and request digital signatures online. There are five simple steps involved:
1. Select the 'people' tab in your sidebar and select the workers who need to sign documents.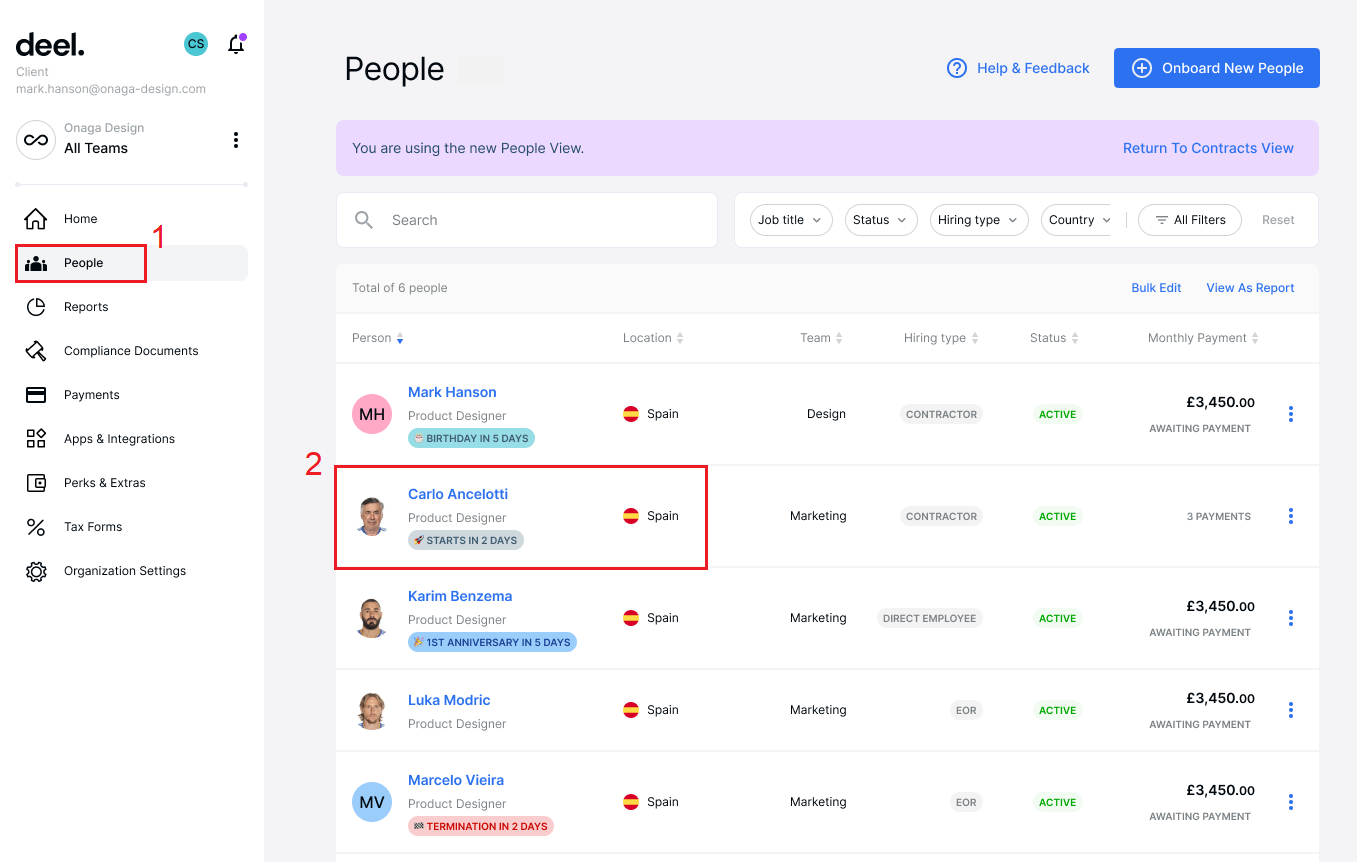 2. Go to the contract page and click on the 'compliance and documents' tab. Choose the document you'd like to send.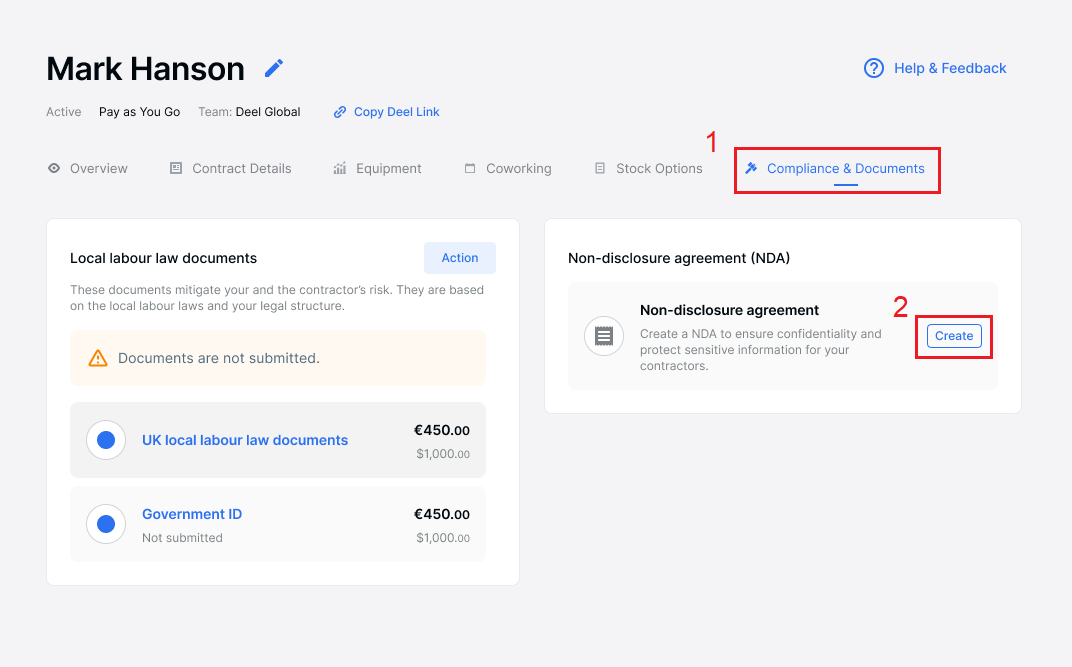 3. Upload the file and click the blue 'agree and sign' bar to add your signature.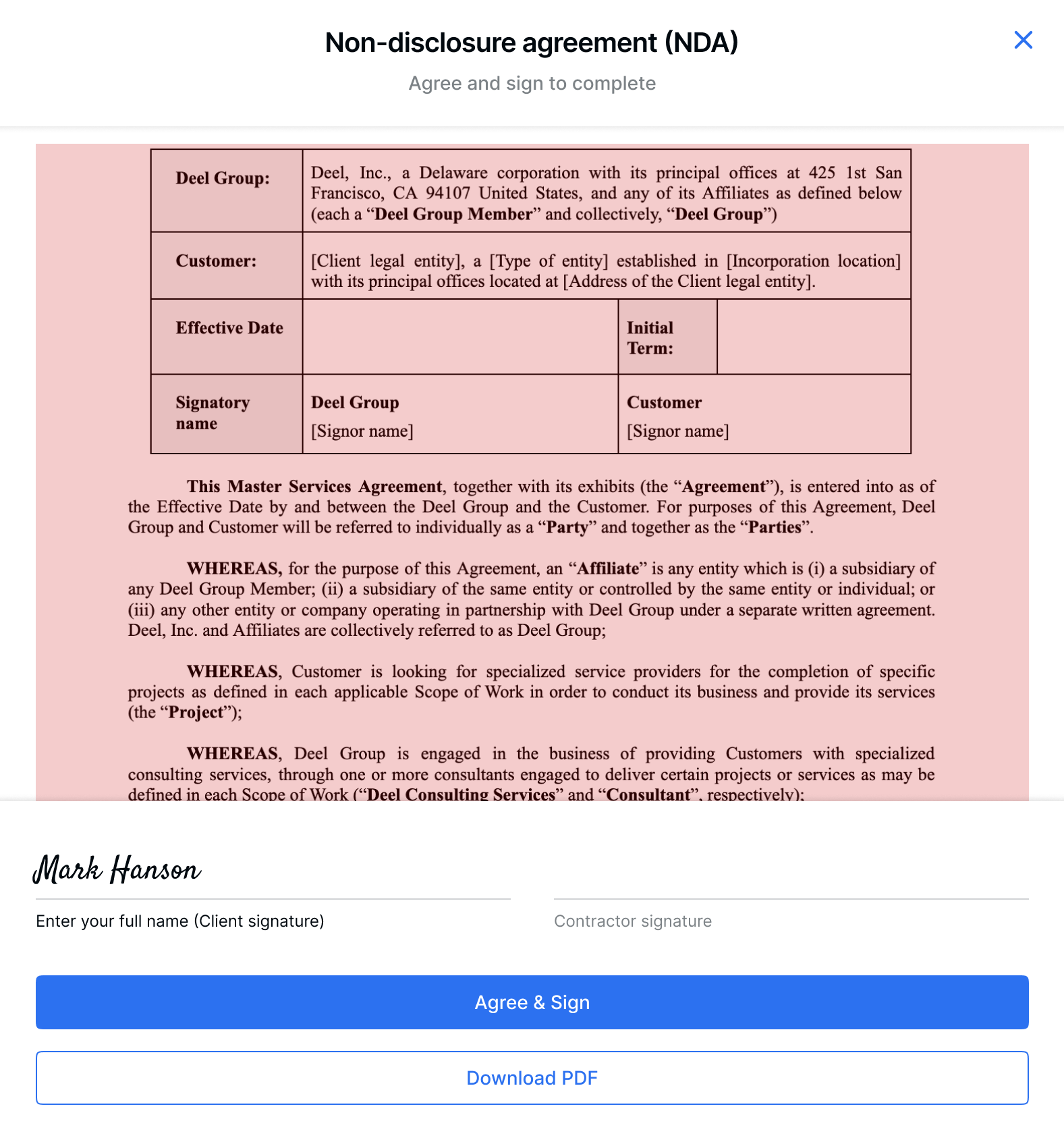 4. Send the document to the worker. Deel will add a note if the document is a legal requirement. You can then track the file status in the 'compliance and documents' tab. You will see the green 'active' icon when the worker has signed.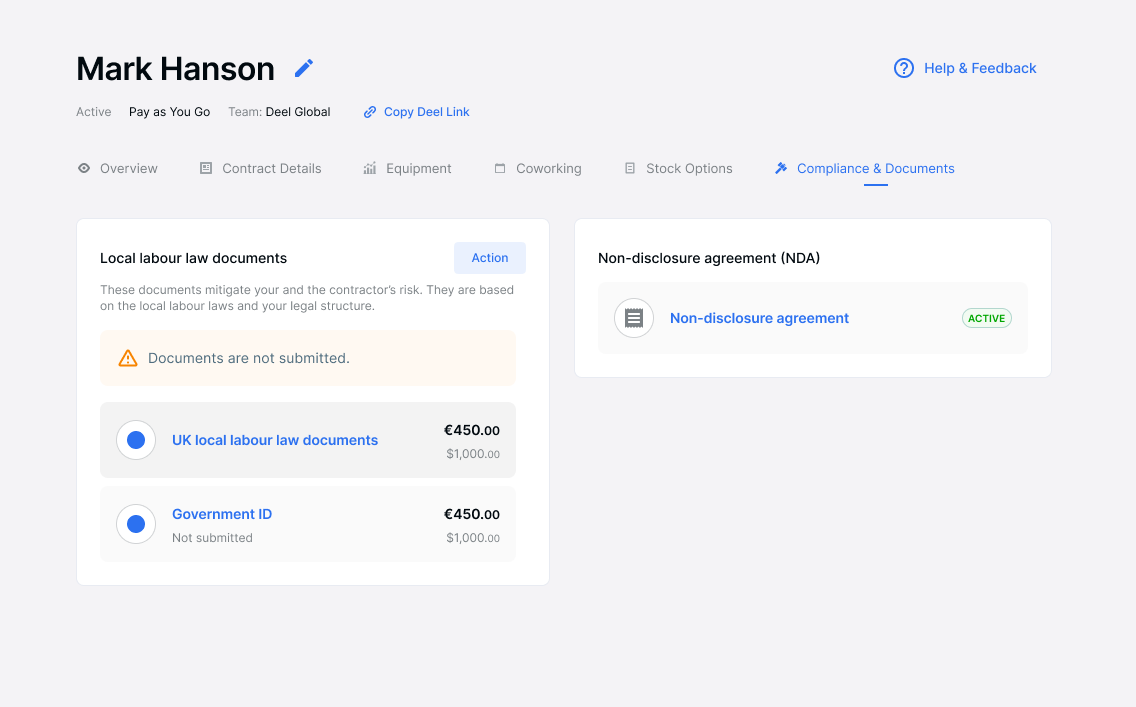 When we came to understand the importance that Deel places on individual country laws and making sure that contracts are structured in the right way, Deel really stood out…
Sudarshan Sivaraman, Head of Customer Success & Sales, Turing
Training employees on data security and privacy
Around one in five breaches come from within businesses, according to a recent report. Often, lack of awareness and training are to blame. Employees might use weak passwords, open malware in emails, or leave devices unattended.
Successful compliance training can empower teams. Employees not only learn how to remain compliant but also their rights and protections as data subjects. You can also build trust among teams if they know the business purposes behind decisions and see how seriously you take the protection of personal information.
Deel is committed to security and privacy training both internally among Deel team members and externally via its training resources. Everyone who handles customer and employee data at Deel receives supplementary training to understand potential threats and how to prevent them.
Deel also provides training resources. We've partnered with Albert, a Slack plugin that offers mini-courses on everything from phishing and ransomware to mobile security. Lessons are just five minutes each, so they're easier to fit into a schedule than classes or online webinars.
All Deel workstations use Jamf, which allows us to enroll devices and wipe data from lost or stolen equipment.
While we were very comfortable with hiring locally, we were apprehensive about the costs and legal responsibilities for compliance in the United States. We didn't want to hire full-time HR people to figure out things like health benefits and filing tax returns with the IRS…we know we can trust Deel to manage the complexities of hiring in the US. It's something we have to get 100% right, for our people and for our business,
Matthew Buchanan, Co-Founder, Letterboxd
Maintaining zero trust policies
One look at health benefits could cost you anywhere between $100 and $50,000 under HIPAA. That's why it's important to treat any device, network, or user as a potential threat. Requiring verification for any access to data reduces the risk of the wrong eyes seeing confidential HR data.

However, having employees request every file or sign into multiple password-protected accounts is inefficient. The Deel platform enables single-sign-on (SSO), two-factor authentication, and granular access control to ensure protection without affecting workflow.

SSO gives staff one password to use across the entire platform. You can monitor user identities more easily in one centralized location and revoke access instantly. Employees only have one password to remember which reduces the temptation to write down or share login details

Two-factor authentication (2FA) adds an extra step to passwords to prevent unauthorized access. 2FA requires users to scan a QR code and enter a six-digit code from a smartphone app for every login attempt. Deel's 2FA is compatible with Google, Microsoft, and Authy authenticator apps.

The granular access controls assign roles to system admins based on what they need to see. Here are the four roles you can choose from:
Organization: As this role has the highest level of visibility and permissions, they can manage everything from documents and reports to software and settings
IT developer: This role can set up and manage apps and view benefits plans
People integrations: Admins can set up HR, ATP, and SSO integrations and manage subdomains
Bookkeeping integrations: This role can connect accounting apps like Quickbooks and Xero
Budgeting costs and resources
Staying compliant requires legal expertise and local knowledge. For example, you need to consider all the relevant labor laws, tax requirements, and mandatory benefits to draft a contract.
However, building an internal legal team or outsourcing legal advice comes with high costs. The more countries you hire from, the greater the fees.
Using HR service providers like Deel reduces the need for extensive international legal support. Our team reviews contracts regularly and ensures compliance with laws and regulations. We can also handle payroll taxes, social security contributions, and state fees for all your subsidiaries.
When it comes to dealing with local laws and tax regulations in multiple countries, relying on Deel is a game-changer. It would have been impossible for us to manage these topics in-house, with extremely costly legal services. Now, I can focus on growing our business while Deel takes care of the hiring logistics.
Dr. Magda Chelly, Co-Founder and Managing Director, Responsible Cyber
Deel also has cost-effective pricing plans. Unlike many providers, we charge a fixed monthly rate, so your expenses are easily manageable and predictable.
Building impenetrable security frameworks
Cybercriminals are becoming more sophisticated as cloud-based technologies make businesses more vulnerable to attack. The amount of data breaches has almost doubled since 2019.

Deel takes a proactive approach to prevent such attacks, using a system of security measures and best practices to protect our customers.

Here's a look inside our security framework:
GDPR compliance: Deel follows strict GDPR policies and practices to ensure our data protection and privacy meet the highest standards. For instance, we've developed binding corporate rules (BCRs) about the transfer of personal data between countries
SSL/HTTPS: Running network traffic over SSL/HTTPS shields it during transmission. That's especially critical during cross-border data transfers where the destination country has weak security standards, as it leaves you more vulnerable to breaches
Data encryption: Deel also protects data at rest. We store information on Amazon Web Services (AWS) and encrypt it with AES-256 every day
Regular tests and updates: Our Security Operations regularly search the system for gaps and interruptions. We also perform penetration tests to check the adequacy of our protection and keep the software updated
SOC2 compliance: Deel implements policies and controls to meet SOC2 standards, which we verify using third-party audits

ISO 27001-based security program:

ISO 27001 is another set of global best practices that cover operations like risk assessment, policy making, and internal audits
Protect data and privacy across borders with Deel
While complex data security and privacy laws may seem overwhelming, they don't have to be a burden. Staying compliant can be an investment in your company's future that sets you apart in the eyes of both customers and employees.

Deel emerges as an invaluable partner in ensuring global compliance. With our combination of security and compliance features, you can meet the strictest international and local data protection standards.

Learn more about Deel's dedication to security and data protection, or book 30 minutes with a product expert to get your questions answered.