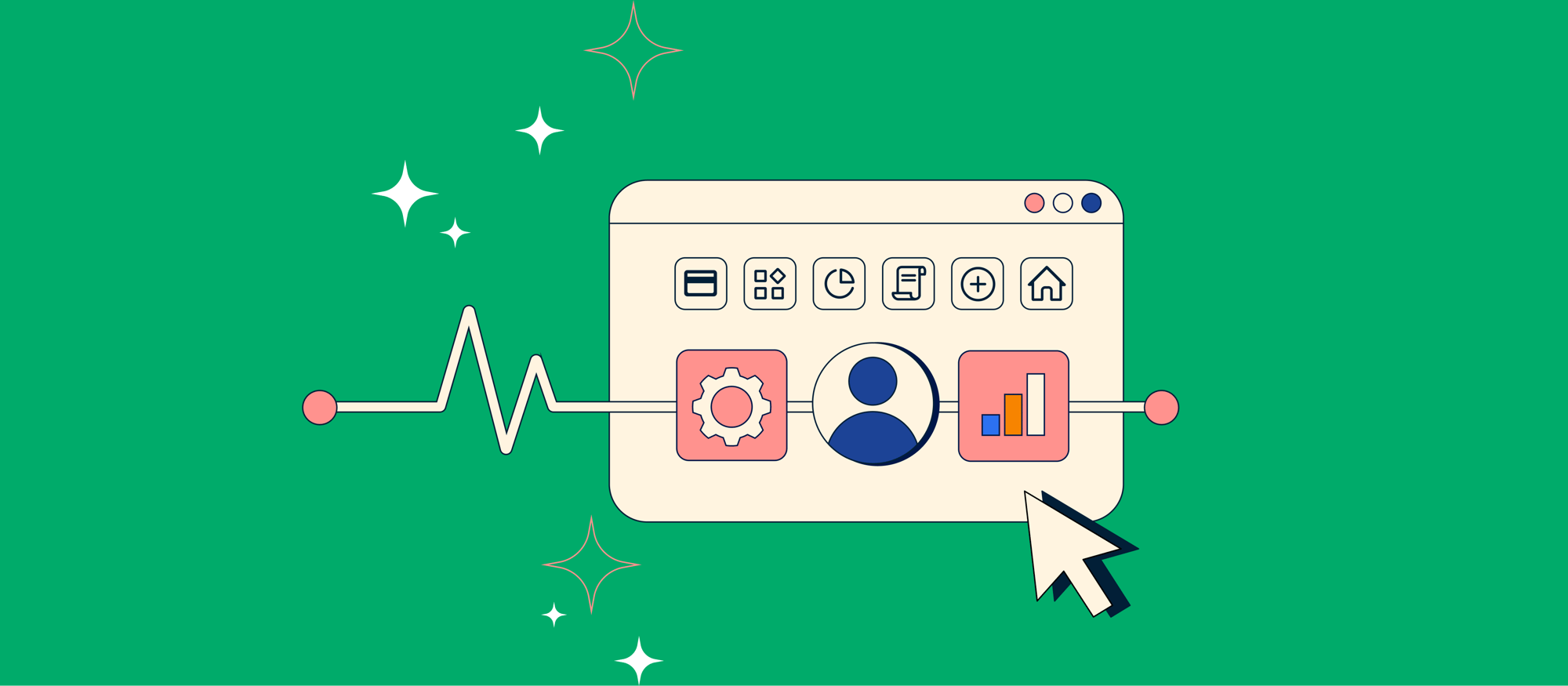 9 HR Processes to Automate Today [How to Do It With Deel]
Experts say almost 80% of HR processes are repetitive tasks that can be automated. If you're an automation beginner, here's where to start.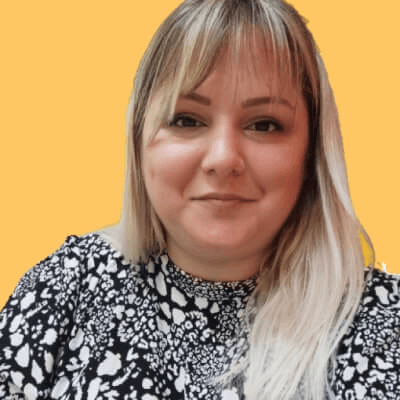 Written by Stefana Zaric
May 26, 2023
Contents
Need help onboarding international talent?

Try Deel
Key takeaways
Automating HR processes makes your operations more efficient, accurate, and scalable.
Building an HR and business strategy and fostering a positive workplace culture require human attention, but almost everything else can and should be automated.
Employee onboarding is one of the most automated HR processes, helping minimize workflow disruptions and setting new hires up for success from the beginning.
While the benefits of HR automation may be clear to you, getting started is a whole different story. You may not be sure which software to choose, how long it'll take to implement it, or even which processes you can streamline using AI-powered automations.
This article will guide you through the nine HR processes you can easily automate with Deel's HR platform and how to do it quickly without disrupting your day-to-day workflows.
What is HR automation?
HR automation refers to the use of software solutions to streamline and automate repetitive HR processes in order to make them more efficient, less time-consuming and prone to errors.
HRIS (Human Resources Information Systems), talent management systems, applicant tracking systems, payroll software and employee self-service portals are all tools that can automate, digitize, and optimize HR operations.
HR automation allows the HR department to:
Save time and money on manual labor
Ensure better data accuracy
Stay compliant with employment laws in different locations
Make data-driven business decisions
Provide an equitable and enhanced employee experience
Optimize talent acquisition and retention efforts
Support the organization's growth
How to determine which processes can be automated
Before you start automating your HR processes, you need to understand the criteria used to determine whether a process can be automated.
If the process:
Is a repetitive manual task
Involves a large volumes of transactions
Occurs frequently
Follows a specific workflow of predefined steps
Requires handling a large amount of data
Has compliance and risk management implications
Directly impacts employee experience
Must involve multiple software solutions to be carried out
Has an impact on ROI or business growth
Then, it's undoubtedly ripe for automation. Here's the list of the nine most common processes that HR teams benefit from automating.
Onboarding and offboarding
Employee onboarding is one the most used HR automations according to our customer data. This doesn't come as a surprise since it's a repetitive process that happens often (especially if you're a fast-growing startup), follows a specific set of steps, and involves handling a lot of personal, compliance, and payroll data.
It takes too much time and resources for the HR management to handle the onboarding process manually. You need to:
Enter new employee data in different tools or spreadsheets
Track compliance documentation for each country
Approve employee access to collaboration tools
Order and send equipment
Coordinate employee benefits enrollment
Send welcome emails and reminders, and more.
Automating these processes can save you up to 86 hours monthly on administrative tasks based on our clients' results.
When you use an HRIS automated system to onboard your (global) workforce, you keep all the data in one place so you don't need to chase it around spreadsheets or multiple platforms. The data is also updated automatically (and employees can update it on their own through self-service features) and you can create automated workflows to send notifications to new hires.
The same goes for offboarding. Instead of manually discontinuing all the accounts an employee used, you can automate the process:
Revoke access to tools
Schedule an exit interview
Generate exit documentation
Send instructions for equipment return
In this case, HR automations also have a data security role, reducing the possibility of data leaks.
You can simplify the onboarding process with Deel by enabling our Onboarding plugin for Slack. It allows you to create automated workflows through which you can auto-assign tasks based on the worker's location and type of contract. Reduce manual labor for the HR team, get a complete overview of the whole onboarding pipeline, and boost employee retention and engagement.

Time and attendance management (Time off tracking)
Sending leave requests via email or Slack messages requires a lot of back-and-forth communication with several people (direct manager, HR team, even upper management in some cases). There's a risk of overlooking important information or taking too long to get approval, which can negatively impact business operations and team dynamics, and you can't have insight into real-time data on employee time off.
Automating time tracking and updating and submission of timesheets allows the HR staff more time to mindfully approach employee time off. They can answer some important questions around the PTO policy and its implementation, like:
Which employees aren't using enough time off?
What's the organization's absenteeism rate?
Do employees take many sick days?
HR professionals can leverage HR automation tools like Time off by Deel to free up time for strategy and people management, building a positive and efficient workplace culture. Our Slack plugin is already trusted by more than 1,200 teams, who use it at least five times a week. Time off by Deel helps centralize PTO requests and approval allowing you to coordinate time off without ever leaving Slack.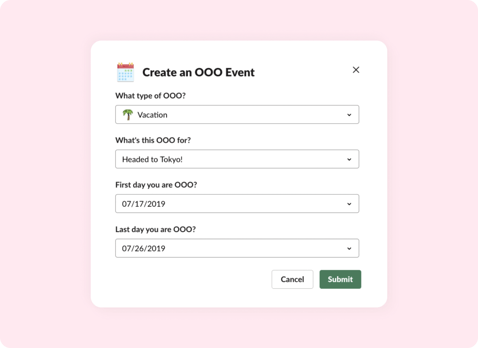 Employee data management
In growing teams and big enterprises, it's difficult and time-consuming to track people from different departments, their managers, potential promotions or internal transfers, change of personal data, and more.
Without proper human resource management software, HR teams need to do this manually, which results in potential errors and a significant amount of time spent on data collection and organization, instead of analysis.
An HRIS centralizes employee data, eliminating the need for manual data entry and providing a single source of truth for the entire organization.
Employee data can be easily accessed, updated, securely stored, and viewed at a glance through an org chart. This ensures data accuracy and information accessibility and allows the HR to create automated workflows that will help them get things done faster and provide a better insight into the workforce.
Deel's Org Chart plugin for Slack helps your team align regardless of locations and time zones. Easily access organizational information about team members, connect it with your HRIS to automatically update data, and use searchable profile tags to identify the right person for any question.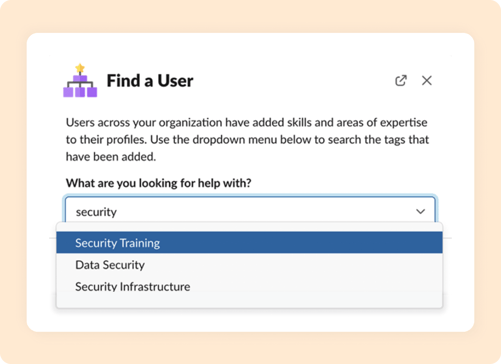 Talent sourcing and recruitment
Generative AI already has the HR community hopeful and optimistic about its impact on the recruitment process, accelerating manual tasks, facilitating decision making, and helping create a better candidate and employee experience.
Global hiring has opened numerous opportunities for hiring the world's best talent, but at the same time, recruiters often need to comb through many more job applications than before.
Automation solutions for resume screening or communication with candidates helps remove time-consuming tasks off the talent acquisition teams' plates and leaves them enough time to conduct meaningful interviews and make better hiring decisions.
Deel integrates with Ashby, allowing our customers to seamlessly move from making an offer to an applicant to onboarding them once they've accepted. Our system uses the details from the offer to automatically create an offer for your candidate.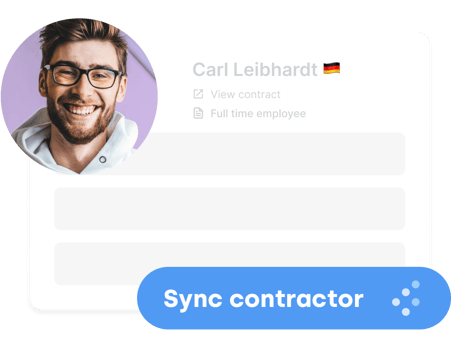 Background checks
Running a manual background check on all employees when you hire globally is virtually impossible. Manual research would involve visiting courthouses or calling past employers, which would take too long, costing you precious time and potentially great candidates.
Modern HR automation software allows you to conduct seamless background checks on your potential and current employees no matter where you hire from. In fact, 93% of companies do this to improve hiring quality and ensure compliance, with the help of background check companies that collect all relevant information about employees.
Certn is Deel's background check partner that allows you to access 80% of all employee information within minutes, with the possibility to track the process in-app. Our partner ensures SOC 2 and SOC 3 compliance, GDPR compliance, and is ISO 27001 certified, meaning that your background check results are safe and secure.
Doing background checks with Deel has always been good to us! The process is very straightforward. I can easily send a request and receive the results right away. Fast and convenient service!
Cynthia Le, Program Manager, Reddit
Compliance and other documentation management
Collecting, organizing, and storing compliance documentation without an automated HR system would require HR teams to:
Get familiar with employment laws everywhere your organization hires
Use manual processes to track all paperwork through spreadsheets
Manually send reminders to employees who haven't submitted the required documents
Using HR automations for managing compliance is critical for global teams because it reduces the possibility of human error that often results in financial and legal problems for the company. It also speeds up the hiring process, enabling companies to secure the best candidates without bureaucracy getting in the way.
With Deel, you can:
Edit, send and sign contracts in minutes from your Deel dashboard
Store all documentation securely in one place
Get

localized contracts

for both employees and contractors
Rest assured the contracts are reviewed regularly to stay ahead of any changes in local laws (without you needing to know the regulations)
Are you at risk of misclassification?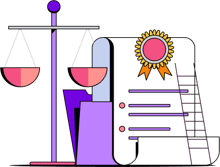 Payroll processing
Just three years ago, around a third of business owners were still using spreadsheets to run payroll, spending more than a week every month on payroll-related calculations. With more and more teams becoming global, this process becomes an error-prone risk hazard for the organization.
Automating payroll reduces duplicate work for the HR department, lowers your payroll processing costs, and ensures accurate calculations of employee wages, commissions, overtime pay, deductions, and more. You will accelerate your payroll processing time and protect the payroll data from unauthorized access, while keeping the records for as long as necessary.
Deel enables you to streamline payroll management for your entire team, no matter how they're hired. Our Global Payroll services allow you to unite your direct employees, EOR employees, and contractors under one roof and eliminate the need for multiple processes and tools. Deel manages the following for you:
Employee benefits and deductions
Local filing with authorities
Salary and tax payments (where applicable)
Payslip creation and delivery
Compliant onboarding and offboarding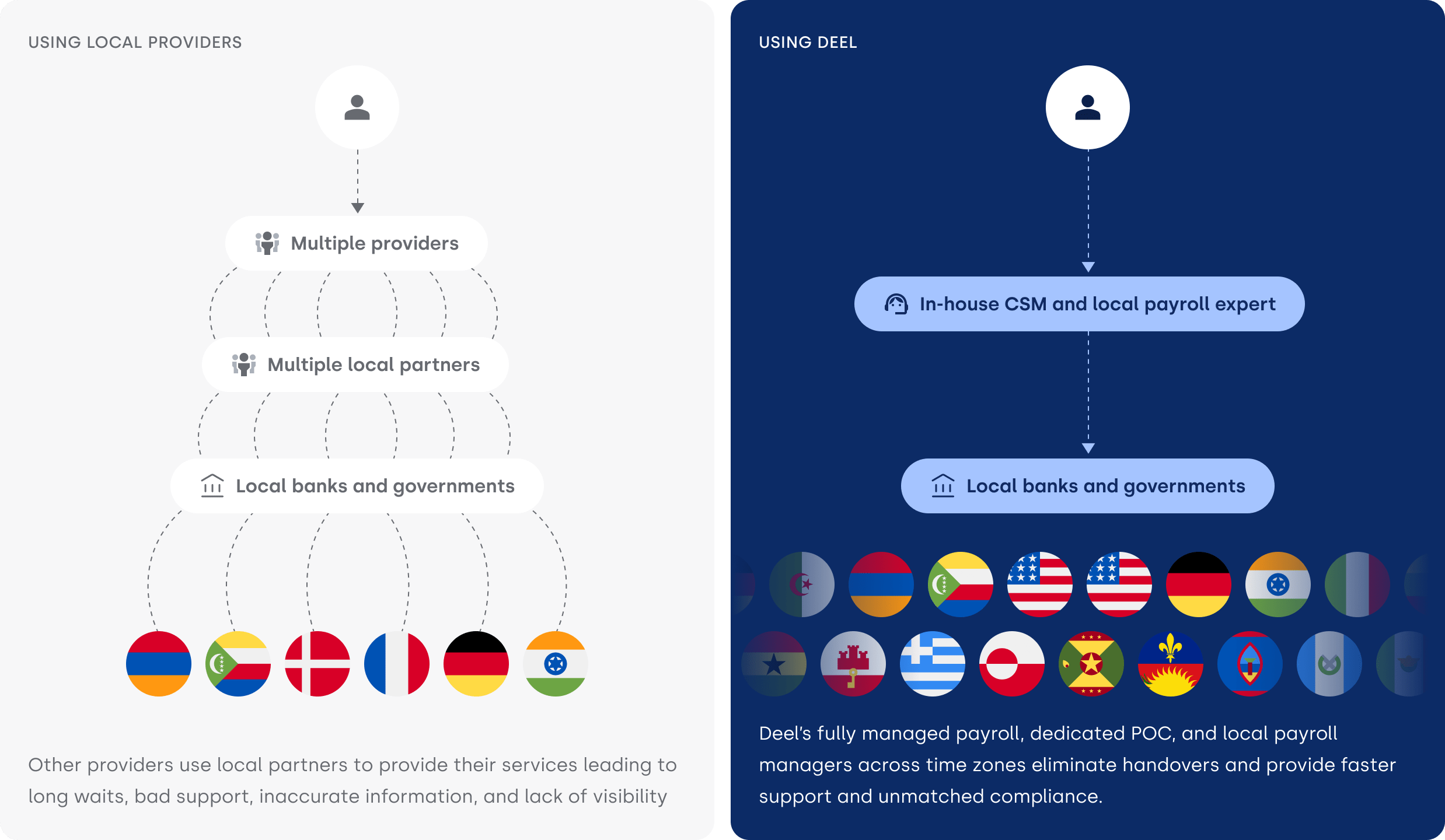 Reporting
HR reporting is essential if you want to learn from past mistakes or uncover useful insights to identify trends or discover opportunities to optimize expenses or workforce performance. When managing your team through spreadsheets or via multiple tools, it takes time and resources to collect and organize the data in a way that allows you to gain important insights.
This lack of data visibility may interfere with your company's growth because you won't be able to make informed decisions, efficiently allocate resources, or accurately track progress. The lack of transparency may also lead to disengaged stakeholders, reducing their trust in HR initiatives and hindering effective collaboration.
Deel provides real-time insight into global analytics, so you can easily check, compare, and understand your spending at a glance to optimize your global expenses. With payroll reports, you can quickly spot any discrepancies between currencies or errors between cycles, and customize your dashboard to make it more digestible for the stakeholders.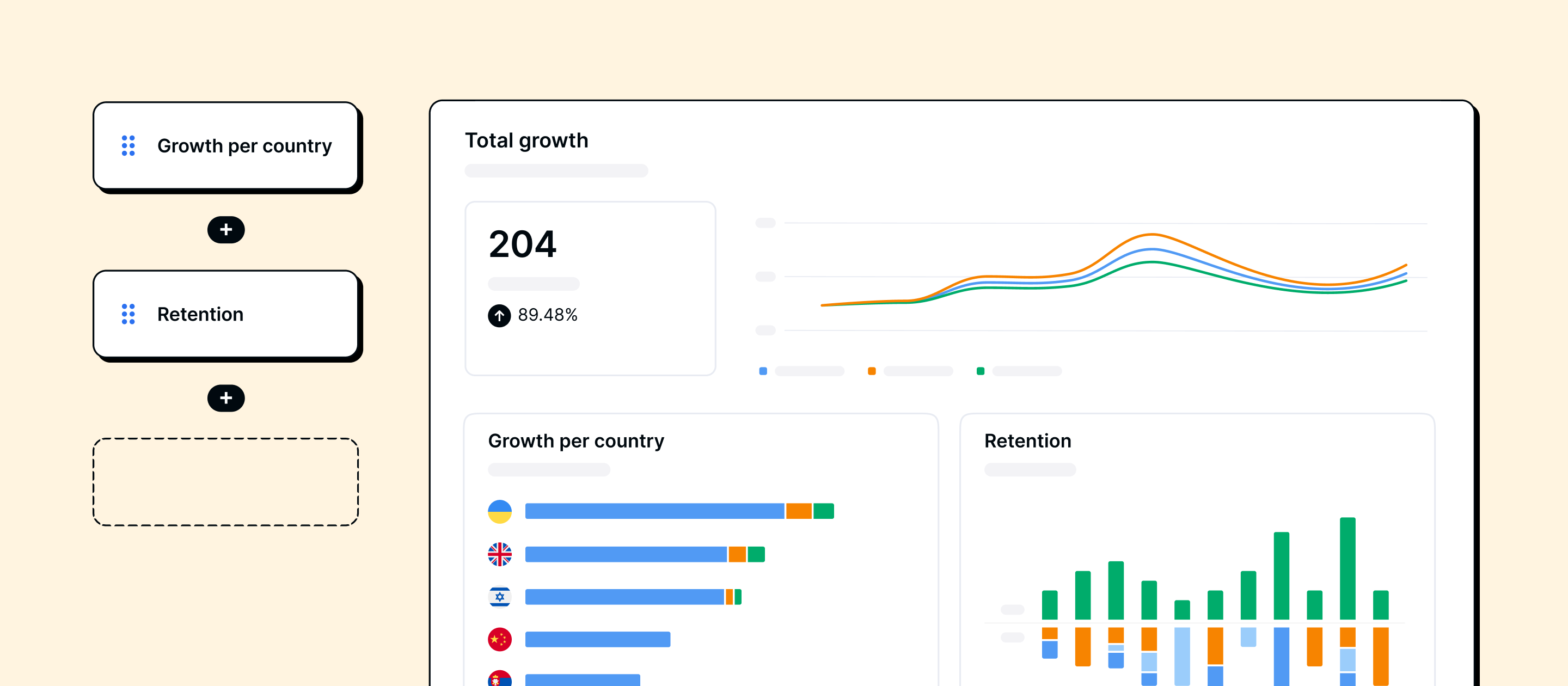 Employee training and performance management
Tracking employee learning and performance and providing the workers with regular feedback can have a positive impact on employee engagement, productivity, and growth.
Without an efficient, automated process in place, you may lose access to previous employee performance reviews, with no way to track your team's progress. You'll spend too much time creating and tracking feedback in spreadsheets or creating learning resources that may not be engaging enough for your team.
Automated processes can help make conducting performance review cycles and creating employee training more streamlined, less time-consuming, and more engaging, for a better employee experience and more accessible and accurate data for managers and the HR team.
Deel offers an integration with BambooHR that allows you to use this platform's native performance management and learning features for your Deel workers.

See how to set up a BambooHR integration on Deel.
Get things done faster without disrupting your HR workflows
HR process automation takes all your HR functions to a new level, making them more efficient, reliable, and rapid. You focus on putting human into human resources while we do the rest!
Deel's HR platform helps you work without distractions by providing customizable workflows that take repetitive admin off your plate.
Use our Workflow Builder to automate all your HR tasks from onboarding to offboarding and everything in between and provide a seamless experience for your talent, no matter where it is. Automate tasks across employee lifecycle, like:
Ordering swag
Completing training
Sending onboarding emails, and more.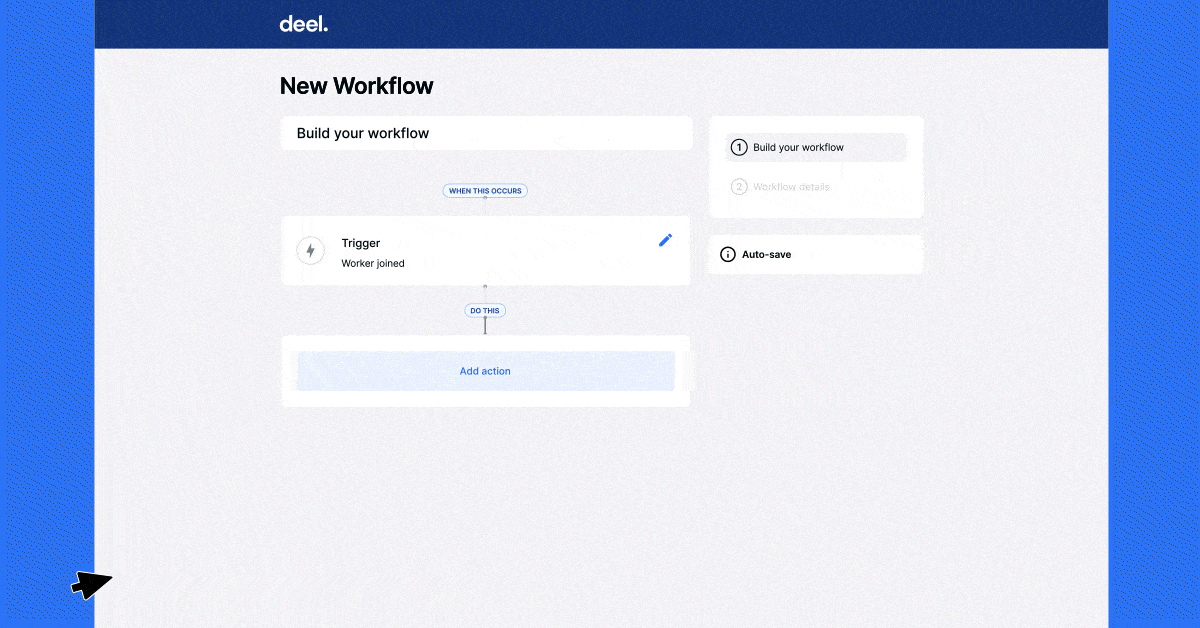 Our workflow builder is free and built for global teams just like yours. Say goodbye to time-consuming tasks and delays in processes, say hello to Deel.
Speak to our experts to learn more about Deel HR today.


Join our monthly newsletter
The latest insights on today's world of work straight to your inbox.