HR Compliance: How Can Startups Use HR Automation Tools
Automating HR compliance can save startups hundreds of hours of HR admin a month and eradicate unnecessary compliance risk. Discover the best HR automation tools for compliance below.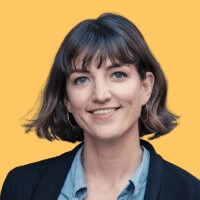 Written by Jemima Owen-Jones
May 26, 2023
Contents
Need help onboarding international talent?

Try Deel
Key takeaways
HR automation uses software solutions to streamline and automate repetitive HR processes, making them more efficient and less prone to errors and compliance risk.
Startups can automate HR compliance with Deel's all-in-one hiring platform.
With Deel, you can put HR compliance onto autopilot for employees and contractors.
What is HR compliance?
HR compliance means adhering to all applicable labor laws and regulations that impact the rights and protections of workers. While labor laws typically govern employee and employer relationships, regulations are also in place to determine contractor and client relationships. These laws can differ between countries, states, provinces, and territories.
Laws for employees
The primary labor laws present throughout the world that impact employees include the following:
Work hours
Rest breaks
Employee benefit entitlements such as PTO, parental leave, and pensions
Background checks
Payment methods
Payment periods
Payroll records
Check out our
Global Hiring Guide
for a high-level overview of each country's local laws related to pay, tax, paid leave, terminations, time off, and more.
Laws for contractors
The primary laws and regulations impacting independent contractors are significantly different from those impacting employees since contractors are self-employed, which means they control their work schedule, pay their own taxes, and aren't entitled to statutory benefits by law.

Laws for contractors include the following:
Right to a contractor agreement
Right to control their work
Right to intellectual property
Right to work when and where they want
Right to market their services
Right to negotiate payment and choose the payment method
Right to work with other clients and contractors
Right to challenge their work classification
Right to file their own taxes and claim deductions

Independent contractor laws and regulations are changing partly due to increased remote workers,
misclassification
, and unemployment benefit issues.
Which HR processes can your startup automate to remain compliant?
Startups can automate the following HR processes to remain compliant.
Data collection
Automating data collection ensures you retain all the required data in one place should an audit or legal dispute arise.

Many country-specific laws require the employer or client to collect important personal data to prevent future litigation when hiring a new employee or contractor. The data collected can range from basic demographic data and personal details—such as the worker's name, address, age, and gender —to more in-depth employment details such as job performance reviews, salary history, and leave records

In the US, for example, federal law requires every employer to keep a record of the following information:
Employee's full name and social security number
Address, including zip code
Birth date, if younger than 19
Sex and occupation
Pay details (e.g., direct deposit information)


When engaging independent contractors in the US, client companies must collect and retain similar data such as a social security or tax identification number and their banking information.

Without proper human resource management software, HR teams must collect data manually, which requires a significant time investment, and can result in potential errors and data security and compliance risks.
Using Deel's all-in-on hiring platform, you have the functionality to set up automated workflows that send notifications to new hires to input and update their personal information using the self-service platform.

Automating data collection with Deel prevents you from chasing data around on multiple spreadsheets and platforms, ensures your employee and contractor data is maintained to the highest safety standards, and can save you up to 86 hours of administrative work every month.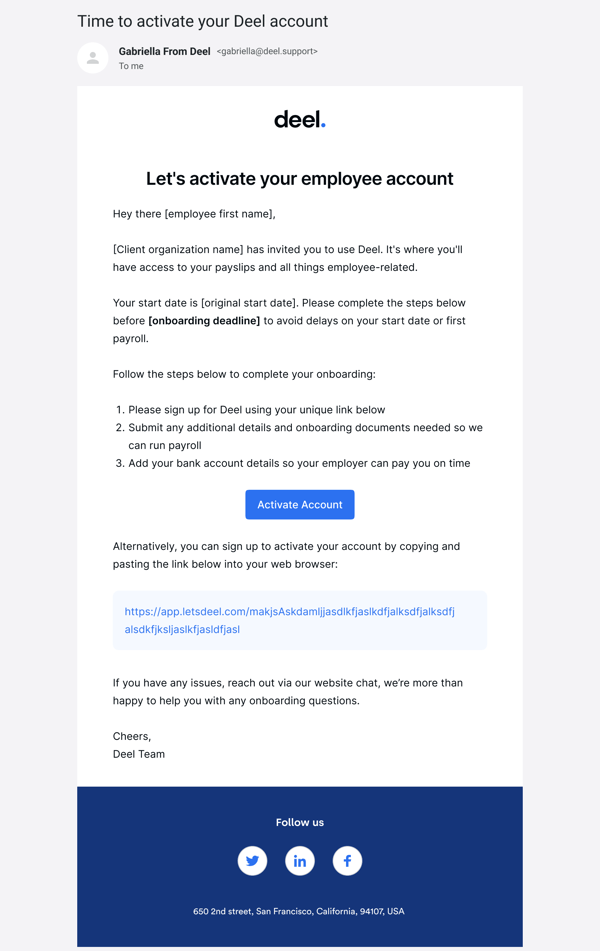 Contract creation
Automating contract creation for employees and contractors accelerates the hiring process, ensures your startups comply with country-specific hiring laws, and can help avoid misclassification risk.

Employment contracts and independent contractor agreements are a legal requirement in many countries. They help lay out the work arrangement's terms and conditions and can be used as a guide to ensure that the company treats its workers correctly.

Creating these contracts can be time-consuming, particularly when hiring workers from multiple countries since the terms, conditions, and clauses will differ depending on where you hire.
Startups can do their own country-specific research to include all the necessary clauses or use a template. The disadvantage of templates is that you must ensure you're using the latest versions and that they're constantly updated and vetted by local legal experts.

Templates can also be difficult to customize if you want to add non-standard features, and you'll need to download, send, and store a new contract every time you want to make an update.

With Deel, startups can automate contract creation using our contract workflow. The intuitive platform guides you through each aspect of the contract, providing helpful insights and suggestions per country requirements. In addition, every contract you create is vetted by local legal experts and updated quarterly so you remain compliant.

The Deel platform will advise you on the following country-specific labor requirements:
Compensation rates
Contract type
Start and end dates
Onboarding period
Probationary period
Work hours
Time off allowances
Benefits and perks
Equity compensation


When you're happy with your contract, you can review, sign and invite the worker. They can then sign in to the Deel platform to review and sign the contract.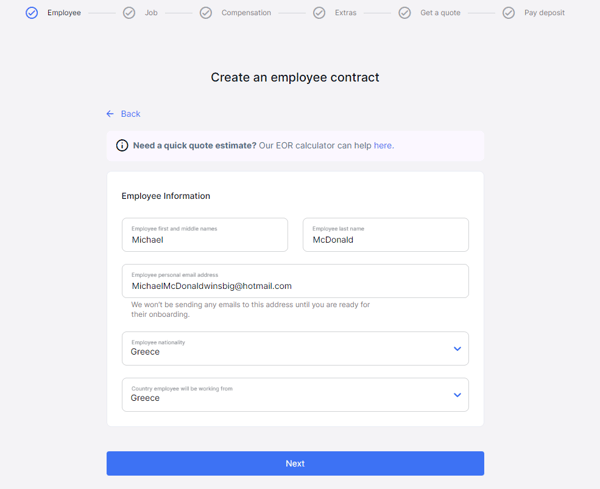 Compliance document collection
Using HR automation for collecting and retaining compliance documentation reduces the possibility of human error and protects your startup in case of government audits.

Three categories of compliance documentation should be maintained when hiring an employee, depending on their country of residency. These can include:
Pre-employment documents such as job descriptions, job applications, resumes, offer letters, medical records, immigration and work authorization forms, employment contracts, data protection, and non-disclosure agreements, tax withholding forms
Employment documentation such as job performance records and appraisals, compensation, attendance records, training completion, warnings, disciplinary notices, benefits claims forms
Separation of employment documents such as exit interviews, resignation letters, unemployment documents, reference statements

When hiring a contractor, client companies may also need to collect and retain the following documents:
Independent contractor agreement
Non-disclosure/confidentiality agreement
GDPR and data protection agreements
Intellectual property agreements
Tax forms and exemptions
Invoices


Collecting, organizing, and storing compliance documentation without an automated HR system requires you to:
Get familiar with employment laws everywhere your startup hires
Use manual processes to track all paperwork through spreadsheets
Manually send reminders to employees who haven't submitted the required documents


When you generate a new employee or contractor contract with Deel, the workers are automatically invited to the Deel platform, where they can upload compliance documentation, review employment contracts and sign a non-disclosure, intellectual property, and data protection agreement. This documentation is stored in a single cloud-based platform and maintained to the highest data security standards.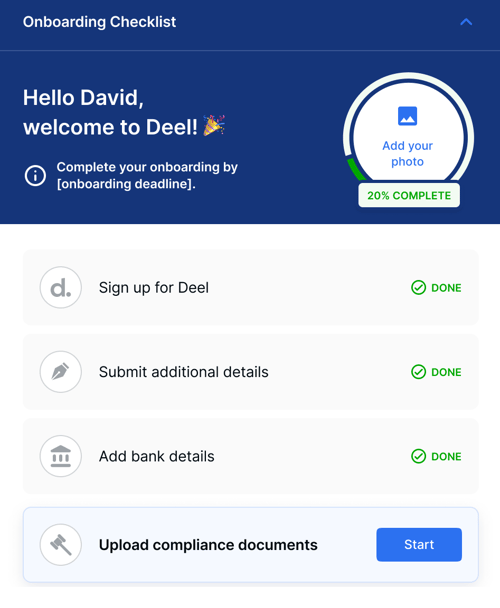 Background checks
Automating background checks for eligible workers will ensure your candidates are screened in accordance with compliance standards, streamline the hiring process and provide you with a complete picture of your candidate.

Running a manual background check on all employees, especially when you hire globally, is virtually impossible. Manual research would involve visiting courthouses or calling past employers, which would take too long, costing you precious time and potentially great candidates.

When you create a work contract through Deel, you have the option to add a background check. Once the candidate opts in, our AI-powered technology starts gathering the necessary information. Candidates can verify their identity through a mobile or desktop device, track the status of their screening, and often receive results in minutes.

Our background checks are SOC 2 and SOC 3 compliance, GDPR compliance, and ISO 27001 certified, meaning all background check results are safe and secure.


Immigration support
Automating immigration support ensures your employees and contractors obtain the necessary visas and permits to work legally in a particular country.

When a startup wishes to hire or relocate an employee, they must consider whether they have the right work authorization documentation, and if they don't, whether they're prepared to facilitate sponsorship and visa procurement. Very often, top talent is denied a work opportunity because the company does not have the knowledge, time, or resources to support the visa and immigration process.

When you create a work contract through Deel, you have the option to request immigration support and put visa and work permit procurement on autopilot. Deel can sponsor visas and handle the application process in a fraction of the time so you can hire or relocate the best talent while remaining compliant.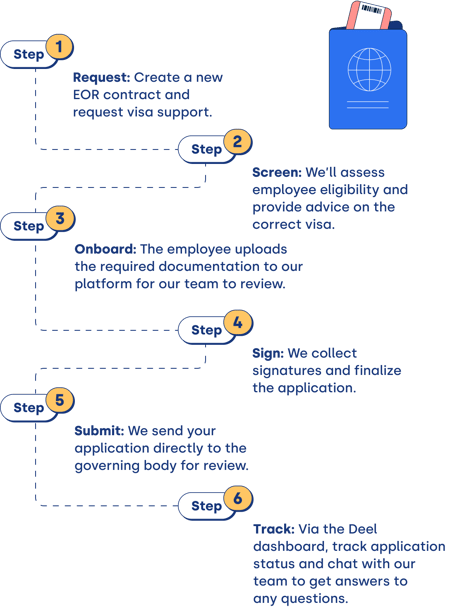 Equipment supply and expenses
Automating equipment supply and expenses ensures your workers have everything they need to complain and competently commence their role on their official start date.

In many jurisdictions, employers have a duty to ensure staff have the appropriate equipment to perform their roles. For example, in the US state of California, Labor Code requires employers to reimburse their employees for the reasonable and "necessary" expenses they incur as a direct consequence of discharging their job duties.

Manually authorizing reimbursements requires a lot of back and forth over email or Slack, receipt filing, and expense tracking. With Deel, your employees and contractors can file expense requests through their Deel dashboard, attach receipts, and await your approval. Your team also gets a clear view and status of their expense requests and a record of paid items.

Manually sourcing equipment is a huge undertaking for many businesses, large and small. Sourcing equipment requires making equipment requests through project management platforms, searching local stores and websites to find the right equipment, and tracking down orders with different suppliers. For a distributed team, this task is even harder since availability varies from country to country, and equipment must pass through customs.

With Deel, you can automate equipment provisioning in just a few clicks. Our equipment provider, Hofy, takes care of the entire equipment lifecycle, from shipping and repairs to replacements and collection, so you can provide employees and contractors with the same equipment wherever they are. We also handle tax compliance, customs, and shipping documents and provide door-to-door delivery to 150+ countries.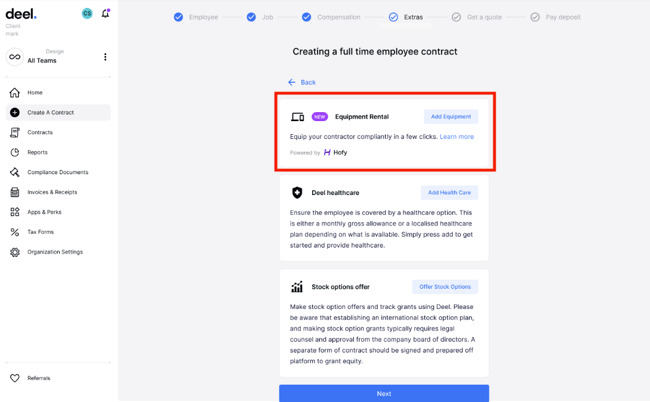 Benefits enrollment
Automating benefits enrollment ensures employees are added to the correct benefit plans upon hiring to receive their entitlements in line with statutory requirements.

In countries and jurisdictions worldwide, it is typical for governments to require employees to receive the following mandatory benefits as part of their employment:
Health insurance
Retirement plans
Paid time off (PTO), including vacation, sick leave, parental leave, and national holidays
Disability insurance
Life insurance


Manually enrolling employees in these plans require your startup to design benefits packages, build an enrollment process, meet eligibility periods, provide the correct forms, answer any questions, send out reminders, and provide educational resources so employees know how to process claims. For companies with globally dispersed teams, this task is even more complex since you'll need to develop a country-specific package wherever your employees reside.

With Deel, your startup can automate benefits enrollment on the Deel platform during the contract creation stage. The platform provides access to our benefits tool to view the benefits relevant to the employee's country. You'll see explanations for statutory, common, and competitive benefits. When you add these benefits to the contract, the platform automatically displays the available plans and provides a pricing and coverage breakdown. You can then invite and nudge your workers to sign up through their Deel dashboard.

Deel is partnered with top benefits providers worldwide to give your startup exclusive discounts, rewards, and perks to support your employees and contractors around the world.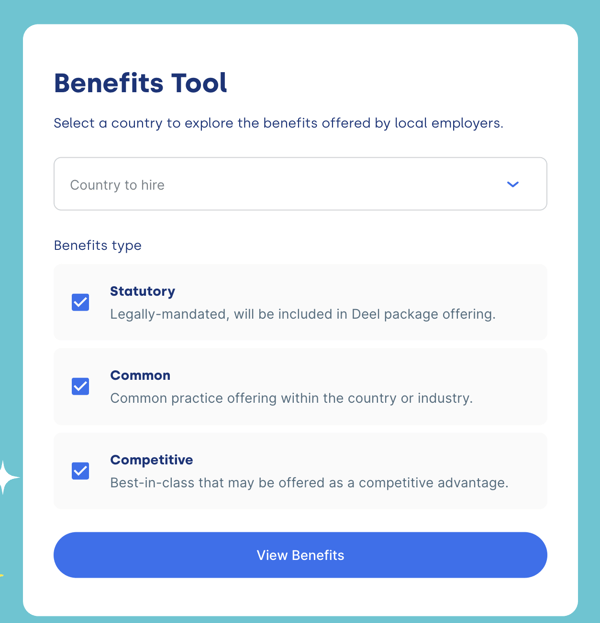 Time tracking and attendance
Automating time-tracking, attendance, and time-off is not only important for saving time, reducing payroll errors, and gauging the efficiency of your team, it's actually a legal requirement in many jurisdictions to ensure workers and governments have a record to check that workers are paid accurately and receive the appropriate time off allowance.

Manually tracking time and attendance or asking team members to log time entries in spreadsheets is inefficient and can result in inaccurate reflections. While time-tracking software can be useful, it may not be practical for dispersed and international teams and can be difficult to integrate with your existing payroll software.

Startups can automate time-tracking and attendance with Deel's time-tracking integration. In just a few clicks, you can connect the best time-tracking software to your Deel account to track workers' hours, get detailed time sheets, and have payroll hours automatically synced with your payroll for seamless processing.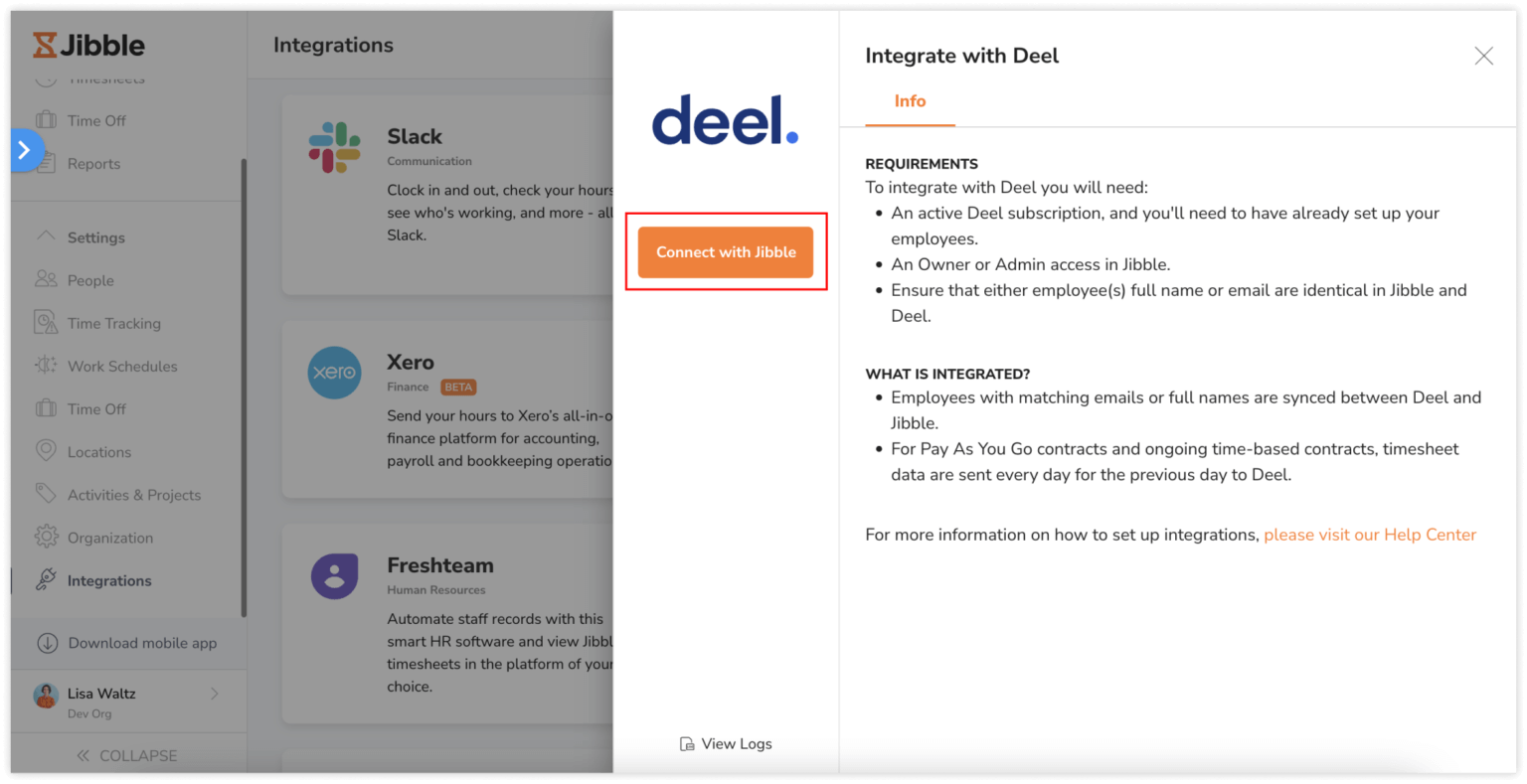 In addition, with PTO by Deel, your startup can also manage PTO requests and approvals via Slack. Our plugin reminds workers of time off, updates Slack when away, and provides the ability to assign coverage, so things keep moving while someone's OOO. Should you need to check or provide evidence that your workers are taking sufficient time off, you can review employee leave history details via the Deel dashboard.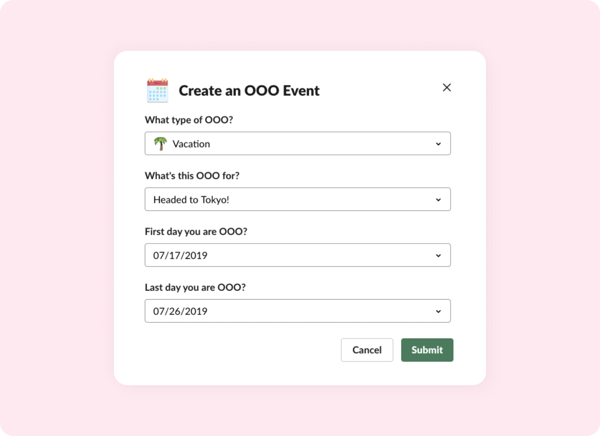 Get Deel HR for free
Deel HR is an all-in-one HRIS solution that enables you to manage every contractor and employee lifecycle in one place. That includes direct employees in the US, independent contractors in India, and EOR employees in the UK.

With Deel HR, you can:
Get full team oversight with real-time dashboards, headcount metrics, performance evaluations, payroll reporting, and API integrations
Boost employee engagement and employee retention with Deel Engage plugins that spark connections among top talent and new hires, improving the employee experience for everyone
Gain global visibility by managing worker/employee onboarding, payroll processing, and compliance in any country from one central location


To support scaling teams, Deel HR is free for companies with up to 200 workers.
Learn more about our global HRIS
.
Payroll, compensation, and tax reporting
Automating payments and tax reporting lowers payroll processing costs, ensures accurate calculations, and, most importantly, ensures your startup remains compliant with local payroll compliance and tax filing requirements.

Local payroll laws govern your payroll obligations to ensure you pay your employees in line with local currencies, payment schedules, and payday requirements. Local tax authorities also impose strict deadlines for filing payroll taxes that cover social security and income taxes.

Manually fulfilling these payroll obligations requires hours of repetitive HR admin and leaves your business vulnerable to errors and penalties.

Alternatively, startups can outsource payroll management to a local payroll provider or utilize payroll software. Using local payroll providers can result in relinquished control, long delays, and inconsistent experiences for workers. HR software, on the other hand, doesn't integrate well with other HR systems, is often designed for single geographies, and doesn't allow employees and contractors to get paid in the same system.

With Deel, you can automate payroll, contractor payments, and tax filing on one global platform. Once new hires sign their work contract and complete the onboarding process through Deel, they're automatically enrolled in your global payroll cycle. Simply click 'pay funding,' select a payment method, and review the payment summary before confirming payment for all your employees and contractors.

When calculating payroll, the Deel platform considers local currencies, exchange rates, country-specific benefit deductions and contributions, and time off. It also allows you to add bonuses and last-minute expenses and automate payslips and invoice distribution. Contractors also benefit from multiple withdrawal and currency options.
Automate HR compliance with Deel
Entrepreneurs have enough on their plates without worrying about local and international hiring compliance. With Deel's intuitive HR platform, you can put compliance on autopilot, eliminating repetitive compliance admin and HR tasks.

Automate core HR functions from contract generation to document collection, background checks, immigration support, payroll, offboarding, and everything in between. You can also connect Deel with your favorite HR tools to reduce manual tasks, streamline workflows, and make life THAT much easier.

Sound like an ideal solution for your growing business? Learn more about Deel for Startups, or book 30 minutes with a product expert to get your questions answered.