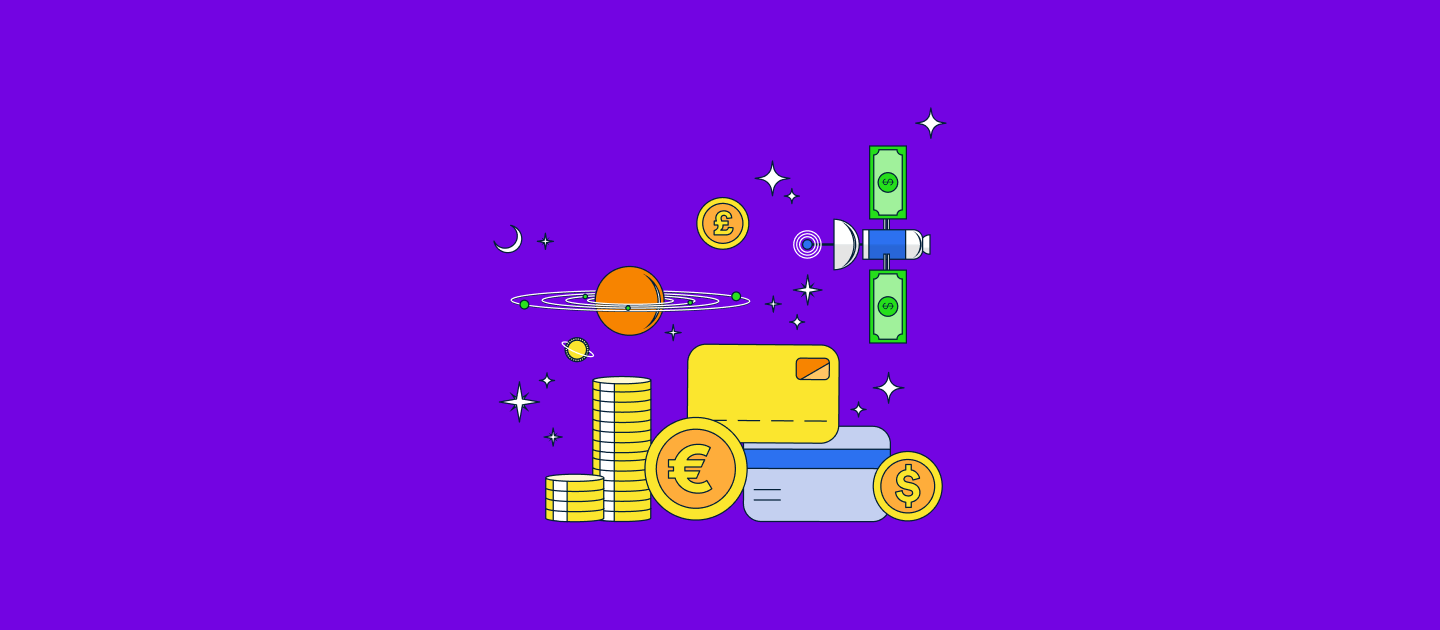 Deel's Features for Startup Payroll
Set your startup up for success. Discover how Deel's platform for remote payroll management simplifies payments for new businesses and scaling teams.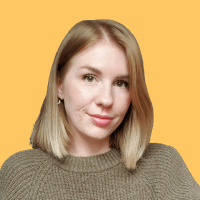 Written by Shannon Hodgen
June 23, 2023
Contents
Need help onboarding international talent?

Try Deel
Key takeaways
Deel streamlines payments for startups by offering diverse payment methods, ensuring timely and accurate transactions for employees and contractors.
Real-time payroll data and accounting integrations empower startups to make informed financial decisions and maintain efficiency.
Using Deel's user-friendly payroll platform, startups can mitigate misclassification risks, reduce manual processes, and improve integration complexities for their team.
As a startup founder, you've invested countless hours and resources into building your company, but one critical aspect continues to cause headaches: payroll management.
Until now, you've likely tried handling payroll manually, but the process has proven to be error-prone and time-consuming, and may have even led to disgruntled workers due to delayed or incorrect payments. It's quickly become clear that inefficient or inaccurate payroll will significantly impact the success of your startup.
Fortunately, Deel offers a lifeline to startup founders and payroll admin teams, providing an efficient and accurate payroll management solution.
In this article, we explore Deel's key features and benefits that empower you to overcome the challenges of startup payroll and set your business up for success.
A centralized and scalable platform
Startups need a full-service payroll solution that's agile and responsive to ever-changing workforce requirements. Whether you need to hire and pay independent contractors, want to use an employer of record (EOR) model to hire full-time employees, or eventually expand using owned entities, you can manage all workers in one place with Deel.
We're the first company that bridges the full HR aspect of running a company—so, HR and having all of your employees in one database, combined with the fact that we can run payroll. We can help you hire anyone anywhere as a contractor, as a full-time employee, where we have our own entities in over a hundred countries.
Alex Bouaziz, Co-founder and CEO, Deel
Watch the video below to get a complete overview of Deel, including global payroll, international payments, HR, compliance, and workforce management tools.
Competitive compensation and employee benefits tools
Over half of small business owners in the US are impacted by the labor shortage, with 33% struggling to fill job openings. To attract and retain top talent, startups must offer competitive compensation packages.
To help, Deel provides tools you can use to set salaries and benefits that align with—and go beyond—industry standards. With features like salary benchmarking and benefits administration, you can ensure new employees receive fair and competitive compensation.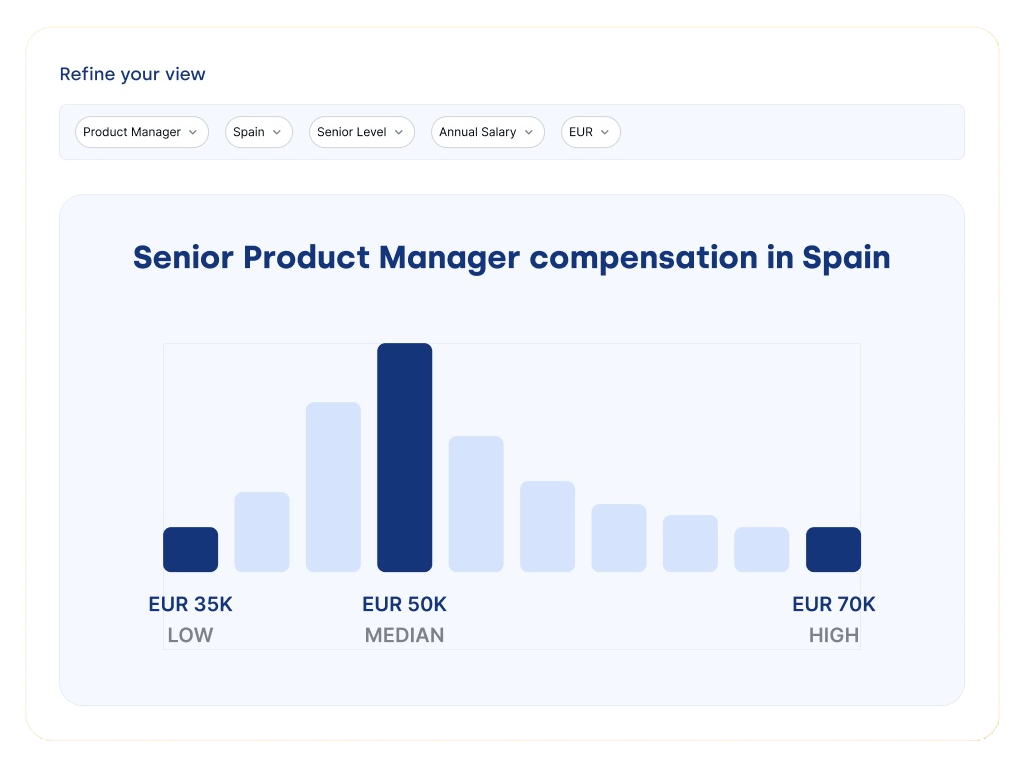 Use Deel's global hiring toolkit to determine competitive and compliant compensation packages for international workers:
See also: The Remote Team's Guide to Employee Compensation Strategies
Looking for flexible global payment methods?
Offering your team multiple payment options attracts a bigger talent pool. See how we solve global payroll for international teams.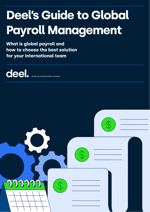 Equity incentives
Equity incentives are essential for startups to attract, motivate, and retain workers. Deel's intuitive payroll software simplifies the management and distribution of equity, enabling you to effortlessly manage equity incentives and ensure transparency, with features including:
Equity tracking
Vesting schedules
Electronic signatures for equity agreements


As a founder, you can use Deel to issue equity and send equity offer letters through the Stock Options feature when you create an employment contract. This feature is used alongside existing equity granting platforms to track grants you've made to new employees and independent contractors.
See also: How to Grant Stock Options to Foreign Employees and How Do Contractors Own Equity?
Deel Shield: Protect your company from misclassification
Worker misclassification is the illegal practice of categorizing workers as independent contractors when entitled to employee status, benefits, and protections.
Worker misclassification is often an intentional attempt at tax evasion, which results in hefty penalties. Companies sometimes misclassify workers unknowingly, which may lead to milder consequences.
Here's how Deel helps minimize your risk of misclassification:
Thorough

independent contractor

agreements:

A written contract may also serve as a legal document should an employee classification issue arise
Misclassification assessments:

If you run a small business, reviewing your workers' status will ensure your independent contractors aren't drifting toward employee status
Deel Shield:

Reduces your risk of misclassification and covers potential penalties


Deel Shield mitigates misclassification risks by providing classification analysis and compliance support. With Deel Shield, you can have peace of mind knowing that your workers are correctly classified, and your company is protected. Watch the video below to learn more.
Diverse and flexible payment methods
The Deel platform supports payments in over 150 currencies, allowing startups to pay their global workforce effortlessly. By offering a range of payment options, Deel streamlines the payment process for business owners and payroll admin teams, ensuring that all workers receive their paychecks in their preferred methods.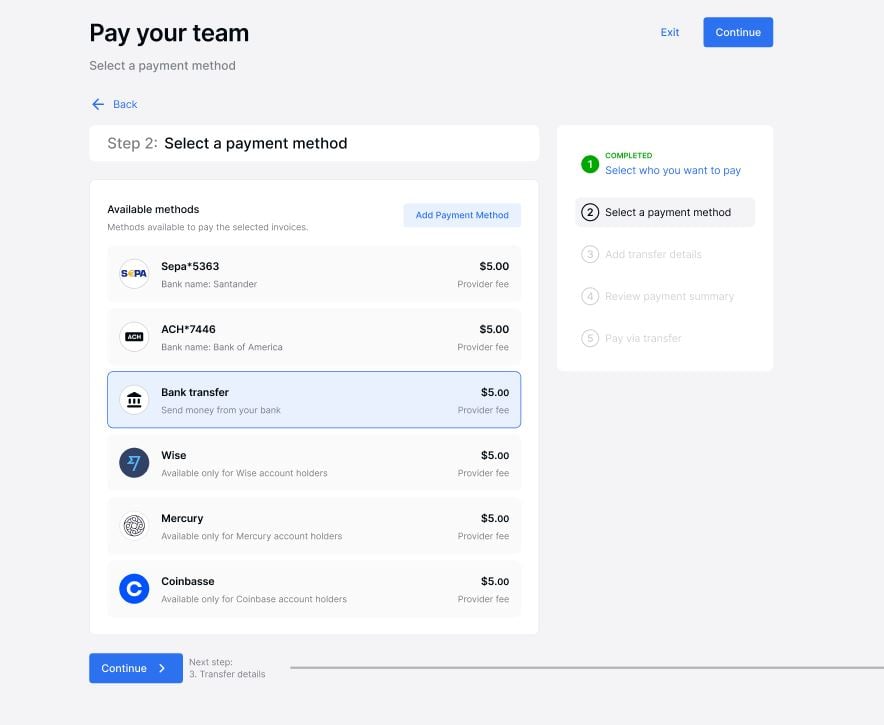 While we've found that contractors like to be paid via providers like Transferwise and Payoneer, using these methods manually creates a lot of extra admin work for startups.
With Deel, you make one bulk invoice payment, and we enable your team to withdraw their earned wages however they like—from direct deposits to their bank account, to online transfers, to crypto.
See also: How to Pay Employees in a Startup Using Deel
Payroll and employment compliance
Staying compliant with payroll, employment, and local tax laws is crucial for startups. Deel provides access to local, in-house legal and payroll experts worldwide who can guide you through the intricacies of international employment regulations.
For example, when paying a global team, you must adhere to federal, state, and local payroll laws for each employee. Failing to do so can lead to government penalties and fines. Before you run payroll, you can avoid payroll compliance hurdles by:
Standardizing your payroll process
Protecting data using one cloud-based system
Integrating your

HR software

and payroll systems
Ensuring proper worker categorization
Meeting

minimum wage requirements

with global benchmarking
Setting up payment methods in line with local banking regulations
Withholding and filing employee income and payroll taxes
Distributing localized payslips and paystubs
Keeping digital records indefinitely
Staying current with changing legislation


See also: Global Payroll Compliance Checklist
How Zelos Gaming optimized payroll to level up their growing business
Zelos Gaming is a cross-game multi-platform rewards program that enables gamers to earn points by completing in-game tasks or accomplishments and redeem virtual prizes.
To pay their international team members, Zelos was using PayPal, which was a significant issue as the workflow was less than ideal and the process posed a significant security risk.
Through Deel, Zelos centralized their global payroll, allowing them to pay team members on time, with ease, and have peace of mind that the entire process is safe and secure for everyone.
Now that Zelos doesn't have to worry about dedicating their time and resources to hiring and payroll admin, they can focus on strategies and initiatives to grow their business.
Automated payroll processes
Hiring and paying remote employees has become commonplace for startups, but managing onboarding processes and contracts across different geographies can be time-consuming and put your company at risk of non-compliance with local employment laws if done incorrectly.
With Deel, you can say goodbye to manual payroll processing and welcome automated efficiency.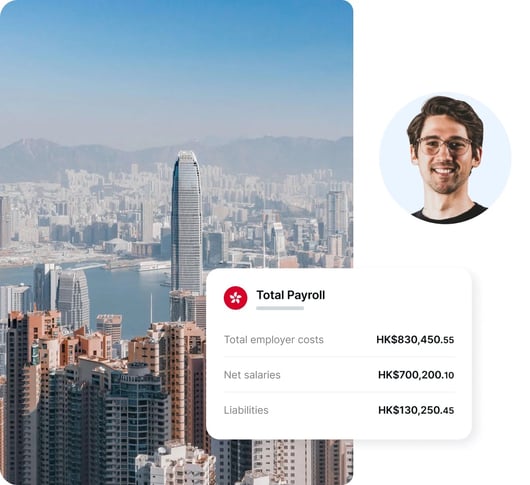 Deel simplifies onboarding new hires and paying your entire workforce with comprehensive automation capabilities:
Use compliant, pre-built templates for employment contracts
Automatically collect the necessary worker information for payroll and HR, such as permits, bank information, and compliance documentation
Enable workers to upload files themselves with the employee self-service portal
Sync your invoice data with your preferred accounting software
Automatically create contractor invoices
Fund payroll and pay your entire team in one click with our bulk payment feature
Easily file

contractors' 1099s

directly from your dashboard
Manage I-9 forms: Digitally complete and verify forms, track employee form completions, and approve or reject submissions, all within the Deel platform

See also: Mass Payment Solutions: How to Pay Your Entire Team in One Click with Deel
Manage payments in seconds with automated invoices

Real-time payroll data
Real-time access to accurate payroll data is crucial for startups to make informed decisions and maintain financial transparency. However, manually collecting and compiling payroll data from various sources takes time and increases the risk of human error. This challenge becomes more significant as the workforce grows and the payroll complexity increases.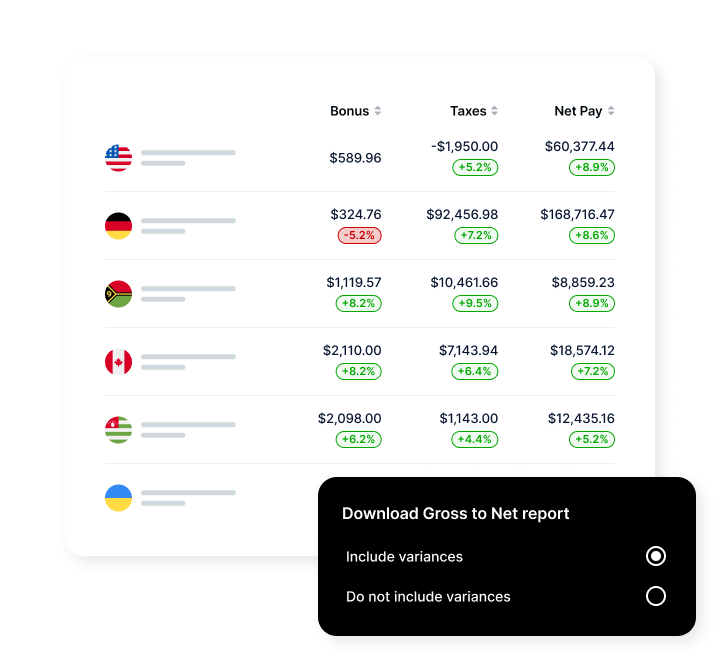 Deel provides a customizable dashboard with real-time payroll data, eliminating the need for manual data collection and compilation. With Deel, payroll administrators have instant access to up-to-date information and can:
Process payroll reports in preferred currencies
Compare employer costs, bonuses, and taxes across entities
Customize your dashboard to analyze spending on social security, pension, health insurance, and more
Review global workforce costs in one place
See headcount trends on an international and historical level

With this real-time visibility into payroll data, founders can make informed financial decisions, ensure transparency within their organization, and experience improved accuracy, leading to better financial management and streamlined payroll processes.
Accounting and bookkeeping integrations
Integrating payroll data seamlessly with accounting and bookkeeping systems is often a top priority for startups, as manually transferring data between payroll providers and accounting software can lead to errors, data duplication, and redundancies.
Ensuring accurate financial reporting and maintaining compliance is difficult without a streamlined integration process.
Deel offers integrations with accounting and bookkeeping systems such as Quickbooks and Xero for seamless financial management. This integration allows payroll data to flow seamlessly between Deel's solution and the accounting software, eliminating the need for manual data entry and reducing the risk of errors.
[With Deel], we can just focus on finding the right people and know that all of the administrative work is done for us, including onboarding and payments to tax reports and the integration with our accounting software. Ultimately, it saves me a lot of time.
Bethany Stachenfeld, CEO, Sendspark
Experience Deel's impact on payroll compliance for startups
For entrepreneurs, finding the best payroll software at the beginning of their venture future-proofs their processes and enables hassle-free growth.
No matter who or where you hire as you scale, Deel can take on payroll compliance, payment processes, and taxes for you, while providing 24/7 customer support.
Clients cite our team's excellent customer support, lightning-fast fund delivery, and easy-to-use platform as reasons they continue to trust Deel with their payroll, HR, and compliance needs.
Learn more about how Deel supports startups or schedule a 30-minute demo with an expert to get a closer look at the Deel platform.
Disclaimer: This post is provided for informational purposes and should not be considered legal and financial advice. Talk to a professional such as a financial advisor or accountant for more information about your specific case.