8 Features of a Sustainable Enterprise Payroll Solution
How can you future-proof your international company? With a sustainable enterprise payroll solution. Here are the key features to look for in a provider.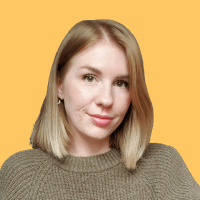 Written by Shannon Hodgen
August 31, 2023
Contents
Need help onboarding international talent?

Try Deel
Key takeaways
A sustainable payroll provider will utilize local legal knowledge and compliance strategies to stay current with complex regulations and eliminate non-compliance risks.
Enterprise companies that embrace payroll automation enable their HR teams to focus on higher-value tasks while maintaining accuracy and compliance in payroll operations.
Deel offers a unified payroll solution by managing contractor payments, payroll administration, and compliance tasks under one roof.
Successful enterprise businesses don't stand still. They evolve, and they need a future-proof payroll provider that evolves alongside them. As you expand into new markets, hire more employees, or diversify your workforce, your chosen provider should be equipped to handle increased complexities without compromising efficiency or accuracy.
With a payroll provider like Deel, you get a solution that not only meets your current needs, but also scales with your company. To determine if a global payroll solution is sustainable for your company, consider the following features.
Consolidated payment systems
Consolidated payment systems offer higher efficiency and lower costs in global payroll management. Many organizations currently rely on multiple payroll providers, causing challenges in management, reporting, and compliance. By consolidating several systems into one global payroll solution, you can:
Simplify payroll administration
Provide a unified employee experience
Streamline functionality
Enhance data reporting
Strengthen data security
Ensure country-specific compliance
Deel's Global Payroll unifies contractor payments, employer of record (EOR) services, and payroll management in a single platform. With Deel, you can expedite payroll processes, offer standardized reporting, and receive dedicated support, empowering strategic global expansion while saving time and resources.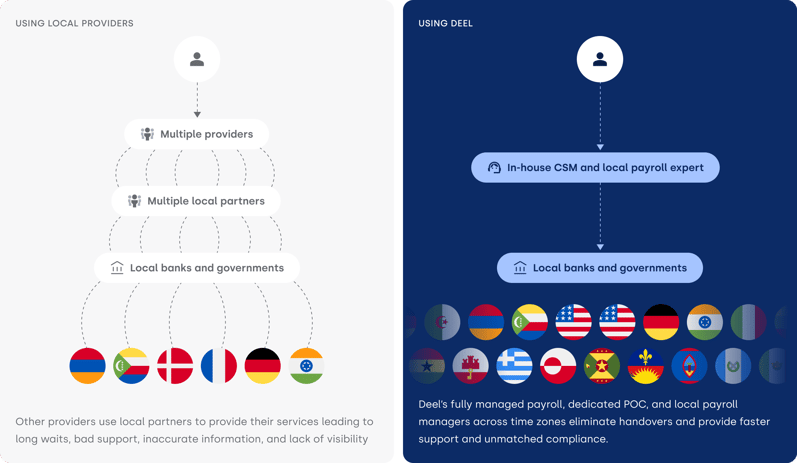 Free resource: The Case for Global Payroll Consolidation
Built-in compliance
As regulatory landscapes shift, tax laws change, and global workforces evolve, your payroll provider should be agile enough to adapt. Choosing a software solution that effectively handles legal, financial, and labor compliance sets you up for sustained success.
As a compliant global payroll provider, Deel offers the necessary tools and strategies to achieve these goals:
Legal and regulatory compliance
Each country has unique tax laws, labor regulations, and reporting requirements, and these can even vary within a single country. For instance, in the US, federal and state laws dictate aspects such as payroll tax, garnishments, federal income tax, and Social Security taxes.
Complying with these regulations is vital to avoid legal repercussions, fines, penalties, and potential litigation.
Deel works alongside the best legal experts in each country, with a network of 200+ partners who regularly review contracts, rules, and regulations to make sure you're always up-to-date and compliant with local laws:
Localized contracts are reviewed by legal partners every quarter
Automatic collection and management of compliance documentation for each country to build a clear audit trail
Data Protection Agreements

managed directly in your Deel dashboard
Strong

data security measures

including Single Sign-On, ISO 27001 framework, and GDPR compliance
Localized benefits administration that align with the statutory requirements of the worker's location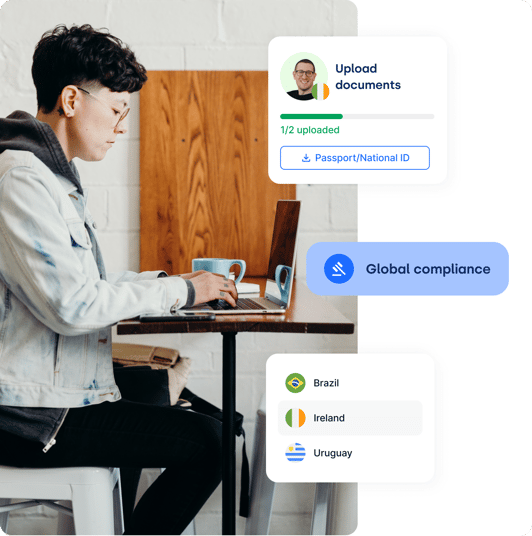 Payroll compliance
Payroll errors can lead to incorrect calculations in employee wages, local taxes, or employee benefits, causing underpayment or overpayment, and even legal repercussions. With a globally compliant payroll provider like Deel, the risk of legal consequences and penalties is reduced, ensuring accurate and timely employee payments and improved tax reporting accuracy.
At Deel, our built-in payroll compliance ensures your company stays up-to-date with the complex and ever-changing regulations, no matter who or where you hire:
We make sure the correct payroll taxes, social contributions, and other government fees are paid
All mandatory benefits are handled for you
We manage payroll, payslips, and human resources admin
In the US, we provide automated tax filing for employee and contractor tax forms


Corporate reputation
Expanding into new markets means your actions will be closely observed by local customers and international stakeholders. Prioritizing compliance demonstrates ethical practices and responsible business conduct, helping you build trust with customers, investors, and partners.
A strong compliance track record also enhances your company's reputation, while non-compliance can lead to negative publicity that damages your brand image and corporate reputation.
Ability to seize global opportunities
A globally compliant payroll provider guarantees your payroll operations align with local laws and regulations, providing a solid foundation for global expansion. This ensures your company can confidently navigate the complexities of different markets, as well as build credibility with potential partners and new hires during the talent acquisition process.
With a provider like Deel, enterprise companies can enhance their compliance track record and differentiate themselves from competitors, facilitating growth and success in international markets.

Free resource: Global Payroll Compliance Checklist
Payroll flexibility
Global enterprises have dynamic workforces that include a variety of employment types—direct employees, EOR employees, and independent contractors.
Traditionally, HR teams would have to manage each type of worker in a different system. Direct employees are paid through an in-house payroll system, EOR employees are paid through the EOR provider, and independent contractors are paid via the workers' preferred method, which can range from direct deposits to PayPal transfers or even crypto.
As an enterprise grows, managing multiple payment systems becomes unsustainable and opens the door for security breaches and payroll errors, as many systems rely on manual data inputs and processes.
Deel addresses this payroll challenge by integrating all worker categories within a unified system, enabling you to pay direct employees, EOR employees, and independent contractors without leaving the platform.
How Paperform saves 104 days' worth of HR costs every year
Paperform provides payments, bookings, events, onboarding, calculations, and more to help organizations get paid, stay on schedule, connect with customers, and automate their work.
As a remote-first company with workers around the world, Paperform was using different HR tools, payroll systems, and spreadsheets to manage its international workforce. So, the company went on the hunt for a tool that would consolidate it all.
The company soon recognized that Deel provided the ecosystem of solutions to address their challenges, like compliance, payroll, onboarding, employer of record services, and legal issues.
"The cost savings that Deel has enabled…would easily go into the tens of thousands of dollars, perhaps even close [to] $100,000 per year," said Diony McPherson, CoFounder and COO. "This would include cost savings from staffing HR, insurances, legal fees for employee contracts, accountant fees, and the potential cost of all the tools included in the platform."
Read the full case study to learn more.
Location independence
Enterprise companies know that talent is borderless, and they're hiring accordingly. According to Deel's State of Global Hiring Report, 89% of contracts created in the platform in 2022 were for remote workers, and LATAM was the most popular region to hire from.
With 75% of companies reporting talent shortages and difficulty hiring—a 16-year high—there's never been a better time to lean into global hiring and its many benefits, including cost savings, longer employee retention, faster business growth, and more creative workforces.
For example: A typical US employer can save an average of $11,000 USD per half-time telecommuter per year. For the average US midsize enterprise, that's $22,000,000 per year.
To reap the benefits of a global workforce, you need a framework to hire and pay workers, no matter their location—which is where Deel comes in. With Deel, you can manage global payments for your entire workforce in one place:
Global Payroll:

Run payroll for direct employees under your owned entities in

over 100 countries
Employer of record:

Hire and pay employees under our

95+ entities

that are solely owned and managed by Deel
Independent contractors:

Hire and pay independent contractors

around the world

through the Deel platform


See also: Where You Can Run Payroll for International Employees with Deel

Multi-currency support
An international team needs the infrastructure to make cross-border payments quickly, accurately, and compliantly.
Deel supports 120+ currencies and counting, enabling accurate and efficient cross-currency payroll transactions while eliminating currency conversion hassles, reducing processing time, and ensuring payment and tax compliance with international financial regulations.
Global employers can make payments to their employees' bank accounts in their local currencies, reducing currency conversion fees and ensuring accurate and timely salary disbursement. Deel also handles currency conversions, providing companies with clear visibility into the exchange rates and fees involved.
Clients can fund their Deel accounts in the following currencies:
AUD, BGN, BRL, CAD, CHF, COP, CZK, DKK, EUR, GBP, HUF, JPY, MXN, MYR, NOK, NZD, PLN, RON, SEK, SGD, TRY, USD, USDC, ZAR
Deel aims to support every world currency, excluding those from extreme-risk countries. For independent contractors, we support dozens of world currencies, cryptocurrencies, and gold and silver currencies.
Diverse payment methods
Your global payroll provider should offer diverse payment methods to fund your account, and for employees and contractors to withdraw their paychecks or earned wages.
Offering multiple payment methods supports cross-border payment compliance, as each country has specific regulations about how their workers can be paid. It also supports the preferences of today's workforce, which enhances their online payroll experience. For example, in 2022, 4% of all withdrawals made through the Deel platform were in crypto.
Deel clients have the option to fund their payroll using their preferred method:
Credit or debit card
Direct debit payments with ACH, SEPA, BACS, PAD, BECS
Bank account transfers
Wise
Mercury
Brex
Coinbase
Paying your global employees is easy with Deel. Watch the video below for a platform walk-through of what it's like to pay your workforce.

Deel also supports the following withdrawal methods for independent contractors:
Bank transfer
Binance
Coinbase
PayPal
Payoneer
Revolut
Wise
Deel's payroll services are constantly expanding. If your preferred currency or payment method isn't listed above, please contact us to see when it will be available.

See also: How to Pay Different Types of Remote Workers in Multiple Countries
"The thing I love most about Deel is the multiple options to withdraw your funds. It makes it really simple to have your money—providing multiple withdrawal methods, including crypto. Also, the withdrawals are seamless, and payments are on time." — Tifuh Cedric,
Turing
On-demand payments
Enterprise companies that have off-cycle payments included in their payroll software can swiftly respond to changing business dynamics, be it unexpected bonuses, adjustments, or ad-hoc reimbursements. This agility safeguards employee morale, reinforcing the organization's commitment to their financial well-being.
In an era of increasing regulatory complexity, compliance remains a critical concern. Off-cycle payments, when managed through advanced platforms like Deel, ensure adherence to intricate tax laws and labor regulations, reducing the risk of costly errors or legal issues.
Deel's On-Demand Payroll provides flexibility in paying remote employees by allowing companies to initiate one-off payments, existing payment items, or salary advances.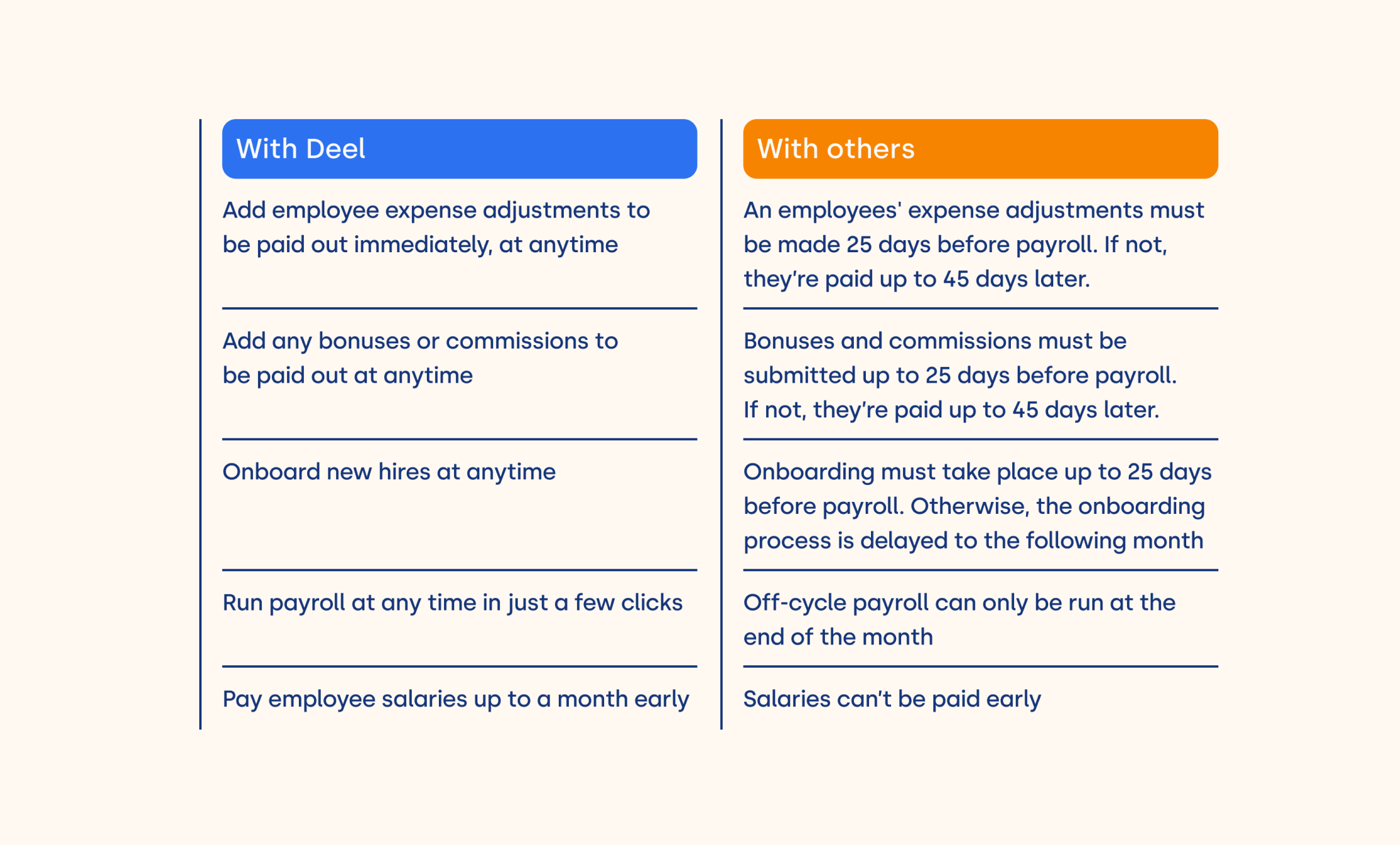 This feature is particularly useful when unexpected circumstances arise for workers, or when companies need to accommodate varying payment cycles. Here's how it works:

1. On the Deel platform, go to People and select the employee's profile. Click On-Demand Payroll.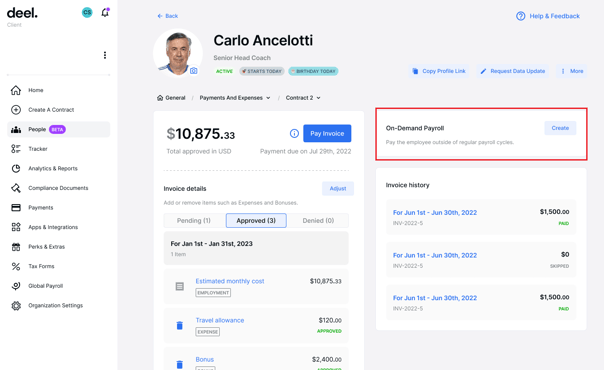 2. Choose the type of one-off payment you want to process, add your request details, and submit the request.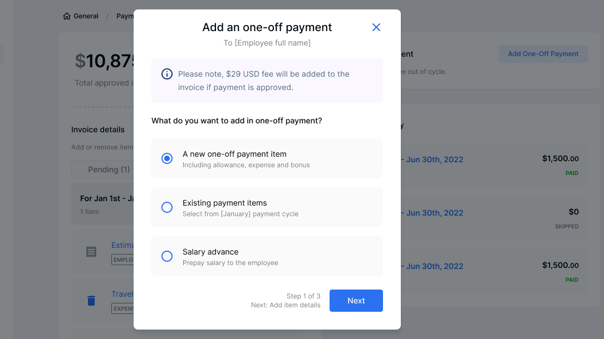 3. Deel's team will review the off-cycle payment and issue an off-cycle invoice to you once it's approved. You can then access the invoice by selecting the Payments tab on the Deel dashboard.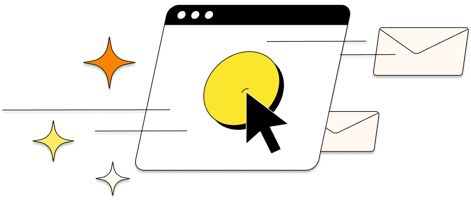 4. Deel will issue an off-cycle payslip for the employee. The payslip will be provided instantly or delivered on the next payday cycle, depending on the employee's local requirements.


Learn more about paying EOR employees with off-cycle payments through Deel, or how to pay a contractor off-cycle with a one-off payment through Deel.
Mass payment automation
Using a mass pay feature simplifies payroll processing by enabling you to pay a large number of employees simultaneously. This means that even as a company scales, payroll remains efficient and reliable.
With a few clicks, HR teams can process payments for hundreds or even thousands of employees with Deel, saving substantial time and effort.
Within the payment workflow, simply select who you want to pay. You can select 'All teams' to pay everyone at once, or filter by specific groups, including entity, country, contract type, or team.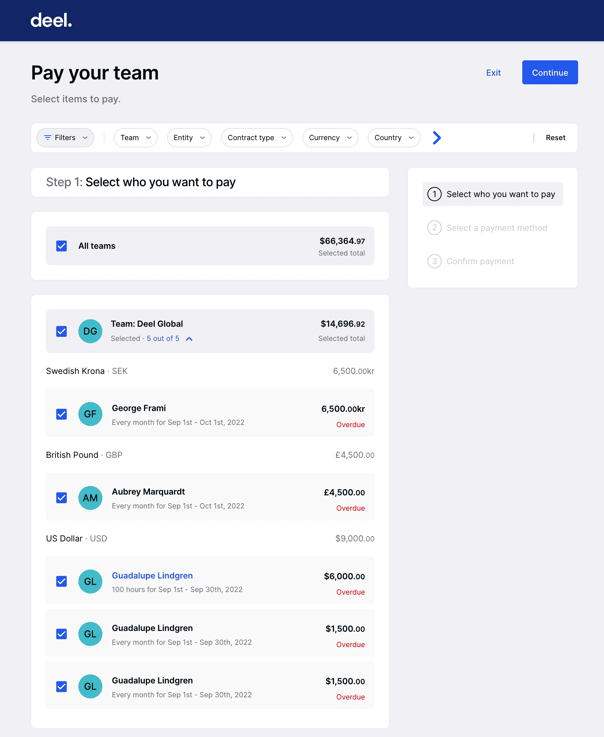 By choosing a global payroll provider with bulk payment functionality, HR teams can allocate resources toward high-level tasks that add value to the organization, such as talent management, workforce management, and strategic decision-making.
Meanwhile, the automated system ensures accuracy and compliance, mitigating risks associated with manual data entry and calculations.
See also: Mass Payment Solutions: How to Pay Your Entire Team in One Click with Deel
I can only imagine how annoying it would be to have to process the payments manually twice a month or have to remember the exact day that we have to pay each team. Thanks to Deel, I just need to go to the payments section, press the pay button, and that's it. It gives me the peace of mind that everyone is getting paid, on time, all over the world.
Daniel Aksioutine, COO, Deel
Future-proof your enterprise business payroll with Deel
The best payroll software for long-term use prioritizes innovation, adaptability, and user focus. Deel's scalable full-service payroll accommodates your company's changing business needs, ensuring you're always equipped to handle the demands of a larger and more diverse workforce:
Fast and efficient onboarding that cuts the process down by 51%
Integrations with top accounting software and HR software, such as Quickbooks and Xero
Real-time data reporting and customizable payroll reports
24/7 in-app customer support and a dedicated customer success manager (CSM)
User-friendly employee self-service functions—workers can upload compliance documents, review pay stubs, update personal details, and more
Deel is a comprehensive, cloud-based HR solution that makes it easy for you to hire and pay anyone, anywhere in the world. With Deel, you can manage your entire international workforce—from hiring independent contractors to offering equity and immigration support—all in one platform.
Schedule a 30-minute product demo with an expert to get a closer look at Deel's platform, services, and pricing.