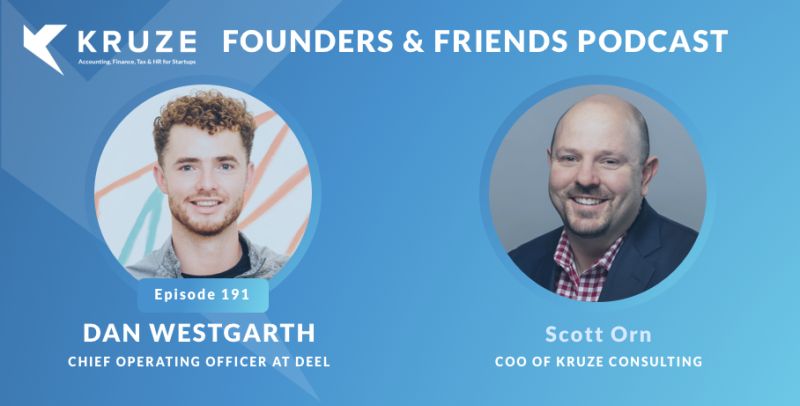 COO Dan Westgarth: Everyone Should Have the Same Workplace Experience
What's the big deal about Deel? Check out the amazing interview of Deel's COO Dan Westgarth on Kruze Consulting's Founders and Friends podcast to find out.
Written by Anja Simic
July 16, 2021
Contents
Need help onboarding international talent?

Try Deel
Kruze Consulting's podcast hosted by Scott Orn is a great place to learn about business from some of the most successful startup founders, managers, and leaders. We were happy to participate in a talk ourselves - with Deel's COO Dan Westgarth as Orn's guest.
Here's a recap of their conversation - enjoy the read!
How everything started
How did Dan's story with Deel start anyway?
He's always been interested in technology companies, so the best way for him to immerse into that world was joining a VC backed company. He was only 21 when he started working for Revolut, where he achieved some fantastic results, bringing the company to new markets. It was also how he got introduced to Deel. This company caught his attention and, after building a good relationship with the founders, he decided it was the next step in his career. He joined Deel full time!
How Deel helps others
And why was Deel such a tempting opportunity for a young guy like Dan?
He recognized Deel's potential to do a lot for companies, businesses, employees, and remote workers. Deel makes it easy to hire anyone anywhere, which hasn't been very easy. Some people don't know it, but to hire someone in a different location, it takes more than just sending them money or sending them a contract via mail.
Here's what Dan says Deel helps with.
Making compliance easier
Deel enables companies to hire foreign workers by providing compliance tools so you can be sure you've done everything properly. Compliance, accounting, and payroll seem to be a major issue when engaging people from abroad, but thanks to Deel, it can be done pain-free.
Why spend your time on something so complicated and time-consuming when you can hire specialists to take care of things for you?
Even if a company has a subsidiary, trying to make everything compliant and studying foreign law can be tiring. Deel solves this problem in no time.
Helping the best talent win
Thanks to remote work, geographical boundaries mean nothing today. Deel makes things even easier by eliminating potential technical issues related to accounting or compliance, which really helps both companies and those seeking jobs. As an employer, you're not limited by geographical location and you have access to the disbursed talent everywhere.
On the other hand, it's important that the best talents get a chance and win the position they want. They shouldn't be limited to where they're located. Deel, for one, has a team of around 120 people who come from 28 countries.
The same benefits for everyone
When you find the best person for the job, you want to give them the best experience, too. That's where Deel steps in and provides access to the same benefits to everyone, regardless of where they live. As a remote worker hired at a US company, you can have the same perks as if you were living in the States, whether it's healthcare or financial tools.
So, Deel basically covers all HR and FinTech aspects of hiring internationally. Not to mention how Deel's played the financial tech angle to develop its own products, like the Deel branded Visa card, which allows payees to access their wages and funds immediately instead of waiting for bank transfers to complete and wasting the hard-earned money on a bunch of fees.
Connecting the world
Deel's global strategy aims to deliver the same experience and workplace environment to all employees and contractors around the world, no matter where they're located.
At the same time, companies can enjoy hiring the best talents out there without time-consuming procedures and complicated compliance matters.
Simply put, we make everyone's lives easier! And if you're convinced we'd be a good fit, we make it really straightforward for you to schedule a call and meet the team - you're just a few clicks away from making the best Deel ever.