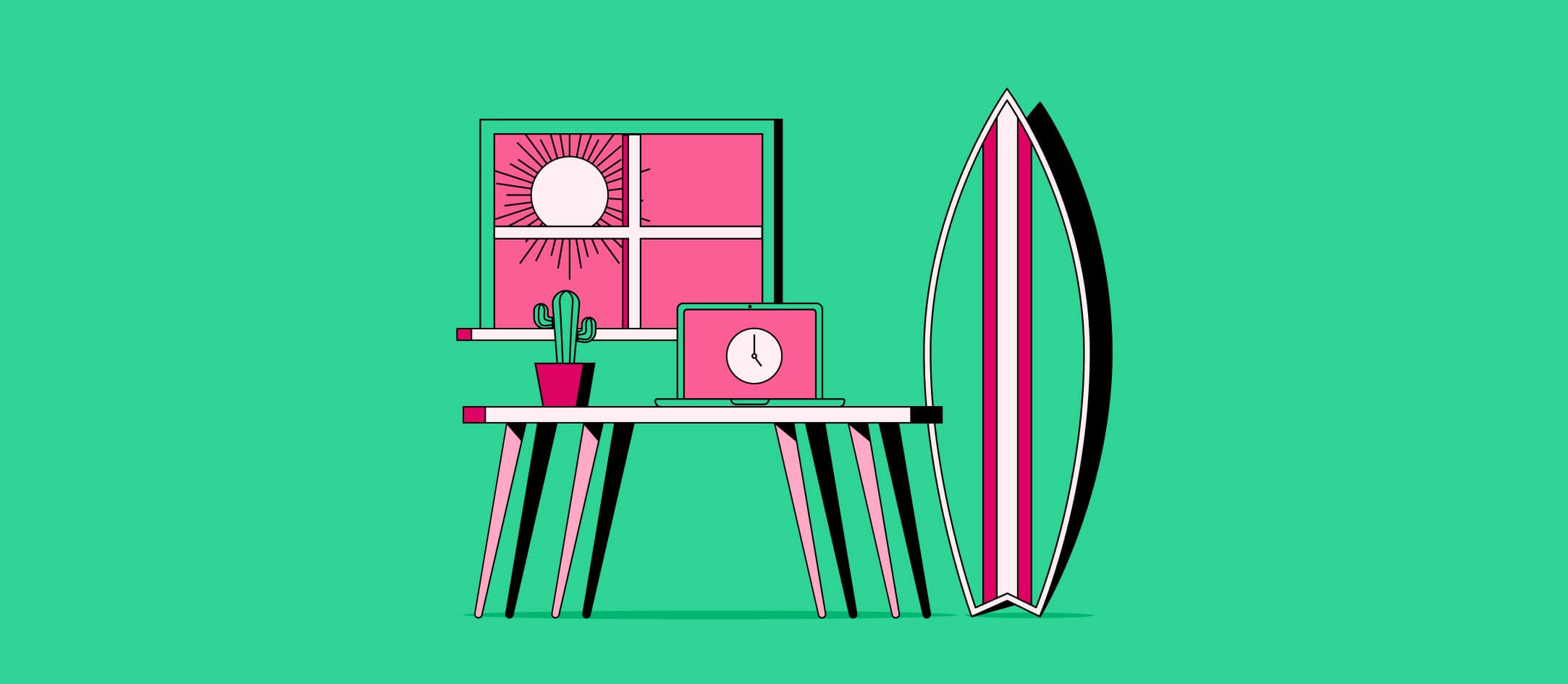 The Only New Employee Onboarding Checklist You Will Ever Need
Drafting a checklist for a new employee onboarding with all the information is not easy. We got you covered with this detailed and easy-to-use overview of all the steps in the onboarding process.
Written by Anja Simic
September 17, 2021
Contents
Need help onboarding international talent?

Try Deel
Be honest, are you struggling with new hire onboarding since the pandemic broke out? Well, you are not alone in this. Struggling with all the necessary paperwork and initial setup was not easy, even before the swift and unexpected introduction of remote work.
One of the best ways to make sure new employee onboarding is done properly and timely is to introduce checklists. Templates containing all of the necessary information will guarantee that you won't miss any of the crucial steps and that you still have time and resources to bring added value to your new hires as soon as they join the company.
In this article, we provide you with the ultimate checklist for your new employees and share some valuable insight into the entire onboarding process. Newest data shows us that the way a company handles its new employees, even in these early stages, has a big impact on employees. Actually, great employee onboarding can improve retention to up to 82%.
Pre-onboarding checklist
Do you know that onboarding starts before the actual day one? Well, that is if you want to do it right. If you want your new hire to enjoy their onboarding experience, you should start onboarding them as soon as they accept your job offer. Effective onboarding isn't just about getting all the paperwork done as soon as the hiring process is over.
The main goals of the new employee onboarding:
Immersing the new employee into the company culture
Making them feel like a welcomed team member
Creating a great first impression that will last way after the official onboarding program has finished
1. Send your new hire a welcome email
A welcome email should have all of the necessary information while also adding a personal touch and conveying the message of openness and inclusion. You should include at least some of the following:
A warm welcome to the company and team
Explanation of the onboarding plan, step by step, with a timeline
Service information about their start date and working hours (don't forget to mention the default time zone the company is using)
A designated contact person with their contact information
A list of all the necessary documents they should provide (if they haven't provided them already, for more detailed information, check step 2)
Information about the company's dress code (if there is one) and information about the culture and appropriate conduct
Information about the software and tools they will be using so that they can prepare in advance
2. Inform the team about the new hire
If you really want your new employee's first day to be memorable, it can't be all up to you. Let their team members and the rest of the company know who is joining them, what they can expect, and how they can make them feel welcome. Most of the onboarding will nevertheless come from them, so make sure it's done in a way that benefits everyone involved. You can leave it up to them, or you can schedule informal hangouts, 1-1 meetings, and group chats if you think it fits your culture better. It shouldn't feel forced, but everyone on the team should be proactive about it.
3. Create all the necessary accounts and set up software/hardware
There is nothing more frustrating than starting a new job and realizing you don't have all the tools you need. This is why every new hire checklist must contain this section. Depending on the position, expand this list, but don't forget:
Official company email
Access to the communication software, HR database, PM software, and tools required for the position
Laptop, headphones, mouse, desk, and chair (in case you are the one providing it)
4. Prepare a welcome package
The welcome package is not only a nice touch but rather a requirement, even with remote hires. Before they start their new employee orientation, this should already be prepared and waiting for them. Make sure to include:
A personalized welcome letter from their superior, head of the department, or even a CEO, if possible
Company paraphernalia, especially the one they will be using often
Gifts, discounts, and loyalty cards
All of the necessary passcodes, links, and downloadable material
Newsletter with some essential information about the company
First day onboarding checklist
Now it's time for them to start their new role officially. The human resources department usually takes the lead on this one, although everyone working with the new employee should do their part. Let's see what it takes to have a successful and memorable first day in the company.
1. Greet your new employee
One thing that will elevate the quality of your employee onboarding process is having someone warmly greet and officially welcome them. It can simply be a short Zoom call whose goal is to make them feel comfortable and start the day on a nice note. You don't need to have a strict agenda for this part- you should spend some time with the new employee, make them feel at ease, get to know them, and use the opportunity to explain to them how the day is going to go.
2. Essential documentation and security issues
After the casual welcome chat, the new hire should pay a virtual visit to the HR team. On the call, they can take care of all the necessary papers, forms, and afterward, they can provide the employee with the welcome package that's already been created. Of course, this can be done via e-mail as well, but adding a personal touch to an otherwise strictly administrative task can go a long way. The list of necessary documentation can be quite long, and it's easy to leave something out, so make sure to include it in your new employee onboarding checklist. Here's a template list:
Contract, Non-disclosure Agreement, and any other legal paperwork
Necessary tax forms (W-4, W-9, 1-9, state tax withholding documents- for the US companies)
Information about the chosen and agreed payment method
Alcohol and/or drug test consent agreements
Security and confidentiality agreements
Emergency contact designation and contact information
3. Introduction to the team and company
Once the paperwork is over, it's time for your new employee to meet the people they will work with and be introduced to the company culture. Employee engagement is closely connected with how well a person fits within the new team, starting on the first day.
Make this part of the onboarding light-hearted, not too structured, and give your new hire a chance to ask any questions that might've popped in their head. This is also a good time to do a first informal check-in and make sure they are getting everything they need and they are comfortable and content. Finally, make sure to create a virtual tour and include all of the employees that can help you convey the company's spirit through the screen!
4. Employee orientation
No onboarding is complete without the orientation. You need to cover many things during this part, but make sure you aren't just piling up tons of information for your new hire. Employee turnover is significantly lower when employees are connected to the company's values, term goals, and overall mission, so make sure you incorporate that everywhere - from the attitude of the trainers to the official employee handbooks. These are all the things you should include in your first-day employee orientation:
Company's history, current events, values, mission, and vision
Important security information, online safety training, and code of conduct
Detailed walkthrough their job description, and anything that has been left out
Explanation of working methods, software, and hardware that they will be using
Introduce them to official workflows and company policies
Give them brief information of the performance reviews and expected contributions
5. Wrapping up the day
If you want to make sure that employee retention stays high, invest time in taking care of your people, starting with day one. End the day with a short chat, ask them how they've been doing, if they enjoyed their first day, and if they have any feedback. Let them know they can expect regular check-ins throughout the first few weeks. Then, if they are comfortable with it, showcase them on social media, and use that as an opportunity to bring added value to their experience once again.
First week onboarding checklist
Although pre-onboarding and the first day carry a lot of importance and a seemingly infinite list of tasks, the onboarding checklist doesn't stop there. The onboarding process is, in fact, a process - and if you want to make it successful, it has to include a fruitful environment, wiling managers, motivated companies, and a support system that doesn't end on day one. Your employee's first week is still a very delicate phase: they are learning the ropes of the organization, their training is ongoing, and they are probably still struggling with all of the programs. So this is what you should do to help them through the onboarding process during their first week.
Resolve any logistical and technical issues they might be facing
Introduce them to the remaining team members and important coworkers
Repeat the virtual coffee break from their first day and ask them about their impressions
Help them connect what they've learned with the company's mission and values
Answer any questions they might have after their initial training is finished
Hire in 150+ Countries with Deel
From Poland to Tunisia, learn more about the best practices for hiring remote team members and how Deel helps make it simple.
Learn more
First month onboarding checklist
Now that your new employee has spent an entire month in a company, and you've already gone through most of the onboarding process, the relationship between them and the company changes. The focus now isn't just on making sure they've memorized the templates, know all of the important methodologies and practices, or if they've had the chance to meet the entire upper management. Now the process transforms - the focus is still on the employee and the support you are giving them, but now they will give you something valuable in return - insight and feedback. After the first month, this is what should be on your onboarding checklist:
Ask them about their opinion on the training process and initial feedback on their coworkers
Connect the tasks they've been learning with the company's mission and vision, as well as strategy and competition
Introduce them to the rest of the company, including the teams they most likely won't work with
Explain the performance review system and what is expected from them
Go in-depth about the desired behavior, attitudes, and what is necessary for their and company's success
First year onboarding checklist
Your new employee has now been in the business for a full year - now that is something you should celebrate! Although by now they know everything they should, it would still be beneficial to give them a platform to express their opinions, create a two-way feedback process, and come up with solutions for any issues that might've occurred. Keeping your employees happy, invested, and engaged isn't easy, but it starts with the way you are onboarding new employees - even well into their positions. Process for new employees starts as soon as they accept their job offer, and it only ends when your new hire is turned into a loyal, active, and engaged employee. This is a template for what you should do after they've been in the company for a year:
Celebrate their anniversary with a personalized card and a gift
Schedule formal and informal chats with their managers and superiors
Get detailed feedback on the entire onboarding process from new hires
Set up long-term goals and schedule necessary training and seminars
Create an article, memo, or social media post about their first year and showcase the success of your onboarding process at its fullest!
These customizable onboarding checklists can help you prepare yourself from their initial acceptance to well into their experience. The key to every successful employee onboarding is to show dedication, transparency, and commitment to your new hires so that you can convert them into content employees.