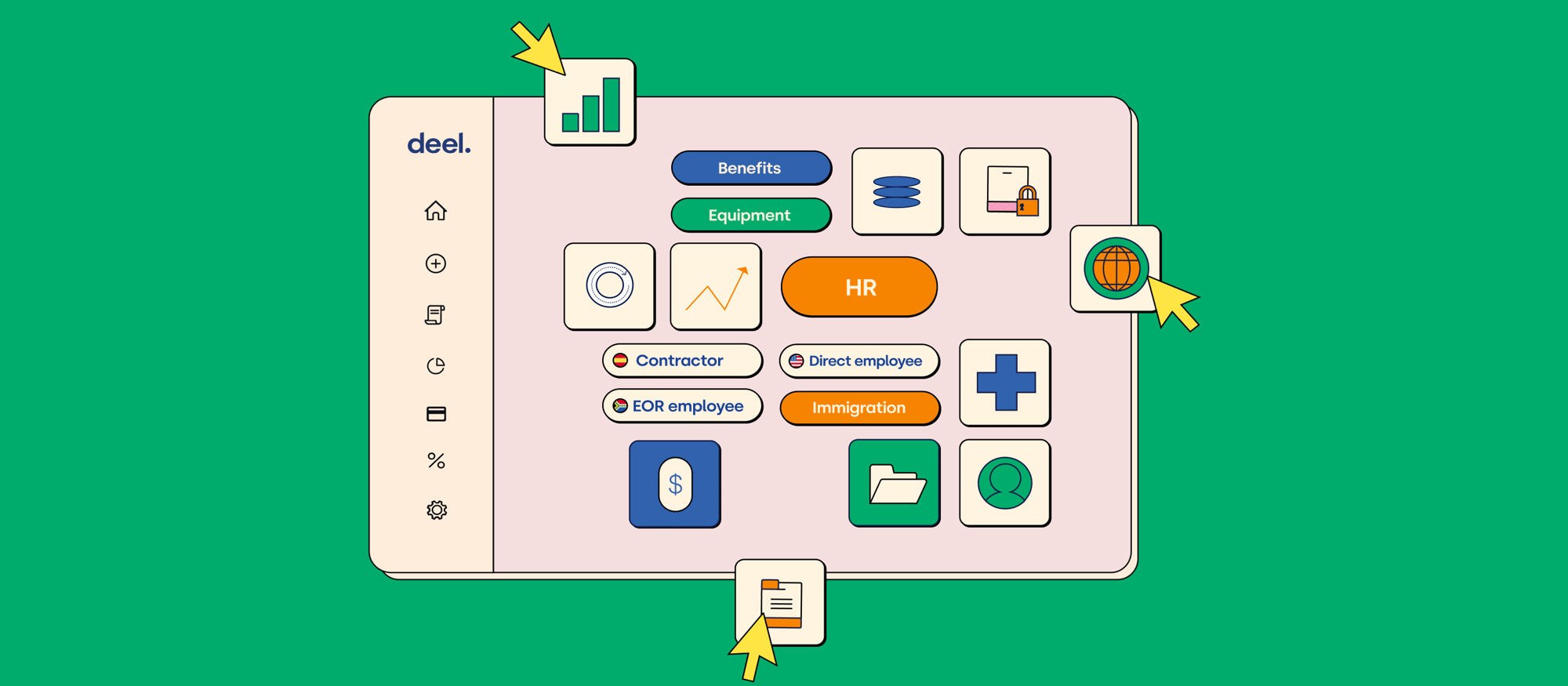 12 Key Benefits of HR Automations
HR automations have skyrocketed over the past few years. Learn why HR teams swear by automating processes and how to automate yours with Deel.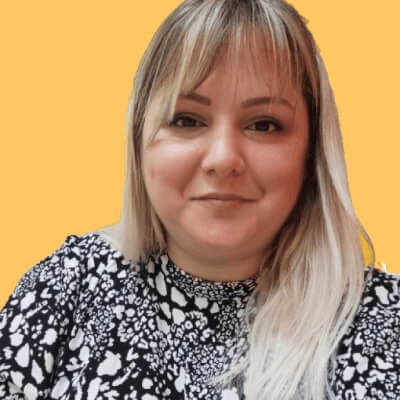 Written by Stefana Zaric
May 26, 2023
Contents
Need help onboarding international talent?

Try Deel
Key takeaways
The benefits of using HR automations go beyond financial savings; they help you optimize the use of your workforce's time.
Automation of HR tasks enables you to better prepare for the future of work thanks to easy access and overview of your employee data.
Improved consistency of your HR processes across all locations helps you create a better experience for your entire team.
The growing need to keep up with hiring requirements while ensuring compliance and providing a positive employee experience for workers from all over the world puts a strain on HR professionals.
Keeping employee data in spreadsheets, running manual wage and tax calculations, and simple worker classification might have worked for local teams, but workforce management becomes more complex when you start hiring abroad.
The use of HR automations increased by almost 600% over the past couple of years, and for a good reason. Automating the manual tasks HR departments need to tackle daily, such as global payments or access provisioning, leaves room to focus on workforce management strategy, which is key for company growth.
Learn about other ways HR process automation can benefit your business.
I&O automation technologies can support IT in enabling speed to market, increasing business agility, ensuring compliance with security and regulatory requirements and optimizing service costs.
Yinuo Geng, VP, Gartner
More efficiency and productivity across departments
HR automation software can help human resources departments speed up time-consuming manual processes, such as resume screening, updating timesheets, or employee onboarding and offboarding.
This way, HR teams can operate more quickly and focus on strategy instead of repetitive tasks, enabling other departments to become more efficient, as well. For example, new hires can automatically be ordered and sent the necessary equipment, or granted access to specific tools.
According to a Workato survey, onboarding automations are particularly popular among HR professionals, especially identity and access provisioning-based automations. Manual onboarding, especially if you're welcoming a team member from another country, can take days due to complex bureaucratic processes and documentation management, but when automated through your HR software, onboarding can be completed in one day.
Did you know that with Deel you can onboard a new employee in no more than seven minutes?
Learn more about Onboarding by Deel.
Improved consistency across locations
For global teams, it's critical to create processes that are consistent across different locations to provide an equitable employee experience and to enable teams from different countries to collaborate efficiently.
HR automations allow international teams to make sure that an employee from Nigeria or China follows the same process and has the same experience as the one in the US or Brazil.
For example, if you automate the process of approving leave requests, an employee doesn't have to have back-and-forth communication with their manager until they agree on dates and handover of current projects. An automated process here saves time for both parties and facilitates asynchronous work.
Thanks to Deel HR, the only truly global HRIS platform, you can also make the onboarding process for employees in different locations more streamlined. Onboarding is tailored to fit a country's specific employment law and compliance requirements, so there are no non-applicable required fields that disrupt your HR workflows.
Check out our new Workflow Builder to see how you can customize and automate your processes.
Higher accuracy and fewer mistakes
Automated HR processes decrease the likelihood of human error, resulting in improved payroll processing, more accurate data to work with, and more. When you move away from paper-based procedures and automate, for example, collection of compliance documentation and tax calculations, you reduce the possibility of an HR employee:
Misplacing a document
Filing taxes incorrectly
Miscalculating an employee's compensation
Overlooking an employee's leave request
More accurate processes also lead to higher employee happiness, given that salary delays or wage inaccuracies often cause dissatisfaction among workers, and even lead to them looking for a new job after repeated mistakes.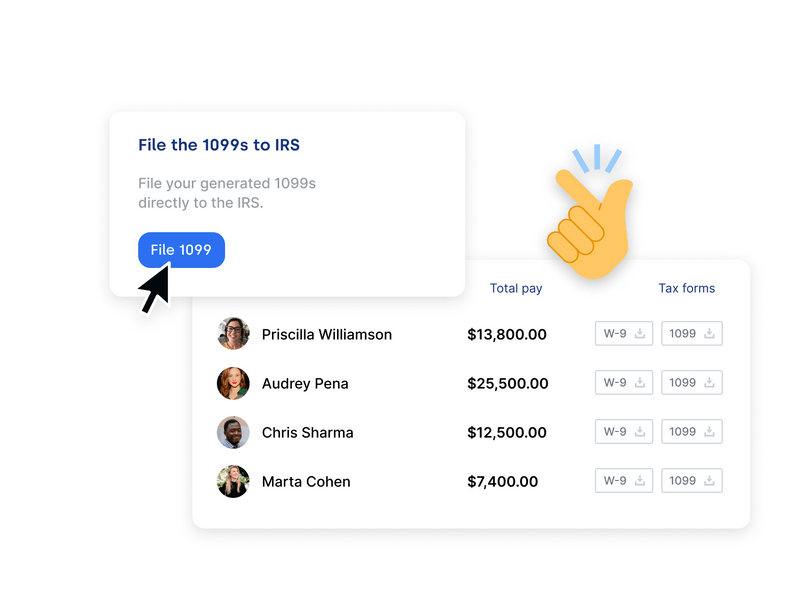 Reduced human resource management costs
Automated HR processes help companies reduce labor costs due to the decreased need for manual work. According to SHRM, 16 out of 21 common HR processes can be automated almost completely, from the recruitment process to exit interviews, which means you can achieve more with fewer resources and lower headcount in your HR department.
Automation also eliminates the need for manual data entry, reducing the risk of errors and enabling HR professionals to work more efficiently and avoid costly compliance issues.
Automated systems track and manage employee data, contracts, work permits, and other compliance-related documents more accurately and efficiently, reducing the risk of penalties, legal disputes, and reputational damage that can result from non-compliance.
Learn how
Paperform saves 104 days worth of HR costs annually, thanks to Deel
Paperform is a remote-first company with a global team that faced an issue: to provide top-notch customer support in different regions, Paperform needed to scale quicky while ensuring compliance in all locations.

Deel was a logical choice: we successfully addressed all Paperform's challenges, from employer of record services to compliant onboarding of foreign workers, all in one seamlessly integrated system.

Paperform also managed to reduced their hiring costs thanks to Deel.

"The cost savings that Deel has enabled…would easily go into the tens of thousands of dollars, perhaps even close [to] $100,000 per year," says Diony McPherson, CoFounder and COO.

Guaranteed full compliance
Human resources automations help your company stay fully compliant with employment laws and tax regulations no matter where you hire, by ensuring you:
Create locally compliant contracts
Provide access to the correct

employee benefits

Fill out and submit documentation correctly
Meet all the deadlines
Keep records organized as required
Incorrect worker classification, not meeting visa and immigration requirements, and data privacy violations are just examples of common non-compliance mistakes global teams often make, which can lead to serious legal issues. With automated documentation management and compliance processes, you've done great work mitigating non-compliance risks.
When managing workers through Deel, you're always notified if a document is missing for a particular employee or contractor: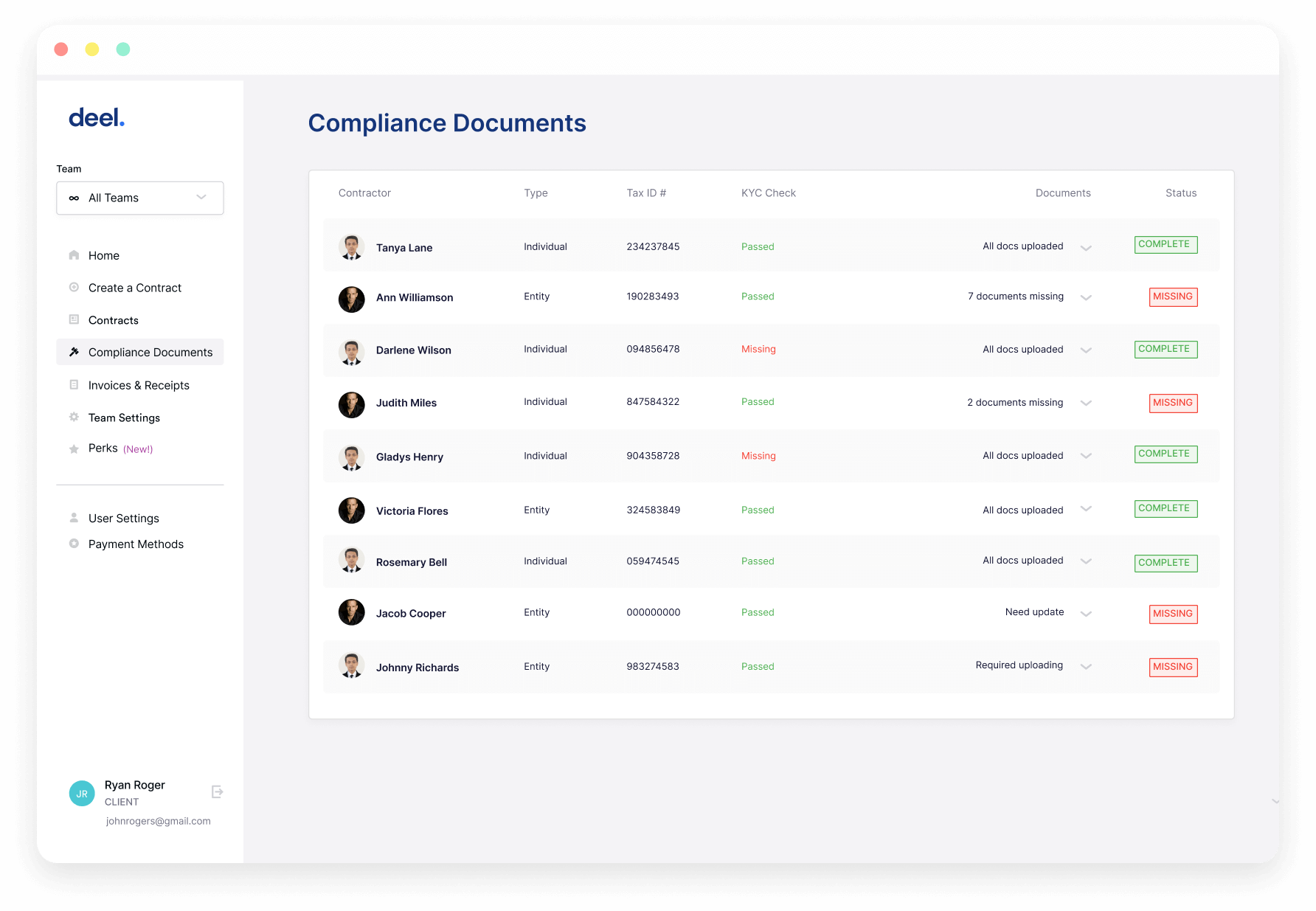 We were concerned about all the compliance, but now we know we can trust Deel to manage the complexities of hiring in the US. It's something we have to get 100% right, for our people and for our business.
Matthew Buchanan, CEO, Letterboxd
Enhanced employee experience
Overcomplicated processes and waiting for too long for a response to an inquiry can harm employee experience. Using automation to streamline HR processes and enabling self-service options for employees can boost your overall employee engagement, satisfaction, and retention.
HR process automation allows employees the following:
Update personal information
Submit a leave request
See the organizational chart
Retrieve or submit documentation
Access payslips
With automation, HR services can be accessed 24/7, regardless of employees' location or time zone and without the workers being limited by traditional office hours. Increased accessibility to HR resources fosters a sense of autonomy and enables employees to address their needs promptly, contributing to a more positive employee experience.
Learn how Deel Engage plugins help you build a more autonomous, but connected team.
Build connections on Slack
Spark conversations with a remote team with meeting roulettes, watercooler prompts, and interest groups, all in Slack.


Access to data-driven insights
When there's a lack of data consolidation, HR managers need to base their decision making on intuition, which isn't reliable, or spend too much time collecting the necessary data from different sources.
Automation allows the HR staff to gather, organize, and analyze data from various HR tools automatically, allowing the team to gain real-time insights into the workforce more quickly. These insights help identify workforce trends and potential areas of improvement, which can be particularly important, for example, for employee performance management.
Some HR systems also allow you to create automated reports that you can easily share with the leadership team or team managers so that they can base their internal initiatives on this data as well.
In the Deel platform, you can create, customize, and share neat reports on your global workforce, with insights into global analytics, headcount, and payroll.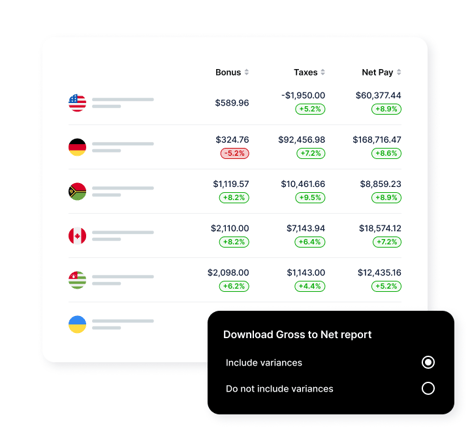 Better data security
Storing and sharing confidential information online is always a risk, and the process becomes even more complex when a global, distributed team is involved. HR automations allow you to gain better control over who has access to which information and ensure compliance with data privacy laws in different regions, like GDPR in the EU.
Keeping all documents and signatures in one, secured place means better protection than keeping employee data scattered in multiple spreadsheets, where you have poor control over who accesses the files. ​
Enabling SSO (single sign-on) is also a good data security measure because it lets you block access to all the connected tools and apps in the case of a breach, which is faster than blocking manually one by one.
Deel offers unrivaled security and data protection
We make sure your data is completely safe through:
GDPR compliance
Okta SSO
SOC 2
ISO 27001
Read more about our data security measures.
A more compelling case in front of investors
A global team with stable, consolidated processes that keeps up with HR technology trends is more likely to gain the trust of investors or get stakeholders' approval for business decisions.
Automating your HR workflows and working on making your business as efficient as possible proves your scalability and preparedness for future challenges, which helps build your case in front of any important decision makers.
Automated processes contribute to a happier workforce, help optimize business expenses, mitigate compliance risks, and provide accessible data for the stakeholders, further supporting your case for the company's growth, sustainability, and overall performance.
Boosted internal communication
Automations support async communication, which is critical for distributed teams that operate across different time zones. HR management systems that can integrate with communication tools are key, since they enable automatic reminders and notifications and facilitate different processes, such as PTO scheduling, or viewing the company's organizational chart.
An automated communication process usually means you have a single, centralized source of information. That allows global teams to access the latest updates and stay informed about organizational changes, fostering transparency and alignment across different locations.
Self-service, AI-powered knowledge bases foster self-sufficiency and empower global team members to find answers independently, reducing dependence on direct communication for routine inquiries. They allow employees to access important information regardless of whether they're team members are currently online, including FAQs, training materials, policies, and best practices.
Support for high-level planning
HR processes are closely connected with other business operations. Once you automate HR functions, you'll facilitate high-level business workflows as well, making the entire organization more efficient in decision making and strategy execution.
By automating administration and reducing paperwork, you also decrease the time and effort required to complete any HR tasks, extending the efficiency to payroll, benefits administration, and talent management. Streamlined processes reduce delays, minimize errors, and enable employees to focus on higher-value activities.
For example, automated HR reporting enables faster and more accurate data collection and analysis, which means any other department that relies on data from the HR department can access it sooner and complete their own tasks faster.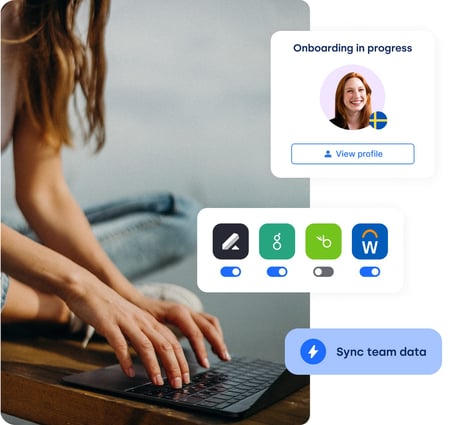 Faster adapting to the future of work
Gartner predicts that 70% of companies will implement process automation by 2025, which means automated HR is the future. The sooner you start investing in proper tools to automate your HR operations, the bigger your competitive advantage will be.
Automated workflows will enable you to prepare for the future of work and facilitate global hiring, which sustained its momentum throughout 2022 and is still on the rise.
Once your knowledge and tools are in place, there are no bounds in what you can do and build to support your workforce. You will be able to unlock future programs, scale, and iterate alongside your business and hiring and other workforce strategies.
Casey Bailey, Head of People, Deel
Secure your future growth with Deel
Tapping into global expansion? Deel is your best ally in this endeavor.
100+ owned entities around the world
200+ in-house tax, payroll, and legal experts
15+ flexible payment methods
Experience in running a global team of 2,000+ members distributed across 80 countries
First response time of 1.25 min from our customer service available 24/7
86 hours saved by automated HR admin
$210,000+ of entity set up costs per country
The best of all? Deel HR is free for organizations with up to 200 workers.
Join the other 15,000+ companies that trust us to support them in their scaling efforts. Get started with Deel today.