Global Recruitment: Must Have Licenses & Regulations
International hiring opens doors for growth and global expansion. Discover these essential licenses and regulations for global recruitment.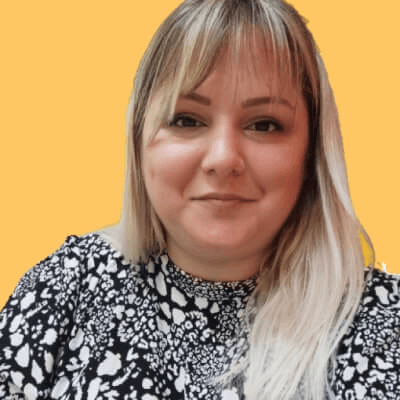 Written by Stefana Zaric
November 30, 2021
Contents
Need help onboarding international talent?

Try Deel
Key takeaways
Before advertising a job description or extending a job offer to a candidate, you need to ensure you have the necessary licenses and regulations for recruitment.
International recruitment demands attention to a few key considerations and regulations stipulated by the target country.
Deel helps with international recruitment by guiding you through complex legal and compliance processes.
The world has become increasingly interconnected, and it's not uncommon for talent acquisition to involve a global work environment. With remote work being the new normal, businesses must focus on the legal requirements of hiring and managing a remote workforce.

So, what legal and licensing requirements should be considered?

It only takes human resources and recruiters 7.4 seconds to skim a resume for details, according to a Ladders eye-tracking study. Yet truthfully, the global recruitment process takes much longer, demanding additional information and compliance requirements.

From work permits and visas, labor laws and employment contracts, and taxation and social security details, there are various details to remember with international recruitment. The necessary licenses and regulations ensure these details follow compliance and regulatory protocol.

As global hiring and compliance experts, we've put together a guide on the essential licenses and regulations necessary to expand your talent pool across borders.
A global framework for international recruitment
Compliance is a key consideration for international recruitment, paying particular attention to laws, regulations, and ethical standards related to hiring and employment practices in various countries.

The International Labor Organization created the International Labor Standards (ILS) to upgrade working conditions for the working population around the globe. The global framework guides international labor recruitment to ensure compliance with the respective labor laws of each country.

Recruitment agencies must also comply with different staffing regulations to determine an employee's basic and necessary conditions of employment. While the specific regulations may vary across countries and regions, they all strive to protect the rights of employees.

The following types of regulations are established by a government agency or the authority that governs an organization's staff management to ensure fair and ethical employment practices:
Employment contracts that outline the terms and conditions of employment, including compensation, working hours, leave entitlement, and termination provisions
Minimum wage and benefits to ensure fair compensation and access to specific benefits such as vacation time, sick leave, healthcare coverage, and retirement plans
Working hours and overtime regulations with provisions for work on public holidays and weekends
Health and safety regulations, including workplace safety, training requirements, handling hazardous materials, and providing appropriate protective equipment
Anti-discrimination and equal opportunity regulations that prohibit discrimination based on factors such as gender, race, religion, disability, or age in hiring, promotion, and termination
Termination and severance regulations that outline termination procedures, including notice periods, severance pay, and employee rights


When we came to understand the importance that Deel places on individual country laws and making sure that contracts are structured in the right way, they really stood out.
Sudarshan Sivaraman, Head of Customer Success and Sales, Turing
Do you need an international recruitment license?
There is no universal recruitment license, and the specific requirements for international recruitment depend on the target country's regulations and the specific activities involved in the recruitment process.
Country-specific regulations
Some countries have specific regulations or requirements for recruiters engaging in international hiring, with the purpose of ensuring ethical practices.

For example, the United States, Canada, the United Kingdom, Australia, and Singapore all have international recruitment regulations. It's important to research specific requirements before reaching out to candidates to understand the relationship between the two countries.

For example, if you're a US recruiter and want to source a candidate living in Ontario, you don't need a license from Ontario to complete onboarding.

However, if you're a recruiter in New York, you may need an Employment Agency License. In this instance, the license is required for any business that assists individuals or companies in procuring employment or employees.

Nevertheless, this regulation has some exceptions, and some types of businesses don't need the license—for example, temporary employment agencies and theatrical personal managers.
Transitioning to Deel has saved us approx 2-3 days per month in administration time and costs. We used to have multiple people across the globe trying to coordinate and diagnose issues or run manual processes. The time saved includes multiple salaries and productivity time.
Bec Donnelly, Vice President of People, Siteminder
Examples of recruitment restrictions and licensing requirements
Researching and understanding the legal requirements of the countries you plan to explore international hiring is important. These requirements exist to protect the rights of both employers and job seekers, as well as regulate the recruitment industry.

Some countries require recruiters to obtain a license, registration, or certification to operate legally. Consider the following examples from around the world.
Switzerland: Foreign recruitment agencies are not allowed to recruit people for companies established in Switzerland, nor can they recruit locals for international jobs unless they work with a Swiss recruiter or open a subsidiary in Switzerland
Philippines: Foreign recruitment agencies can recruit candidates from the Philippines but must fulfill more accreditation requirements than local agencies
Nigeria: You must fill out different forms if you plan to work with international clients
United Kingdom: Recruitment agencies need a sponsor license to recruit most types of workers outside the UK
India: Recruitment agencies in India must hold a recruitment license to match Indian citizens with international employers legally
Canada: Canadian employment agencies need to have a license if planning to recruit employees from outside the country


In addition to conducting thorough research, partnering with a licensed hiring agency or legal experts specialized in international recruitment helps ensure compliance with local regulations. These organizations and service providers also help navigate the complexities of cross-border hiring to reap the benefits without legal repercussions.
Deel has made international hiring a breeze! Deel has made it incredibly easy for us to hire talent internationally. They have knowledgeable people in each country so that you can ensure compliance with each hire.
Jasmin Lebrock, Sr. HR Generalist, Stayntouch
Do US states require a recruitment license?
In the United States, the requirements for recruitment licenses vary by state. Even though a recruiter may not be hiring internationally, these regulatory differences must be considered when hiring a remote candidate that is a permanent resident in another state.

In most instances, you will need an Employment Agency License to hire across the United States, specifically for Alaska, Connecticut, Iowa, Massachusetts, Nevada, North Dakota, Washington, Wisconsin, and a few other states. Before doing business across state lines, it's worth researching whether or not you need updated business licensing.

Before applying for a recruitment license, there are a few key steps to streamline the application process.
Research state-specific requirements as stipulated by the state government
Understand legal and regulatory compliance for state license eligibility
Develop compliance policies and procedures to demonstrate your commitment to legal and ethical recruitment practices
Gather necessary business documentation, ensuring all papers are up to date and making amendments where necessary
Prepare application materials as specified on the gov webpage and other resources
Submit the application and follow up to confirm receipt, making sure to keep copies of all documents for your records

As a guideline for the application process, you usually need the following documentation:

Application form
Proof of worker's compensation insurance
Proof you're meeting a bonding requirement
Individual employment agent license (in certain instances)

Application fees vary by country; you can expect a two-week turnaround for the request. Renewal periods are typically one to two years.

Obtaining the recruiting license should proceed smoothly without encountering significant obstacles, especially if you submit comprehensive documentation to the governing body and meet the requirements (typically regarding character, competence, and financial history).

It's best practice is to seek advice from an expert in the compliance field to learn if your target country requires you to be licensed and for which professions.
Take note that a few instances require additional information. For example, all individuals holding positions as employment agency managers, sole proprietors, general partners, corporate officers, principals, directors, members, and shareholders with ownership of 10% or more of company stock must undergo a state and national criminal background check by the Federal Bureau of Investigation in New York City.
While we were very comfortable with hiring locally, we were apprehensive about the costs and legal responsibilities for compliance in the United States. We didn't want to hire full-time HR people to figure out things like health benefits and filing tax returns with the IRS.
Matthew Buchanan, CEO, Letterboxd

How Deel helps you recruit internationally
Whether you're looking to offer full-time, part-time, or contractual employment, you no longer have to limit yourself to the local talent pool.

Deel helps thousands of companies expand globally by offering everything you need to scale a global team, including international recruitment tools and guidance. Our robust platform empowers you to hire anywhere while ensuring safety and compliance, but that's not all.

Deel also provides tools and features to help you manage your team, boost productivity, and streamline workflow while running efficient global payroll.
Global Hiring Toolkit - Make smart hiring decisions
Deel's global hiring toolkit is a free resource that empowers big and small businesses to make smart hiring decisions through various tools such as: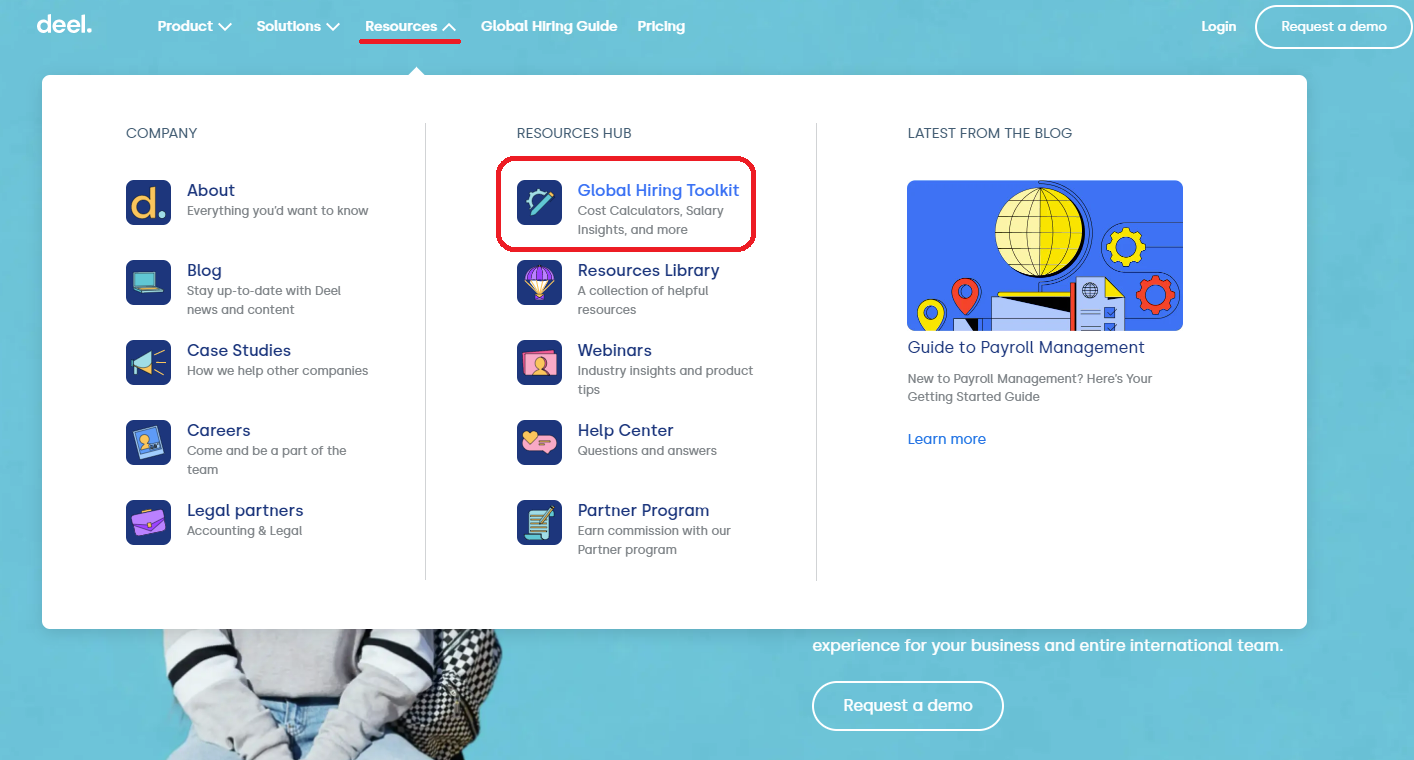 Global Hiring Guide - Discover the best practices for hiring remote workers worldwide
Learn more about the best practices for hiring remote team members from Germany to Australia and how Deel helps make it simple with Deel's Global Hiring Guide.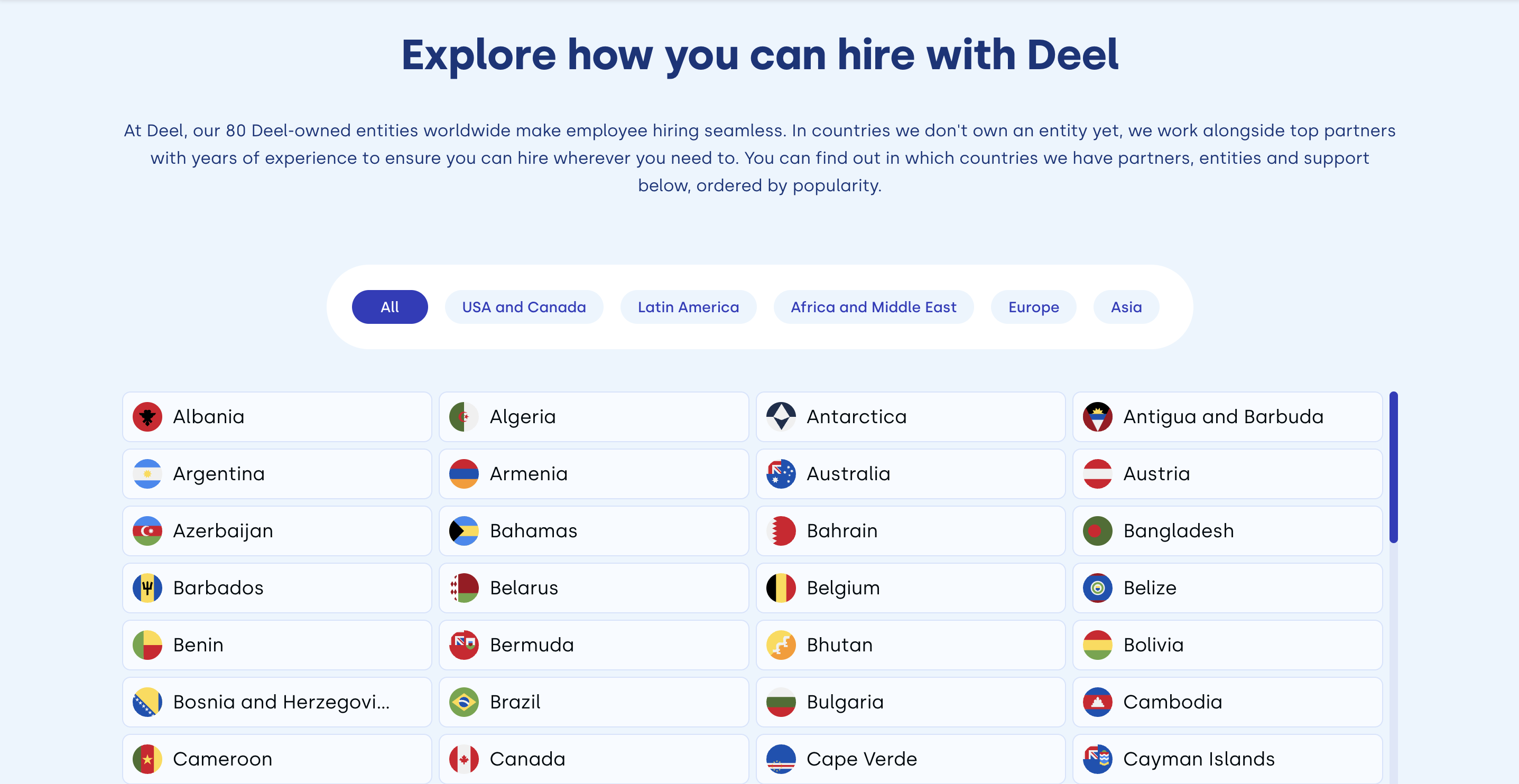 Hire contractors compliantly with Deel Shield
Deel Shield assists businesses by legally hiring contractors on your behalf and assuming total liability in the event of misclassification claims. The feature handles various tasks in recruitment, including hiring, compliance, invoicing, and payment of contractors. It offers a high level of protection with optimal flexibility.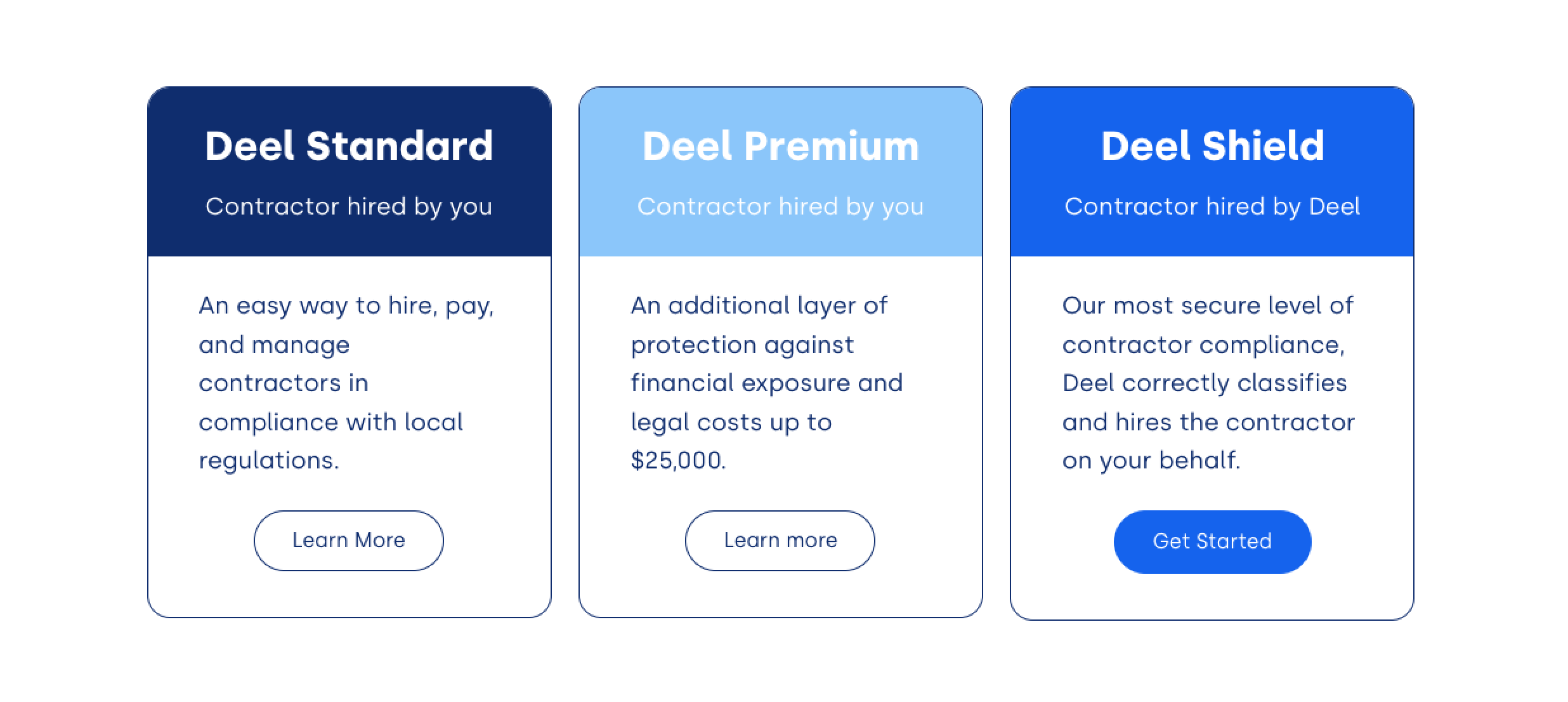 Deel Shield gave us peace of mind when hiring people as contractors in any part of the world. I don't have to worry anymore about compliance. It feels much safer.
Chloe Riesenberg, People Specialist, Project 44
Hire employees compliantly with Deel's EOR model
Whether you're hiring a remote social media manager, expanding your nonprofit team to new locations, or wanting to employ local electricians to keep your satellite office in check, it's important to remain compliant.

Deel handles the legal and administrative complexity of hiring abroad with our employer of record (EOR) model, allowing you to expand your talent pool, remain compliant, and spend less time on payroll.

The Deel EOR guide offers everything you need to know to become a multinational employer.
Ten years ago...I realized I had to internationalize my team. Hiring people outside Europe was a real pain—a nightmare because of regulations. I wanted to scale the business quickly, but the global hiring process without an EOR wasn't scalable at all. I can now get access to top talents without asking them to relocate and without my company necessarily being an enterprise. I've been able to hire in London, Bulgaria, the United States, and more.
Rachel Delacour,, CEO and Co-Founder, Sweep
Get visa and immigration support
Compliance is key when hiring internationally, and you have to think beyond the federal government requirements. Deel offers visa support to get worldwide visas without cumbersome administration.

Deel offers one-on-one support to speed up immigration and provides a centralized platform to continue HR and payroll.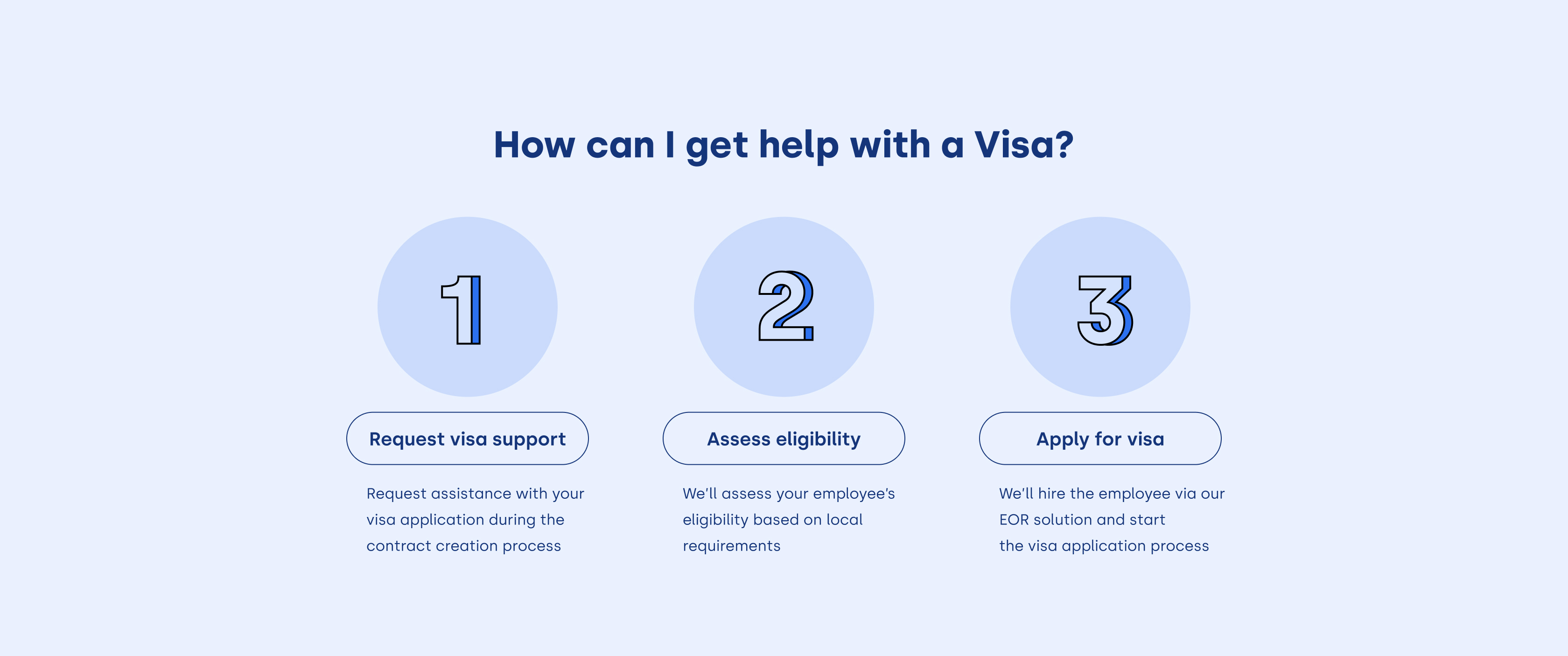 Manage and pay global employees with Deel
At Deel, we don't abandon you once hiring is complete. Instead, our platform offers comprehensive assistance for managing, engaging, and paying global employees and contractors. The following tools help to manage your team from anywhere in the world:

On your own, building an international team can be time-consuming and intimidating. With Deel, you have a reliable ally that can make it streamlined and fast.

Want to learn how it all works? Book 30 minutes with a product expert to get your questions answered.