Employee Visa Application Guide for Enterprises
Discover the challenges of visa applications, the stages involved, and how to streamline the process in this employee visa application guide.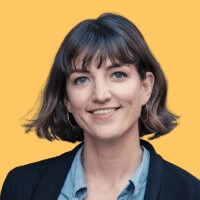 Written by Jemima Owen-Jones
September 1, 2023
Contents
Need help onboarding international talent?

Try Deel
Key takeaways
Visa applications can be a complex and challenging process for enterprise businesses to navigate for their employees. The process can vary depending on the country.
There are several different ways to manage the visa application process. The best method for your organization will depend on your specific needs and budget.
A global HR platform with built-in visa and immigration support can help simplify and streamline the visa application process. These platforms offer a variety of features that can help you save time, reduce costs, and improve compliance.
International hiring and employee relocations can be complex for enterprise businesses. HR teams must navigate the intricate web of visa application requirements, which can be time-consuming and resource-intensive. This administrative burden can prevent HR professionals from focusing on strategic initiatives contributing to business growth and employee satisfaction.
In addition to the time and resource constraints, there are a number of other challenges associated with visa applications. These include uncertainty surrounding visa eligibility, financial implications, and lack of transparency throughout the process. As a result, both the organization and employee can feel stressed and frustrated before the relocation even begins.
This comprehensive guide will break down the stages of the visa application process, methods of handling visa applications, and how Deel's HR platform, with built-in visa and immigration support, can help simplify and illuminate the process for everyone involved.
Understanding the stages of the visa application process
The stages of the visa application process may vary depending on country-specific immigration laws and regulations. For example, some countries require employers to sponsor their employees for visas, while others do not.

Stage 1: Identify the appropriate visa category and assess eligibility requirements. The first step is identifying the visa category most appropriate for the employee's intended stay and activities in the target country and ensuring they meet the eligibility criteria for the desired visa category. You will need to consider qualifying factors such as job role, qualifications, and the purpose of relocation. It's important to align the employee's profile with the host country's visa requirements.
Stage 2: Gather the required documentation. Once you have identified the visa category and established eligibility, the next step is to gather the required documentation. This documentation will vary depending on the visa category and the country. It may include things like passport, birth certificate, educational transcripts, employment contract, and financial statements.
Stage 3: Submit the visa application. Once you and the applicant have gathered the documentation, the next step is to submit the visa application (along with any accompanying family member applications) to the relevant government agency. The application process will vary depending on the country, but it may involve submitting the application form, paying a visa application fee, and attending a visa interview.
Stage 4: Await application review and processing. Immigration authorities meticulously review the submitted application and supporting documents. This stage involves verifying the authenticity of documents, assessing the applicant's eligibility, and conducting any necessary background checks. The processing time can vary widely depending on the host country and the specific visa type.
Stage 5: Applicant attends a visa interview (if required). Some countries require visa applicants to attend a visa interview, as with most American visas. This is an opportunity for the visa officer to assess the applicant's eligibility for the visa.
Stage 6: Receive the visa decision. The final step is to receive the visa decision. Depending on the country, this stage can take several weeks or even months. If the visa application is approved, the employee will be issued a visa that allows them to enter and work in the target country.
How can you better manage the visa application process?
There are many different ways to navigate the visa application process for employees. The best method for your organization will depend on your specific needs and budget.
If you are only relocating a few employees, doing it yourself may be the best option. However, if you are relocating a large number of employees or if you need specialized legal advice, an immigration lawyer, consultant, or global HR platform with built-in visa and immigration support may be a better choice.
Here are the different ways enterprise organizations can get support navigating the visa application process for their employees:
Do it yourself: This is the most cost-effective option but can also be the most time-consuming and complex. You must research the visa requirements for the specific country the employee is relocating to, gather the required documentation, and have the employee file the application.



Cost-effective


Time-consuming and complex


Build an in-house immigration team: If your organization has a large number of employees who are relocating internationally, you may want to consider creating an in-house immigration team. This can be a good option if you have the resources to do so and if you need to handle a high volume of visa applications.



Dedicated team of experts


Expensive to set up and maintain


Use an immigration attorney or consultant: This is a more expensive option but can save you time and hassle. An immigration lawyer or consultant will have experience with the visa application process for the country the employee is relocating to and can help you ensure your application is completed correctly.



Experienced and knowledgeable


Expensive


Use a visa service provider: This middle-ground option is more affordable than an immigration lawyer or consultant but still provides some level of expertise and support. A visa service provider can help you with the visa application process. Still, they may not be able to provide legal advice.



Affordable


May not be able to provide legal advice


Use a global HR platform with built-in visa and immigration support: This is the most holistic approach to visa procurement and international team management. With a global HR platform like Deel's, you can verify visa eligibility, request EOR visa sponsorship, automate compliance document collection, track the visa process, oversee all immigration activities, and receive one-on-one support from in-house immigration experts. In addition, these platforms include HR solutions such as global payroll, benefits administration, and team collaboration and engagement tools.



A single solution for all of your HR needs


Requires a small investment in the platform

Discover how software company Sendspark grew its team globally with Deel.
We wanted to hire the best talent, the people most aligned with our company values and more skilled for the roles we needed to fill in [...] it shouldn't matter where they were born or where they were from […] I love Deel […] We can just focus on finding the right people and know that all of the administrative work is done for us, including onboarding and payments to tax reports and the integration with our accounting software. Ultimately, it saves me a lot of time.
Bethany Stachenfeld, CEO, Sendspark
Navigating visa applications using a global HR platform
In this section, we'll elaborate on how your enterprise organization can streamline visa applications using Deel's global HR platform with built-in visa and immigration support.
Visa eligibility checker
Run an assessment to identify the best visa option according to the employee's information.

Watch the tutorial video below to see the process in action.
Visa application support
Expedite the visa processing timeline with Deel's accelerated visa application support service. Our immigration experts handle visa sponsorship, applications, and compliance in a fraction of the time.
Discover how financial technology company Revolut streamlined employee relocation to maintain its fast pace of growth.
Through Deel, we have hired more than 150 people so far and relocated more than ten employees to countries like the UAE and Switzerland [...] Deel has provided amazing support from sponsoring visas in various countries and all the requirements needed from a paperwork and documentation perspective, among other things that were challenging for us.
Luka Besling, HR Manager, Revolut
Watch the tutorial video below to see the process in action.
Self-serve document upload
Have employees upload the necessary documents directly to the secure platform to reduce manual paperwork for HR teams and enhance efficiency and data security.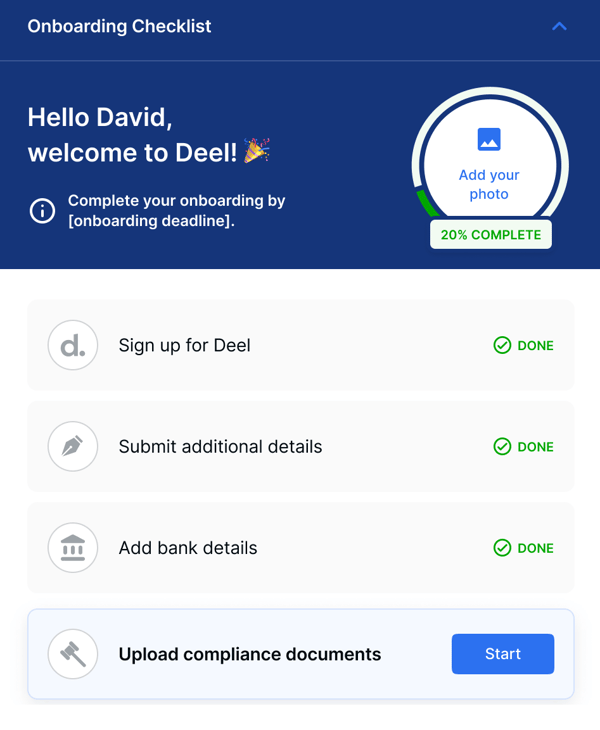 EOR visa sponsorship
Request employer of record (EOR) visa sponsorship to enable Deel to sponsor your employee's visa on your behalf. This approach is convenient if you do not have an entity in the target country, which is often a legal requirement.
See also: A Guide to EOR-Sponsored Visas for Enterprise Businesses.
Discover how payments technology company Form3 grew its workforce by 20% in one year with Deel.
Deel enabled us to hire 100 people that we probably wouldn't have been able to hire otherwise…Deel gives us the peace of mind of knowing that in these visa situations, the employee will get the support they need.
Leanne Schofield, Head of People, Form3
Looking to relocate workers to the US?
EOR visa sponsorship comes in handy for US nonimmigrant visas, such as the H-1B visa, and US immigrant visas, such as the green card.

Organizations looking to hire or relocate employees to the USA permanently, for example, can use an EOR to sponsor green cards, which provide foreign nationals with legal permanent resident status and, eventually, US citizenship.

EOR sponsorship can also be a convenient way for enterprise organizations to obtain employer-sponsored visas for foreign employees looking to relocate to the company's home country.

For example, say a U.S. enterprise wants to relocate foreign talent to its American headquarters. With EOR sponsorship, U.S. businesses can avoid the administrative burden of US visa procurement, freeing up time and resources to focus on strategic priorities.

Check out the different types of visas Deel can support here.

Wondering if non-US citizens can work for US companies and live abroad as digital nomads? Read this article to find out.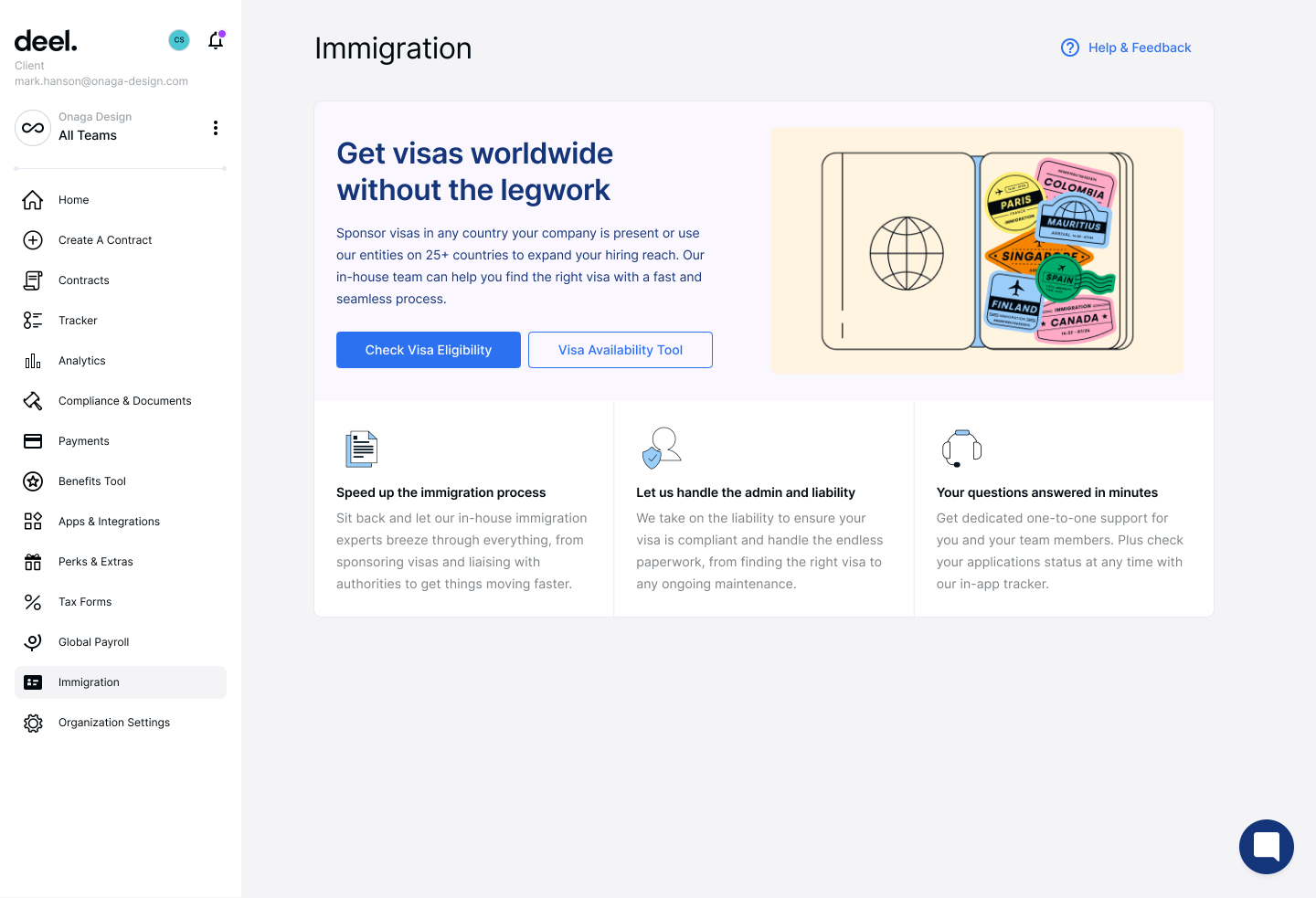 Visa tracking and immigration overview dashboard
Get real-time updates on visa application statuses to benefit from enhanced visibility and control over the entire process.
Discover how the automated decisioning platform Taktile supported three employees through visa obtainment and tracked the progress in the Deel in-app tracker.
We leave everything in Deel's hands ... but it is good to have transparency and a lot of visibility as to how the case is developing.
Valeria Rosati, HR Operations Lead, Taktile
Watch the tutorial video below to see the process in action.
One-on-one support and in-house immigration experts
Receive on-demand assistance from a team of immigration experts for accuracy and reassurance throughout the process.
Deel makes it much faster for us to relocate employees, with expertise in countries where we've never operated. With the time saved, we can boost our KPIs and productivity.
Luka Besling, HR Manager, Revolut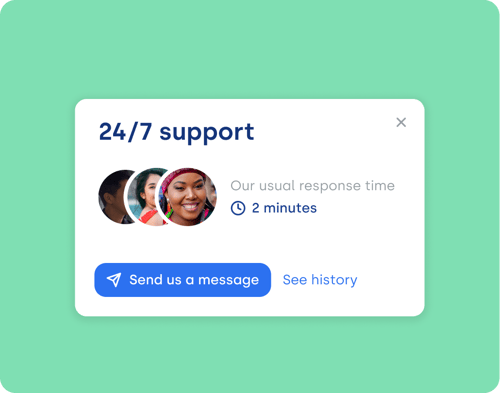 Built-in HR tools and solutions
Deel's platform goes beyond visa applications, offering a suite of HR-related features for local and international teams, contractors, and employees. The platform supports diverse HR needs, from global payroll and tax filing to benefits administration, flexible workspaces, equipment management, equity grants, background checks, misclassification protection, and more.
Discover how flexible online form builder Paperform saves 104 days' worth of HR costs annually, thanks to Deel.
The cost savings that Deel has enabled…would easily go into the tens of thousands of dollars, perhaps even close [to] $100,000 per year. This would include cost savings from staffing HR, insurances, legal fees for employee contracts, accountant fees, and the potential cost of all the tools included in the platform.
Diony McPherson, CoFounder and COO, Paperform
Put visa applications on autopilot with Deel
Visa applications need not be a daunting roadblock for enterprise businesses aiming for global expansion. Deel's global HR platform simplifies the process, ensuring compliance, enhancing visibility, and contributing to improved employee experiences.

Ready to simplify your international hiring and employee relocations? Explore Deel's visa and immigration solution or book 30 minutes with a product expert to take the first step towards efficient, compliant, and stress-free visa procurement.