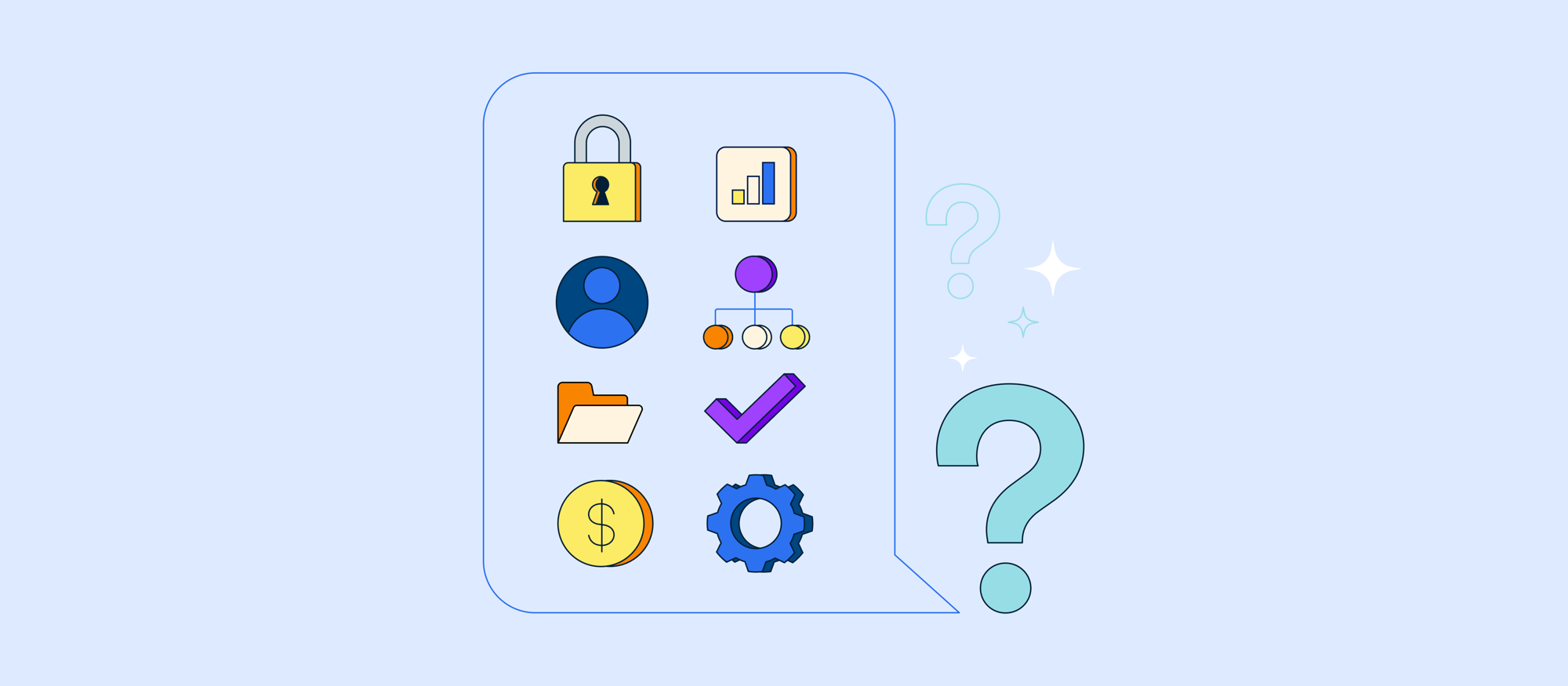 10 Hiring Tips for Startups: All Your Questions Answered
Startups need to make smart hiring decisions fast while ensuring recruitment costs are optimized. Get our expert tips on how to hire and pay your team.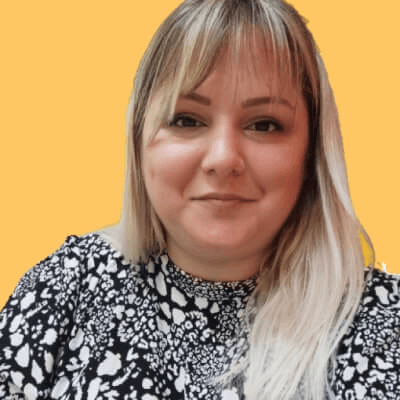 Written by Stefana Zaric
June 9, 2023
Contents
Need help onboarding international talent?

Try Deel
Key takeaways
When startups are rapidly scaling or operating in the pre-seed funding stage, they need to make smart hiring decisions fast to reach their targets.
Global hiring is an excellent solution for fully remote startups looking for affordable talent or unable to find the right candidates locally.
Deel can help startups access the global talent pool, reduce hiring time and costs, provide visa and immigration support, avoid noncompliance risks in 150+ countries, and more.
Replacing a wrong hire can cost up to 200% of that worker's annual salary, according to CultureAmp.
The costs easily add up: you need to post a job ad, source talent, screen resumes, and conduct various rounds of interviews. If a product designer from Spain with an annual salary of $90.000 USD leaves your team, you might need to spend up to $176.000 USD to replace them, not to mention the time you'd need to find a suitable candidate.
Startups usually can't afford to make the wrong hiring decision because they face multiple constraints: there's either a limited budget to find the right talent or little time to scale the operations because the business is growing rapidly.
We're answering the 10 most common questions about startup hiring: from finding the best candidates for your team to choosing a suitable worker type to paying your global workers.
Who should you hire: employees or independent contractors?
Early-stage startups with fluctuating workloads may choose to hire independent contractors rather than full-time employees. This way, they get to work with experts who don't need training and use their own tools to do the job. Hiring contractors is usually less expensive than hiring employees, since the contractor is responsible for their own taxes and contributions.
However, if:
Your hiring needs involve key strategic roles, such as COO, CTO, or CFO
You want more oversight and control of your team members' workload, schedule, and results
You're looking to make your case for potential investors
Then, full-time employees may be a better choice.
See also: When Should You Consider Hiring Employees through an EOR Instead of Contractors?
Whomever you choose to hire, you can effortlessly do it through our platform.
Deel is a global HR platform that allows you to manage everything for everyone everywhere: unify HR and payroll for your direct employees, EOR employees, and contractors in one place.
Where to find potential candidates for your roles?
You can identify top candidates for open positions through several strategies. For example, you can use employer branding tactics to attract top talent and have them reach out to you. This helps talent acquisition teams cut recruitment costs and optimize time-to-hire.
Another strategy is to build talent hubs around the world, which boosts your local reputation and gives you access to talent pools of skilled professionals.
However, this technique often takes a lot of time and effort, which is why startups may choose to leverage social media platforms like LinkedIn to reach potential employees through online communities and networking.
If you have a limited hiring budget, you can source talent from more affordable countries with a lower cost of living.
See also: Global Hiring Guide and Employee Cost Calculator
Deel helps you hire fast and compliantly from 150+ countries with an onboarding time of seven minutes.
No need to open your own local entity to hire the best talent out there—we handle all things compliance for you.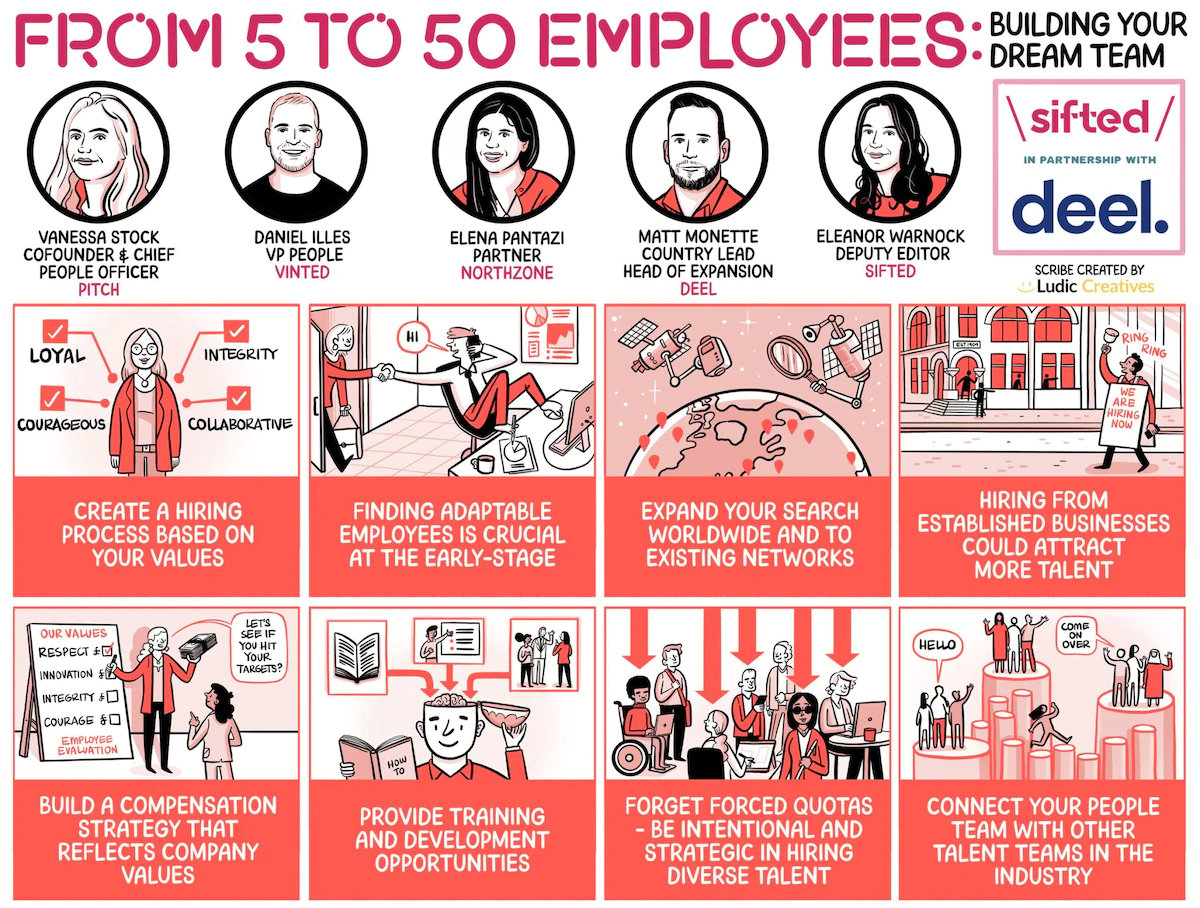 Source: Sifted.eu
How to efficiently track job applicants?
Your job postings may attract a lot of attention, meaning that you will have lots of resumes to screen. To speed up the hiring process and make sure you don't miss out on great candidates, develop a standardized application form and an efficient interview process with as few steps as possible. Include initial screening questions, a take-home assignment, and the final culture fit interview.
Implementing these recommendations will help you build an unbiased and effective recruitment process. To maximize the efficiency of tracking job applicants, choose an Applicant Tracking System (ATS) instead of a spreadsheet.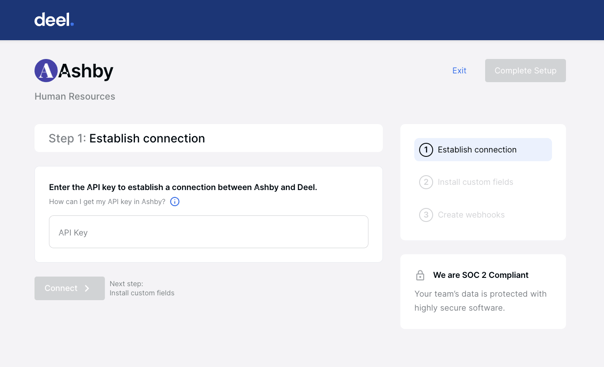 An ATS will help you:
Centralize candidate data
Cut hiring costs and time spent on assessments
Gain access to analytics to further improve your recruitment strategy
Improve overall candidate experience
Use Deel's integrations with popular ATS solutions to automatically create a draft contract in Deel using details from the offer, candidate, and job post.

See how Greenhouse and Ashby integrations work on the Deel platform.
How to navigate international employment laws and compliance?
If you want to hire workers from foreign countries without relocating them or opening your local entity, you need to get familiar with local employment laws and collaborate with local vendors. They make it possible for you to pay your international employees, provide statutory benefits, and stay fully compliant.
When you start hiring from multiple countries, the number of local vendors increases, making your operations complicated, error-prone, and possibly inconsistent. This is why many companies choose an employer of record (EOR) to handle the legal and compliance intricacies of global hiring.
With Deel, you can count on full global compliance without lifting a finger, thanks to:
Regularly reviewed and updated contracts tailored to each country's labor laws
200+ legal experts
Easy compliance documentation management through the platform
See also: Everything EOR: A Guide to Employer of Record and Hiring an International Employee: 3 Options and an Alternative
Automate your compliance needs
Deel automatically collects and stores your compliance documents so you can focus on growing your business.



How can you ensure proper worker classification in your team?
Startups often begin building their team by hiring contractors and freelancers, as this type of work relationship imposes fewer legal responsibilities on the employer (or client). As contractors take on more work or engage in your core business activities, they may start resembling employees, which could potentially trigger a misclassification investigation by tax authorities.
To avoid the financial penalties and lawsuits that may follow employee misclassification, you need to know exactly how local laws define contractors, and when they're considered employees. Hiring a legal professional to advise you on this topic and help you craft airtight contracts is the best route here.
Are you at risk of misclassification?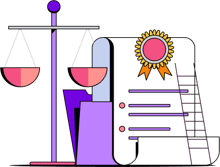 Learn how Deel Shield protects you from employee misclassification risks:
How can you protect your intellectual property?
As you put your startup idea into practice, you may face several data security challenges. When sharing confidential information online and across locations, you need to take certain security steps to protect your data and intellectual property.
This step is particularly important if you work with contractors—in some countries, intellectual property belongs to the contractor, unless their contract states otherwise. Establishing solid security audit protocols and signing NDAs and DPAs with your collaborators and employees is a good way to ensure intellectual property protection.
See also: How Do Global Teams Protect Their Intellectual Property
How we protect our clients' IP
Deel recommends indirect IP assignment, meaning that the employee assigns IP to us in their employment contract, and then we assign the IP to our clients in their Master Services Agreement (MSA).
This way, we avoid having a direct agreement between the employee and the Customer and try to reduce the risk of a direct relationship between them together with the risk of permanent establishment.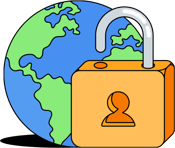 This protocol and Deel's country-specific contracts cover any regional differences, so no matter where you hire, you get the IP ownership that's rightfully yours.
What are the best practices for onboarding new hires in startups?
A streamlined onboarding process can improve employee retention, according to SHRM. New employees are more likely to stay longer at a company if during their first 90 days they're able to establish connections with their coworkers, understand their role and responsibilities, and become a productive team member.
Some of the best practices for onboarding new, international workers involve:
Creating well-structured 30, 60, and 90-day onboarding plans with outlined activities and timelines
Providing pre-boarding materials to the new hire (such as an employee handbook or company policies)
Assigning a dedicated buddy to guide and support the new employee through their integration
Building a role-specific training program that includes the necessary tools and resources
Encouraging cross-team interactions and helping the new team member collaborate with other departments
Clarify performance expectations and role responsibilities while regularly providing feedback
See also: A Guide to Onboarding an Asynchronous Worker [Tips and Checklist]
With Deel's new Workflow Builder, you can automate manual, repetitive tasks and supercharge your HR processes: work faster, with less admin, for a better experience for workers everywhere.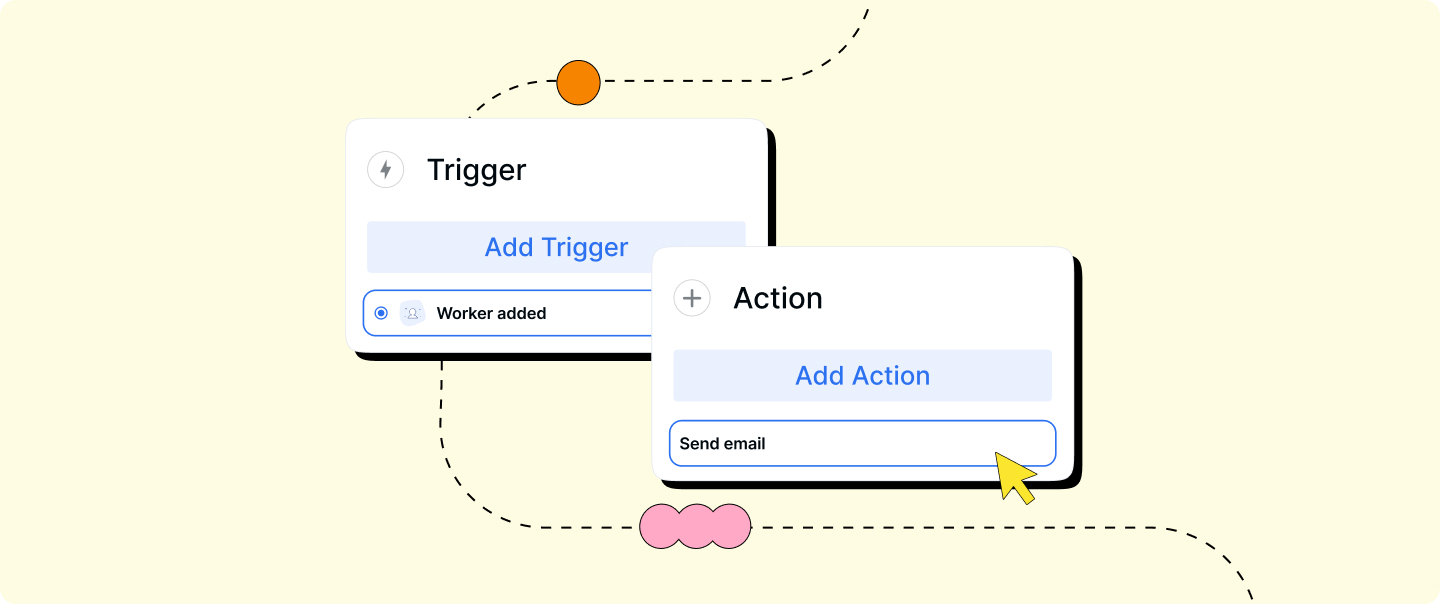 How to run payroll for a distributed startup team?
Running payroll for a distributed startup team can be complex due to varying tax laws, employment regulations, transaction fees, and payment methods across different locations.
You need to:
Determine tax withholding requirements, social security contributions, and statutory employee benefits
Collect employee tax forms and other information
Choose a payroll schedule
Calculate and process payroll
Manage currency conversions and bank fees for international money transfers
Generate and distribute pay stubs
The two most common options for paying workers at startups are running payroll in-house using payroll management software or outsourcing payroll processing to a third-party vendor.
Both solutions have their pros and cons and depend on various factors, like your budget or the expertise of your staff. Using payroll software in-house is usually less expensive, but requires a knowledgeable HR department.
See also: Guide to Global Payroll

How to choose the best HR tools to manage my global team?
Startups should invest in an HR tech stack as early as possible to create automated, efficient, and scalable processes that support hypergrowth and positive company culture.
One of our biggest learnings from 2022 as an organization is that we should have encouraged investment in the HR function earlier (earlier than we would have thought) so the function could grow alongside and at pace with the business.
Casey Bailey, Head of People, Deel
When building your HR tech stack, especially when choosing your HRIS, look for:
Flexibility
Scalability
Global-first orientation
Customization options
Integrations
Self-service options
Access to analytics
HR tools that easily integrate with other workforce management software, provide automation and customization capabilities designed for global teams, and have reporting features to help you make informed business decisions are the way to go.
See also: A Guide to Creating the Ideal HR Tech Stack
What are some innovative perks startups can offer to attract talent?
Startups may struggle to offer significant monetary incentives due to limited hiring budgets, but they can attract ideal candidates to their team by offering non-monetary perks or long-term benefits.
For example:
Remote work and similar flexible working arrangements
Stock options or profit sharing
Professional development opportunities
Flexible and unlimited PTO
Employee recognition initiatives
Access to exclusive company tools and know-how
Deel provides unmatched legal and tax support to grant your global EOR employees with equity
Learn more about Deel equity services
Build a winning team for your startup with Deel
Deel streamlines HR processes and helps you hire, onboard, and manage an international workforce effortlessly.
Automated, customizable workflows and compliance tasks enable startups to scale with confidence without worrying about tax and benefits admin, while hiring the best talent from over 150 countries.
Learn how
Form3
grew their workforce by 20% with Deel and hired 96+ people from 30 countries.
Join our monthly newsletter
The latest insights on today's world of work straight to your inbox.